For the fourth straight year, ESPN.com and the TrueHoop Network are ranking every NBA player and counting them down on Twitter (@ESPNNBA) from No. 500 to No. 1.
We asked our ESPN Forecast panel to predict the overall level of play for each player for the upcoming NBA season. This includes both the quality and the quantity of his expected contributions, combined in one overall rating.
As the rankings are announced, you also can find them here on the pages of ESPN.com.
The players on our list keep getting better and better. We're counting down five more players today, revealing them one at a time on Twitter. We'll continue the countdown until Oct. 28, opening night in the NBA. Today we roll out players 36 through 40.
Wade averaged 19.0 points per game and shot 54.5 percent from the field last season, becoming the third qualifying guard in NBA history to hit those marks in a single season. The other two were Rolando Blackman (1983-84) and Walter Davis (1978-79, 1979-80).
-- ESPN Stats & Information (@ESPNStatsInfo)
@ESPNNBA He's not what he once was but I'm not alone in wanting @DwyaneWade for 50-60 games than some guys ahead of him in #NBArank for 82.

- Pavle Kisin-Rajlic (@Gambitguru77) October 16, 2014
37

7.20
Rajon Rondo | @RajonRondo
Boston Celtics | PG | Age: 28 | 2013 rank: #27
Magic Johnson, Isiah Thomas, John Stockton, Kevin Johnson, Jason Kidd, Chris Paul, Deron Williams and Rajon Rondo are the only players to have four or more seasons averaging at least 11.5 points, 9.5 assists and one steal per game.
-- ESPN Stats & Information (@ESPNStatsInfo)
@ESPNNBA Rajon Rondo is a crafty PG but has to get better with his ft shooting at least. Great defensive player. #NBArank

- bill palisoc (@billpalisoc1) October 16, 2014
38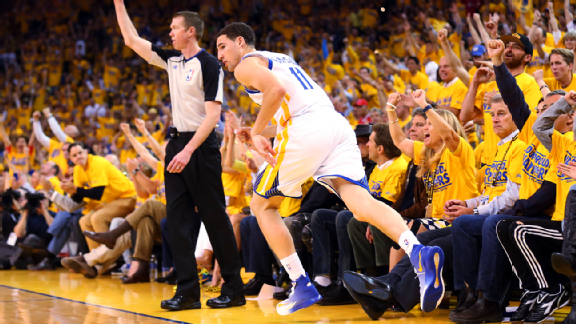 7.08
Klay Thompson | @KlayThompson
Golden State Warriors | SG | Age: 24 | 2013 rank: #60
Since the 3-point line was introduced in 1979-80, Klay Thompson is one of 11 players to average at least 18 points per game while taking at least six 3-pointers per game and shooting better than 40 percent on such shots.
-- ESPN Stats & Information (@ESPNStatsInfo)
39

7.06
Andre Iguodala | @andre
Golden State Warriors | SG | Age: 30 | 2013 rank: #31
The Warriors allowed 96.8 points per 100 possessions with Andre Iguodala on the floor last season. They were 6.3 points per 100 possessions worse with him on the bench.
-- ESPN Stats & Information (@ESPNStatsInfo)
@ESPNNBA @andre impact on the game doesnt always show up in the boxscore but without him the @Warriors have no chance at a title #NBArank

- Brady Wilkerson (@BradyWilkerson2) October 16, 2014
40

7.06
Kobe Bryant | @kobebryant
Los Angeles Lakers | SG | Age: 36 | 2013 rank: #25
Kobe Bryant is 593 points away from moving past Michael Jordan for the third-most career points in NBA history.
-- ESPN Stats & Information (@ESPNStatsInfo)
Kobe on ESPN ranking him 40th best player: "I've known for a long time that they're a bunch of idiots."

— Bill Oram (@bill_oram) October 17, 2014
I would say be VERY careful to doubt a player with the drive and work ethic that @kobebryant has..... #YouveBeenWarned

- George Karl (@CoachKarl22) October 16, 2014
There's 39 people you'd pick in the NBA before @kobebryant? Nonsense! #NBArank

- kaisaleemi (@kaisaleemi) October 16, 2014
Kobe is ranked 40th in the #NBA? 1on1 vs anyone in the league, i'd place my bet on Kobe 9 times out of 10 #NBArank pic.twitter.com/mZdQDbboQN

- GameToThrill Eric (@GTTeric) October 16, 2014
Kobe is ranked 40 in #NBArank because he has played SIX GAMES since April 2013, not because he isn't an all-time legend.

- Larry Flynn (@LFlynn_NBANOVA) October 16, 2014