For the fourth straight year, ESPN.com and the TrueHoop Network are ranking every NBA player and counting them down on Twitter (@ESPNNBA) from No. 500 to No. 1.
We asked our ESPN Forecast panel to predict the overall level of play for each player for the upcoming NBA season. This includes both the quality and the quantity of his expected contributions, combined in one overall rating.
As the rankings are announced, you also can find them here on the pages of ESPN.com.
The players on our list keep getting better and better. We're counting down five more players today, revealing them one at a time on Twitter. We'll continue the countdown until Oct. 28, opening night in the NBA. Today we roll out players 11 through 15.
Carmelo Anthony was second in scoring last season at 27.4 points per game and led all players with 6.6 isolation points per game.
-- ESPN Stats & Information (@ESPNStatsInfo)
Carmelo is ranked lower than Harden, even though The Beard is a poor man's Melo #NBARank

— Knicks Memes (@KnicksMemes) October 23, 2014
12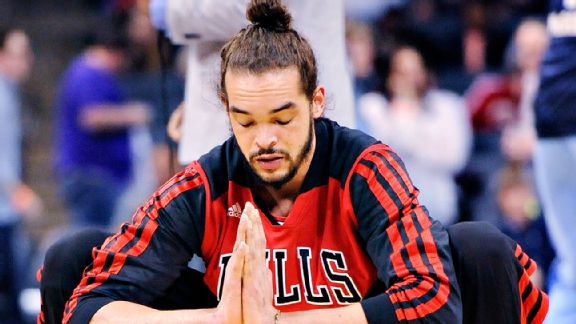 8.42
Joakim Noah | @JoakimNoah
Chicago Bulls | C | Age: 29 | 2013 rank: #23
Last season, Joakim Noah joined Michael Jordan (1987-88) as the only players to win defensive player of the year in Bulls franchise history.
-- ESPN Stats & Information (@ESPNStatsInfo)
13

8.35
LaMarcus Aldridge | @aldridge_12
Portland Trail Blazers | PF | Age: 29 | 2013 rank: #17
LaMarcus Aldridge led the league with 242 midrange field goals from the left side of the court last season, the only player with at least 200 makes. He's led the league in that category in each of the past five seasons.
-- ESPN Stats & Information (@ESPNStatsInfo)
LaMarcus Aldridge is a deadly PF because he has a post game and could stretch the floor with his shooting. Great FT shooter too. #NBArank

- bill palisoc (@billpalisoc1) October 23, 2014
14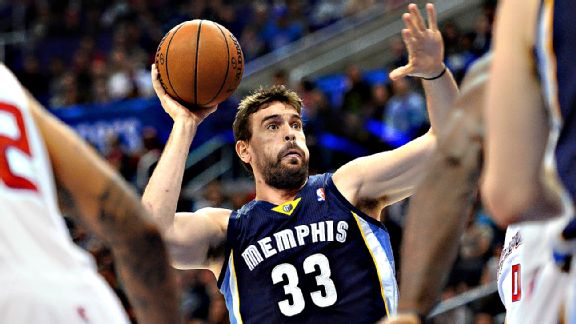 8.19
Marc Gasol | @MarcGasol
Memphis Grizzlies | C | Age: 29 | 2013 rank: #10
Marc Gasol and Joakim Noah are the only centers in the past two seasons with at least 1,000 rebounds and 500 assists.
-- ESPN Stats & Information (@ESPNStatsInfo)
@MarcGasol @ESPNNBA a big man that is a monster on the boards and can attract the double team and able to dish it to the open man #NBArank

- Christian Welch (@ChristianWelch) October 23, 2014
@MarcGasol is the heart and soul of a tough Memphis team with something to prove this season. Hopefully injury isn't a factor. #NBARank

- Spencer Barrett (@spncrbrrtt) October 23, 2014
15

8.18
Tony Parker | @tonyparker
San Antonio Spurs | PG | Age: 32 | 2013 rank: #12
Tony Parker made 168 field goals in last season's playoffs and moved into 10th on the all-time playoff list, past Hall of Famers Scottie Pippen, Elgin Baylor, Wilt Chamberlain, John Havlicek and Larry Bird.
Parker needs to play in four more playoff games to become the eighth player in NBA history to play in 200 postseason games
-- ESPN Stats & Information (@ESPNStatsInfo)
@ESPNNBA @tonyparker say what you want but you can rely on this guy to win despite whatever he lacks... #NBArank

- Ryan Zamora (@th3ryza) October 23, 2014