This story appears in ESPN The Magazine's Dec. 7 Wide Receivers Issue. Subscribe today!
INSIDE A HIGH school gymnasium in Santa Barbara, California, Jahlil Okafor is staring at a basketball hoop. A banner hangs along a wall with Mark 9:23 emblazoned on it: EVERYTHING IS POSSIBLE FOR THOSE WHO BELIEVE. Today, Okafor wants others to believe in him.
The 19-year-old, 6-foot-11 former college standout has his hands on his head, sweat soaking his T-shirt. He lines up on the left side of the foul line and palms a basketball in one of his massive hands. He takes a couple of long strides to the basket and slams the ball through, a thunderous rattle echoing off the walls. "There we go! There we go!" one of his agent's representatives encourages from the sideline. Okafor grabs another ball and slams that one home too.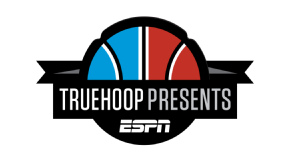 It's mid-June, and he is 12 days from the NBA draft, the raffle for which he's one of the top prizes. Two months removed from a national title at Duke, he has perhaps the most advanced game in the rookie class. Yet for all the accolades -- the preternatural footwork, All-American as a freshman, the 17 points and nine boards per game -- questions persist, and will continue to persist over the next five months, about the kid from Chicago. Can he prove he belongs?
At the moment, Okafor weighs 270 pounds. He is thickly built across his shoulders, chest and stomach. The first two owe to good genetics and a workout routine that has had him pushing his physical limits since he was in grade school. The last is at least partly Cap'n Crunch's fault. His size, once seen as the mark of a potentially prodigious career, now might be an albatross. Teams wonder whether the teenager is fit enough for the rigors of the NBA. They wonder whether he can play perimeter D. They wonder about his free throw shooting. The consensus No. 1 pick during the college season could slip to No. 2 -- or worse.
People in his inner circle -- his father and friends and coaches who know him best -- refuse to believe the talk. "He is hands down the No. 1 pick," says Rick Lewis, Okafor's trainer and former high school assistant coach. In the NBA, Lewis insists, Okafor could be a pounder with sweet moves around the rim, a contrast to the fast-paced, guard-heavy league everyone sees today. "It's like bringing the sexy back with Justin Timberlake," Lewis says. "We're bringing the big man back."
Lewis positions Okafor along the baseline and fires a pass. Okafor puts up a shot from the right. And misses. The first of seven misses in a row. He makes just five of his next 12. Okafor steps back, pounds the ball into the court in disgust. Another pass from Lewis. Another 15-footer. "Short!" Okafor yells. It goes in. "F--- me."
OKAFOR'S SUIT IS resting inside a solid black bag with a purple zipper in his packed Manhattan hotel room. Lakers colors. A wish? Okafor smiles and laughs. LA has the second pick in the draft tonight, and Okafor seems in prime position. It's almost certain the Timberwolves will take Karl-Anthony Towns, the 7-foot 19-year-old from Kentucky, with the top pick. As the reasoning goes, Towns doesn't have the polish of Okafor's game yet, but he has more upside. The criticism is disappointing. Not only will Okafor not go first, it means he won't get Kevin Garnett, the surefire Hall of Famer and fellow Chicagoan, as a mentor. Still, the Lakers have Kobe Bryant and a long history of success. Plus Southern California. No. 2 doesn't seem like a consolation prize at all.
There are boxes of Cocoa Puffs, Frosted Flakes and Fruity Pebbles lining the window in his room. A bag of Skittles is on the table. Okafor is stripped down to a T-shirt and underwear. A crew from NBA Entertainment is filming, and a few friends are here. Coach Mike Krzyzewski called earlier and wished him luck. Okafor has been thinking about his mother, Dee Benton, who died when he was 9. He's been thinking about his father, how Okafor moved from Arkansas to live with his dad in Chicago. He has said he doesn't care where he's drafted, that his dream to become a pro basketball player will become a reality tonight. And that's good enough. "Really," he says, "I'm ready for this to be over."
Four hours later, Minnesota takes Towns. Then, a shock: The Lakers pick Ohio State guard D'Angelo Russell. Those around Okafor openly wonder whether he'll fall to New York at No. 4 or whether Philadelphia will trade its No. 3 pick to a team in need of a big man. Instead, it's Philly at No. 3. Okafor hugs his family, puts on a 76ers hat and shakes hands with the commissioner. He's processing on the fly. No one in his circle imagined Philadelphia as an option. He's never even been to the city, never worked out for the team and knows only the basics: The Sixers seem to be in permanent rebuilding mode, an 18-win team last season. He also knows the team has two big men -- Joel Embiid and Nerlens Noel. Okafor wonders how he will fit in. I worked toward this since I can remember, he says in an interview after the pick. This is the beginning of a dream. Then: I'm not disappointed. By now, the online comments are flooding in. Okafor doesn't look happy. He doesn't look appreciative. He doesn't look like he wants to be a Sixer.
---
IT ALWAYS SEEMED so easy. The most dominant kid on the court. Championships at Chicago's Whitney M. Young Magnet High School, at Duke. One of the first picks in the NBA draft. "I saw him in the eighth grade," Lewis says. "He walked in the door built like a grown man, but he had a face like a baby. He was 6-8, and I thought, This kid is going to play in the NBA." Okafor is guaranteed $9.4 million over the next two years. Going into the 2015-16 season, his fellow rookies already have him as the favorite to win the league's Rookie of the Year award.
But being a pro is different. Even in the NBA's summer league, where Okafor begins his on-court journey in early July, everyone seems a little bigger, a little stronger. It's a mix of headlining draft picks and back-end roster fodder. Some guys arrive eager to show they can become NBA stars; others are fighting for a spot in the league. That dichotomy makes these games more dangerous for a player of Okafor's stature. He should dominate, but he's also a kid figuring his way as a new pro with high expectations. And he's playing against guys with nothing to lose.
The message is on display early in the Sixers' first summer game, against San Antonio in Salt Lake City. The Spurs' defenders attack him as if he's the only man on the court, and no opponent is as vicious as Stefan Nastic, an undrafted 6-foot-11 Serbian by way of Stanford. What Nastic lacks in offensive deftness and athleticism, he makes up for with pipe-wielding brutality on defense. He's a shark in the water. Each Okafor touch is followed by a double-team and pounding pressure. Nastic smashes Okafor in the shoulders, sends a sharp elbow to the back and lets a knee slam into a quadriceps.
Okafor's first professional shot -- a twisting right-hander with another defender swarming him -- is an air ball. For his first 14 minutes on the court, Okafor looks out of sorts, frustrated, gassed. The 24-second clock, the altitude, the stress of nonstop hustle from one end of the court to the other all are conspiring against him. At the half, he's 2-for-10 from the field. He has two blocks, but he also leads Philly with two turnovers. "C'mon, Okafor!" a kid in the stands yells as the Sixers rookie heads for the tunnel.
The final two quarters are marked with a vexing unevenness -- a blend of brilliance and bedeviling lapses. Okafor pours in eight points in the third and displays Baryshnikovian footwork around the basket. But with time running down in the fourth, Okafor goes up for a shot and is blocked. He pushes inside on another possession, draws a foul and makes the basket -- but misses the free throw. Later, he's blocked again. Finally, with the clock at 6.1 seconds, his team behind 73-71, Okafor gets the ball near the baseline. Before he can drive to the hoop for a potential tying shot, he steps out of bounds.
Okafor's up-and-down output will be a recurring theme in these first months, though he's inarguably the best player on the court tonight: 20 points, 9 rebounds, 2 blocks. "His heart is pure," his summer league coach says after the loss. "He loves the game."
After his own interview -- he gives himself a C-minus -- Okafor stands in a concrete hallway near the locker room, two big bags of ice wrapped around his knees. "People were already telling me I suck," he says of the fans. It was his first game of five-on-five since the title game against Wisconsin. He admits he was a little rusty. "I can either come down on myself, or I can realize this is part of the process. This is what I signed up for."
LESS THAN A week later, Okafor ambles downstairs for a late breakfast at the Four Seasons in Las Vegas, where the Sixers will play four games in six days. He orders an omelet with cheddar and American cheeses -- plus jalapeños -- a strawberry-mango smoothie and a stack of buttermilk pancakes. He asks for extra syrup.
Then he starts to talk. He misses Duke, his dorm, the suite he shared with Tyus Jones, his former teammate who now shares a court with Garnett. He misses his buddy Justise Winslow, the 6-foot-7 forward who was taken 10th by the Heat. They've worked out together this summer, swapping stories of their experiences. While Okafor gets a cast of mostly inexperienced roster mates, Winslow has Dwyane Wade, Chris Bosh and Amar'e Stoudemire. "I told Justise that he'll probably make the playoffs," Okafor says.
As for Okafor, he learned a day earlier that Embiid will miss the entire season because his right foot, which kept him out all last season, has not healed properly. "When I pictured myself in the NBA, I always imagined myself with an older guy taking me under his wing," Okafor says. "I don't have that." There's no bitterness in his voice; it's just a statement. "What I thought would happen didn't happen. I'm the face of the franchise right away."
It's quite an adjustment.
Two days after the draft, as part of his introduction to Philly, Okafor held up a No. 76 jersey and smiled for the cameras. Then he dropped the jersey onto a table in front of him -- except from at least one camera angle, the table was out of the shot. It looked like Okafor dropped the jersey on the floor and walked away. The social media fire reignited. Okafor was selfish, people wrote. He was unappreciative. "One guy put up a picture of me and said if he sees me on the streets, he's going to smack me. My dad's upset about that." Fans, Okafor says, "are really dumb."
Then there was the woman who took to Twitter, claiming she had sex with Okafor and was going to release nude photos of him. At first, Okafor laughed it off. "How can someone tweet that out?" he says. Soon, though, TMZ picked up the story, and others followed. It was an embarrassing moment, a "bad look for me." Several uneasy hours passed before his agent corrected the record and the perpetrator was discovered.
Then there were the workouts. Almost immediately after the draft, he'd begun training at the 76ers' practice facility, just outside downtown. He brought his own trainer, who suggested they get to work at 5:30 a.m. and beat the coaches to the gym. The schedule worked for a few days, but then coach Brett Brown walked in one morning at 6:15. He saw his new center on the court and mentioned the scene in an interview. The recognition was a compliment, but it left Okafor wishing he could have kept everything secret a little longer. He wanted to work on his game in private, without the franchise's expectations -- and a city's hopes -- on his shoulders.
This morning in Vegas, there's a story mentioning the faux dropping-the-jersey moment as if it really happened. Okafor feels burned all over again. There's another story, though, this one from his summer game the night before against the Lakers. Although the 76ers lost, he blew up for 19 points and 11 boards and outdid D'Angelo Russell, who tallied seven turnovers and was 4-for-15 from the field. Now Russell is getting flak. A few weeks ago, Okafor might have reveled in his fellow rookie's struggles. But he has put away the sting from draft night. Today, he's protective. "We're 19," he says. "Give us some time."
---
LATER THIS SEPTEMBER, with training camp two weeks away, Okafor is on a court back home in Chicago, sweat dripping off the edges of his shorts. He bends over, wipes his face. Lewis passes a ball.
Okafor dribbles past chairs set up around the block, turns, shoots. The Okafor power ballet. He's in his second hour of practice, which is designed to tear him down physically and mentally, to force him to finish strong.
He edges to a corner, along the baseline, dribbles a few times, steps out to give himself a better angle to the basket and puts the ball off the glass. Miss. The ball bounces back to him. He grabs it, smashes a fist into it. "Gahhh!" he yells and clenches his teeth. Another pass. Another step out. Another shot. This time, it's good.
A few days earlier, Okafor went to the White House to celebrate Duke's national championship. For a day, he was back with Winslow, with Jones, with Coach K and the rest of his friends. They traveled as a group; they wore matching team jumpsuits. "It was like we were going on a road trip again -- just me and the guys," he says wistfully. Is he second-guessing his decision to leave school? He pauses for a moment. "I don't regret it," he says. "I miss college, though."
Off the court after practice, Lewis admits he's worried. The physical side of Okafor's development is great. He'll arrive at camp bulked up and with more definition in his midsection. And he looks more confident at the free throw line -- he'll go 8-for-9 in the preseason after a 13-for-32 showing in summer league. What bothers Lewis is the mental aspect of playing for the 76ers. Besides Okafor and Noel, who averaged 9.9 points and 8.1 rebounds last season, even diehard Sixers fans might be hard-pressed to name the team's starters. Okafor, a kid who lost nine games in the past two years, might lose nearly twice that in his first month as a pro. All the practices in the world can't prepare him for that, Lewis says. "How is Jahlil going to deal with getting his ass kicked every night?" he says. "How will he deal with being a loser?"
OKAFOR AND A friend drive to a high school football game west of the city later that afternoon. His cousin is a running back for Leyden High School, and Okafor is there to watch with his aunt and a couple of cousins. A few minutes into the first quarter, he takes a seat in the front row of the visitors' section, behind the Leyden bench.
He doesn't talk about practice or his team or the season ahead. It's a moment of calm amid a sea of uncertainty. They talk about Janet Jackson versus Beyonce, an upcoming Alvin and the Chipmunks concert. He tells his aunt, Chinyere Okafor, about a fan who stopped him in downtown Philly. "He was blocking traffic," he says. "He wanted a photo or something. It was crazy."
"That's terrible," his aunt replies.
Okafor excuses himself and heads to the concession stand. "It makes me sad for him," his aunt says, watching her nephew walk the metal bleachers. "Well, not sad, but wherever he goes, people want his time. He's the attraction."
By the third quarter, Leyden is up big. The opposing quarterback rolls right. He can't find an open man, so he launches a pass high over his covered receiver. It soars over the Leyden bench, heading toward the stands. Okafor puts up his hands and catches the ball at his chest. The bleachers explode with laughter. "He got hands!" someone yells. "He got hands!"
---
IT'S AN HOUR from game time at Wells Fargo Center, site of the Sixers' first preseason home game. In perhaps a sign of the season to come for the 76ers, the Cavaliers are resting LeBron James, Timofey Mozgov and J.R. Smith. Kevin Love and Kyrie Irving are out with injuries. Fans line a few rows of seats near the player entrance, holding basketballs and photographs for Okafor to sign, some just yelling his name. Several are wearing the jerseys of Sixers legends: Wilt and AI.
Okafor steps onto the court to begin his pregame workout, which is more like a full-blown practice. It's just Okafor, some coaches and a couple of ball boys. Okafor gets a pass near the free throw line, pulls into a crouch, pushes his butt out. Assistant coach Sean Rooks, 6-10 and a 12-year NBA vet, steps up and puts a forearm into the rookie's back. It's time to go. For 16 minutes, it's nonstop. Posting up. Free throws. Working in space with the jumper. Free throws. High tips around the basket. Baseline shots. 
Free throws. Dribbling and driving. He cuts to the basket and dunks. Free throws. The coaches nod in approval.
Afterward, Okafor shuffles to the bench and plops down next to another assistant. This one has a computer open to video from the previous game, a 34-point loss to the Wizards in which Okafor tallied 12 points in 17 minutes but didn't get to the free throw line. The screen reads, "Jahlil Okafor Effort." Okafor exhales deeply. 
The assistant tracked 23 of Okafor's plays against the Wizards, rating Okafor's quickness to transition from offense to defense, from defense to offense; he's looking for baseline-to-baseline hustle. He wants to see how Okafor executes when he's fresh, when he's tired. The assistant runs the first play.
"You were a little slow on the start," he says. Another play: "That's a great pass. Do that every time." Another: "See your hop there? Get rid of that hop and you're good." Another: "Slow start." Another: "That first step should be a burst step. You've got a jog going, and then you kick it in."
Okafor stares at the screen. "The first four or five minutes are great," the assistant tells him. Out of the 23 plays, though, only 10 are rated "good." Okafor is at 43 percent. "We want about 15 'goods,'" the coach says, then offers: "You'll get it."
TWENTY-FIVE DAYS later, on Nov. 2, Philadelphia breaks out to a 32-18 lead against Cleveland. It's the Sixers' third regular-season game, and Okafor is showing the physical strength he has displayed throughout his brief basketball life. In the first two games, he has produced a 26-point, seven-rebound gem in Boston and a 10-point stinker in the home opener against Utah. Philadelphia lost both games.
Okafor's early successes and struggles have been met by consensus in the Sixers' front office: He's the right person for the team. In their eyes, a poor game isn't as much a physical test on the court as it is a mental challenge in the locker room. Okafor remains the same person regardless of production -- thoughtful, positive, critical of his game but mindful of the slow growth that awaits him.
In the second quarter, with Philadelphia up 44-34, Okafor takes a pass deep on the left block and displays the post-up skill that has made him such a commodity. With Love defending him, Okafor quickly pivots, faces up, swings a shoulder inside, drops low and blasts toward the basket. He slams a shoulder into the three-time All-Star once, then twice -- Love's hair snapping back on the vicious second hit -- then slips a right-hander off the glass. On the next Philly possession, Okafor nails a 17-foot pull-up jumper.
The Cavaliers rally big in the third and take a 10-point lead. Okafor lands in foul trouble, the Cavs throw the double-team at him and he's not aggressive enough on rebounds. When he doesn't have the ball, he seems more focused on hustling back to the other side of the court; on defense, he seems more interested in boxing out his assigned player than attacking the ball. With Okafor on the bench in the fourth, LeBron James scores the 25,000th point of his career on an alley-oop slam and Cleveland extends its lead to 90-77. When Okafor comes out for good with 5:05 remaining, he has played nearly 27 minutes, scored 24 points and turned the ball over only once. Less impressive are his three rebounds and two trips to the foul line. He's the leading scorer on either team.
After the game, a 107-100 loss, Okafor finds his coach in the locker room. He needs to rebound better, he tells Brown. He wants to get there, to put in the work. "You just want to hug him right there and then, on the spot," Brown will say later. At his locker, with ice bags again on his knees, Okafor sits in a chair and checks texts on his phone. He looks relaxed, but there's no smile. This was a loss, after all. "I'm getting there," Okafor says. "I know this isn't going to happen overnight." And while his teammates get dressed, he leans back in his seat.
Game 3 is done. Seventy-nine to go.