This story is part of ESPN The Magazine's Ideas of the Year Issue -- a look at the people, moves and moments that changed sports in 2015. For more, visit espn.com/IdeasIssue, or look for the issue on newsstands Dec. 11. Subscribe today!
---
RUN 'N' DEFEND
Going small has traditionally meant sacrificing defense to outgun an opponent: Three of the best small-ball squads in history (right) have ranked in the top three in both pace and offense, but none finished better than 17th in defensive rating. The Dubs are a different story. They led the league in D last season and rank fifth this year. While they employ a traditional starting lineup with rim-protecting center Andrew Bogut, it's actually the small-ball crew that really clamps down. The quintet of Stephen Curry, Klay Thompson, Harrison Barnes, Andre Iguodala and Draymond Green has allowed an absurdly low 84.8 points per 100 possessions (NBA average: 103.9). The key is Green. Small-ball bigs are usually scorers who exploit mismatches against lumbering centers (think: Amar'e and Dirk). But, at 6-foot-7, Green still holds his own down low, while disrupting pick-and-rolls with his quickness. With four rangy players between 6-6 and 6-8, Golden State can switch and help in ways their small-ball predecessors couldn't. And that approach has paid off big-time -- in the form of a ring.
NBA RANK
---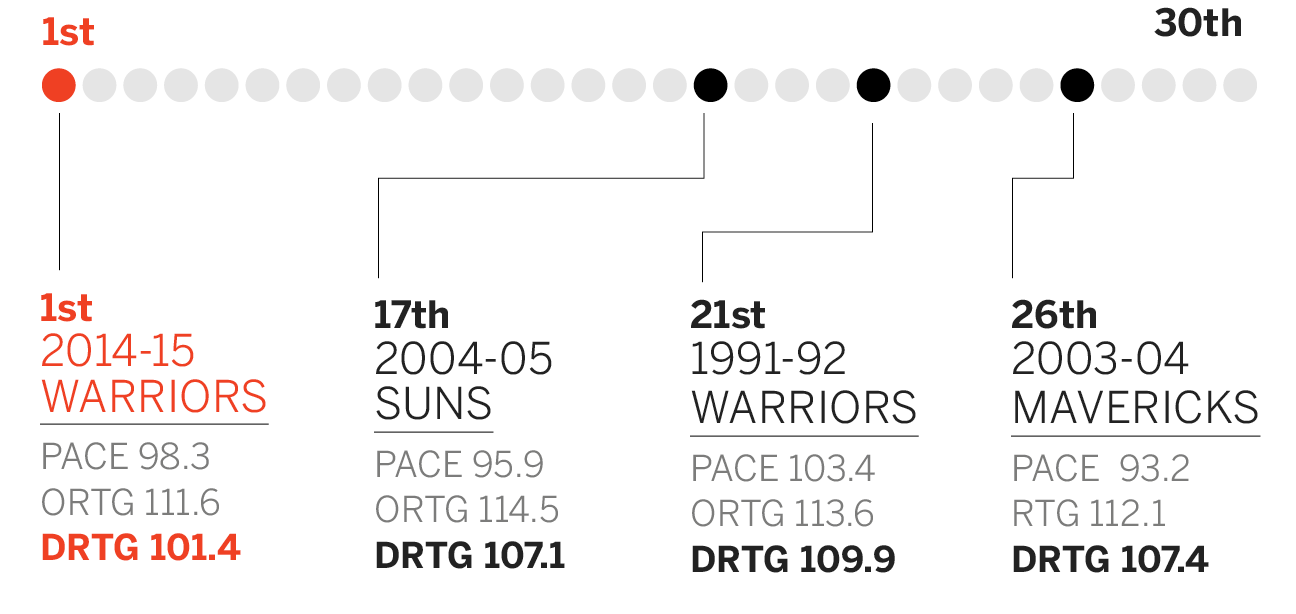 HERE'S THE POINT
In Game 6 of June's NBA Finals, Steve Kerr turned to a lineup with no one taller than 6-7. Why so small? Because so many versatile playmakers made it nearly impossible for the Cavs' D to key on any single aspect of their offense. Other than Thompson, every member of that crunch-time lineup was a primary ball handler at some point in his career (Green played point-forward at Michigan State, Iguodala filled the same role with the Sixers), and all five had an assist percentage above 10 percent in the regular season. That's a marked difference from previous small-ball squads. Steve Nash's Suns, for instance, revolved around the pick-and-roll: Teams that stopped Nash stopped the offense's flow. But the Warriors are just as comfortable running Curry off screens as they are asking him to set up the offense. Sure, having the best-shooting backcourt in NBA history helps, but Curry and Thompson are even more effective because so many of their teammates create shots for them.
1991-92 WARRIORS' SEASON RECORD
---


2003-04 MAVERICKS' SEASON RECORD
---


2004-05 SUNS' SEASON RECORD
---


2014-15 WARRIORS' SEASON RECORD
---