The Cleveland Cavaliers and Golden State Warriors both sit atop their conferences and on track for a possible NBA Finals rematch in June, and the Cavs have just welcomed back a key contributor in time for their marquee Christmas Day matchup -- point guard Kyrie Irving. Despite playing without Irving until this past Sunday, the Cavaliers have kept winning with Matthew Dellavedova as their primary point guard and LeBron James (33.6 usage percentage through Dec. 22) as a facilitator. Nobody should be happier about Irving's return than LeBron, who has always been in need of help at the point guard position. When looking at James' career with Cleveland and the Miami Heat, it's clear that he has had few stars on his teams, and no other point guard close to Irving.
Lack of help
Looking at LeBron's running mates throughout his career, there's a lack of star power. Using the Lineup Finder on Basketball-Reference.com, we can get a precise look at every teammate who has shared the court with James in his career. You might think that over time he has played with his fair share of All-Stars, but there has been just five All-Star teammates: Zydrunas Ilguaskas, Mo Williams, Dwyane Wade, Chris Bosh and Irving. Is five a high number? Not really. The percentage of All-Stars among his pool of teammates is lower than this season's league average: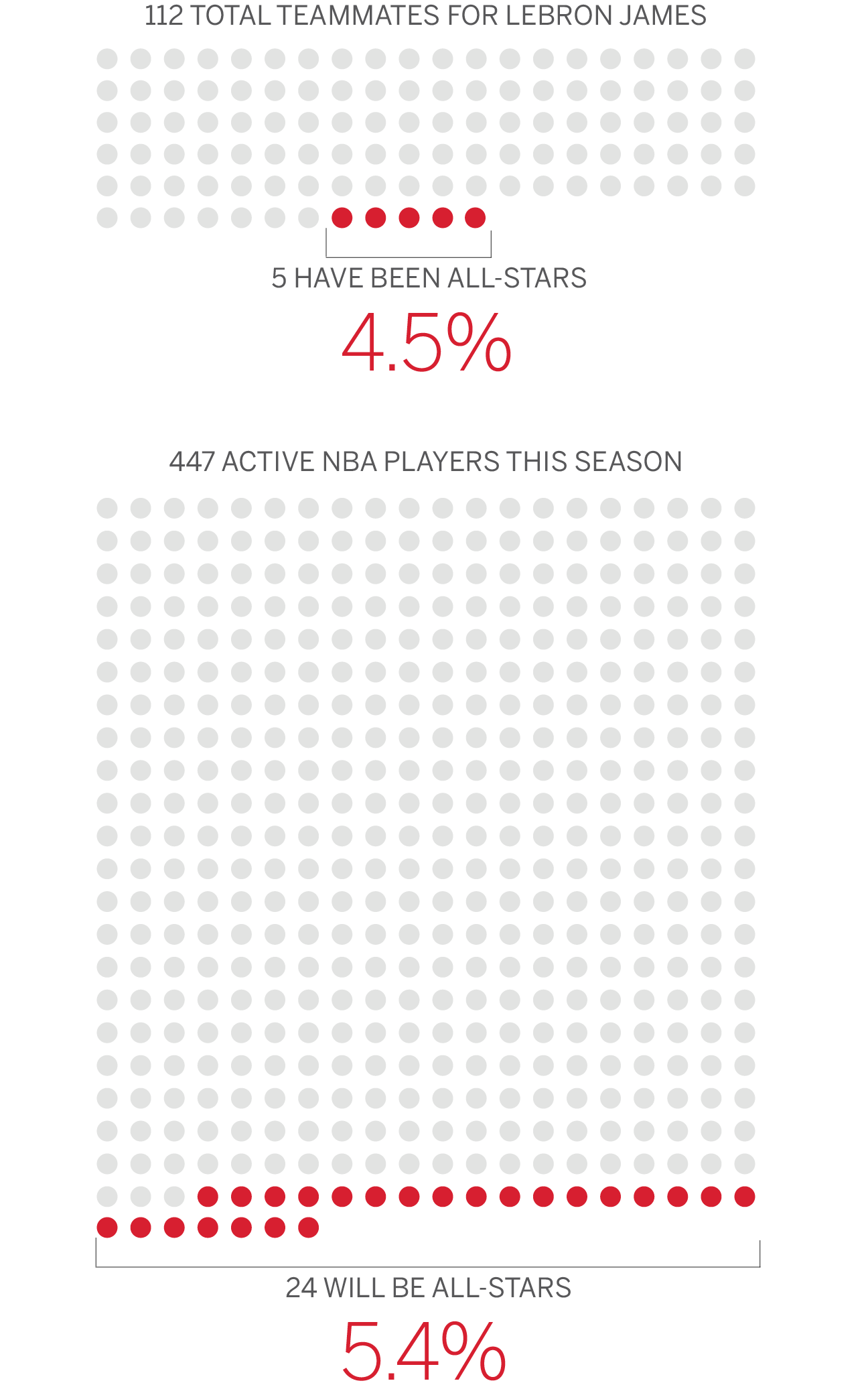 LeBron's point guard history
In total, LeBron has appeared with 21 teammates listed as point guards (16 with Cleveland and five with Miami). It's not a terribly impressive list, outside of Irving and a few others. Here they are, sorted by games played alongside LeBron:
Some players listed also played shooting guard, but are listed on the depth chart as point guard by Basketball-Reference.com

Comparing them using career PER
When comparing the body of work of these points guards, with the metric of player efficiency rating throughout their careers, Irving stands head and shoulders above the rest. Even the second-highest number here, Mike Bibby's 16.1, is largely from his time in Sacramento. Here are their totals, along with a scale for PER via SportingCharts.com, and highlighted names for the four point guards who played the most games with James: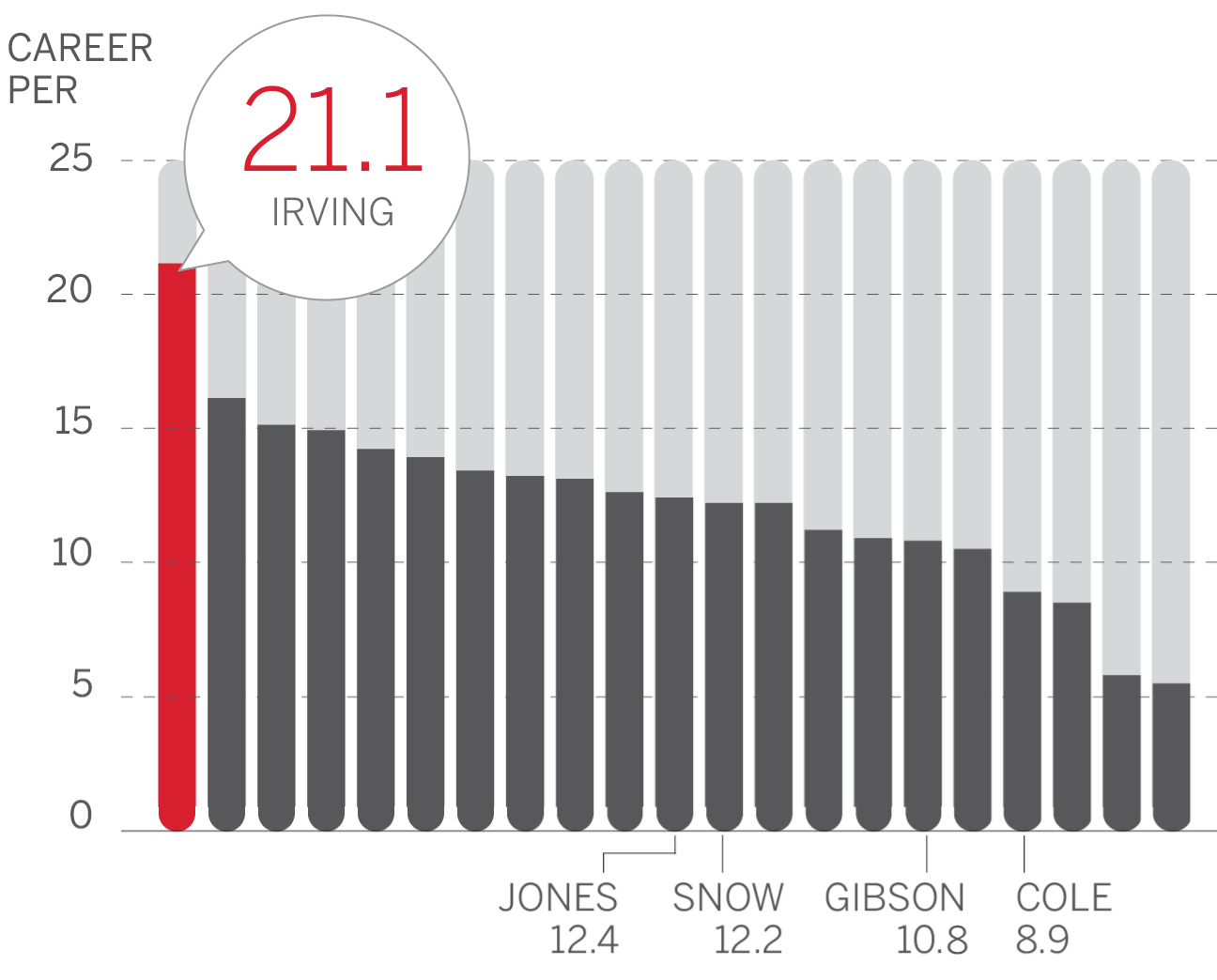 Point guards by category
The distribution of LeBron's 21 point guards, when put on the scale above, skews heavily toward lesser players. Irving is the only one above the average range.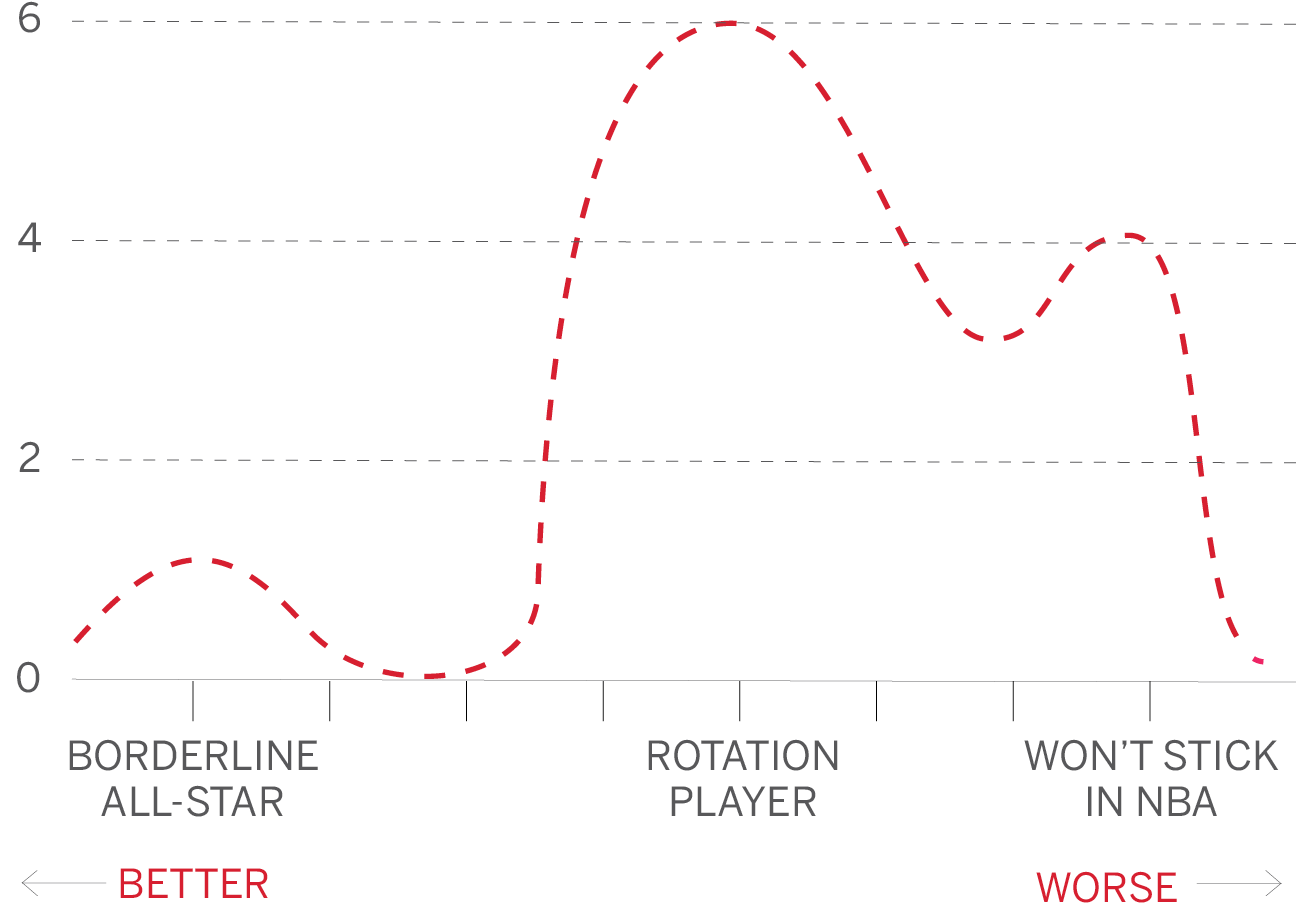 In conclusion
This career-long trend of substandard point guards is due in part to LeBron's game -- he is a good passer and enjoys running the offense as his game has developed. However, having an outlier like Irving as his point guard as he enters his 30s could be helpful in reducing his minutes and the burden he carries in Cleveland's offense.So how big of an upgrade has Irving been for James? If you average together the other 20 point guards he has played with, their career PER falls under the category of "non-rotation player," meaning they are technically good enough to see significant playing time:

---
And the last reason that LeBron should welcome back Irving with open arms: they play well together. A comparison of their offensive rating when sharing the court last year against LeBron's total this season:

*All numbers through Dec. 22.