Although Knicks coach Derek Fisher told reporters that his team has been "horrendous" on defense recently, there's one player who's actually doing a solid job: rookie big man Kristaps Porzingis. If you're an NBA fan, you've probably seen plenty of highlights this season involving Porzingis. At age 20, he already has surprising range from deep and does a solid Hakeem Olajuwon impression with his own version of the Dream Shake. But people tend to overlook a part of his game that is developing quickly over the past month: his ability to be a rim protector and shot-blocker. In those roles, he's more proficient than you might think and continues to get better. As the New York Knicks prepare to take on the Miami Heat and defensive stopper Hassan Whiteside on Wednesday, let's examine the numbers to see how the defense of Porzingis bears watching.
He's at his best close to the rim
According to the defensive tracking numbers provided by the NBA, Porzingis is a solid defender across the board. His size doesn't allow him to cover a lot of ground, but a formidable wingspan allows him to affect shooters if they're close by. But if you look at Diff%, an NBA stat showing how a defender's field goal percentage allowed differs from the shooter's overall percentage, you see where his defensive strengths lie.
DEFENSE, BY TYPE OF SHOT
That number within 6 feet of the basket looks to be the most impressive in terms of Diff%, but how good is it in a bigger context? He's actually one of the league's best in that regard, ranking in the top five. Here are your lowest Diff% totals within 6 feet of the hoop, the ultimate rim protectors. Surprised that the Knicks have two players in the top five despite their defensive struggles? As a team, New York's Diff% within 6 feet is minus-3.3%, tied with the Warriors for best in the NBA.
BEST DIFF%, LESS THAN 6 FT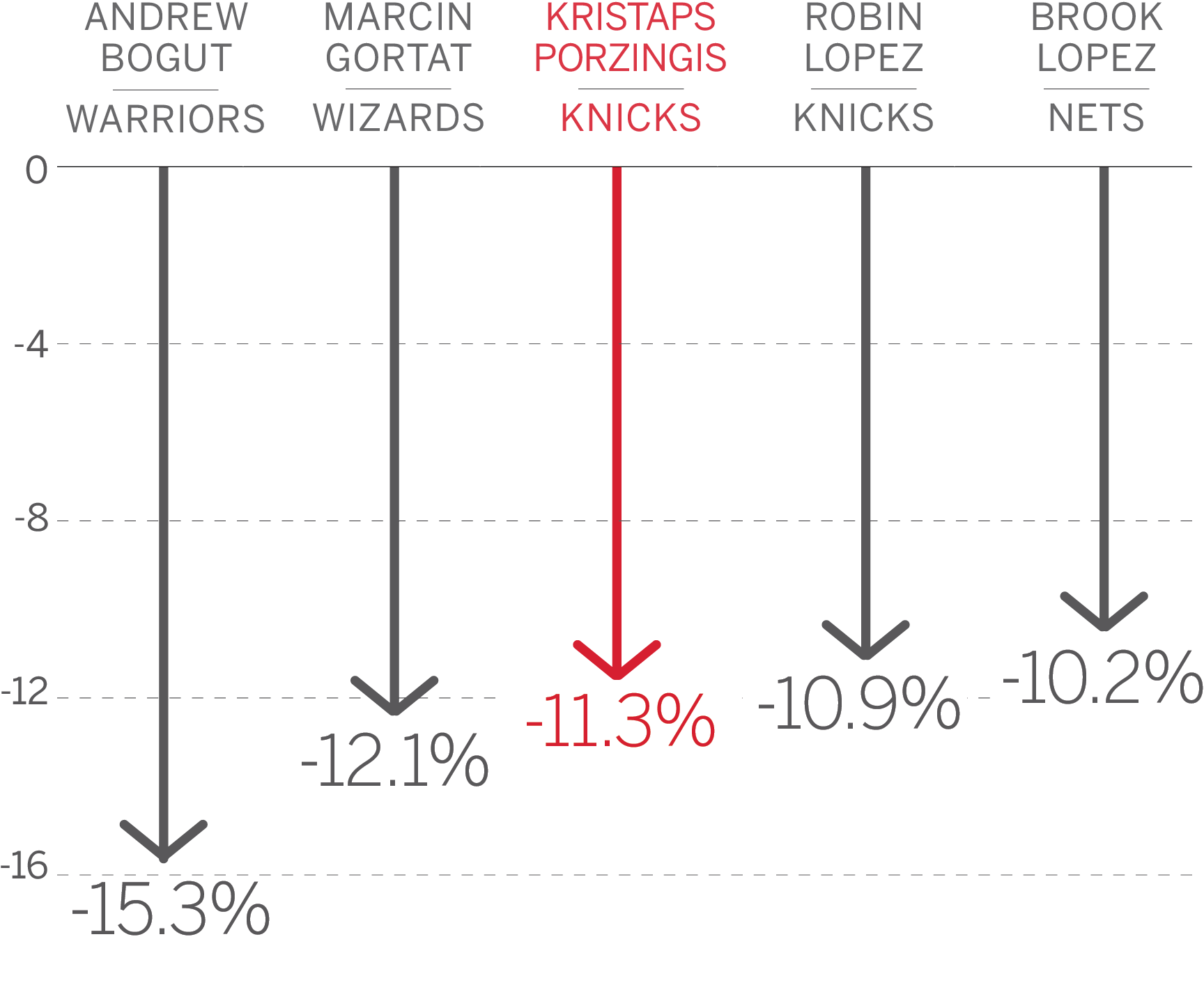 Minimum 20 games played, 4 field goals attempted per game within 6 feet
Porzingis sits in the top 10 in blocks per game, so let's take a look at how well each of them affects the opponents' shooting percentage in close. As you'll see, Porzingis leads all the shot-blockers above him on this list:
TOP 10, BLOCKS/GAME


He challenges shooters, gets blocks in close
So we know Porzingis makes his best defensive contributions close to the rim, but he doesn't just put up good analytics numbers in that area -- he also makes almost all of his blocks there. Courtesy of the fantastic shot tracker at NBAsavant.com, below are the locations of each blocked shot for Whiteside and Anthony Davis, ranked first and second in blocks per game this season, as compared to Porzingis.
HASSAN WHITESIDE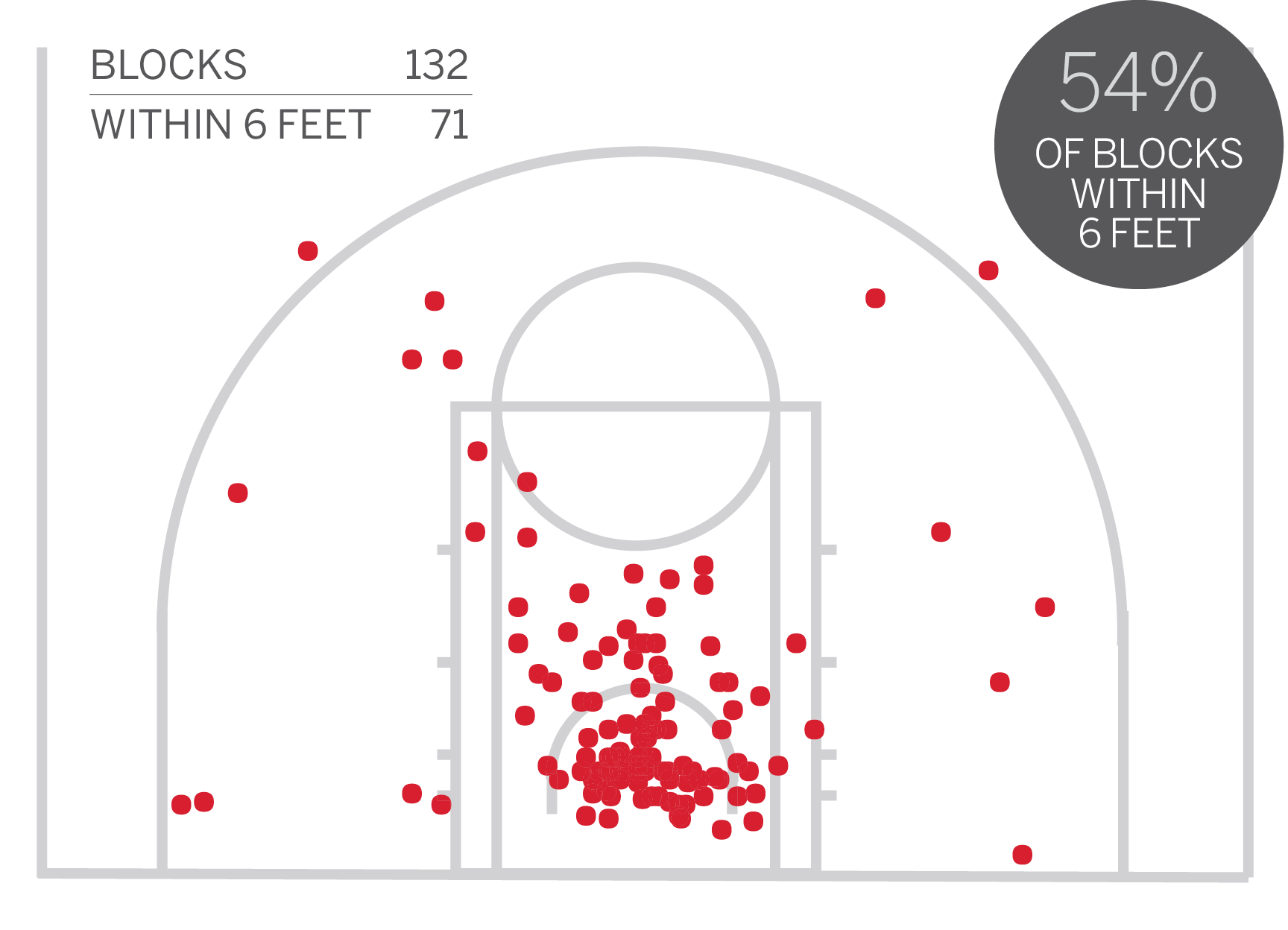 ---
ANTHONY DAVIS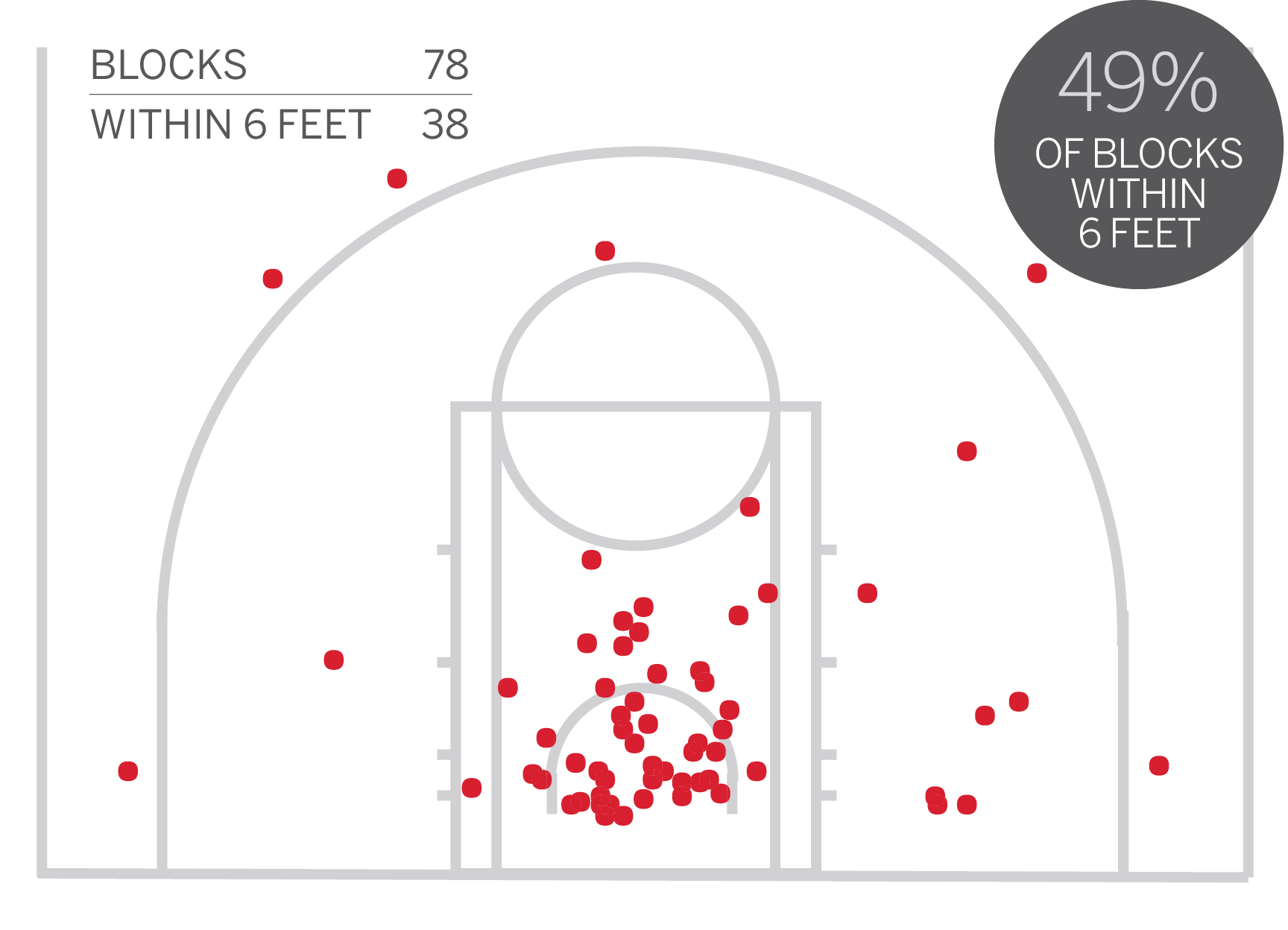 ---
PORZINGIS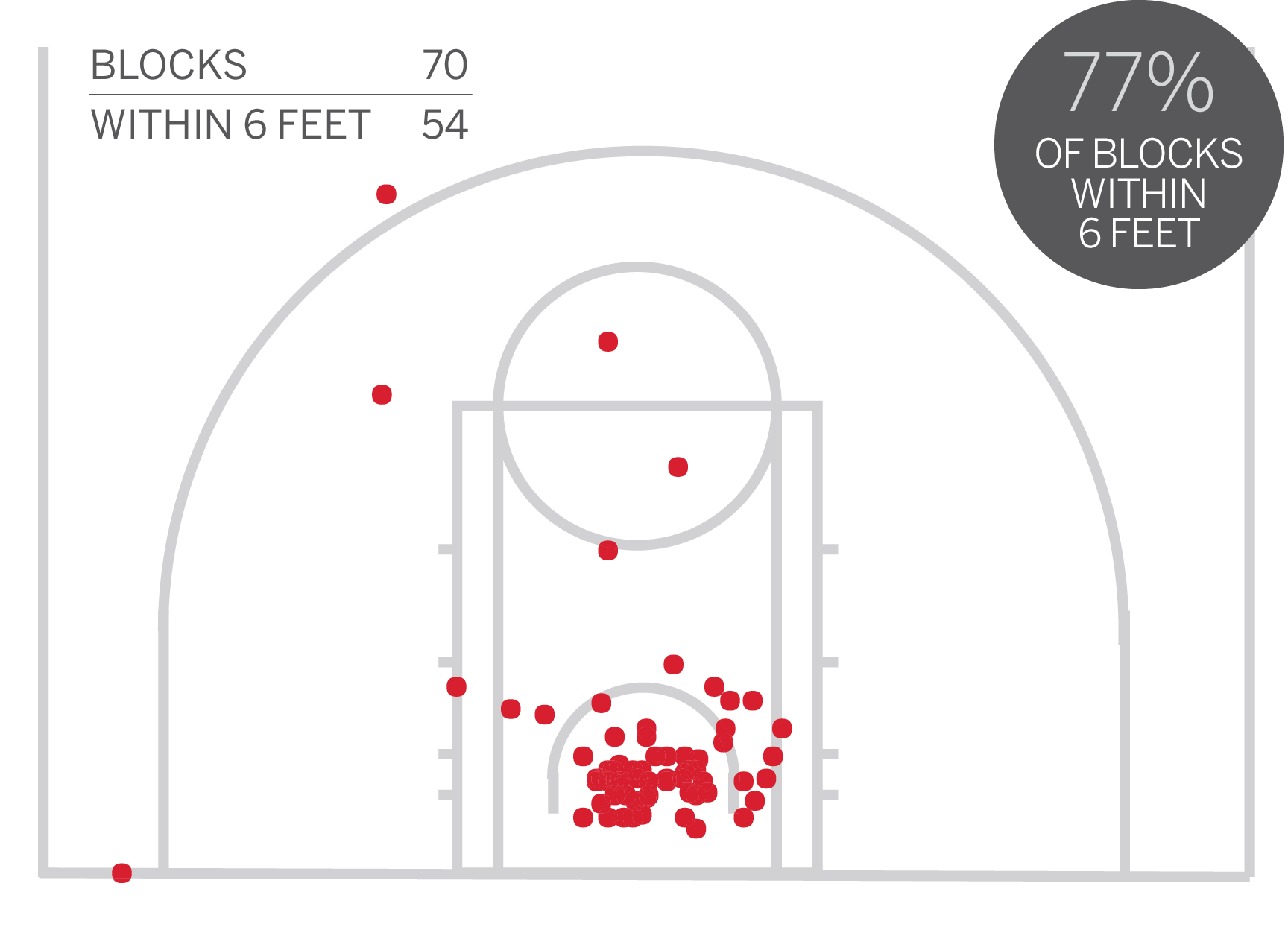 Clearly, Whiteside and Davis are far more mobile, and that's reflected in where they block shots. Whiteside controls the paint all the way out to the key but also challenges shooters at the rim for many of his blocks. Davis is quick enough to get up against 3-point shooters, as evidenced by the five blocks beyond the 3-point arc (accounting for 6% of his blocked shots), but blocks a lower percentage close to the rim. Meanwhile, Porzingis is compiling a decent number of blocks while rarely making one beyond a few feet from the hoop.

Houston game was the turning point
The Knicks played the Rockets on Nov. 21, and up to that point, Porzingis had registered no more than two blocks in any of his 13 NBA games. But on that night, he swatted seven Houston shots (to go with 24 points and 14 rebounds), and his defensive numbers have improved significantly since then. Maybe it gave him greater confidence, or maybe offensive players have been coming at him more frequently and allowing him more chances to make defensive stops and blocks. Or perhaps Derek Fisher is using him more strategically, as Porzingis has seen his playing time decrease slightly as the grind of the season wears on. Whatever the reason, the numbers reveal he's an entirely different defender since that game.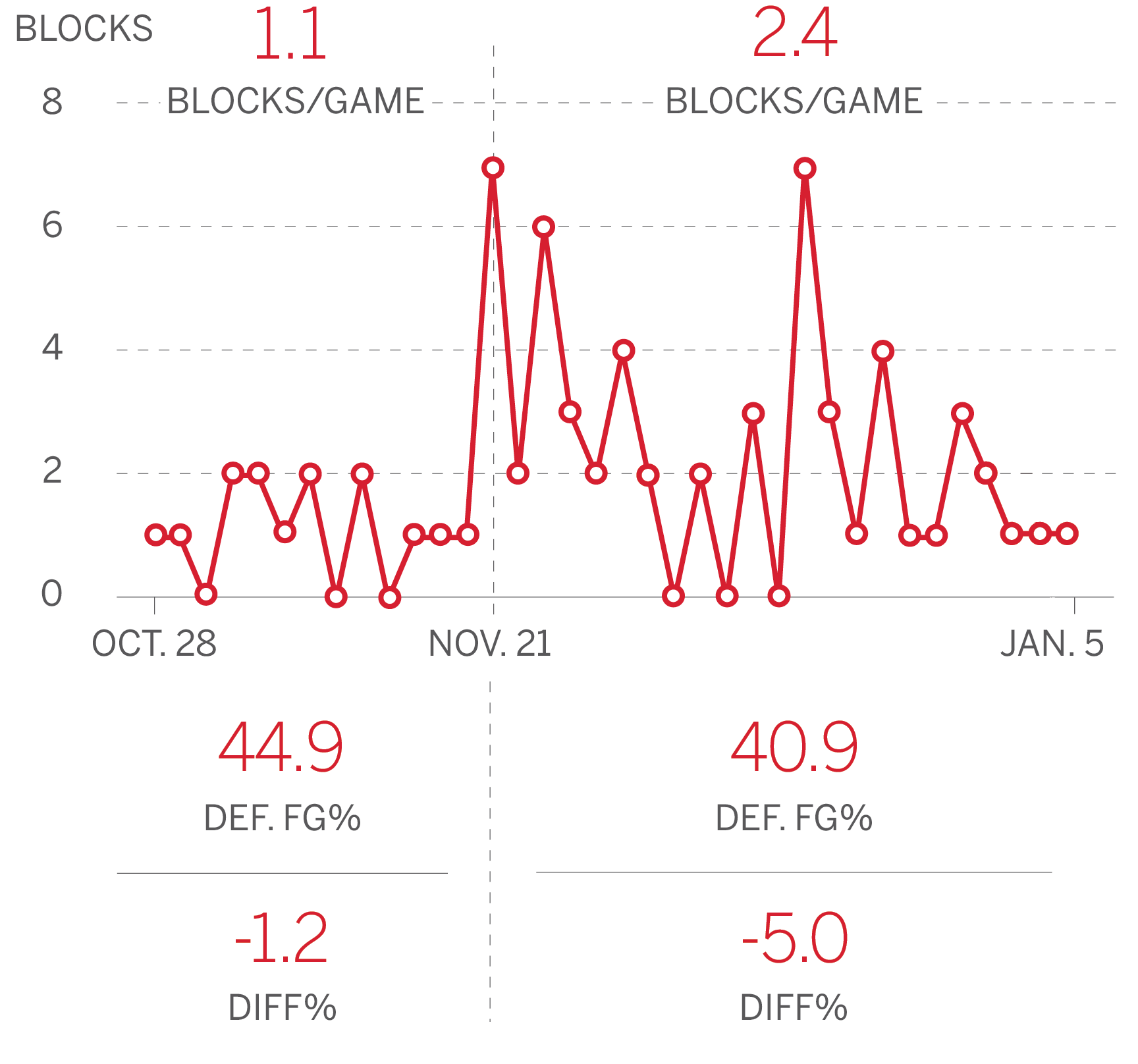 As previously stated, the Knicks have not been playing the league's best defense of late as a team, and there's work to be done. But for a young player just barely out of his teenage years, Porzingis has shown the potential to develop a strong defensive game to complement his offensive skill set. And that's something the Knicks can build on.