This story appears in ESPN The Magazine's Feb. 8 Super Bowl 50 Issue. Subscribe today!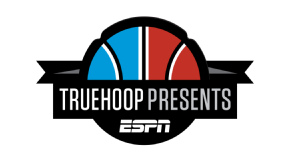 OAKLAND, CALIF. -- DEC. 25, 2015
HE HAS MARINATED in a Finals loss for 193 days, and now LeBron James flies west from Cleveland on Christmas Eve to revisit the concrete bowl on the San Leandro Bay that's home to everyone's new favorite darlings, the Golden State Warriors. It's the first of two meetings in a month against Stephen Curry, his improbable rival who, in less than a year, has laid claim to this league as his own.
Soon after he arrives at the San Francisco hotel Thursday, James tells Cavaliers assistant Phil Handy that if the Oracle Arena court is available on Christmas morning, he'd like to get a sweat in during the hours before the 2 p.m. tip. Early games can test a player's tempo, and the opportunity to get some shots up, work on his handle, see a couple of touches in the post would soothe his rhythm when the ball goes up.
"He knows his body," Handy says.
James doesn't typically work out pregame, but here he is at 11:15 a.m., wearing knee-length gray sweatpants, the NBA's cute-ugly Christmas socks and a black cleveland basketball T-shirt with long sleeves that cling to his sculpted triceps like cellophane wrap. He wrestles with Handy on the left block, pivots baseline, pivots again, then goes up and under.
By now he has worked up a sweat, and he yells over to the far sideline, "Bring some water." James isn't officious; he doesn't treat these guys like valets. There's almost a collaborative feel to the session, even as he's enveloped in the full bass of his wireless Beats Solo2s. Handy collects the ball, then instructs James on the next sequence of choreography. James nods, then asks for clarification.
"Left twice, then right three times, and jab first?"
"That's right."
A nation of basketball fans from Boston to Los Angeles has begun filling arenas 90 minutes before games to witness Stephen Curry's warm-up routine, but James has the place to himself. It's an empty, cold space this early, and James blows into his open fists.
"Down first or back?" LeBron asks.
"One stab, one hard step back," Handy tells him.
James goes to work, concluding each rep with that patented little right-toe kick. When he's in a groove, lyrics flow freely from his mouth. When he misses badly, it's "God---- it!" An off-target free throw draws "Ah, you b----!" Between sets, he consults with Handy on mechanics, then moves to the next spot.
LeBron is the new age superstar, a product of self-determination who doesn't just manage a personal brand but leverages it. That salary he earns from Cavaliers Operating Company LLC? 
Pocket change. His recent lifetime deal with Nike will feather his nest until his dying breath. A king's annuity. He has parked himself at the table for the upcoming collective bargaining agreement negotiations. He won't just earn a paycheck; he'll dictate the thickness and pattern of the checkbook.
But influence is a different currency, and down the hall Curry has started to amass his own fortune. There's the championship ring, at LeBron's expense. He's now the most prolific seller of player jerseys -- also at LeBron's expense. On Christmas morning, mere hours before tip-off, the league announced the first All-Star ballot returns, and James had half as many votes as the man he succeeded in the spotlight, Kobe Bryant, and 150,000 fewer than Steph.
Fans are fickle. They embrace novelty and nostalgia, shiny new objects and esteemed bronzed ones. But LeBron is neither new nor old, neither luminary nor upstart. He's the constant on a landscape that's shifting beneath him.
"Being the most influential player in the game, for him, is a challenge," says Cavs forward James Jones, whom LeBron calls his favorite player of all time. "That's his goal. When you think about basketball from here on out, who was that one transcendent guy who you couldn't replicate? When you have a LeBron James, a 6-8, 265-pound point-forward scorer, there aren't very many of them. The game has to change, to find something else."
What the game has found is Curry. And he, in turn, has expanded the base of NBA fans. Just as LeBron pushed the league to reimagine how size, speed, vision, finesse and intuition could be packaged in a single player, Curry has redefined what constitutes a high-percentage shot -- and the people love it. They love that he looks like their brother's college roommate, love that every Warriors postseason tilt is bring-your-daughter-to-work day.
LeBron's appeal isn't relatable because LeBron is not like you. His hulking body emerges from the training room an hour before the game, ankles taped, abs ripped, a tangle of sinewy muscle looking for a mountain to climb. He settles in at his locker, grabs the large Beats Pill speaker and pumps Rich the Kid into the room. There's nowhere to hide from LeBron.
---
"NO, WE HAVE no traditions," James says of his young family at Yuletide. "If I can get a home game on Christmas, then we'll have a tradition."
Playing in a visiting building on Christmas Day is being twice cursed for an NBA star. It's an assignment away from family, but it's also a cruel reminder that your previous season concluded with a loss. So here's LeBron, spending the holiday on a business trip in StephWorld.
"We don't talk, but we have a lot of respect for one another," LeBron says of him and Curry. "I think he's special. He's very special. We all know that."
The tribute is neither grudging nor demonstrative. It's the regard you have for a talented colleague at work you never think to invite out for a drink. LeBron knows the business, so he must know that Steph is it, the comer in a league that celebrates -- no, relies on -- star power.
There's no time for those considerations now, though, because Kevin Love is in trouble. He's under the basket with possession of the ball, sandwiched between two of the league's best defenders, center Andrew Bogut and forward Draymond Green. LeBron hears the alarm. He zips down an open lane of the hardwood to collect the ball for what could've been an easy bucket in a game with few. Love never shuttles a pass to LeBron and gets stuffed by the Warriors hoagie. LeBron takes issue, but Love already knows he flubbed the play. The two slap hands as timeout is called.
Last season LeBron was a bear in the Cavs' locker room, quick to tag teammates as soft and confront adversity with antagonism. Those who take note of such things say LeBron's turn to positive leadership this season has been apparent. So when he gets on Tristan Thompson after a botched set that drew Green rather than the less mobile Festus Ezeli for LeBron, it's a clinic, not a scolding. A few minutes later, LeBron draws Steph.
The game becomes still. LeBron holds the ball and surveys the scene over Steph's outstretched arms. It's two samurai standing with their swords drawn, both fully aware that whoever moves first forfeits the advantage. LeBron takes two jab steps in quick succession, one at 10 o'clock, the next at 2 o'clock, but Steph doesn't yield. With the shot clock set to expire, LeBron takes a single dribble and steps back for a 3-pointer that scrapes the roof but doesn't fall.
As of this moment, since the start of the 2015 Finals, LeBron is 0-for-9 when guarded one-on-one by Steph.
---
"OBVIOUSLY WHEN YOU step on the court, you start to relive some of those moments, but I haven't reflected much at all," LeBron says. "It's a totally different stage."
LeBron is right: The Christmas Day game produces a crescendo in the fourth quarter but never reaches full climax. Still, for a few minutes down the stretch of a ragged but reasonably close game, LeBron's mind and body wrest control of the action. This time, Steph can't possibly contend with the brute force that is LeBron rolling downhill to his left. Nor can Klay Thompson shake him off a curl, as LeBron shadows him to the basket, swatting away the remains of Thompson's drive at the rim.
Physicality still matters in the NBA, the way James controls his body, asserts his body, wields it against all challengers. A superstar throws his weight around the court and doesn't worry about casualties, which is how we end up with another uncontested slam by LeBron on the other end. Skill plus strength, intuition plus impulse. The Warriors might feature a collective roster of versatility, but don't you forget I was brandishing that versatility before the first splash.
"You can get into the era of analytics, you can get into the era of statistics, you can get into the era of small ball, you can look at a lot of different things, but one thing you can't ever replace is the type of player you can put in any system and have those players thrive -- and [LeBron] embodies the versatility," Jones says. "That's what makes him unique -- no slight to any other player. That's what sets him apart. I think it's hard for the casual fan to appreciate that. They might not see the nuance."
---
LEBRON INTERLACES HIS thick fingers and presses both palms into the crown of his head. With just 1:32 remaining, he has just missed two free throws that would've brought the Cavs to within two. There's no "Ah, you b----," no histrionics. Just a long stare into middle distance, with almost a resigned smile.
"I had a couple of plays I wish I could get back," he tells a confidant in the locker room, which seems notably unbothered by yet another loss to Golden State. The Cavs didn't drop the game because the Warriors were a younger, more innovative team. They lost because they couldn't hit a shot.
"I didn't put too much into it," James says. "I told the guys on the bench, 'Don't put too much pressure into this one game.'"

CLEVELAND -- JAN. 18, 2016
ABOUT THREE WEEKS after his unpleasant Christmas stay in the Bay, James pulls his mammoth SUV into the garage at Quicken Loans Arena, where he'll play host to Curry. He alights from the tank with no hat, no Beats, no cultural signals. Just an elegant midnight blue topcoat, matching slacks and a violet scarf that stretches his 6-foot-8 frame even more.
As LeBron navigates the narrow hallway toward the Cavs' inner sanctum, a gaggle of high school players from Harvest Prep and St. John Central is headed in the other direction. The boys, naturally, go berserk. They're 150 miles from home and just played on a polished NBA court, but this chance encounter with Ohio's most immortal hero will be the highlight recounted on the long bus ride home in the snow. LeBron gives a half-smile and politely greets them, but he's all game face and long strides.
Two hours later, he starts and ends the first quarter the same way: with a rampage to the rim. In between, it's 11 minutes of hell. His successor across the floor exceeds LeBron's power with silkiness and 16 points. Such is the pro game in 2016, and James can't win for losing. The two stars tangle as LeBron lays out a screen on Steph to free backup point guard Matthew Dellavedova on the right wing. There's a collision. Curry is grabby, but he's no match for the force of LeBron's weight. LeBron's mammoth hands press Steph's shoulders, and Steph immediately finds himself on his ass.
"Instead of everyone going their separate ways, we have one spot we can go and just enjoy each other's company. It just continues to build the camaraderie that you need to be successful from year to year."

Steph Curry
"I set a screen," James says of the offensive-foul call. "He held me right in front of the official. It's the same thing as when you're a kid in class. It's always the second guy who gets caught. I didn't tell the joke, but I laughed. I got caught. That's what happened."
In the second quarter on the playground, Curry steals James' lunch money, poking the ball away in the post. LeBron's face is something between exasperation and resignation. Steph picked him blind, sneaked up on him. This is LeBron's current station vis-à-vis Curry, the classmate who isn't the initiator of the disruption but the accessory to it. Not so long ago, LeBron was the disrupter, in the parlance of the startup world. Now it's Curry who is the upstart, and it's his night to quiet the hostile crowd. By the time the Warriors' lead reaches 37, LeBron is watching the carnage from the bench.
---
LEBRON ARRIVED EARLY to fame, a high school basketball heartthrob whose exploits were broadcast to the world. A few years later, Curry settled in at a marginal Division I program, a preppy campus near home where some scouts maintained that his slight frame was ill-equipped for the rigors of the NBA.
LeBron's first-act conflict was one of the great public relations failures of his generation. The damage from The Decision demanded a full-scale rehabilitation of his persona. The adversity encountered by Curry early in his career merely required the full-scale rehabilitation of his ankles. What's the greatest failure of Curry's public life?
N/A.
The halo shines brightly over Steph. It's a devout, almost precious existence. His wife's YouTube channel features a video of Ayesha serving him a breakfast soufflé and cajoling him into fixing breakfast for her on Mother's Day. Meanwhile, LeBron's Starz series Survivor's Remorse portrays an NBA star who smokes a little weed and engages in off-color conversations that might offend certain sensibilities. The contrast is profound, but each is an authentic expression of its world.
"Your background definitely always influences who you are, especially at that level, because part of getting to that level is staying true to yourself and who you are," says Green, a Curry teammate but a James admirer. "When you reach a certain level of stardom, the fun part is staying true to yourself. I think both of those guys have done that in a different way, though."
It's not that LeBron's public face isn't meticulously constructed, but he's never clung to purity as a personal virtue. Truth is, he's never really known innocence. Steph was born into basketball royalty. He practiced his shot the way other prodigies pursue the piano. LeBron grew up hard, and his support system was anything but nuclear. Setbacks and missteps were priced into his ascension.
So even on a night when he fell down by 43 points -- the largest deficit of his 12-year career -- LeBron sounds grateful for the opportunity. Smiling through the absurdity, he scoffs at the notion that being on the receiving end of such abuse should make him miserable, that it's more than just a bad day at the office.
"It's not miserable. It's just not the end of the world -- it's still a basketball game," he says. "I'm fortunate I've never been in an office. For me, it's never as bad and it's never as good as it may seem when you're going through it."
LeBron, once again, is on offense.
It's a struggle to imagine that this picture of strength also harbors human frailty, and if it's hard for us, imagine what it must be like for him. Over the course of any career, youthful exuberance mellows and talent grows into itself. Who knows exactly when that happened for LeBron. Forty-eight points in the double-overtime win over Detroit in the 2007 conference finals? The night of the first title in 2012? Trying to pinpoint an exact instant is impossible, but somewhere along the way -- and not so long ago -- LeBron became the league's elder statesman. The emergence of Stephen Curry as NBA supernova might have been that moment, as his ascent pushes LeBron into a position of seniority.
And with that comes LeBron's first brush with basketball mortality.