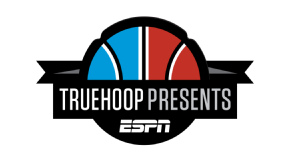 JAHLIL OKAFOR SITS on a leather chair in the darkened media room of his Center City penthouse. In his black T-shirt and gray shorts, he looks drawn, tired. The Duke basketball game is playing on his oversized television on this Saturday afternoon in February, the sound cranked to a near-deafening level. A Styrofoam container, with remnants of an omelet, sits on a table. His 3-year-old niece pirouettes across an Oriental rug while his rottweiler, Natty, drops a bone on the floor. His agent's representative, a woman named Alyson Furch, gives him a to-do list for the coming week. For starters, Okafor needs to pick out what he's going to wear in Toronto, during the NBA's All-Star Weekend.
He notices none of it.
"Hey!" Furch says.
Nothing.
"Hey!"
Okafor gives a slight jolt, like he has been awakened from a trance.
"Huh?" he asks. "What'd you say?"
Last night's nine-point, four-rebound, five-foul game is behind him. A Philadelphia 76ers loss to the Washington Wizards. Two nights earlier, it was a 38-point blowout to the Atlanta Hawks. Okafor's team is riding a four-game losing streak, which is spectacular in itself. It's Feb. 6, which means the 76ers have finally won a game. Seven, actually, leading into Saturday against the 13-win Brooklyn Nets. It will be another chance for Okafor to redeem himself. If not on the court, then with the fans, with the City of Brotherly Love, which hasn't always been so lovely to him. Some of that is his own doing; some of it is life as a professional athlete in a city that expects so much, that is desperate for a winner.
Okafor is averaging 17 points and seven rebounds per game this season. Leading into Saturday, he has racked up 18 20-or-more-point games -- the most of any rookie -- and will play in the BBVA Rising Stars Challenge on Friday as part of the NBA's All-Star festivities. But despite these successes, there's a sense this has hardly been a season of dreams for the Sixers' rookie. Forget the seven wins. Forget the 43 losses. His first year in the NBA has been about doubt and adjustment. He is 20 now, two years out of high school. He has had to grow up since going No. 3 overall to Philly in June. It hasn't been an easy transition.
In early October, there was the argument outside a Philadelphia nightclub where a gun was pulled and the cops showed up. There was the ticket for speeding 108 miles per hour across the Benjamin Franklin Bridge. And there were the fights outside a Boston nightclub in November, moments captured on video and posted online for everyone to see.
Okafor tried to keep the episodes quiet, off newspaper pages and Twitter feeds. It worked until it didn't. A two-game suspension. A hurried apology. A flood of bad PR for a young man who'd wanted nothing more than to call himself an NBA player. As a kid growing up in Chicago, he thought about it almost every day. Now here he was. Jahlil Okafor, NBA player, appearing intoxicated, brawling on a darkened Boston street, a fool for everyone to see. Still a kid. And now he was being called other things: immature, selfish, a punk.
If the rest of the world seems like a battlefield, this penthouse is his bunker. But now, for the first time, he has agreed to talk about this season, on the court and off. Still, he looks uncomfortable.
"It's not right," he finally begins. "That's not who I am."
THE LAST TIME we met in Philadelphia, it was October, and Okafor was on a mission to prove his doubters wrong. He'd spent hundreds of hours in gymnasiums and weight rooms across the country last summer, sweat dripping off his body, honing his game, getting tougher, stronger. Coming out of Duke, he was seen as a poor defender who was a little out of shape. He was the 6-foot-11, 275-pound big man who didn't rebound like a 6-foot-11, 275-pound big man. He was a liability at the free throw line.
But now, in the NBA, he was beginning to show what he could do. In his first game, a 17-point loss in Boston, he produced 26 points and seven boards. He went 6-for-6 from the line. Five days later, at home against Cleveland: 24 points. In Chicago a week later, in front of family and friends: 21 points, 15 rebounds, the first double-double of his pro career. All losses. The third double-double came in mid-November against Dallas. After that game, the Sixers' 11th consecutive loss to begin the season, Okafor trudged into a hallway, his right shoulder bumping against a wall like a pouty kid who'd been sent to his room without dinner, the poster child for an organization perpetually mired in defeat.
A week later, the 76ers drop a tight 84-80 game in Boston during which Philadelphia blew a late, five-point lead and ran the team's losing streak to 16 games. Afterward, Okafor went to a club with at least one teammate. As he left in the early morning hours, he was videoed arguing with a group of men. Okafor looked intoxicated. He was slurring his words. "We got money, you broke-ass n-----," he yells as someone tries to diffuse the situation by directing him to a vehicle. Later, he shoves another man and then begins swinging. Someone appears to land a punch into Okafor's upper back. In a second video, the crowd has traveled farther down the street and someone is trying to lead Okafor back to the vehicle: "Yo, Jahlil! ... You don't need that!" Okafor later shouts: "You broke-ass b----!" He rubs his fingers together: "Munn-eeeey! Munn-eeeey!" There's another fight. Okafor appears to land a punch. Glass seems to break. "Stop it! Stop it!" a woman screams in the background.
"It was Thanksgiving eve. Me and one of my teammates went out," he says from his penthouse, declining to name the teammate. "As we were leaving the club, there were these guys pretty much heckling us, just normal stuff, saying, `You suck.' I was already frustrated that we were losing. At the time, we were 0-16, and we'd just lost a close game we should have won. I can't really talk about details [of the fight]. Pretty much what you see in the video. I was upset. I made a mistake. I let them get under my skin. I reacted.
"When the video came out, it was definitely embarrassing. It was hard to watch. I've watched the video once pretty much because I was disgusted looking at myself in the video."
But that was just the first incident to be made public. There had been another altercation, around 2 a.m. in early October, outside an Old City club. A witness reported that Okafor and another person were arguing with two men in a parked car. Okafor tried to punch the driver through an open window, the witness told police. Both the driver and the passenger jumped out of their vehicle, and the passenger pointed a weapon at both Okafor and the other person before U.S. Park Rangers, who patrol nearby Independence Hall, arrived at the scene. The gunman fled on foot and appeared to toss his gun. The driver sped off, and the car was not stopped.
Okafor doesn't deny he was drinking that night but says the police reports didn't give an accurate picture. The gun, he says, wasn't pulled on him but on a friend's girlfriend. "It was really fast," he says, declining to elaborate because he says the incident is still being investigated. "It wasn't just me," he later adds. "I was with other people, but just being who I am, my name was the name that got brought up. I wouldn't say I regret that the incident happened. You never want that to happen, but it was something I was able to learn from and become a better person because of it. It was frightening, to be sure. It just happened so quickly. I don't remember what I was thinking. It was just like a quick flash. I was lucky the police were there right away."
Has he stopped drinking?
Okafor laughs.
"It's still the real world," Furch interrupts. "But we all know he can't go out and do that. He can go to the house and do whatever he wants. It's like when New Year's happens and you're crazy and wild, and people get that on camera. They think that's you on Tuesday."
And there was the ticket; 108 miles per hour in his Maybach, 63 miles per hour over the posted speed limit. "It was after the Eagles game," he says. "A friend and I were leaving, and I was on the bridge. It was open. Oh, man. My car just goes really fast without kinda knowing. I was obviously speeding. It wasn't a super-bad situation. I got pulled over by the police officer. He gave me a ticket. It's obviously not the safest thing."
The suspension came quickly. Okafor was in New York -- in his hotel room before a game against the Knicks -- when he got word from Sixers general manager Sam Hinkie. "It was a much-needed conversation," Okafor says. "He pretty much said [the suspension] was something that needed to be done. I'd talked to him prior about the situation. I apologized to him. There were consequences that would be coming eventually. That was a consequence. He informed me what was going to happen and that it will blow over and be in the past."
"He had all this noise happening around him," says Furch, who was with Okafor in New York. "We just sat around in the hotel and ate donuts."
"Donuts," Okafor repeats.
"All this crap was around," Furch says. "But we just said, 'Don't be stressed.' "
"We watched the Duke game, ate donuts and watched the Sixers game," Okafor says. "I was frustrated. But I don't care what people on the outside are saying."
Except, of course, he does. There was another report stating Okafor used a fake ID to get into a bar. "That wasn't true," he says. "It was like people were making stuff up. A fake ID? That's a place I go to all the time to get food. What I was going through, to have that out? I was upset about it. It was fuel to the fire. Now it was like anyone could say anything about me and people would believe it because of what I'd done in the past. I've never been in the spotlight. I've never been the guy who was, like, look at me."
Now, though, it seems everyone's watching to see if he'll fall apart.
BEFORE THE GAME against Brooklyn, Okafor piles into a black Land Rover with Furch. It's 4:42 p.m., and he has to be at the Wells Fargo Center in 18 minutes. Okafor presses the gas, but he doesn't get far. Traffic. Stoplight. More traffic. This will not be a 108-mile-per-hour drive. He checks the time, pulls up Adele on his phone, and the first strains of "Remedy" blow through the speakers.
The Land Rover doesn't belong to him. It's Elton Brand's. The former first-overall pick -- a 17-year NBA veteran and former Duke standout -- is Okafor's new teammate. He's letting Okafor borrow the vehicle to get around the city during the winter. "He wants me to be smart about my money," Okafor says.
"That's a real veteran move," Furch adds.
At 4:58, Okafor pulls into a space just a few yards from the arena. As he's exiting the vehicle, a piece of plastic between the Land Rover's door and the windshield pops off. Okafor holds it in place with his left hand and tries to reattach it, but he has to get inside. He leaves the piece dangling.
Near the court two hours later, dozens of children wait for him in a section behind one of the baskets. They're Okafor's guests, low-income kids from the area. Some are from group homes. Okafor's father, Chukwudi, is sitting in the second row, watching his son.
"I'm not even disappointed in him," Chucky Okafor says of the past few months. "I have a clear understanding that Jahlil is a child. I don't look at it through the media's eyes. I look at him as a grown boy who's going to make mistakes. He's going to do different things to become a man. That's what's going to help define him, as far as character. The situations happened; it was unfortunate. It doesn't do good to be upset. My son was safe. That's the most important thing to me. I was 19. There's nothing he has done, or anyone else has done, that an ordinary 19- or 20-year-old hasn't done. Who hasn't sped? You worry about your child, but these are isolated situations. I've known Jahlil for 20 years on this earth. And in 20 years, he might have given me three issues. He's been 99 percent the perfect son. Everything else is life experiences. You're going to go through things. You're going to make mistakes. That's life."
Much, too, has been made of Chucky, who has been known for his boisterous support of his son. His Twitter handle is @DaddyofaPro. On this night, a necklace with a hoop made out of small, faux diamonds hangs from his neck. He wears a championship ring from his son's high school team on his right hand.
On Jan. 2, he was heard heckling Philadelphia coach Brett Brown during a game against the Clippers. At the end of the first half, Jahlil reportedly told his father to stop. It was a momentary step back after everything that had happened. "I don't want anyone to be tanking," Chucky says. "I want him to win. I want my son to get everything he deserves. He should be in the conversation for rookie of the year or rookie of the month. It comes with winning.
"I don't think it's the losing that's hard on Jahlil," he continues. "I think it's the fact there are certain things he can't control. You can't control playing time, you can't control who's on your team. You just have to go with it and continue to do what you came here to do. That's for him to be great. It was never said where he would be great."
A couple of people stop and say hello. Chucky takes a photo with a Sixers fan. Someone hands Chucky an envelope. Thank you letters from the kids to his son.
Chucky beams.
THE NEXT DAY, after the Sixers' 103-98 win against Brooklyn, Okafor emerges from his bedroom around 2 p.m. and ambles down a hallway. He was up until 4 a.m., one of his friends says. A few of them went out to dinner, then came back to the penthouse and talked.
It was a big game. Okafor scored 22 points and grabbed 17 rebounds, including two important boards late in the fourth quarter. This was the Jahlil Okafor everyone expected in Philly. "I think he wants to be [a role model], and he can be," Brown says privately after the game. "He's just young. You want to live life, you want to be remembered. To say that situation was an eye-opening experience is a gross understatement. But it seems like a long time ago to me, and I hope it feels that way to him."
The episodes, Okafor admits, "definitely took a toll" on the court. "I thought I was playing pretty decently before it happened. I think the next two or three games, I wasn't just really focused."
He's in a black shirt and pants, sitting in his family room. It's a spacious place, with pop-a-shot hoops, a chair from the 2015 Final Four and views of the city. The fireplace is on. His fake Christmas tree, still aglow, is standing in the far corner, next to two remote control trucks.
"I felt like I didn't want to be out on the court in front of so many people," he continues. "I was embarrassed about it at the time. It was something I had to talk to my family about." He called his private trainer, who has been working with him since middle school. "We had conversations all night," Okafor says. "He showed me different people of high power who messed up, who have overcome. That really helped me out."
At this time next year, his second season in the NBA, he says he doesn't want to be planning for the rookie-sophomore game on All-Star Weekend. He wants to be in the main event. He wants to be considered among the game's elite. He wants to put Philadelphia back on the basketball map, a difficult task. Perhaps even more difficult, he wants those months from 2015 to be well in his past.
"I can learn from this," he says. "Don't let it happen again."