For the past three months, the scene at Madison Square Garden had been downright unrecognizable. A hodgepodge of unwanted veterans and unproven youngsters clad in orange and blue shared the basketball on offense, helped one another on defense and displayed the type of passion that had been little more than a rumor at MSG for most of this millennium. The New York Knicks had even managed to win roughly half of their games.
And then ... they didn't. Before a 1-9 stretch in late January and early February, resulting in the ouster of coach Derek Fisher, the man who had been responsible for blending this group into a functional team was none other than Carmelo Anthony. The Knicks' oft-maligned fulcrum has played at a superior level this season, displaying traits that had long been lacking in his game. In the process, he has provided a clear mission for the next phase of the Knicks' rebuilding process.
And though league sources say a move is unlikely -- largely because of the Knicks' lack of interest in making a deal and Melo's no-trade clause -- the time to trade him is now. Why? Because Anthony's value will never be this high again. Long considered an elite scorer but little else, Anthony has expanded his game at age 31. He is averaging a career-best 4.3 assists per 36 minutes. He is grabbing 20.3 percent of available defensive boards, the best mark of his career. And his 106 defensive rating is better than his production in all but two of his 13 seasons. That sort of production should tantalize teams on the verge of contention, infusing them with visions of a more mature Melo capable of adapting his game to fit with elite teammates. The Knicks need to take advantage of that sentiment -- immediately.

1. Two ships passing in the night
The Knicks have significantly overachieved this year. Before the season, Kevin Pelton's SCHOENE system pegged them for just 26 wins; the Knicks have already won 23. Still, after their swoon, they are 12th in the Eastern Conference and now sit five games out of the playoffs. Reaching the postseason likely will require time and more personnel moves; to challenge for a title will take even more work. Even with typical upgrades to the roster through the draft and free agency, SCHOENE projects the Knicks to be within a game of .500 for each of the next three seasons. By that point, Anthony will be 34.
Kristaps Porzingis will be 23 when Anthony's contract expires in 2019 and, the Knicks hope, poised to anchor the franchise for the decade to follow. As Porzingis builds to that point, his ideal running mates would be players following similar career trajectories who could maximize his prime seasons, rather than an aging scorer. That doesn't mean that Anthony is on the verge of a breakdown. In fact, SCHOENE sees Anthony's production remaining steady throughout the life of his contract, which will pay him $101.6 million through 2019. In the final year of that massive deal, he should still average 22.2 points on 44.6 percent shooting, which makes sense: His game is built to age well. Anthony doesn't rely on quickness or leaping ability, qualities that tend to deteriorate rapidly. Instead, his strong upper body, precise footwork and shooting touch should allow him to continue to score at a high rate.
If those projections are accurate, Anthony becomes far more valuable to a contending team than he is to the Knicks. Why? A franchise that is poised to win now can make use of his contributions immediately. "I think the team that values Carmelo actually will place a very high value on him," says a Western Conference general manager. "He's a better player than Joe Johnson when he got moved on his contract and Paul Pierce was when he got moved, and they netted a pretty good haul of assets."
The Knicks, even with the most wildly optimistic free-agent additions this summer (such as Kevin Durant deciding to abandon teammates Russell Westbrook and Serge Ibaka to join forces with Melo and Porzingis), cannot say the same thing. The longer the Knicks wait to move Anthony, the less impact he can have on another team.
---
Kristaps vs. Melo
One is 20. The other is 31. The timetables simply don't match in New York.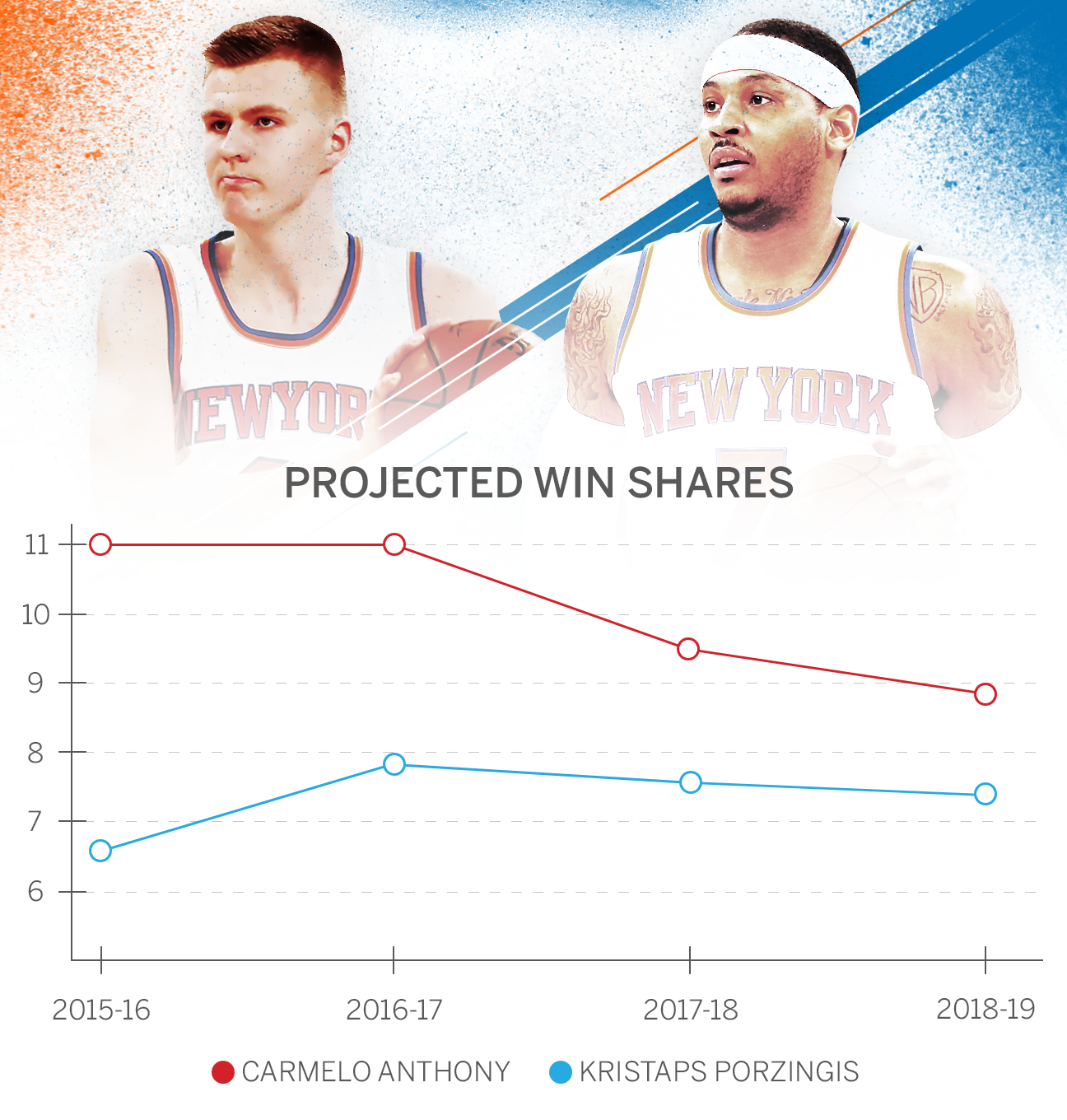 2. So just how good in Melo, anyway?
A four-year investment in Anthony might be stable, but what is it actually worth? That remains an open question. In many ways, Anthony is basketball's version of a Rorschach test: His value varies greatly based on an observer's priorities and the context of his team. Even league executives differ dramatically in attempting to evaluate him.
"He shifts the geometry of the court," says a Western Conference general manager. "Look, he holds the ball too long, he's not a great passer and he's a defensive liability. But at the end of the day, when you have a player that has to be accounted for every minute he's on the floor offensively, the spacing helps other people."
That GM argues that some of the backlash against Anthony has been overblown. He points out that Anthony led the Nuggets to the playoffs in each of his seven full seasons in Denver and he often did so despite being surrounded by middling talent. Multiple execs point to Anthony's work with Team USA -- where he has functioned as a deadly catch-and-shoot option as a stretch 4 -- as evidence that he can and will adapt alongside other top players. Anthony's recent stretch with the Knicks furthers that argument: Over his past 24 games, he has averaged 8.5 rebounds and 5.1 assists, and his scoring average has dipped to 21.0 points.
---
How will Melo age?
Due to his strong upper body and shooting touch, Anthony's game is built to last, or at least deteriorate slowly.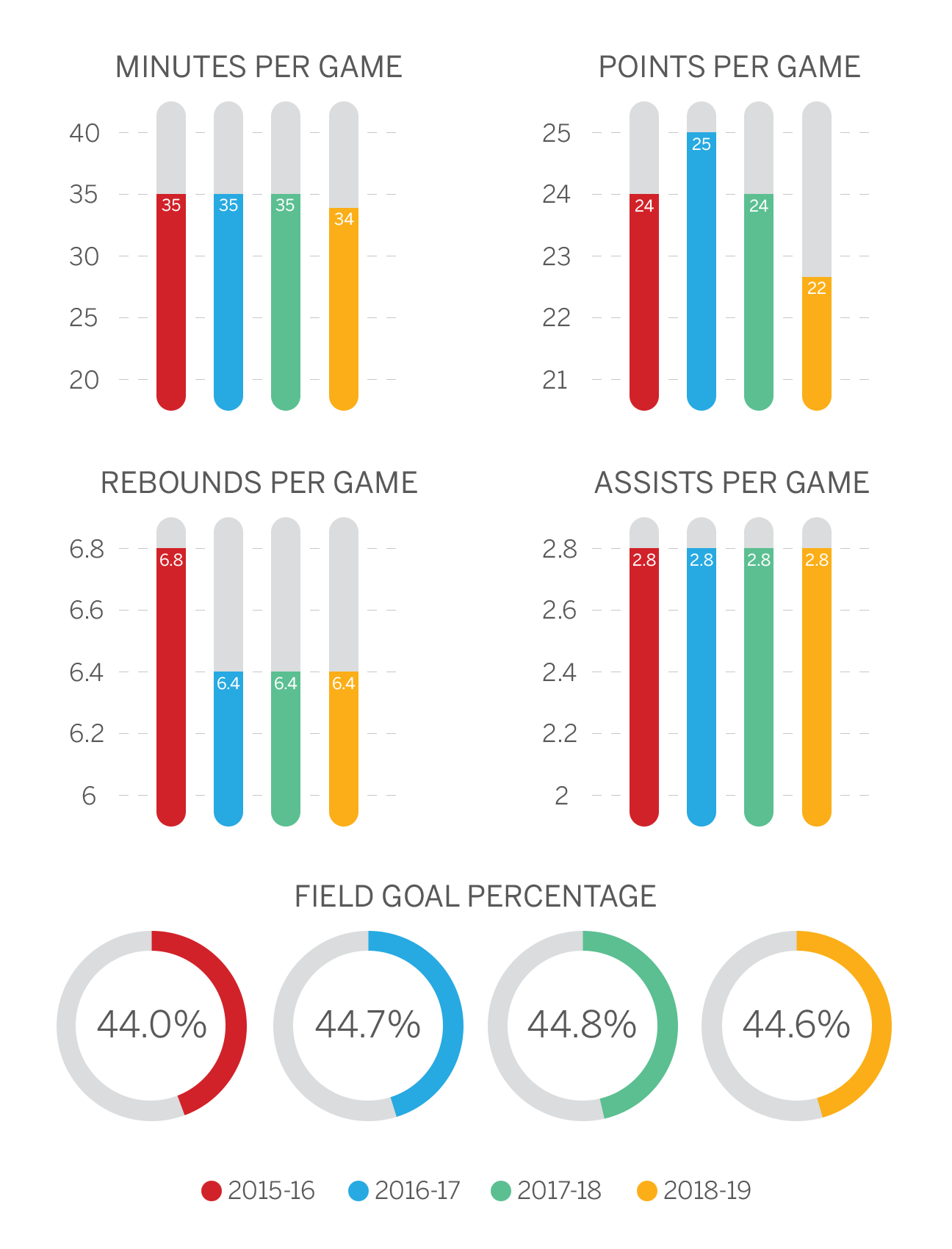 ---
A team considering a trade for Anthony must determine if those stats represent a meaningful trend or just a blip in a career that has been defined by one-dimensional play. Anthony has always been a volume scorer with one of the league's highest usage rates. Despite his more rounded approached this season, he still hasn't been as efficient as the league's best players. As the accompanying chart shows, of the 15 players with the highest usage rates this season, Anthony ranks 8th in Real Plus-Minus. "He's not a No. 1 option. He's a good No. 2 and a great No. 3," says a Western Conference executive.
The Knicks continue to treat Anthony as a No. 1, though, building around him instead of simply building. A team that trades for Melo would not have to afford him such respect and could utilize him in a more effective role, one similar to his Team USA gig. As Melo enters the final stage of his career, that's the best move for him too: He could make a winning team even better by focusing on the finest parts of his game, rather than going beyond his means to carry an average squad.

3. A blank canvas
The Knicks are struggling through an identity crisis, one that will last as long as Anthony remains in New York. Since Phil Jackson took over the team's front office in March 2014, most of his moves suggest a desire to rebuild. Over the past 18 months, he has dumped Tyson Chandler, Iman Shumpert and J.R. Smith. He drafted Porzingis -- considered a project at the time -- and then traded Tim Hardaway Jr. for another first-round pick, which became Jerian Grant. But Jackson also signed veterans Robin Lopez and Arron Afflalo over the summer to aid Anthony, and the team has no first-round pick next June, courtesy of the disastrous Andrea Bargnani trade. The mixed signals aren't helping anyone.
"Carmelo is really hamstringing them, because it's preventing them from picking a direction," says a Western Conference GM. "They don't want to go all-in with Carmelo, or they would have kept Chandler and got a veteran back for Shumpert. But they don't want to go into the blow-up model, either."
There is a certain logic behind avoiding a full-on roster gut, since the Knicks can't benefit from tanking without a first-round pick. But clinging to Melo hampers the team's makeover in another way: It narrows the Knicks' ability to improve through free agency. While one school of thought asserts that stars help attract other premier players, that hasn't been the case for the Knicks since they acquired Anthony. Just this past summer, Greg Monroe opted to join the Milwaukee Bucks over Team Melo, a move that sent a clear message that a strong young core is more attractive to a free agent than a big market and a nominal superstar.
---
Possible replacements ...
Sure, the Knicks whiffed on Greg Monroe. And LeBron James. And Chris Paul. But, as they say, the ... fourth time's the charm.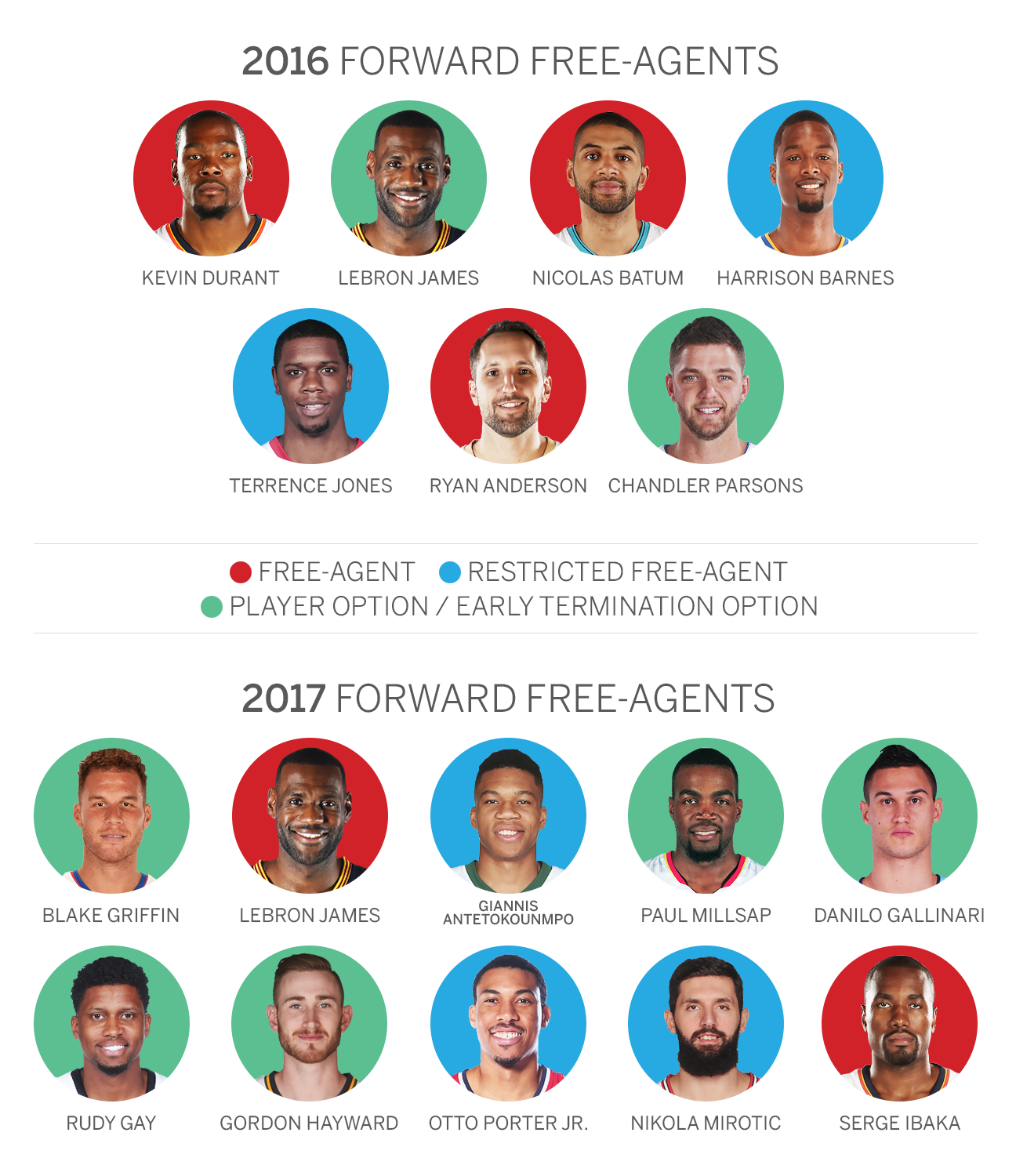 ---
Then there's the development of Porzingis. He has already established himself as the best young player the Knicks have produced in ages -- maybe since Patrick Ewing. And he is entrenched at the power forward spot. As long as the Knicks hold onto Anthony, then, they have no room to chase a young forward in free agency, which immediately eliminates a host of otherwise appealing options over the next two summers, as the chart above shows. The salary cap is set to grow to $89 million next summer and $108 million the following year, meaning the Knicks -- along with virtually everyone else -- will be flush with cash to spend. They need to give themselves as much flexibility as possible to spend it wisely and allow Jackson to build a team in his image, rather than around Anthony. Or, as an Eastern GM says, "They have to pick a direction."
League execs agree that if the Knicks want the type of bounty typically reserved for a top player, a trade is virtually impossible. But if they are willing to accept salary cap relief, a young player and a draft pick, they might be able to do business.
---
So where might Melo go? Conversations with league sources reveal five destinations that make sense.
Charlotte Hornets
At first blush, the Hornets seem like a veto candidate for Anthony and his no-trade clause. But, says an East GM, "He might accept a trade because of Jordan." If Michael Jordan's influence could sway Melo, he could push Charlotte into the playoffs. He'd be a strong fit next to the versatile Nicolas Batum, a potential pick-and-pop option for Kemba Walker, and a go-to scorer down the stretch of games. The stumbling block could be Michael Kidd-Gilchrist. The Knicks would certainly ask for him in return, but according to one GM, "The Hornets value him at a disproportionate level."
Chicago Bulls
A longtime rumored destination for Anthony, the Bulls still have a gaping hole at small forward and a logjam inside. If they were willing to part with the 24-year-old Nikola Mirotic, packaging him with Joakim Noah's expiring contract is the foundation of a tempting offer. "He'd be a good fit; they need offense," says an East exec. "They're in that jumble after Cleveland. With this trade, they'd be the clear No. 2."
Detroit Pistons
They're not a championship contender, but they're a good fit. "They could use him, like a better version of Marcus Morris," says an East exec. "They can take advantage of mismatches in the post, spot him up around pick-and-rolls, maybe play some small-ball power forward when needed." The latter role is a coveted one in Stan Van Gundy's four-out offense: Rashard Lewis and Ryan Anderson thrived as stretch 4's in Orlando. Anthony could also displace Andre Drummond as the Pistons' primary scorer. As devastating as Drummond is diving to the rim off ball-screens, his low-post play needs work. According to Synergy, post-ups account for 29.5 percent of Drummond's offense, but he averages just .735 points on those plays, ranking in the league's 28th percentile.
Houston Rockets
The Rockets have also pursued Melo in the past and, says a West GM, "Daryl is a star guy." The trade for Ty Lawson hasn't worked, but instead of dismantling the team, the Rockets could opt to add another star in the hope that Melo would be willing to reprise his Team USA role. Whether the Knicks would be willing to take back Clint Capela or a restricted free agent like Terrence Jones or Donatas Motiejunas, though, remains to be seen.
Miami Heat
League sources say the Heat might make the most sense, with one caveat: Adding Melo would mean the Heat wouldn't have the cap space needed to re-sign Hassan Whiteside this summer, though they might let him walk anyway. But, for now, a starting five of Whiteside, Melo, Chris Bosh, Dwyane Wade and Goran Dragic could threaten Cleveland in the East. "Challenge, but not beat," cautions a Western Conference assistant coach.
Regardless of the destination, the time to act is now. The future of the franchise depends on it.
All stats through Feb. 9.