Editor's note: This story was originally published May 5, 2016, before recent news that the Miami Heat have waived 13-year NBA veteran Chris Bosh.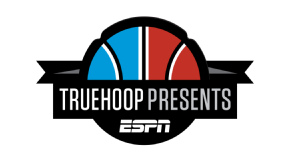 CHRIS BOSH'S FIRST big purchase as an NBA player wasn't a beachfront property or a luxury car. It was a painting that depicted the 50 greatest players of all time with their likeness and autograph. It hangs on the wall of the second-story den in his house above the turquoise waters of Biscayne Bay, in what he jokingly refers to as his "mancave."
When Bosh needs to get away from it all, you can find him there, lounging beneath the 50 on his chaise lounge sectional reading a New York Times best-seller, stringing his acoustic guitar or playing video games. Just after Bosh got drafted by the Toronto Raptors in 2003, he bought the painting at the NBA Store in downtown New York City. Only 250 paintings were made, and 50 were given to the recognized players. The other 200 floated out there. One of them is now in Bosh's home.
Growing up in Dallas, where two Mavericks were part of the All-Star game that season, the 1997 All-Star ceremony on the NBA's 50th birthday held special meaning to the 12-year-old hoops player. "It'd be cool to have that," Bosh remembers thinking at the NBA Store. So he bought it, housing it in a special place ever since. After 11 straight All-star appearances, it still hangs on the wall to this day. "This was better than money," Bosh says. "There were only so many in circulation."
Did Bosh ever think he'd be named to the next top-50 squad? "At one point," Bosh says. "But not anymore."
Bosh said these words in late January 2016, just three weeks before he abruptly stopped playing basketball. On Wednesday, Bosh and the Miami Heat officially announced that he will be out for the remainder of the playoffs. Bosh had been sidelined since February, and in March, he released a statement announcing that he did not have deep vein thrombosis and that he was "positive" he'd return this season. The announcement comes at the heels of a recent social media push from Bosh and his wife Adrienne, publicizing Bosh's desire to play with the #BringBoshBack hashtag.
Many are puzzled why Bosh would risk putting his career, or life, in jeopardy, especially in the face of a cautious Heat organization. But you have to remember the dream that Bosh has chased his entire career: basketball immortality. And that his body has failed him before in middle of that chase.
In 2012, after being nationally lambasted for crying on camera outside the locker room following the 2011 Finals defeat against Dallas, Bosh was on his way to quieting the howling doubters the next season only to rip his abdominal muscle to shreds in the middle of the playoffs. The Heat then listed him as out indefinitely, now an all-too-familiar prognosis. He was forced to watch his team from the couch and wondered if he ever would win a title. And if he did, whether he'd be merely a seated observer.
Things turned. After a month on the sidelines that postseason, Bosh fought his way back to the floor and won an NBA championship, his first giant step toward his ultimate goal. That tale of redemption required a detour, but it arrived at a storybook ending.
Now his body is failing him again, and he's looking for redemption once more. In the hunt for basketball immortality, Bosh feels he has work to do. To see what's left to chase, you have to go back to that framed poster.
---
IN FEBRUARY 2015, after playing with chest pain, Bosh was diagnosed with a pulmonary embolism -- a blood clot in his lungs that forced him to miss much of the season. Then, a year later, on Friday, Feb. 12, at All-Star Weekend in Toronto, Bosh pulled out of the 3-point contest and All-Star Game. The initial diagnosis was a calf strain, but what ensued was one of the more bizarre episodes in medical sports history. Bosh has not practiced or played since, despite no official diagnosis, while a host of medical experts have been in the media discussing the dangers of recurring blood clots. Eventually, Bosh released a statement expressing his hope to get back to the game and saying what he doesn't have:"My situation this year has never been life threatening. I am feeling great and currently I do not have deep vein thrombosis."
Even before all that, Bosh was thinking about basketball mortality. It shaped Bosh's decision to come to Miami in the summer of 2010.
"This was better than money. There were only so many in circulation."

Chris Bosh, on buying a poster depicting the NBA's top-50 players
Looking back, Bosh traces the beginning of that decision to separate conversations he had with a pair of all-time greats. No, not Dwyane Wade and LeBron James. Those words, which sparked one of the greatest trios in NBA history and changed professional basketball forever, would come later.
Rewind to May 2010, when Bosh desperately needed advice ahead of his impending free agency. He had spent seven years with Toronto and had never won a playoff series. How would he be remembered? Whom did he want to be? Where should he go? Standing at the fork in the road, Bosh turned to the only person who might sympathize: Kevin Garnett.
Just before embarking on the vaunted 2010 free agency tour, Bosh spoke with KG, who had just finished his third season in Boston and had famously told reporters after eliminating James' Cavs in the playoffs that, "Loyalty is something that hurts you at times, because you can't get your youth back." At the time, Garnett was just two years removed from OK'ing the trade that had sent him to Boston, where he won the title following a 12-year stint in Minnesota that was long on individual accolades but short on playoff glory.
"That," Bosh says, "was the same exact situation I was in." One tiny problem: Bosh didn't have a relationship with Garnett, on or off the court. As a Celtic, Garnett was something of a rival in the Eastern Conference, someone who had spent his time roaring and shouting in Bosh's face. But this decision was too big to sweat the small stuff. Nothing was going to stop Bosh from picking Garnett's brain for a "long talk." "He gave me his two cents," Bosh says. The takeaway stuck with Bosh over the next few months as he envisioned his future. "Kevin [Garnett] was just describing his situation," he says. "Just having the opportunity to prolong his career, playing with guys to take pressure off of him, playing for a championship. That was the most important thing."
From then, Bosh was deeply invested in the idea of extending his championship window, to not take his basketball playing days for granted. Bosh had been named to All-NBA second team, but had never reached the second round in the playoffs. He wanted that to change. After speaking with Garnett, Bosh talked to another big man, Bill Walton, whose foot problems nearly ended his career before he even entered his prime. "With Walton, it was very fast," Bosh says of their conversation. "You want to play on that big stage, and that's where the best players are born. That's exactly what he told me. And I was like, all right!"
The first conversation was with someone who prolonged his career by joining a championship hunt. The other was with someone whose body nearly stripped him of any career at all. Bosh took notice, and joined the Heat.
---
JUST DAYS BEFORE returning to his old digs in Toronto for his 12th All-Star selection, Bosh is thinking about his standing in the game and all the accomplishments he's had along the way. It's days before the 3-point contest, when, amid rumors about his health, he would ultimately decide not to participate. And it was days before he'd board a plane back to Miami to see a team of doctors who would determine his basketball future.
For now, he doesn't hide the fact that he wants to be a Hall of Famer. There's no faux humility about this. He wants it. Badly.
Does he think he's a Hall of Famer?
"Yeah."
Does he think he'll be voted in?
The question doesn't hang in the air. "Yeah," Bosh says.
As the 50 Greats poster demonstrates, Bosh cares deeply about this stuff. "It would mean everything to me," Bosh says. "Because that's like every dream that I had growing up, to be able to accomplish that would be pretty cool."
Bosh doesn't think he has much of a chance at landing on the next poster because of the nasty and pervasive criticism he received in Year 1 of the Big Three. He became accustomed to the idea that even if the Heat did win a title, he wouldn't be mentioned on the same level as James and Wade. Maybe Hall of Fame, but top 50? That was gone.
"You kind of got the sense of how the league works and how people view players," Bosh says. "If you ask anybody, name somebody outside of [Michael] Jordan and [Scottie] Pippen in the first or second three-peat. It'll take them a little while to think about it.
"It goes with the popular vote a little bit. I know I'm not a very popular player, and once I started seeing that, I kind of just gave it up. I just concentrated on my game."
Bosh tried to block out nasty barbs that he was soft and the accusation that he was riding on the coattails of James and Wade. He tried to focus on fulfilling the Heat's role as a top-notch floor spacer and elite defender. In many ways, his dedication to his role helped catapult the Heat to two titles, cementing his legacy in the same way Garnett promised.
Looking back at Bosh's career, even if he never played again, top-50 status is statistically within reach. Consider: Bosh already ranks 70th in career win shares. Given Bosh's statistical resume, Basketball-Reference.com places his likelihood at being elected to the Hall of Fame at 99.5 percent, an amazingly high percentage for any player. So high, in fact, that 99.5 percent places Bosh at the 45th slot on the all-time list in Hall of Fame probability. Yes, the top-50.
Despite a slew of bad news, the numbers say Bosh's work already speaks for itself. The truth, for once, doesn't hurt. Bosh may have already earned a spot on the next poster, even without recording another bucket. Even still, as the nightmare scenario takes over, it's clear he feels he has unfinished business. To Bosh, the dream is still alive.