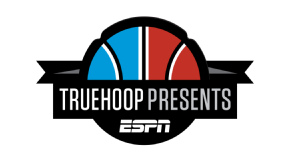 Chris Paul is a master of creating space between himself and his defender. But on Wednesday night, he appeared to go over the line -- or at least below the belt. Late in the second quarter in Oklahoma City, with Paul's Clippers down by two to the Thunder, Paul passed to DeAndre Jordan in the left post before darting toward the center for the handoff. Before he made his move, Paul did something so sudden, so stealthy, that it was only upon slow-motion replay that the act was even visible. That act was a whack to Kevin Durant's groin, and it sent the Oklahoma City star buckling into a defensive lineman's three-point stance at the arc. While Paul caught the ball and drained a midrange jumper, Durant was still 10 feet away, clutching his midsection with his left arm, barely upright, doubled over in pain.
It's hard to know what resides in the heart of the nut-shot suspect -- few are the men who would publicly admit to intentionally striking another man in the nether regions. Intentional or not, groin shots like Wednesday's have seemingly been on the rise over the past two seasons. Consider: In November 2014, NBA's then-punishment-czar Rod Thorn suspended J.R. Smith a game after Smith jabbed Glen Rice Jr. down low at half court trying to create separation. Just a few months later, on March 2, the league announced that James Harden would be suspended for one game for kicking LeBron James in the down low after a scuffle for the ball during a contentious Rockets-Heat game. James, after the game, had mused about the kick-ball, telling reporters "obviously that's not a basketball play." Harden muttered few words to explain the incident to reporters, downplaying it as "a reaction."
As it turns out, Thorn's policing was just getting started. Less than three weeks after Harden's kick, Boston Celtics guard Marcus Smart was suspended for a punch below the belt on San Antonio's Matt Bonner during an on-ball screen. With the game out of reach in the fourth quarter, Smart slung a haymaker to the undercarriage of Bonner, who was setting a routine pick for Spurs point guard Patty Mills. Two weeks later, again: Golden State guard Shaun Livingston went underneath on Dirk Nowitzki. Another suspension. In the final five weeks of the NBA season, three players, each on playoff-bound teams, had been suspended by the league for low blows.
All told, there were more league suspensions (four) for groin contact in 2014-15 than in the previous five seasons combined -- and a few high-profile incidents (without suspension) this season have extended the trend. So has the NBA gone slap-happy? What in the name of nether regions is going on?
---
NO LEAGUE TESTS an athlete's manhood quite like the NBA. And no professional sport reminds us as acutely of the harrowing vulnerability of man. Every play down the floor is a grand announcement that players do not wear a cup. (Note: The ever-popular compression suit provides almost no protection in this regard.) A routine screen set by a big man follows the same protocol: spread your legs wide; shield the groin with both hands; prepare for impact. Copy the same blueprint if you want to take a charge.
We don't see this in other sports. Groin protection might occur in a soccer match during the occasional free kick wall. In the NBA, you'll see it every few seconds.
Charges and screens aren't the only danger zones. Balls can be vulnerable to the ball, as well. Anderson Varejao learned this the hard way. In Game 4 of the 2010 Eastern Conference semifinals between the Celtics and the Cleveland Cavaliers, a leaping Rajon Rondo pegged Varejao directly in the groin with the basketball in an effort to save said ball from going out of bounds, a cringe-worthy scene befitting any movie trailer starring Kevin James. It worked; the ball ricocheted off Varejao to earn the Celtics possession, on which they scored.
The Celtics were known to toe the line of fair play -- and cross it on occasion. Kevin Garnett mastered the art of getting underneath an opponent's skin, in so many ways, but sometimes, like on Jan. 28, 2011, his antics went below the belt. In the fourth quarter of an 80-69 game against the Phoenix Suns, Garnett "contested" Channing Frye's 3-point attempt by visibly tapping Frye in his restricted area, immediately causing Frye to fold in half like a beach chair. Despite claiming his innocence, Garnett was ejected. But he was not suspended. The league reasoned Garnett was already punished by being disqualified from the game. He missed four minutes of a double-digit loss for his transgression.
"A guy may hit you and you get pissed, but you never think about going for the balls. You don't do that. It takes balls to go for the balls." Brent Barry
Indeed, through the years, NBA combat has evolved from an iso-heavy, frenetic up-tempo game to one based squarely on the pick-and-roll -- the frequency of which has almost doubled in the past decade. According to Synergy video tracking, there were 20,465 pick-and-rolls in 2004-05. Last season, that number topped 40,000. For the first time in NBA history, bigs were regularly guarding smalls outside the paint. With the explosion of pick-and-rolls, knee-on-knee assault has turned into knee-on-groin crime as dissimilarly sized players have begun mixing it up more. And cheap shots have naturally followed.
Three of the four suspensions this past season were assessed to smaller players who hit larger foes. In 2013, 6-foot-1 Dennis Schroder was punished for nailing star center DeMarcus Cousins in the groin. In 2009, 6-5 Ray Allen was suspended for elbowing 6-10 Varejao in the man parts -- again. In 2008, guard Royal Ivey was suspended for three games for clocking 270-pound Aaron Gray down low. In the 2006 playoffs, diminutive Jason Terry was suspended for popping Michael Finley in the undercarriage.
Fourteen-year NBA vet Brent Barry, who witnessed the Terry incident on the court as a Spur, sees a Napoleonic trend. "It's almost like in the cartoons," Barry says. "You get the big thugs coming after the small guys, and the small guy's advantage is that, man, if I can hit this guy right in the sweet spot, I can take him down."
Stan Van Gundy refers to it as the "little man's move."
"Generally it's when they feel like illegal screens are getting set on them, that's the little-man's move ... they'll get the screener," Van Gundy says. "If the little guy feels like the big guy is sticking a knee out on a screen or into them, that's sort of the recourse that they have to get even. It's not like you're going out and slugging somebody in the open. It's normal arm movement a lot of times."
The NBA decided it was "normal arm movement" when Miami's Goran Dragic dribbled around a screen and appeared to nail Indiana's David West down low with his off hand turning the corner. Dragic was assessed a flagrant 1, but avoided suspension. Barry says questionable contact like that goes down more often than not.
"That happens a lot on the high pick-and-roll," Barry says. "You're always taught to feel the screen. If you're feeling down there? You're feeling for the wrong spot. A guy may hit you and you get pissed, but you never think about going for the balls. You don't do that. It takes balls to go for the balls."
---
BALL DAMAGE IS a real thing in the NBA. In the late 1990s, Detlef Schrempf and Shawn Bradley each missed three games to what was listed in the box score as "testicular trauma" from knees to the groin. Today, such traumas are likely masked by the more general declaration of a "groin injury." A 38-year-old Manu Ginobili last month needed immediate testicular surgery after he was inadvertently kneed in the groin by New Orleans Pelicans big man Ryan Anderson while taking a charge in the third quarter. Ginobili, in obvious and excruciating pain, was helped off the court by a team trainer and longtime teammate Tim Duncan.
"I don't want to joke about that," Tony Parker said after the game when asked about Ginobili's condition.
After surgery, Ginobili missed almost a month, declaring before reporters, before his return against the Pistons on March 4, "I am a very lucky man."
Granted, such injuries could likely be prevented by wearing a cup, but NBA players don't wear them. Even Dr. Stephen Strup, the chief of urology at the University of Kentucky, doesn't recommend them. In over 20 years of practice, Strup has treated a few basketball-related injuries in the hoop-crazy state. But as a former small forward for Division III's DePauw University basketball team, Dr. Strup knows firsthand how immobilizing and uncomfortable a protective cup can be on the court.
"There isn't enough of an issue to wear a cup," Dr. Strup says. "It's hard to generate enough pressure for major injuries to occur in basketball. You see the guys go out, they're uncomfortable and they can't function a little bit, but usually they're back in a few minutes."
Part of the reason testicular pain can fly below the radar is that it is just as confusing as it is intense. Often players will grab their stomachs and curl up in the fetal position after suffering a low blow, and there's a biological reason for that. Strup explains that, in human development, the testicles are formed in the abdomen and eventually make their way down to the scrotum. The connective tissue packed with all the pain receptors and nerves remains along the abdominal wall even in adulthood, which is why the throbbing pain reverberates to the stomach area.
"Minor injuries with those symptoms are fairly common; it's incapacitating in the short term, but you rarely see long-term issues," Strup says. "The major injuries are when you actually crush or rupture the testicle. If they're hit too hard, they'll split like a tomato and the skin breaks and you can have excruciating pain."
---
THE BASKETBALL COURT is unlike any other workplace. Some offices go to lunch to build camaraderie; some NBA players hit each other in the nuts -- for fun. Just as nut-taps can forever split players apart, they can also serve as a bonding experience.
Introducing: the love tap. As one of the league's most prolific charge-takers, Shane Battier mastered ball protection, on and off the court. When asked about serial nut-tappers in the NBA, Battier outed his former college roommate at Duke. "Start with Elton Brand," Battier says. "He was the king of nut-taps."
We are talking here, mind you, of the friendly nut-tap -- a unique varietal, not to be confused with suspension-worthy acts of aggression. Brand and Battier played two Final Fours together at Duke, in 2000 and 2001. This was their game within the game. The goal: How often could you tap an unassuming teammate down below? Ask around current and former NBA players and you'll find this was a common rite of passage. "It was a sign of respect," Battier says. "We had a lot of fun with it."
Battier even made strict rules for himself. "Never get on an elevator with Elton," Battier says. "You learned to protect yourself, or else you paid the price."
Trajan Langdon, a former NBAer who played with Battier and Brand at Duke, remembers the shenanigans to this day but wanted no part of the sophomoric mischief. He was a senior, two years ahead of those All-American juveniles. "I got hit, but I never dished it out," Langdon says. "I was too old for that stuff."
The running gag began at Duke and lasted throughout Brand's and Battier's tenures in the NBA. Watch old footage of the pregame huddle with referees and captains at midcourt, chances are you'll see Battier trying to go south of the border on Brand. And vice versa.
"We were ruthless," Battier says.
"Never get on an elevator with Elton [Brand]. You learned to protect yourself, or else you paid the price." Shane Battier
This brand of ball-tap isn't exclusive to Brand. To track the history of below-the-belt shenanigans in the NBA is, in fact, to unearth an intricately connected web -- to follow the bouncing balls, as it were. Consider in 2013, Blake Griffin got his former AAU teammate Chandler Parsons with a casual nut-tap coming out of a timeout. A few months later, they exchanged bro-y tweets when Parsons -- Griffin named his dog "Channey," after Parsons -- posted the incriminating video with the note, "Seriously dude?"
Parsons then tagged Griffin and Deadspin's Twitter handle in the message. Griffin replied: "Sprained my wrist and had to keep it moving. My bad didn't even see you."
Now follow the trail to February, when a teammate of Parsons', Dwight Howard, was caught on live television grabbing second-year teammate Isaiah Canaan in the groin as the center sat down after an on-camera interview. Then consider that Howard might have caught the ball-busting bug from Pau Gasol during his stint in LakerLand, where a laughing Gasol, heading into a fourth-quarter timeout in Game 3 of the 2012 playoffs, had patted his Spanish national teammate Serge Ibaka down below on an ESPN broadcast, prompting a puzzled Jeff Van Gundy to quip, "He hit him in the uh ... stomach area."
And then, much like a slap fight that escalates into a brawl, the whole affair came full circle -- and got ugly: On March 3, 2013, Ibaka was fined $25,000 for punching Griffin in the junkyard while the two fought for position underneath the rim. A year later, Ibaka again nailed Griffin, again in the groin, in the opening minutes of Game 4 of the 2014 playoffs between the Clippers and Thunder, prompting the league office to take an internal second look at the play. Upon review, the league decided not to punish Ibaka.
Many believed Ibaka's non-suspension was an egregious mistake by the league office. But it pales in comparison to what happened in 2006.
---
ASK STU JACKSON, former VP of basketball operations for the NBA and the man in charge of disciplining NBA on-court action, for the greatest regret of his 13-year reign and he doesn't hesitate. It was his response, or lack thereof, to the invasion of Chris Kaman's southern hemisphere by Reggie Evans in May 2006.
The incident happened during a Saturday matchup between the Clippers and Nuggets, two teams desperate to shed playoff-loser labels. The Clippers led the series 2-1 in Denver and held a five-point lead early in the second quarter. Fighting for position underneath the basket for a potential rebound, Kaman boxed out Evans and looked up for the board. After the ball splashed through the net, Kaman turned and decked Evans into the stanchion.
A closer look revealed the subtle crime. The replay showed Evans, who was standing behind Kaman, cupping his left hand as if he were going to shake someone's hand, but instead reaching underneath Kaman from behind and -- according to Kaman's interview with NBA security -- tugging downward on Kaman's testicles.
"I felt I got a little violated by another man," Kaman said at practice the next day. "He grabbed my nuts and tried to rip them off, basically."
The incident was so severe that, on Evans' own Wikipedia page, it notes that Kaman "ultimately decided not to press assault charges on Evans." ESPN's Michael Wilbon, then a writer for The Washington Post, wrote that Evans should have been suspended for five games. Instead, after taking all of Sunday to deliberate, the league office announced in a news release that Evans would receive just a $10,000 fine. No suspension for Game 5 on Tuesday. A league-sanctioned slap on the wrist.
Jackson says he and the league hadn't come across anything like that in his time in basketball. Punches, swipes, taps ... yes. But, a tug?
"I wish I could take that one back," Jackson admits over the phone today. "I remember the discussion. It was new to us at the time. We didn't quite know what to do with it. We only gave him a flagrant 2. But self-admittedly, in retrospect he should have been suspended. I take the hit for that."
In his 30 years of experience in the NBA, Mike Dunleavy Sr. can't recall anything as egregious as what he saw that night. As the coach of Kaman's Clippers, Dunleavy was "outraged" and called the league on Monday to find out how it had arrived at its controversial decision not to suspend Evans.
The response he got? After 24 hours of review, the league decided it couldn't tell where Evans' hand went; they could just see his elbow outside the shorts.
"It was just shocking," Dunleavy says. "I told them, 'You gotta be kidding me. There are only two places it could go. One, his hand was so far up Kaman's rear that his elbow is the only thing sticking out. Or two, he punched him in the nuts. Take your pick."
The Clippers took the series in five games and moved on to the Western Conference semifinals, but the wound was reopened two weeks later. That's when Dallas Mavericks guard Jason Terry was suspended one game for a below-the-belt jab in a fight for ball possession against San Antonio's Michael Finley, who had been waived by the Mavericks earlier that season.
Jackson had learned his lesson. Terry would get a harsher penalty than Evans for a seemingly lesser violation. But Mavericks coach Avery Johnson wasn't pleased to hear that ruling.
Said Johnson on the Terry punishment: ''I guess maybe if he would have grabbed [Finley], he wouldn't have gotten suspended."
---
WHEN IT COMES to smaller guys taking cheap shots at the bigger guys, few got more shots in than Utah Jazz point guard John Stockton. In a segment for NBATV's Open Court segment on dirty players, Kerr specifically called out Stockton as his most underhanded on-court nemesis.
"I have the greatest respect for him," Kerry said on the panel. "I see him away from the court, love him, great guy ... but he was a dirty bastard."
Eleven-year veteran Matt Bullard, now a color commentator for Rockets telecasts, played more than 40 games in his career against Stockton's Jazz. To Bullard, Stockton wasn't just a dirty player; he frequently invoked the nuclear option.
It was November 1996 and Bullard, playing for the Rockets at the time, rotated over from the weak side to defend Stockton's drive. "John brought up his knee and he tried to knee me right in the balls," Bullard says. "It was obvious that was what he was trying to do, but he missed. He got me right in the pelvis bone. The bruise lasted all season. Months."
For Stockton, low blows were physical and mental warfare. But sometimes, it's a crime of passion, a weapon of last resort. Joe Wolf knows that kind all too well. Fans won't let the Brooklyn Nets assistant coach forget the time he got hit in what he calls "the man region." As a longtime backup NBA center in the 1990s, Wolf had a relatively quiet playing career. His job was simple: Be big and get rebounds.
"I wasn't the greatest athlete in the world," Wolf says.
For years, Wolf has watched his former teammates sign all kinds of memorabilia for adoring fans. Basketball cards. Jerseys. Shirts. Hats. But Wolf just gets this stinkin' photograph. Not a month goes by without a fan asking for Wolf's autograph on this particular photo found on the Internet.
The photo shows Wolf and Dennis Rodman glaring at each other with a referee in between separating the two giants from fighting. Moments before the photograph was taken, Wolf had put Rodman in a makeshift headlock, a defensible retaliation after Rodman blatantly punched Wolf in the groin after a Wolf rebound.
"He hit me in the man region," Wolf says. "I didn't throw a punch because I didn't want to lose my money. I had a pretty good rebounding game, and he probably went to the bench at halftime and said, 'Why is this guy outrebounding me?'"
Wolf pulled down a season-high 11 rebounds that day, each one pushing Rodman closer to the edge. Eventually Rodman pummeled his right fist into Wolf's shorts and got ejected.
It's rare that Wolf signs a basketball jersey, unless it's a Teen Wolf gag. People keep handing him the photograph. "Most of the time, that's what I'm signing," Wolf says. "Everybody brings it up all the time."
Rodman was suspended for a game for his actions, his second suspension for a groin hit that season. Rodman was sidelined 11 games for kicking a cameraman below the belt, the second-longest suspension in NBA history at the time behind the one for Kermit Washington's infamous haymaker to Rudy Tomjanovich in 1977.
"I learned from my older brothers in my backyard in Wisconsin," Wolf says. "He learned his tricks from Bill Laimbeer."
---
THE PAST HAUNTS the nut-shot victim. Nearly a decade had passed since Kaman was violated by Evans, but the memories -- and the pain -- came rushing back in early April 2015 in a game between two Western Conference teams jockeying for playoff position. Kaman, suiting up for the Blazers, found himself battling under the basket in the third quarter against the Clippers when -- boom -- it happened. Déjà vu all over again.
As fate would have it, it was none other than Chris Paul who appeared to grab Kaman in the groin area, pushing off the center's midsection while chasing a loose ball. After Paul recovered the rebound, Kaman decked Paul out of bounds, igniting a scuffle between the two teams -- the same two-arm shiver Kaman was forced to deliver to Evans nine years earlier.
This was the nut-tap perfect storm. And even then, Paul wasn't a stranger to this type of incident. In 2004, Paul had been suspended for an ACC tournament game while at Wake Forest for punching NC State forward and later NBAer Julius Hodge below the belt.
For Kaman, the wounds were still fresh from his first incident, the tug that shall remain nameless, even so many years later. After the game, Kaman took to Twitter and published a simple message that read, "Ummmmmm."
A few minutes later, a fan posted a picture of the Evans incident and sent it to Kaman with the question, "why does this always happen to you?" Kaman retweeted it.
"Why did you have to bring this up?!"
Paul, like Evans, was not suspended that day. It is unclear whether Paul will be reprimanded for his hit against Durant. That won't deter Kaman from letting it all hang out this season. With the frequency of ball-taps in the NBA these days, some might think that's crazy. Others might call it nuts.