This story appears in ESPN The Magazine's April 11 Warriors Issue. Subscribe today!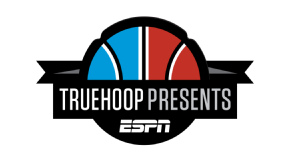 THE MOMENT THAT hints at his unrivaled versatility comes on a Saturday in Los Angeles, during the first quarter of a game against the Clippers. Draymond Green, generously listed at 6-foot-7, guards DeAndre Jordan, a human springboard who stands 4 inches taller. Green is relentlessly electrified tonight, bellying up to Jordan at the top of the perimeter until the Clippers center passes to Chris Paul on the left wing, near the 3-point line. Now Green switches from defending the tallest, most pow­erful player on the court to facing one of the quickest, craftiest guards in NBA history. Green sets his feet and stretches his arms. He barks commands to his teammates. "Move!"
Paul skips a pass to Jamal Crawford on the right side of the arc, and Green sees that Crawford's defender is Stephen Curry. More than anyone on his team, Green makes a particular effort to ease Curry's burden, coordinate with his movements and save the MVP's energy. And so Green edges himself closer to the block, to blanket Crawford if he drives. But he instead launches a 3-pointer. It cracks against the rim and ricochets high. Green sprints to the low block and steals the rebound from Jordan, knocking the big man off balance.
The Warriors go the other way now, Harrison Barnes leading the transition. LA recovers, and a moment later Green takes control of the ball again. He slides toward the top of the key, eyes Curry, who eyes him back, and in that instant of unspoken communication Curry knows to break to the hoop. Green unspools a bounce pass no one else sees coming, and Curry rises toward the basket like a dancer, scoring an easy layup. A guy in the stands yells, "Oh, my god!"
The Clippers call an early timeout.
The pause allows the arena to process what it just witnessed. In a single sequence, Draymond Green went from perimeter defender to post-up rebounder to omniscient point guard. If Steph Curry is the best basketball player in the NBA -- and he is -- this moment in LA shows how Draymond Green is something just as essential: an obstinately canny, unendingly adaptable fire-breather of a teammate who, in Golden State's sprint toward 73 wins, is unquestionably the leader of the Warriors.
---
THE GRACELESS FORCE
Why is a low 2012 draft pick the de facto captain of a team on pace to be the winningest in NBA history? There are many reasons, and perhaps the best place to start is to simply look at the man. The physique is as strange a thing to behold as Green's ascent to NBA All-Star. It's an ungainly body: broad shoulders, stout frame, long arms, quick feet. He can look goofy and nonthreatening, but this works to Green's advantage too; he is sneaky-good on the court. The man stands several inches shorter than a prototypical NBA power forward but is strong enough to hold his ground against centers. His wingspan is 7-1, which means he can shoot over taller players in the post and D up against guards on the perimeter. His friends compare his waistline to a pudgy old man's, but Green has the speed to run a Warriors fast break and the endurance to stay in the game (he leads Golden State in minutes). Green's body is undefinable, akin to the position he plays on either end of the court. It is a body that, ironically, allows him to succeed at everything. Green is averaging almost 14 points and 10 rebounds a contest and his 7.4 assists are best on the club and two times better than his output last season. Despite sitting for large portions of many Golden State blowouts, he is second in the league in triple-doubles.
He's had to work at this. After his rookie season, Green cut carbs and stayed after practice for extra conditioning. He finally shed the 20 pounds that slowed him. "He's slimmed down," says NBA Hall of Famer Jerry West, a Golden State consultant. "It's not a cut, NBA body. Yet he's one of the top players in the league."
Green has none of the easy grace common to NBA superstars. On defense, while other players tend toward a nonchalant smoothness, Green roams in a constant, poised coil, his elbows flared, his fingers stretched, his stance often crouched. On offense, he powers downcourt with the ball, commanding fast breaks with his feet slightly splayed, his gait slightly hitched. He dunks strongly but with little flourish. His jumper -- which often flies a little too flat -- lacks the repeatable rhythm of that of Curry or Klay Thompson, who look stylish even with one second on the clock. Consider Green's game-icing 3 in a recent win against Atlanta: rising off balance, hips rotating in a scattershot way, legs spread wide. Green himself called it a heave.
---
ALL SEEING, ALL KNOWING
Ron Adams, the demanding architect of Golden State's defense, tells a story that serves as Exhibit A for how Green transcends his on-court awkwardness into teamwide leadership. The Warriors faced Oklahoma City in early February. The Thunder have a rookie guard, Cameron Payne, who plays like a savvy veteran. "Shoots the 3 real well," Adams groans. Coming out of a timeout, he and Green began debating just how well Payne was shooting during the game. Green firmly reminded his coach that the rookie was 1-for-6 overall. "So I said to Draymond, 'Don't let him get started on his 3-point shot. ... There, he's 1-for-2.'
"Draymond immediately shoots back, 'No, he's 1-for-3.'
"A new stat sheet comes out, and sure enough -- that guy, he's 1-for-3." Green, Adams says, "keeps track of everything in his mind. He does not miss a thing."
His spatial awareness is a big key to his success too. On Jan. 18, the Warriors dominate Cleveland, winning 132-98, and much of the damage comes from the Curry-Green pick-and-roll. At one point near the end of the first quarter, Green decides to set up his pick for Curry just beyond half court. Because a Curry half-courter seems as easy as a midrange jumper, two Cavaliers try to break up the play. The result is predictable. Kevin Love jumps at Curry. Green screens Matthew Dellavedova, then spins quickly toward the basket. Curry throws Green a soft pass. The Warriors now have a four-on-three advantage that ends with a Green lob to Festus Ezeli for a dunk.
On TV, analyst Chris Webber gushes: "The MVP of this league right now is Curry, [but] he could not be the MVP of this league without the MVP of the Golden State Warriors, and that's Draymond Green! He does everything and allows Curry to be that superstar."
The very next Warriors possession unfolds the same way -- but this time, after the screen and the Curry dish, Green's assist is a behind-the-back pass. "I'm just not sure how you deal with it," says 76ers associate coach Mike D'Antoni, among the fathers of the wide-open pick-and-roll attack.
Austin Thornton, who played with Green from their AAU days to Michigan State, says his friend has "a constant awareness that is just off the charts. On court, that awareness translates into being in the right place, making the right pass, anticipating. Off court, he's the guy who is going to notice if your shoe is untied. It's an attention to detail that is just really hard to describe, and if you're his teammate, especially if you are one of his guards, you love that."
---
"SAGNASTY"
That attention to detail is fueled by an unceasing work ethic, which is in turn fueled by a nagging sense that Green is still the undersized kid who's not good enough.
"In high school," he says, "everyone said, 'Draymond will be a low-major college player at best.' After that, they said, 'Mid-major.' No respect, still. Then I'm going to Michigan State and they say, 'He will never play there. Too slow, not going to be able to play for Tom Izzo.' Then I get drafted, second round, and it's, 'Good college player, but he's not going to make it in the NBA.' Critics ..." He stops. His face puckers. He's bitter. "They keep me going."
Everything about Green is expressive, a gift from his voluble mother, Mary Babers-Green, and from his hometown, Saginaw, Michigan. Deep in the Rust Belt some 100 miles north of Detroit, with a poverty rate hovering near 35 percent, "Sagnasty" left its mark on Green. It made him brash enough to walk into a convenience store as a 4-year-old and demand juice. "Don't you know who I am?" he shouted, according to his mother. "I'm Draymond Green!"
Today Green's nonstop talk stretches from polite to bombastic, and only some of it is an act: When Curry, the most popular Warrior, shies away from too many klieg lights, Green takes it upon himself to speak out, which turns the spotlight toward him. Green takes the heat for his team, offers a release valve and gives the Warriors a needed slice of bad-boy toughness. After Milwaukee breaks Golden State's 24-game win streak in December, his teammates seem hesitant to talk about an upcoming rematch. But Green taunts the Bucks and vows revenge. In the second game, even with victory secure, Green nearly gets into a fight with O.J. Mayo.
For Curry, he is a swaggering big brother: "I am always going to step in," Green says of the MVP. "Nobody is going to touch him."
Green's antics can get him in trouble too, even turn him against the people he's trying to protect. At halftime of a game against Oklahoma City in late February, his shouts at coach Steve Kerr carry well outside the locker room: "I know I can play. You have me messed up right now. If you don't want me to shoot, I won't shoot for the rest of the game!" Then Green dares his teammates to make him sit down.
The Warriors win the game in a stirring comeback, and Curry tells a reporter that Green's diatribe actually gave Golden State some much-needed motivation. Even Kerr sees the value in Green's screamfests. "We have a very quiet team except for Draymond," he says. "He is the crazy man, the wild one, the one you love having on your team, but if he's not on your team, you can't stand him. We go at it all the time. We cuss at each other and yell at each other, and it's awesome. The great thing is that he always comes around, because he is a team guy."
Says Mark Jackson, the Warriors' previous coach and now an ESPN analyst: "When I came on, the team had a void of leadership. Nobody would say anything, so it was a breath of fresh air to have Draymond. I encouraged him to stand up and speak his mind from the start. It took pressure off of Steph because he was leading in the right way."
Today, Kerr says Green is so basketball-savvy he could easily join his staff. There are times during practice when he stops the proceedings and reminds everyone of exactly how a play should be run. After a tough loss, he is usually the one to address the team. He does it even after poorly played victories. In Golden State's easy rematch win against the Bucks, Green tells reporters, "We are trying to compete for a championship," upset with his club's drawn-out, sloppy play. "We are not going to beat the great teams playing like that."
---
YIN TO CURRY'S YANG
It might seem strange to say this of the reigning MVP, the point guard who has reimagined the position, but there is a symbiotic connection between Curry's and Green's disparate personalities, one that actually has helped Curry's game. They represent something "off the charts and incredibly unique," D'Antoni says. Advanced metrics show how important this interdependence is. When the duo are both on the court, the Warriors outscore opponents by an average of 21.4 points per 100 possessions. But when Curry plays without Green, the average drops to 3.0 points.
After the Clippers game in February -- the one that in a single sequence captured the essence of Draymond Green -- Curry sits in the locker room, reminiscing. "It's crazy to think how far we've come," he says. In 2012, he underwent another ankle surgery and Green sat buried on the depth chart. Both faced uncertain futures. And now? "Chemistry, great chemistry," he says. "I get the ball and bring it up the floor, or he does, and he knows where to be. It's so tough for the other team to guard someone like that, and then there's his knowledge of spacing, his moving without the ball. I trust him to make those reads. He has developed so much over the last year and a half ..."
But then Curry's tone suddenly changes. "Actually, you know, sometimes I can't stand playing with Draymond. He makes everything so difficult." I don't realize it, but Green appears behind me, stepping toward his locker, next to Curry's.
"Oh, I already know what this is about," Green says, "and I don't want to hear it."
A moment of unspoken camaraderie passes between them, and then Steph Curry cedes the way so Draymond Green can keep talking.