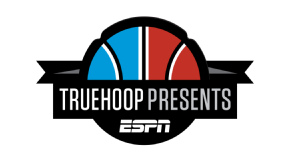 During his farewell tour that concludes next week, Kobe Bryant has been showered with adoration befitting his status as one of the NBA's greatest ever.
But so far, the grandest and most star-studded celebration of all was also the lowest-profile, taking place during a private dinner in Toronto on Saturday night of All-Star Weekend in mid-February.
There, on the basement level of Parcae, located in a downtown boutique hotel, Chris Paul, Dwyane Wade and Carmelo Anthony headlined a group of nearly 100 others -- mostly family, friends and business associates -- who gathered to honor the Los Angeles Lakers icon exactly two months before Bryant's final NBA game on April 13.
It was in this dimly-lit room that the 37-year-old Bryant received his most humorous collection of gifts to help him ease into retirement, such as reading glasses, a cane, a robe embroidered with "Black Mamba" in gold, underwear, a one-year Netflix subscription, a TV remote, compression socks, denture adhesive and hemorrhoid cream. Bryant also received a bottle of Italian wine from 1996, a nod to the year he was drafted and the country in which he grew up.
"I think all of the gifts they gave me, they all go hand in hand," Bryant told ESPN with a laugh recently. "I can use them all simultaneously, aside from the ass cream."
But Bryant said the evening's most meaningful moment came when Paul, Wade and Anthony stood before the exclusive, invitation-only crowd and, microphone in one hand and champagne in the other, toasted Bryant, their guest of honor for an event the trio first hosted the year before in New York City, calling it The Gentlemen's Supper Club.
"I think the one thing that we all have in common is that at some point in our career, we all just wanted to earn his respect," Paul said that night in Toronto.
Wade spoke about how he always wanted to reach Bryant's level and recalled their first matchup. The Miami Heat trailed by double digits, Wade said, but he scored a few buckets late against Bryant, a monumental achievement in Wade's eyes.
Wade also reminisced about the 2012 All-Star Game in Orlando, Florida, because he felt Bryant was playing hard -- maybe a little too hard -- on defense, and so Wade decided to go right back at Bryant. Then Wade accidentally broke Bryant's nose. Bryant, ever the villain, wore a black mask for the next few games. Then on March 4, the Heat and Lakers met, and Wade knew Bryant sought revenge. Sure enough, the Lakers beat the Heat and Bryant dropped 33 while Wade scored 16.
"I think the one thing that we all have in common is that at some point in our career, we all just wanted to earn his respect."

Chris Paul on Kobe Bryant
"When I came into this league 13 years ago, my goal was to have one person in the NBA look at me as an equal," Wade said that night, "and it was the best 2-guard in the game, and it was Kobe Bryant."
Paul referenced Bryant's competitiveness, and how the two didn't take it easy when paired up during All-Star Games. He joked about how the two almost became teammates in 2011 before a deal that would've sent Paul to the Lakers was nixed by then-NBA commissioner David Stern. Paul specifically referenced a phone call between him and Bryant in which the two talked about pairing up and winning titles together.
"I was almost on a pretty good team once," Paul said that night. "We were teammates for about 10 minutes."
Paul recalled how Bryant scored 50 points against Paul and the New Orleans Hornets in March 2007. That night marked Bryant's fourth straight game of 50 or more points, making him just the second player in NBA history to achieve that feat, with Wilt Chamberlain being the other.
"When he broke the record against us in New Orleans, and it took a lot of pride in me, but I asked him for [his] shoes after the game," Paul said that night. "[I said,] 'Hey, man. Would you sign them shoes for me so I can auction them off in my foundation?'"
Paul paused, then delivered the punch line.
"Them shoes still at the crib," Paul said as the room erupted in laughter. "Them shoes still at the crib."
And then Anthony spoke about how Bryant was the yardstick he measured himself against. He spoke about his earliest matchups with Bryant, and how Bryant would test him, pushing Anthony around, aggressively posting him up. But Anthony returned the favor, proving to Bryant that Anthony wouldn't back down, and would be a force one day.
In that moment, though, Anthony said he thought about how he was tired but Bryant was so engaged, so clearly loving their physical back-and-forth, so much so that Anthony wondered, is Bryant crazy?
"For him to take me under his wing during the Olympics -- like, that meant more to me than anybody else saying, 'Melo, I got you,' or 'Do this,' or any advice from anybody else," Anthony said that night. "He's a mentor to me. He's my adviser. That's my big brother. I love him to death."
All the while, Bryant, seated with his wife, Vanessa, laughed and nodded along. It was, Bryant said, his favorite moment of a long night that began around 11:30 p.m., after a thrilling dunk contest, and stretched until nearly 3 a.m.
"Seeing the three of them up there talking about competing against me for the first time after watching me play and trying to emulate my moves all the way through high school and all this other stuff," Bryant told ESPN, "and then here they are, competing against me for the first time and not being able to show how much they watched me growing up.
"It was like, 'Oh, I know how he is, but I've got to compete. I need to prove to him that I am worthy to challenge you.' That was awesome."
Scores of people were turned away at the steel door, with only a select few lucky enough to be on the guest list and be stamped with ink that left a key-shape granting them access. Other attendees included Chris Bosh, Reggie Miller and Ludacris.
The menu featured spaghetti, short ribs, fried chicken and champagne, and initially, the plan was for each of the stars to have their own table with family, but soon, the players and significant others sat together on the same side of a long table.
"As you get older, you start to understand that it's really not about championships. It's about the journey. It's really about the journey as it continues, and the next generation and the generation after that."

Kobe Bryant
A video montage featuring some of Bryant's greatest highlights against the trio of rivals played, then the toasts began.
"I thought we cracked Kobe a little bit from an emotional standpoint," Anthony later said. "He's a tough nut to crack."
Anthony said the night wasn't a "roast" but rather a "thank-you dinner."
"Definitely a night I'll never forget," Paul told ESPN recently.
"For him to allow us to do that says a lot about him," Anthony said.
"And we thank Kobe for allowing us to do this," Wade said that night. "It was important for us to be able to have a moment to thank and appreciate one of our favorite players, one of the game's greats."
Bryant, who is the first to admit that he's not the most social individual, gave a heartfelt speech thanking the three players.
"I'm just deeply honored by this," Bryant said that night. "I think that as a player growing up, you always had the ambition of trying to be one of the all-time greats, of wanting to win multiple championships. But as you get older, you start to understand that it's really not about championships. It's about the journey. It's really about the journey as it continues, and the next generation and the generation after that."
"It was great, man," Bryant told ESPN. "It was really a great night. I saw them come into the league and they were a couple generations after me, so to see these players come up and grow and now being able to stand up there and joke about playing me for the first time and how I've inspired them throughout their careers and all this other stuff.
"It was really, really awesome. It was one of those things that I'll remember forever."