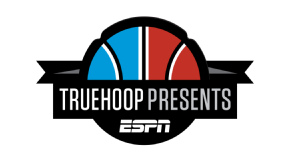 OKLAHOMA CITY -- JUST two seasons ago, Kevin Durant was the NBA MVP, melting hearts with his "You're the real MVP" speech. He had averaged 32.0 points a game and won a fourth scoring title, and his team was marching through the postseason. LeBron James had no other rival as best player on the planet. Seven years into his NBA career, Durant was the man.
One season ago, Durant was laid up. Seven-foot NBA players with foot bone issues have had famously bad outcomes. It was all painful enough that Durant pledged not to watch the playoffs. But it was impossible to truly disconnect. From his home in OKC's Deep Deuce district, he scrolled Twitter, checked Instagram and clicked on one article after another.
What he read about, of course, was Stephen Curry, who had replaced Durant as MVP, and then some. Durant had been contending for most of a decade, but Curry nabbed the first championship. As Steph took flight, Durant lay in a bed with an orthopedic boot on his fractured right foot, needing a scooter to get around.
"I use just about everything as motivation," he says. "I know you say don't read stuff, don't check Twitter, who cares. It doesn't affect me, I don't go home and not sleep at night, but it makes me go out there and say 'f--- you, I'm going to go out there and be who I am and you can't deny it.' Those guys, Steph Curry, LeBron James, Kawhi Leonard, players that are considered at the top of the league at that moment and right now," Durant says, "they deserve all of that. It's nothing taking anything away from them. But I deserve it too."
"I was definitely pissed," Durant says.
---
IT WAS IN October in a tiny locker room in Tulsa, Oklahoma, after a preseason game against the Dallas Mavericks, and Durant had already had enough. He was tired of being asked about his surgically repaired foot.
Remember that? Remember when his foot was a big storyline entering the season? Durant's first surgery came in the preseason, in October 2014, and then he had another in February after the screw inserted in his foot started rubbing against a bone. When that didn't take, Durant and the Thunder made the tough call -- they pulled the plug on his season and he went under the knife a third time, this surgery being a more intensive bone graft procedure that would carry a four- to six-month recovery.
Names like Bill Walton and Yao Ming floated around. There was talk of his career being threatened. Would he come back? Could he come back?
"I knew I could do it," Durant said. "I knew how hard I worked, how mentally I thought about the game. It was just a matter of me getting the physical part of the game down, getting used to playing a back-to-back, or getting used to playing against a physical defense or the best players in the league.
"I wasn't going to let this injury set me back in any type of way. I knew I wasn't going to let it overtake how I thought about me as a player or how I approach the game. I tried to act like it never happened."
---
CURRY IS NOT the first player to overshadow Durant. After having arguably the best freshman season in NCAA history, Durant was picked after Greg Oden in the draft. As Durant learned the NBA game, he struggled to emerge from the shadow of LeBron James. The MVP award was something he has desperately wanted, as validation of the work he had done since being a draft prospect maligned for being unable to bench-press 185 pounds.
And yet, thanks to the injury, by the time Curry and his teammates were presented with their rings, Durant had slipped almost entirely from the "best player in the world" conversation. James, despite the NBA Finals loss, had affirmed his ability to move mountains. Anthony Davis and Leonard were vying for next. Durant sent a text as he watched the Finals: "I don't deserve to be up there with them this year. Next year is a different story."
"When I was down, and I couldn't move, and on Twitter, on Instagram, on all this stuff reading everything -- being an idiot first of all, reading that stuff -- but when it's there, I was like, it's so easy to kind of sweep me under the rug, when I thought I had already solidified my place in this game as one of the best players in the league. On the top of the food chain. It was hard," Durant says.
"If a new guy goes out there and has a good game, they compare them to me so easily -- when I've been doing this for nine years. I looked at that as disrespect and looked at that as criticism and took it as that. And it made me elevate my game and made me want to go out there and show everybody who I am. It's added a new level of confidence, for one, and put a bigger chip on my shoulder."
"I know I get a lot of 'you don't get criticized like LeBron James' or 'you don't get talked about like some of the other greats,' but I looked at that as the same as being criticized." Kevin Durant
The only solution was to answer the doubts with play. Which he did as well as he ever has. Durant has an effective field goal percentage of .573, which is better than he had in his MVP season. He's averaging 28.2 points, 8.2 rebounds and 5.0 assists, numbers that haven't been seen since Michael Jordan in 1988-89. In his MVP season, he had a real plus-minus of 6.27. This season it's 6.07. He finished with a streak of at least 20 points in 64 straight games, the longest since Jordan in 1990-91. In any other season, Durant would be an MVP candidate.
Yet he's iffy to make first-team All-NBA, as evidenced by, for instance, ESPN analyst Zach Lowe's ballot just this week. Durant takes that kind of evaluation as a slight, and he takes it personally. The idea that five other players had better seasons is something Durant can't abide.
"I know I get a lot of 'you don't get criticized like LeBron James' or 'you don't get talked about like some of the other greats,' but I looked at that as the same as being criticized."
---
THE PROBLEM IS one of storyline. Durant is doing his best and then some, and too often there just seems to be something more exciting to talk about. Curry's Warriors and Leonard's Spurs have won historic numbers of games. Russell Westbrook sparkles, and LeBron hasn't gone anywhere. Durant's comeback season just hasn't been the dominant storyline.
In late February against Dallas, Durant drained a 34-footer to end the half, putting the Thunder up seven. On social media, the typical commenter compared him to Steph. That didn't slip by Durant. It was supposed to be the other way around.
He has completed a full and convincing comeback from a tough injury, and the conversation following him is whether he's going to bounce in free agency. "They don't care about how I'm playing," he says. "Oh, you had 25, 8 and 10 tonight? Who cares? Where you going next season?"
Even on Durant's own team, Westbrook's triple-double party has grabbed more attention. There's valid discussion about who's the Thunder's best player. "Best" is a broad term, though. Westbrook might be. Even Durant himself hasn't been afraid to say that, calling Westbrook the team's best player in November.
They really struggle to win without Durant, however. Last season, in the 55 games Durant missed, the Thunder went 27-28. This season, they're 3-7 when Durant sits, 52-20 when he plays. Without Durant last season, they missed the playoffs. This season, with him, they're the 55-win third seed in the rugged Western Conference. Best is up for discussion. Most important is not.
"If you talked about the best players," he says, "my name, still today, is still not in that conversation. And I feel as though I went out there and proved it to you, you know what I mean? If I had a great game, I was supposed to have that. Of course it's not going to get talked about, but a lot of people are eating their words this season."