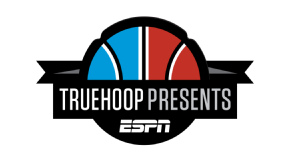 IT'S A SUNNY winter Saturday afternoon on the outskirts of Oklahoma City and 7-foot Steven Adams is towering over a clutch of white-haired fans at Epworth Valley retirement community. Adams has never played bingo. No matter -- he works the room like a politician, cracking jokes and signing autographs.
And competing.
At one point, an octogenarian tablemate thinks she has won. "B-6, I-22, N-40, G-57 and O-62," she yells.
As it turns out, one of her numbers is just off. The 22-year-old Adams leans in. "A bit premature there, love," he crows in his Kiwi accent. "But you have fine-looking offspring." He glances at the button pinned to her chest, showing off her three grandchildren.
By the end of the day, Adams will also be the victor of a game of bingo "blackout" (in which his teammate Enes Kanter cheated by playing six cards at once), bragging of the skill required to beat "the old people" at a game of pure chance.
---
ADAMS GREW UP in Rotorua, a picturesque city on a chain of lakes in central New Zealand. Tourists flock there because of its scenery, its hot springs and its geysers, which spew sulphur and give the area a bit of a rancid smell.
"It smells like someone farted in your face all the time," Adams says, "but you get used to it."
Adams is the youngest of 18 children. "My brothers bullied me so I cried a lot as a kid," he remembers. "It was the only defense I had. Telling them to stop wouldn't work. The crying would bring my dad. Dad was my cavalry."
"The initiation was brutal. They pretty much kicked the crap out of you. I wasn't interested in that."

Steven Adams
His 6-11 father, Sid, had children with five women -- Adams' mother is Tongan, a native of a small island in the South Pacific. Sid was in his 60s at the time of Steven's birth. By the time Adams got to know him, Sid was worn down from life and battered from a car accident that had severely damaged his legs.
When Sid died after a long struggle with stomach cancer, Adams stopped going to school. He lied to his siblings. He started hanging out with some members of a local gang, the Mongrel Mob, though he never officially joined.
"The initiation was brutal," he says. "They pretty much kicked the crap out of you. I wasn't interested in that."
---
ADAMS NEEDED HELP. One of his brothers, Warren, had an idea. Steven was about 6-5 when he was only 14, and from a family of near-mythic athleticism. His sister Valerie became a national hero after she won gold medals in shot put at the 2008 and 2012 Olympics. Warren himself had played basketball on the New Zealand national team.
Warren called a former teammate, Kenny McFadden. McFadden, an American who had once suited up at Washington State under George Raveling, had played professionally in New Zealand. He fell for the country, and after retiring as a player, he began to coach, becoming influential in youth basketball nationwide.
McFadden took a chance on the youngest Adams. He arranged for a scholarship to Scots College, a century-old Presbyterian school in Wellington. The cost of tuition and boarding from middle school through high school can run more than $150,000.
Steven showed up in Wellington, a six-hour drive south, in rough shape; unkempt hair halfway down his back and wispy fuzz across his face. His clothes were ragged, his reading and writing skills were poor and his attitude was worse.
"I'd never worn a tie before. I was a bushman," he says. "My friends now were like, 'Who's this murderer?' It was really uncomfortable at first."
Dress code was a tie and gaudy red jacket with a crest, in the English tradition. On Adams' first day, he reported to class without a pen or paper, which had to be borrowed.
McFadden found a teacher willing to take in Adams, clean him up and mentor him. Once the grit, hair and fear had been washed away, the educators found charming personality. McFadden went to work on the basketball, starting with 6 a.m. workouts before school, and then another two hours after school. This went on for years. The village of Scots College resolved to raise Steven Adams.
"I'd never worn a tie before. I was a bushman. My friends now were like, 'Who's this murderer?' It was really uncomfortable at first."

Steven Adams, on first arriving at Scots College in Wellington, New Zealand
"I just got addicted to getting better," Adams says. "My coach gave me a goal to get a tip dunk in a game -- you know a putback dunk off a rebound. I had never done that. He told me that he'd get me a pair of new shoes if I did it. I just kept trying. I couldn't get it, couldn't get it, couldn't get it. It took me a year or so. Finally one game, I got it. It happened. I was really pumped, I felt really good. When it finally happened, I didn't care about the shoes. From there, I got addicted to that success, that accomplishment."
---
BY THE TIME he was 16, Adams was close to 6-10, developing rapidly as a player and getting attention beyond New Zealand. McFadden sent off video and used connections that got Adams an invitation to Adidas Nations, a camp for international prospects in Los Angeles. It was Adams' first trip overseas.
"He's a bit of a miracle because there's not much basketball there," says Mark Bryant, a Thunder assistant coach who has gone to New Zealand several times to work camps with Adams. "Where he came from they're tough, because they all play rugby, but if he didn't have Kenny, there was no way he'd be where he is today. He found him, he taught him and he got him seen."
When Adams arrived in California, he played with the Latin American team, because there were no other players from his region. That all might have seemed disorienting to Adams, but after his experience being dropped into the strange world of Scots College, nothing seemed strange anymore.
"What happened to me at Scots is they lit the spark for me," Adams says. "My eyes were opened there. Now, I'm interested in anything."
Adams ended up playing a season at Pittsburgh, a connection established because coach Jamie Dixon had played professionally in New Zealand. The 7-foot center was drafted in the lottery by the Thunder, a pick the team acquired as part of the James Harden trade. Fair or not, that created expectations.
He has developed a reputation for being unshakable. This was the case from nearly day one. "He's just so high energy, so wide-eyed," teammate Nick Collison says. "He's not easily impressed, he doesn't take things too seriously. I think that's the culture from his background. He's all about, 'Get over yourself.' He didn't grow up with the dream to play in the NBA, and it shows."
His first NBA training camp, as a rookie in 2013, featured many days of feisty drills and scrimmaging with veterans. Eventually, the legendarily tough Kendrick Perkins drilled an elbow into Adams' chest, turned and growled at him.
"I'm the only silverback!" Perkins said with his trademark scowl.
Adams laughed. "You saw right away this kid just came to work," Perkins says. "I don't think he even knew who a lot of the opponents were when he came into the league. He wasn't starstruck. He didn't give a s---."
That's true. Adams knew virtually nothing about the NBA when he arrived. One of his brothers had an old video game he played as a kid. In the game, the best player was Peja Stojakovic, Adams says. And his brother had a poster of Larry Bird. So when Adams started playing, it was a lot of shrugging and no deference, which unnerved a long list of opponents.
During his rookie season, Nate Robinson punched him in the stomach. Vince Carter elbowed him in the side of the head. Jordan Hamilton punched him in the shoulder. Larry Sanders elbowed him in the neck. Zach Randolph punched him in the jaw, a move that got Randolph suspended for Game 7 of the Thunder's first-round playoff series with the Memphis Grizzlies two years ago.
Last season, the Los Angeles Lakers' Nick Young was ejected for throwing a forearm into Adams' throat. Young said Adams was a "sneaky dirty player" and that his play had caused Young to "lose my mind a little bit, [I] checked into the crazy house."
"It's mostly because I wanted to listen to the coach," Adams says. "My coach Scotty Brooks yelled at me early that I shouldn't react because reacting hurts my team. So it hurts, but I don't want to hurt my team."
Bryant, Adams' big-man coach, laughs at the thought of it.
"Steven doesn't react. It's those guys who react," he says. "Most of the time Steven started it."
ADAMS HAS EVOLVED. He doesn't scrap with opponents as much anymore -- they have the book on him now. And he's getting the book on them. Adams has learned his peers' names and tendencies. Now he studies Tim Duncan and Marc Gasol. Adams' minutes and his production per minute have crept up: This season, he finished the regular season with the 12th-best defensive real plus-minus in the league, and a top-50 overall rating.
"All of it is very slow. It's going to get a long time to get things to where I want them," Adams says. "I'm way off but I'm striving. I'm used to long journeys."
Further evidence of his maturation: Adams sponsors camps across New Zealand that last year involved more than 1,000 kids. He made a significant investment endowing several scholarships for promising young players at Scots College. And one of his nieces is showing major potential and hopes to play in college in the U.S.
---
HUNGRY: THAT'S THE word. Adams loves food, especially ethnic foods from across the world. Once withdrawn and parochial, he now spends some of every offseason traveling. And eating.
"He'll eat all day long," Collison says. "Earlier this year, we were in Miami. Some of us went to Whole Foods after practice. He went from Whole Foods to an Italian restaurant to a sushi place and he was ready for dinner later. When we go to dinner, he'll order an appetizer, two entrees at least, whatever he wants to try. You always heard about Michael Phelps and his unlimited calories. I never understood it -- but that's what Steven is like."
"I'll try anything," Adams says, "but the pig testicles in Taiwan were a little much. Eh, it wasn't half bad. There was this one dish I had there, the translations is, 'The Monk Jumps over the Fence.' It's a fish dish with all these spices. It was beautiful man, it was poetry. It had a whole story."