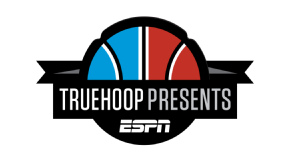 DWIGHT HOWARD IS ready to "reset."
The 30-year-old center has seen his public image and reputation sour in the back half of his 12-year career. Now, with an opportunity to opt out of the $23.2 million final year of his contract with the Houston Rockets looming on July 1, he says he is looking to turn the page.
Howard sat down for an exclusive interview with ESPN.com to discuss his past and future in Houston; his messy exit from Orlando; why he doesn't take any elbow jumpers, and more.
ESPN: Most people believe you will opt out of your contract with Houston on July 1. Are you leaning that way?
Howard: "To be honest, I have had some conversations with close friends on what would happen if I do opt out. But I haven't really come out and said, 'I'm going to opt out and do this and that.' I just can't focus on that right now. We didn't have the kind of season we wanted, and I didn't have the kind of season I wanted and it was really upsetting to me. So my thinking is, 'I'm going to get in the gym, get my body right and when the playoffs are over take a look at everything.'
"As much as it may seem crazy or unbelievable that I'm not thinking about it, every time I do think about it, my mind starts racing back and forth. I don't need that kind of pressure right now. My agent [Perry Rogers] is smart. He's done this for years. Let him worry about the teams and the [contract] numbers.''
ESPN: You mentioned your season in Houston didn't end the way you wanted. You have also admitted you were "disinterested" during parts of the year. Why was that?
Howard: "There were times I was disinterested because of situations that happened behind the scenes that really hurt me. It left me thinking, 'This is not what I signed up for.'''
ESPN: What specifically are you referring to?
Howard: "I felt like my role was being reduced. I went to [Rockets general manager] Daryl [Morey] and said, 'I want to be more involved.' Daryl said, 'No, we don't want you to be.' My response was, 'Why not? Why am I here?' It was shocking to me that it came from him instead of our coach. So I said to him, 'No disrespect to what you do, but you've never played the game. I've been in this game a long time. I know what it takes to be effective.'''
[Morey declined comment.]
"I felt like my role was being reduced. I went to [Rockets general manager] Daryl [Morey] and said, 'I want to be more involved.' Daryl said, 'No, we don't want you to be.' My response was, 'Why not? Why am I here?'" Dwight Howard
ESPN: Some of your teammates in Houston didn't appreciate your "disinterest.'' Any regrets on how you handled it?
Howard: "My friends kept telling me, 'Even if you aren't getting shots, there are so many other things you can control while you are on the floor.' And they were right. I allowed not getting the ball to affect me. That's on me.
"As a big, someone who has been the focal point of the team, who is still young, who still has some great years in front of me, you run the floor, you sprint as hard as you can, you duck in, and still, you don't get the ball. It brings you down. It sucks the energy out of you. I had long conversations with people close to me who said, 'Dwight, this is going to make you look bad. Don't keep doing this.' So I listened to them.''
ESPN: So what changes did you make?
Howard: "For the final few weeks of the season, I brought [former NBA big man] Clifford Ray in. He told me, 'Dwight, you never know what is going to happen, so you need to keep working, keep growing, be ready.' Cliff wanted me to get in better shape. He said, 'If you aren't getting touches, then get every offensive rebound and keep running the floor.' He was a positive light for me -- a great inspiration.
"Clifford got me on the phone with [former Celtics center] Robert Parish. Robert told me, 'Don't allow what other people do affect your performance. You have to be stronger mentally to overcome those situations.' Those two guys made me realize I need to get locked in with the mental part of the game.''
ESPN: What is your relationship with James Harden like?
Howard: "Before I got to Houston, I didn't know him as a person. What made me really interested in James Harden was the way he attacked the basket when he was at OKC. He was the glue of the team, attacking, making plays, dunking. I was thinking, 'Man, this guy could be special.' When I hit free agency, I watched YouTube tapes of James for hours. I looked at us as a mini Shaq and Kobe. I was thinking, 'Man, this could be a new life for both of us.' And we had some good stretches together. Made it to the conference finals last season.''
ESPN: Your relationship with Harden seems to have deteriorated along with the team's performance this season. What happened?
Howard: "I don't know. ... I want to figure that out, too. I've been trying to wrap my mind around this season, what went wrong, and sometimes you can allow outside things to interrupt the circle. That probably happened with us.''
ESPN: You obviously were unhappy in Houston this season. How can you go back?
Howard: "That's a fair question. You never know what will happen. I'm not ready to rule anything out. But, no matter what the situation [is], I have to be true to myself, both on and off the floor. I can't alienate myself by letting my frustration get the best of me. A lot of the situations I've dealt with the past couple of seasons have made me realize some things about myself. These situations I've dealt with have made me stronger. You could say I've hit the 'reset' button.''
ESPN: What have you learned?
Howard: "I can make sure going forward that each and every decision I make is not based on emotion. I let my emotions get the best of me.''
ESPN: You have a reputation of being a little thin-skinned. How hard is it for you not to be affected by what people say about you?
Howard: "It bothers me when I hear certain things. Like when people call me a 'cancer.' I know I'm not that person. I want my team to be close. I'm pushing for my team to be together. When I was in Orlando and we went to the Finals [in 2009], we had so much chemistry. We were always together. When I got to L.A. [with the Lakers in 2012], they told me, 'You don't need team chemistry. You just need to be able to play basketball together.' So which is it? It's confusing.''
ESPN: Kobe said he wasn't sure winning was your top priority. Why would he say that?
Howard: "I wanted Kobe and me to work. I just think we were at two different points of our careers. When I went there, people warned me, 'Dwight, you gotta realize Kobe still wants to be the star.' My response was, 'Fine.' I said the same thing to Steve [Nash]. I wanted to learn from those guys. I wasn't trying to outshine them.''
ESPN: Kobe also questioned your toughness when he urged you to come back and play through your shoulder injury.
Howard: "Kobe put some pressure on me. He said something like, 'We don't have time for Dwight to be hurt.' The media is asking me, 'Did you talk to Kobe about your injuries?' I said, 'I didn't realize I was supposed to check with another player about my health.' When I first got there, I said to Kobe in front of the whole team, 'The only way we win is if we put our egos aside and play together.' I wanted to play with him. I don't know if he didn't want to play with me -- if he felt I wasn't a killer like him.''
ESPN: You could have signed a new deal to stay with the Lakers. Why didn't you?
Howard: "I just felt like it wasn't a team. I wanted a team. There were things that went on during the season that made me feel like I wasn't a part of it, like the thing with Kobe and my shoulder. People were saying, 'Dwight's so strong, he's Superman, he should play through it.' It was a torn labrum. I should have had surgery, but I didn't. I came back instead.
"I'll never forget the game we played against the Celtics in Boston [on Feb. 7, 2013]. I hadn't practiced for a while -- I had just been working on the treadmill. But I played in Boston. We got blown out. Coach [Mike D'Antoni] still had me in when we were down 30. After the game, I'm walking off the court and a Lakers fan throws his jersey and hits me in the face. It was my name on that jersey. I will never forget that the rest of my life."
ESPN: The Lakers were a major disappointment that season, but the front office still wanted you back?
Howard: "Yes, they did. I had a decent year. I put up good numbers. Mitch [Kupchak] wanted me to stay. Jeanie [Buss] wanted me to stay. But I didn't think it was a good fit. When they fired Mike Brown [after five games], they asked me what coach I wanted. I said, 'Phil [Jackson].' They said, 'Well, we don't know about Phil.' So they went out and got D'Antoni, and I'm thinking, 'Well I guess what I say doesn't matter.'
"That was one thing. The other was when I got ejected from our last game. Kobe was out [with a torn Achilles] by then. As I walked out to the back to the locker room, Kobe was walking in. People turned that into some kind of statement from Kobe, like he was saying, 'He may be gone, but I'm coming back.'
"Kobe and I never fought. But I didn't like hearing that I was running away from the 'bright lights.' I knew what it meant to play for the Lakers and I wasn't afraid of it. But I was a free agent and I was looking at Houston, who had James, and, at that time Chandler [Parsons] and Jeremy [Lin] and I thought, 'This might be better for me.'"
"When they fired Mike Brown [after five games], they asked me what coach I wanted. I said, 'Phil [Jackson].' They said, 'Well, we don't know about Phil.' So they went out and got [Mike] D'Antoni, and I'm thinking, 'Well I guess what I say doesn't matter.'" Howard on his season with the Lakers
ESPN: Your tenure in Orlando ended badly. The video [from April 5, 2012] of Stan Van Gundy at a shootaround telling reporters you wanted him fired, and then you showing up and putting your arm around him, and then Stan walking off might be the most awkward NBA moment ever. What was going on there?
Howard: "So much of what happened in Orlando was brought out the wrong way. When I walked over to Stan that day, people say that I knew what Stan was saying. I had no clue. I remember it like it happened yesterday. I felt my life changed that day.''
ESPN: How so?
Howard: "People decided that day I was some kind of bad guy. I don't think people realized what happened.''
ESPN: Did you ask management to fire Stan Van Gundy?
Howard: "The backstory is that months before that, before the [2011] lockout, I had a conversation with Magic owner Rich DeVos. They flew me out on a private plane to Michigan. I was talking to him about how we could grow the team. When I first got to Orlando, he called us the Orlando "Tragic" and I hated it. I wanted to talk to him about how we could grow our team. I was saying, 'Let's have Magic cereal, Magic vitamins with our players' faces on it so they can get to know our team.' In the course of our conversation, we started talking about what's going on with our team.''
ESPN: What did you say about Stan in that meeting?
Howard: "I told Rich the truth. I told him, 'I love Stan. I think he's done a great job, but I think he's lost his voice in the locker room.' It wasn't, 'Hey, I want Stan fired or else.' I was never upset with Stan at any point. It wasn't anything personal against Stan. He knows that. It's just over the past couple of years I could see a lot of the guys had lost their faith in him.''
ESPN: How long before the public comments from Stan saying you wanted him gone was your meeting with DeVos?
Howard: "Oh, it was months before. In late June, just before the lockout.''
ESPN: Looking back, what could you have done differently to handle that situation?
Howard: "I shouldn't have gone over to Stan [at the shootaround]. I just wanted to show people that I respected my coach, that we had been through battles together. Stan and I got the best out of each other. If I wasn't doing something right, he'd come to me and say, 'Dwight, I know you can block shots better than this. I know you can rebound better.' He helped me become a better player.''
ESPN: So why did you decide you wanted to be traded?
Howard: "Right after the lockout ended, in December, I went to GM Otis Smith. But before that, I called Jameer Nelson and told him I was going to ask for a trade. I told him, 'This has nothing to do with you, Stan or anyone else. I just want a different atmosphere. I'm too comfortable here. I need to grow.'"
ESPN: How did Otis Smith and the team react?
Howard: "They were good. I told them I had three teams that I would go to -- Brooklyn, Dallas and the Lakers. So the first day of training camp, they called me into the office and said, 'We're trading you to Brooklyn. Go down and let your teammates know this is your last day.' Then they shook my hand and wished me luck. So I go down and tell all the guys that I'm about to be traded and how much I care about them.
"The next day [Smith] comes back to me and says, 'We're not going to trade you. We're going to wait until later in the year.' I said, 'You said yesterday I was gone. Why are you going back on me?' So, it went on like that for four or five months. People said I was staying, then they said I was going. Then all hell broke loose that day with Stan.''
ESPN: If you could do it over, would you stay in Orlando?
Howard: "I loved Orlando. I loved the city, but at that time, I didn't feel winning was a priority. I really wanted to win. People will come back and say, 'Well, you were all over the place making movies.' Like I don't love the game or something. I love basketball. It is my passion. But, I've always thought if you just sit back and stay in one lane your whole life, I'll get old and be done with basketball, and I won't be able to do anything else because I wouldn't have planted any of those seeds in other places.''
ESPN: You are right. People think you don't care about basketball enough.
Howard: "If I didn't care enough, I wouldn't be working out in May when the season has just ended, like I am right now. I can't even watch the Finals, because when I see someone else playing, it makes me cry. I want to be in that moment.''
ESPN: One of the other criticisms of your game is you never expanded your range beyond the key. Why not?
Howard: "I used to shoot 1,000 shots a day. I called Kobe when I was still playing in Orlando and asked him what I should do. He's the one who told me to do take 1,000 a day. So I'd practice and practice them but then I'd be so afraid to take them in a game because I was so worried I would miss. I hate messing up. I hate failure. I was just talking to [WNBA star] Tina Thompson the other day about it. I told her about my fear of missing and she said, 'Dwight, you're gonna miss. Everyone does.' But I want to be perfect.''
ESPN: So you don't take perimeter jumpers because you are afraid you will miss them?
Howard: "I don't like messing up. I didn't want to turn on the TV and see people say, 'Dwight is taking all those outside shots, he's screwing around, he doesn't care, he doesn't want to win.' So that's the war I'll be having in my head. I'm working on it. I have a sports psychologist I used in Houston and I have one in Minnesota. If my spiritual and mental game is right, the physical part will follow.''
ESPN: How much do you think you are worth? Do you still think you are a "max" player?
Howard: "This will be my last chance for a really big contract. If I am utilized the right way, I know what I can do for a team, a city, a franchise. I know my worth, and I will bust my butt this summer to show my worth to everyone.''
ESPN: Your former coach Kevin McHale said recently that you are not the same player because your back issues and tight hips have prevented you from getting low and being effective on the block. (Howard shot a career-low 47 percent out of the post in 2015-16).
Howard: "Well, I don't really agree with that. I don't have back issues. I had a back issue, but I had surgery and I'm fine. I haven't had any trouble with it since. I'm good. I'm healthy.''
ESPN: I heard you are working with Michael Clark, the Suns' training staff guru who helped out Shaquille O'Neal. How is that going?
Howard: "I'm more than excited to be working with him. I told him, 'Mike, I want y'all to kill me. Whatever it takes.' All the things that have happened in the past have set me up for this moment. It's either going to make me or break me. Actually, I think it's already broken me because I have to make myself all over again. It's a new start.''