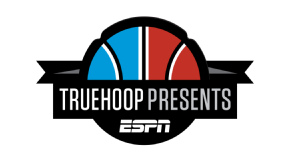 NO ONE UNDERSTANDS the most infamous friendship in American sports like Gabrielle Union. The Hollywood actress did more, for instance, than merely marry Dwyane Wade in Miami on Aug. 30, 2014. Union choreographed a multisegment handshake with Wade that featured LeBron James' signature stomp celebration -- and performed it, perfectly, atop the altar. Right after the first kiss.
But being one with Wade isn't the same as being best friends with James. "If we played 'The Newlywed Game,'" Union admits, "I don't know if I'd have more information on my husband than Bron would."
Wade laughs.
"Me and Bron would know waaay more," he says. "Obviously."
A recent playoff practice has just ended inside Miami's American Airlines Arena, and Wade, still in uniform, is thoughtfully marshaling proof while perched on a tall brown chair. Like the fact that whenever he is running late to meet James at a group dinner, there is only one person the finicky Heat guard can entrust with culinary power of attorney. Even when Union is also waiting at the table. "My wife wouldn't know what to order," Wade says, "but Bron's like, I got it." Two years ago, at just such a dinner in New Orleans, Union could only watch, deeply confused, as James unilaterally picked sea bass for a man who'd expressed a lifelong distaste for fish. "It's what I wanted," her husband would later explain, shrugging. "Bron got me on sea bass."
There are, by Union's eye-rolling estimates, "a thousand and one instances like this" -- each of them underscoring a rapport as heartfelt as it is quotidian. Like how often Wade and James trade not only text messages but voice notes, shamelessly played on speakerphone. ("Texts take away from the tone of what you're trying to say," Wade points out.) Or how the two used to stay at each other's homes during road trips to their respective NBA cities instead of at hotels. ("There were more creature comforts, more privacy," Union says.) Or how relentlessly they crack each other up, in person, without uttering any actual words. ("They're like twins," more than one mutual friend suggests.)
Even the initial encounter between Wade and James resembles what Union's industry would call a meet-cute. At the 2003 NBA pre-draft camp in Chicago, Wade's hometown, the Marquette junior was waiting inside a training room at the Moody Bible Institute, alone, when James walked in randomly. Their personalities were not identical; the Akron-born Cavs forward, three years younger and hyperfamous since high school, has always been louder, goofier, bigger. (Or, as Wade puts it, "A little more AAGGHH.") But they both came from broken Midwestern homes. They both saw the game as an escape. And they both sensed their lives were about to change for good. That whole week, Wade recalls, "We started looking for each other: Where you going? Where you going?"
So many headlines later, their apparently magnetized trajectories cannot help but intrigue and irritate us still. Well before the Eastern Conference finals, James told reporters that opposing Wade in the postseason was something they've "always talked about" and something he's "always wanted." And when the Heat were eliminated by the Raptors in seven games this past Sunday -- robbing Wade, 34, and James, 31, of that opportunity -- you could hear the cheers from sports fans who hated the TMZ-targeted duo when they teamed up in Miami, controversially, six years ago. And when they split up, controversially, four years later.
"The biggest misconception, for myself and LeBron, is that we can't compete against each other because we're friends," Wade says. "We're two of the biggest competitors in the game. It's just a slap in the face."
He sighs. "I played amongst my brothers my whole life," Wade continues, voice sharpening. "And I wanted to beat their ass every time."
But an alleged aversion to ass-beating isn't the biggest reason their relationship remains so provocative. On-court effort, after all, isn't really why Heat president Pat Riley quietly detests the Wade-James friendship. It isn't really why TNT's Charles Barkley and Kenny Smith, like much of this country, ridiculed James' March workout with Wade in Miami, which their trainer put on Snapchat. It isn't really why Cavs coach Tyronn Lue, that same month, censured James for palling around with Wade during halftime of a blowout loss. And it isn't really why so many fans feel that this friendship is the opposite of what sports should be.
---
IF YOU WERE charged with making a political ad for the cause of sports hatred, Cedric Maxwell's baritone is the ominous, incredulous voice you'd want. The retired Celtics forward, a two-time champ, is perhaps best known for strolling by James Worthy in the 1984 NBA Finals and giving the Lakers star the choke sign with both hands -- a seminal moment in athletic antagonism. Now the 60-year-old Maxwell is a broadcaster. And on an April night in Boston, squeezed into the stands before a game against the Heat, he refuses to soften his loathing. "It just makes me ill," he says, when asked about Wade-James relationship. "It's against the rules of nature. Why would you have a giraffe among the lions?"
"If we played 'The Newlywed Game,' I don't know if I'd have more information on my husband than Bron would." Gabrielle Union
Maxwell will contend, as no less than the legendary Red Auerbach once taught him, that modern players cede a psychological edge whenever they deign to socialize with an opponent. ("Bull crap," Wade will say.) But either way: such conviction is rooted in more than just strategy. It's also principle. It's also culture. A generation values that militaristic line between ally and enemy as an end in and of itself.
"There's nothing wrong with hatred," Maxwell says. "Hatred is a great thing. Who had friends in the '80s?" Who didn't prefer a time when teams, like their most passionate fans, treated games as blood feuds?
When Magic Johnson and Larry Bird consented to film a Converse commercial together in 1986, it was the exception that proved the rule. Never mind that, on the court, the two rivals remained unimpeachable competitors. (Never mind that, by modern standards, the 30-second ad is comically quaint.) "It was shocking," Maxwell recalls. "Like we had a traitor in our midst." Riley, then the Lakers' coach, was similarly furious, which was no surprise. A decorated dean of the old school, he policed that militaristic line as ruthlessly as anyone.
Years later, as coach of the Heat, Riley kept the spirit of the '80s alive by reportedly instituting a $1,500 fine for any player who helped an opponent up off the floor. "For a lot of people, it's hard to comprehend how you could be friendly and outgoing and still be a fierce competitor," says Cavaliers forward James Jones, who played with Wade and James in Miami. "They think it has to be one way."
Any fan put off by two buddies who opt to join forces rather than remain locked in combat would have loved the enmity of 30 years ago. Any fan who derisively branded those Heat teams the "Super Friends" would have savored the atmosphere from the golden age of hatred. "Hundreds of people before the game would scream obscenities when our bus pulled in," Maxwell says. "There were more fights in the stands than there were out on the floor."
And how often did fans motivate players to police the line between different jerseys? How often did NBA teams think about the rabid audiences cheering their on-court hate?
"Never," Maxwell says, bluntly. "No, no, no." He chuckles. "If you talked to an opposing player, you'd be ostracized by your locker room. Our calculation was about being scrutinized by our team."
The distinction is crucial. So many fans pine for a time when stars showed us the courtesy of defending a team logo as obsessively as we did. Yet this courtesy, Maxwell makes clear, was incidental at best. It was fake. Although player interests once seemed to mirror fan desires, the games have never actually been about us.
So, no, Wade and LeBron will not deny that their own priorities -- family, friends, self-determination -- can sometimes diverge from those of their employers. But the problem is that most fans would rather be lied to. Like a headless Mickey Mouse answering a cellphone at Disneyland, NBA players indulge their humanity at the cost of a comforting fiction: that their public job always outranks their private life.
"You're talking about two guys who went to the Finals together, four years in a row," Wade says. "My job and his job was to get as close as possible, to know everything about each other and get on the same page as two leaders on the team. And then he goes elsewhere and you ask us to hate each other! It's ridiculous."
In truth, the job itself is different. The 2016 NBA economy, wherein franchises are worth nine to 10 figures, is utterly unlike the ecosystem of the '80s. (Bird, now the Pacers' president, paid semi-anonymous George Hill $8 million this past season -- more than Larry Legend ever made in his prime.) And as sickened as the Super Friends generation might make Maxwell, he can't help but lament never having the leverage his successors enjoy now. "During the '80s, you were a prisoner of your team," he admits. "Free agency wasn't really free." Maxwell volunteers the story of how, in 1980 -- eight years before the advent of unrestricted free agency -- Auerbach successfully bullied the Pacers into rescinding a deal Maxwell and his attorney were set to sign. "The shackles were always on you," Maxwell recalls. "Red threatened that he was gonna take this and take that."
But no longer. After James orchestrated every part of his exodus to Cleveland, all Riley could do was grouse, obliquely, about "smiling faces with hidden agendas" ... even though he'd just collected two rings on account of that same friendship. And in March, likewise, it was impossible to believe that Lue could really punish James ... even though LeBron had just openly fraternized with Wade, Riley's most valuable employee.
In the '80s, it was unthinkable that a superstar like James could one day have billionaire owners groveling for his attention. Let alone a lifetime, 10-figure endorsement deal from Nike that dwarfs the salary at his day job. "You weren't able to buck the system," Maxwell says. In other words: You weren't allowed to wield power like an employer.
---
THE DRAMATIC ARC of this friendship has been shaped, famously, by a couple of global events: the 2006 FIBA Basketball World Cup, when chemistry-focused USA Basketball sequestered its roster -- which included Wade, James and future Super Friend Chris Bosh -- in Sapporo, Japan. And the 2011 Finals, which plunged a depressed James into two weeks of self-imposed house arrest and ultimately persuaded an empathetic Wade to hand him the keys to the Heat offense. ("I looked like Tom Hanks on 'Castaway,'" James told NBA TV's Steve Smith.)
"You're talking about two guys who went to the Finals together, four years in a row. And then he goes elsewhere and you ask us to hate each other! It's ridiculous."

Dwyane Wade
But ask Union when she first sensed the depth of their friendship and she won't hesitate in recalling a more private turning point. "When Dwyane got full custody," she immediately replies. "He needed someone to be brutally honest with -- someone who could share his joy and his fears about this massive change in his life."
Wade's two sons, Zaire, 14, and Zion, 9, had long been tight with the man they call Uncle Bron. The same was true of James' own alliteratively named boys, Bronny, 11, and Bryce, 8. But by March 2011 -- the end of what The Associated Press called a "long and often-vengeful fight" between Wade and his ex-wife -- James was now making a point to chat up Zaire and Zion on the phone. He showed up at their grade-school basketball games. And he served as a parenting hotline and shrink for their suddenly full-time, suddenly vulnerable dad.
Topics ranged from bedtimes to school schedules to morning traffic to carpool lanes. "A victory would be getting them to school on time," Union says. The conversations reminded her how meaningful the most innocent interactions can be.
"I can relate to needing friends who don't need anything from you," the actress says. "And how important they are when you feel henpecked by everyone who's supposed to love you. Who can you tell your deepest secrets to? Who was never conditional? There aren't a lot of people who advise these guys that have zero to gain."
Which brings us -- naturally -- to last summer and the banana boat. "Listen," Wade says. "Everyone makes fun of the banana boat."
Well, yes. That's what happens when paparazzi discover Dwyane Wade, LeBron James and Clippers star Chris Paul sitting in a line ... behind Gabrielle Union ... atop an inflatable yellow cylinder ... during a couples vacation in the Bahamas. (Union, who conceived of the banana boat idea, failed to persuade Knicks star Carmelo Anthony, the last member of the NBA quartet, to come aboard.) But the four couples remain undeterred. They now annually rotate the planning of an offseason vacation. "There's not many people we can call up and say, 'Hey, let's all go on this cruise together, and let's all split this,'" Wade says. "Everything gets split equally with us. I don't know too many people in my life that we could do that with."
Money, unsurprisingly, was at the core of the episode that had sparked questions about a friendship on the rocks. In 2014, Wade had opted out of his Heat contract -- which would've paid him $42 million over two more years -- to free up salary-cap space for Miami to make bids for James, a free agent, as well as new talent. And in July, when Wade boarded a private charter with James from Las Vegas to Miami, it seemed as if the two might indeed stay put. (A Florida TV station broadcast three minutes of them gesturing at each other and hugging on the darkened Miami tarmac.) But then James opted to go home to Cleveland. And Wade was out $11 million -- his redone deal was for $31 million -- and, allegedly, a friend.
"It was annoying how that was spun," Union says now. "You lost out financially: Are you pissed? Did he abandon you for greener pastures with Kyrie Irving and Kevin Love? The actual fact is, his friend wanted to go home. For D to pressure Bron, that would really be about what D would have gained. And he would never do that to him. On that plane ride, I know my husband was at peace. Was Bron guilted and manipulated? Hell no."
As for the pain of losing eight figures, Wade notes that he'd taken less money to boost the Heat's financial flexibility before -- namely in 2010, when he voluntarily signed a cheaper contract than both James and Bosh. "If I want to opt out, I opt out," Wade says, matter-of-factly. "I did it for my organization, to make sure we keep competing for a championship. Like we are now. But because of LeBron, for some reason, people didn't see that."
Nor did people see James, one month after signing with Cleveland, show up hours early to Wade's and Union's no-phones-allowed wedding at the Chateau Artisan castle in Miami. "Of course Bron was the first one to arrive," says Union, who was escorted to the altar by Wade's sons. Awkward as it might have been for Uncle Bron to hit a dance floor populated by his former bosses -- including Riley, Heat owner Micky Arison and coach Erik Spoelstra -- he did it anyway.
Anyone who figured that splitting up would split them up has it backward. There is a reason Union and Savannah Brinson, James' wife, nicknamed their husbands Celie and Nettie, after the sisters in "The Color Purple" whose bond endures despite a brutal separation. "There aren't a lot of people in LeBron's life who've walked in his shoes before," Wade says. And as they both get older, Uncle Dwyane has relished providing counsel on topics ranging from how to better preserve the NBA body to how to cut down a social circle.
"There are things where, when LeBron turned 30, he was like, 'Man, now I know exactly what you were talking about,'" Wade says, proudly. "We've gotten closer."
---
THERE IS AT least one pressing question Union wants answered about her husband. For all their many conversations, texts and voice notes, it remains unclear: Do Wade and James dare tell each other that they -- gasp -- love each other? "If you hear D-Wade say the L-word," Union says, "I want to know. Email me."
No one would accuse these two alpha males of being emotionally inexpressive, of course. When James flew to Miami for that midseason, off-day workout with Wade, their shared trainer, David Alexander, posted a Snapchat video of the pair flexing, side by side, at his gym. Which is why the video was promptly parodied by the retirees on Inside the NBA. "Come on, man," Kenny Smith said, after dancing beneath Charles Barkley's armpit. "You gotta stop that."
But, for some reason, saying love is something different. And when Wade is asked whether he and James use the word, he instinctively recoils. "Not like with my wife!" he exclaims. "It ain't like looking at each other eye to eye, like, I love you."
But then Wade takes a second to think. "You know, yeah, we say love," he says. "There's nothing wrong with men expressing love for each other, if you're secure in your manhood and who you are. So, yeah. We'll end a conversation with Aight. Love. Or, Love you, bro. We have that kind of relationship."
It is the kind that, after 13 long years in this business, encourages them to think about the end. "We always say, 'One day, we're gonna stop dribbling this basketball,'" Wade says. "And yeah, while we're playing against each other, we're going to compete and we're going to have fun. But life goes on way beyond this."
"There is no loyalty in sports," Union says. "It's a business. Whatever loyalty exists is what you create outside the game. And when it's all said and done, all you have is your relationships. A lot of retired guys have nobody. That's a terrible, terrible feeling."
Such a perspective might well come off as unrelatable, even as it describes every industry any of us occupy. But Wade and James have long agreed that they do not care.
They will choose the L-word over hatred. They will value their best friend over their present-day employer. And for now, just like brothers, they will try as hard as they can to beat each other's ass.