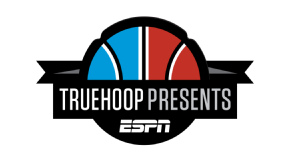 Steph was back.
Six minutes and 2 seconds into Game 4 of the Golden State Warriors' second-round series against the Portland Trail Blazers, Stephen Curry sauntered off the bench for his first live action in two weeks and into the epicenter of the most exciting game of the year. It was as if the lights had come back on after a power outage. The Warriors trailed 16-2, lost in an effervescent maelstrom of brilliant, whirling basketball by the Blazers. Yet here came the MVP, restoring electricity.
Curry took over in the middle of the second quarter, teaming with Klay Thompson to steal the ball, blitzing down the court and making a 10-foot leaner over an airborn 7-foot Mason Plumlee to bring Golden State within nine.
The earthquake of Curry's knee injury -- and its anxious aftershocks felt around the league -- was history. Everything that rested on his shoulders -- the Warriors' march to the NBA Finals, TV ratings, the ongoing long-ball revolution -- was saved. Steph was ready to explode.
Until ... Just before Curry had a chance to do something amazing, Trail Blazers forward Al-Farouq Aminu put his arms around 7-foot center Andrew Bogut: an intentional foul of the worst free throw shooter on the team -- the turd in the punch bowl of Curry's comeback.
As social media groaned, Bogut, a career 55.8 percent free throw shooter, bricked his first attempt and made the second. A minute later, the Blazers fouled him again. And then a third time.
Steve Kerr -- the freshly minted coach of the year -- soon retaliated, ordering his team to hack 6-foot-9 Moe Harkless, a career 58.9 percent free throw shooter.
"Stupidest rule in the league," Kerr was overheard grumbling, according to CSNNW reporter Jason Quick. "People pay $8,000 to sit courtside to watch this."
Fans pay to watch the best in the world, Kerr was saying, and instead they were watching a play designed, by the opposing coach, to be terrible. Tall men fumbling at the free throw line has become one of the NBA's signature shortcomings -- and it's creeping toward an epidemic. Not because players are worse at free throws than they used to be, but because coaches are more sophisticated and strategic and, some would argue, less gentlemanly. This season, NBA fans were subjected to about 450 intentional free throws shot by some of the league's worst free throw shooters.
Last Tuesday, commissioner Adam Silver announced that the NBA's board of governors approved rule changes to dissuade Hack-a-Shaq tactics by extending the last-two-minute rule from the end of the game to the end of each quarter, trimming the time teams can exploit hack-a-targets. Players like Bogut, in turn, will get eight minutes per game of protection from this tactic, instead of two. Silver said he hoped to see the board of governors expand the rule to the entire game.
In the meantime, keeping the game electric is mostly a case of hoping big men get better at shooting free throws, which seems unlikely. Among the most stable statistics in the sport is the reality that men 6-foot-9 or taller, as a group, make only about 72 percent of their free throws. Within that group of giants lies a trend: 75 percent of the worst free throw shooters in NBA history are 6-foot-9 or taller. But the worst of them have long been among the league's best players -- All-Stars and all-timers -- who have shot below 60 percent. In the 1950s and '60s, Bill Russell, 6-foot-10, shot 56.1 percent from the free throw line. Wilt Chamberlain, 7-foot-1, made 51.5 percent. Shaquille O'Neal, Dennis Rodman, Tim Duncan, Alonzo Mourning, Ben Wallace, Horace Grant, Vin Baker, Dwight Howard and Blake Griffin -- all were named All-Stars during seasons in which they shot worse than 60 percent from the line.
These players are the ready victims of competitive opposing coaches. Kevin Durant, who is listed at 6-foot-9 and is a career 88 percent free throw shooter, spoke for many when he told ESPN's Royce Young back in December, "If you don't want to get hacked, then work on your f---ing free throws."
Asked on The Dan Patrick Show in early May of last year if the league should change the rule, TNT broadcaster Reggie Miller, one of the greatest shooters in NBA history, said: "Make your free throws. It's disrespectful to yourself and myself who spent countless hours in the gym working on our shooting. ... We worked on our craft."
Practice more! It makes so much sense. Yet according to those who have gone to the trouble of diagnosing the actual root of the problem, it's the exact opposite of good advice.
---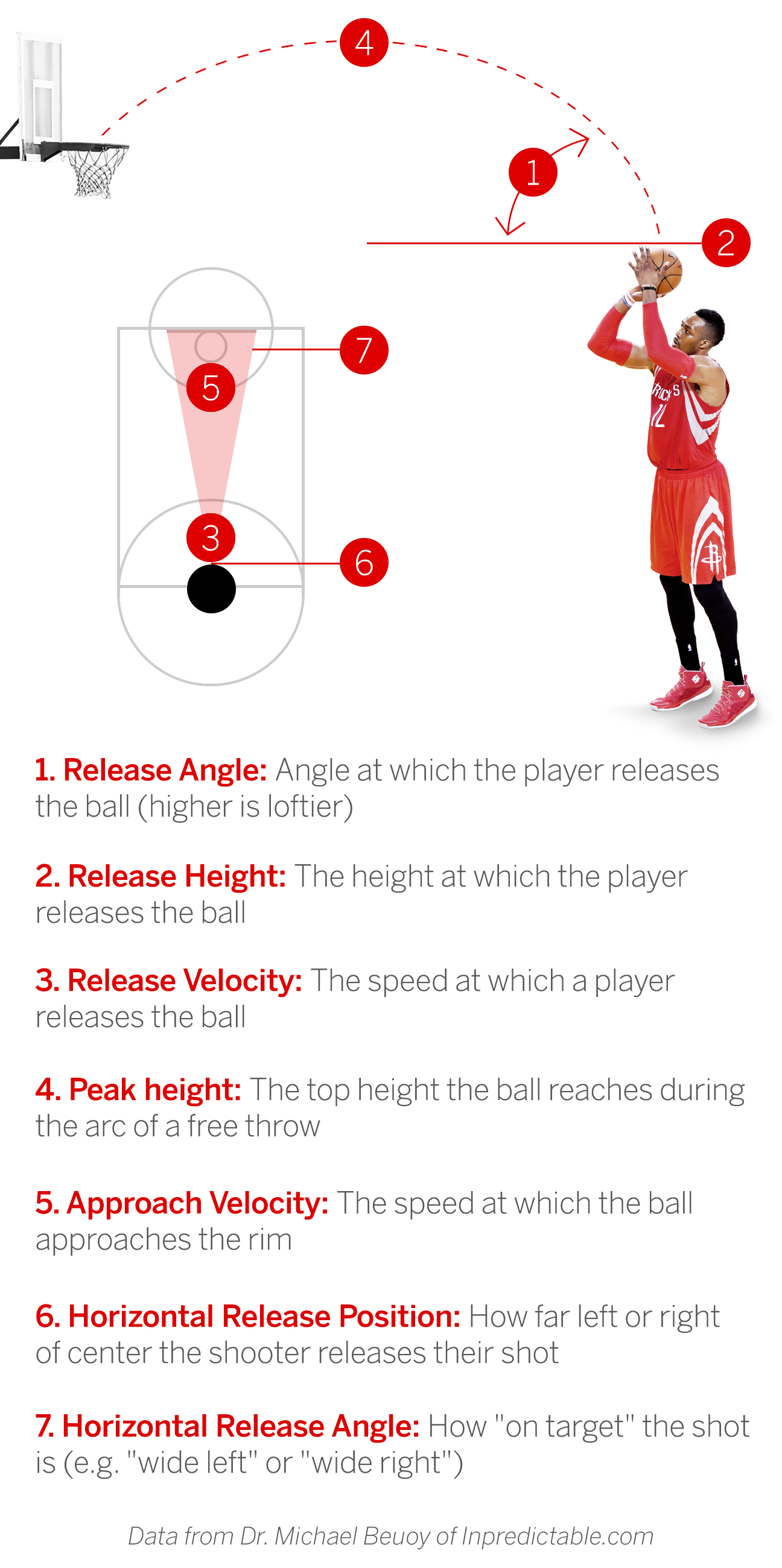 ---
A favorite theory of hoops aficionados is that a basketball is relatively small -- and thus difficult to control -- in enormous hands. Imagine trying to "shoot" a tennis ball.
A compelling argument -- until you put it to the test. San Antonio's Kawhi Leonard -- whose mitts are almost as massive as Shaquille O'Neal's -- drained 87.4 percent of his free throws this past season. Arvydas Sabonis was once thought to have some of the NBA's biggest hands, and he shot 80 percent from the line.
Though a dearth of historical NBA data on hand size makes rigorous, decades-long study impossible, an analysis -- based on hand-length data extracted from NBA draft combine measurements -- of 118 NBA players who have taken at least 100 career free throws confirmed that hand size is not a statistically significant predictor of free throw success.
Andrew Nicholson has the biggest hands in the database, but the Orlando big man has shot 78 percent from the line in his career. Milwaukee's Michael Carter-Williams, on the other hand, has the smallest hands relative to his height, and he shoots just 69.2 percent from the line.
Hall of Fame coach Rick Pitino is a staunch believer of the Large Mitts theory, which is why last summer he logged onto YouTube and studied Rick Barry's "granny shot" instructional videos. In the practice gym, Pitino taught himself how to make 8 of 10 consistently underhanded before he could properly teach his then-starting center Chinanu Onuaku how to do it.
After Pitino and his staff trained Onuaku, the big man saw his free throw percentage improve from 46.7 percent in his freshmen year to 58.9 percent last season. Onuaku loved it.
"I don't really care what people think," Onuaku said over the phone. "As long as the ball goes in the basket, that's all I care about." In June, the Houston Rockets rewarded Onuaku by selecting him with the 37th pick in the 2016 draft, making him likely the first NBA player in decades to shoot free throws underhanded.
"If I was an NBA executive again, I would immediately hire Rick Barry to tutor Andre Drummond, Dwight Howard and whomever it would be," Pitino said. "But of course, I've gotten pretty good at it myself."
However, research guru Michael Beuoy, of Inpredictable.com, found some other possible explanations for poor free throw shooting aside from hand size. A deep dive into SportVU-generated granular data revealed to Beuoy that tall players tend to have higher shot trajectories, which means the ball approaches the rim as if it had been dropped from a greater height -- i.e., faster. Dirk Nowitzki's free throws approach the rim at 20.4 feet per second; Kyrie Irving's approach at 19.4.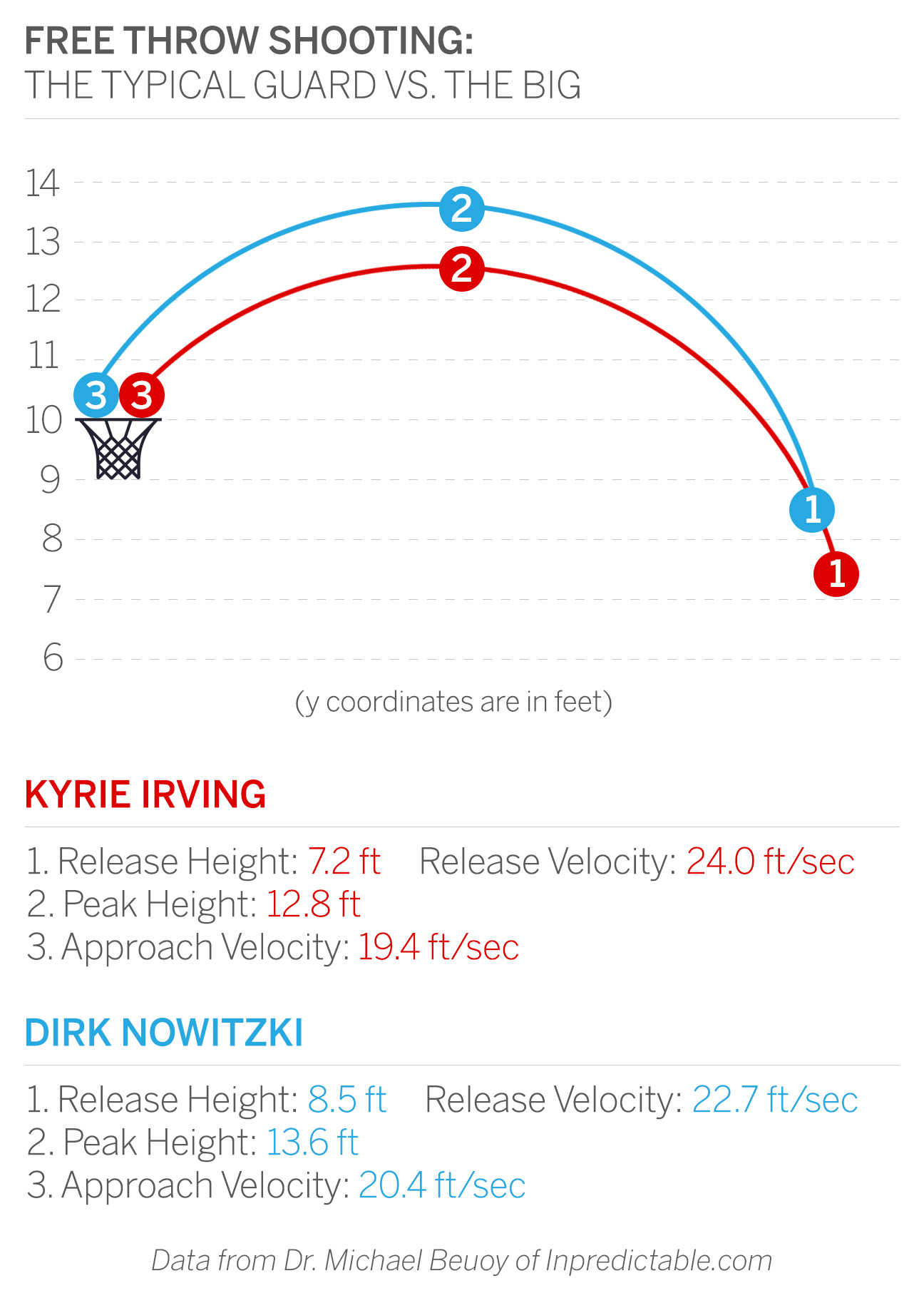 That doesn't matter if the shot is dead on. But if it catches rim, as many do, Nowitzki's shot would bounce off the rim with more force than Irving's. And in basketball, there are plenty of makes to be had from a softly bouncing ball lucking its way into the net.
Beuoy also found that big men were just all over the place with the ball. The starting position, the release point, the velocity and angle of the ball as it left their hands ... the best shooters had very little variation in these things. The tallest players had a lot, and the worst free throw shooters had a ton.
In other words, the search for physical differences in tall and short shooters uncovered evidence that the actual difference is not physical at all.
---
Putting in golf is about as similar an act as there could be to free throw shooting. The essential challenge is to stand before a crowd, size up a target and move your body in a carefully rehearsed way. The sin is surprise. The virtue is in mastering a motion you can replicate no matter the circumstances. And practice is famously the bedrock of succeeding at it.
But it's not the whole story for everyone, every day. Many of the game's finest -- from Tom Watson to Sergio Garcia to Johnny Miller to Ben Hogan to even, at the end, the famed Bobby Jones -- have seen things turn horribly, irreparably wrong on the greens, more or less because of something happening between the ears.
Ernie Els has won four golf majors, and he said he has hit eight holes-in-one in his career. He's fifth on the list of career golf earnings. Yet, on the first green of the Masters this year, it took him six agonizing putts to find the bottom of the cup -- after starting, literally, from 6 feet out.
In golf, they call it "the yips" -- when they mention it at all. It has been studied for decades in not just golf, but everything from baseball to darts to concert piano.
One such student is Chris Cassidy. The 46-year-old holds degrees from the Naval Academy and MIT. He was a Navy SEAL sniper for 10 years and an astronaut who completed a record spacewalk. He currently heads NASA's astronaut program, in charge of selecting and training the nation's space cadets. Cassidy is said to be perhaps the most heavily trained human in the history of the United States government.
He is also an NBA fan living in Houston, an epicenter of the "hack-a" epidemic thanks to the presence of Dwight Howard -- who recently signed with Atlanta -- and his backup, Clint Capela. When news arrived that the Rockets selected Onuaku, the intellectual side of Cassidy brimmed with excitement. But the former astronaut concedes, "As a fan, I just want them to win."
Cassidy's thinking on big men missing free throws has very little to do with big men and a lot to do with how people get competitive jobs: "We have 18,000 applicants for 10 people, and there are so many really good candidates out there," Cassidy said of those wishing to become astronauts. "For me, it came down to me and another guy. And what decided who made the cut was a really, really small thing, something insignificant."
To the best of Cassidy's knowledge, the guy he beat out to become an astronaut had a food allergy. Yes, a food allergy.
The lesson: Any weakness can doom you in such a competitive field. In this way, a 6-foot NBA player is like an astronaut. To separate himself from millions of similarly sized people who'd like to play in the NBA, he must be strong, mentally and physically, in whatever it takes to have a nicely replicable shooting stroke.
If you're a bad free throw shooter at 7-foot, though? Well, OK, you still have a darned-good chance of making it to the NBA simply because there aren't many 7-footers in the world. David Epstein's 2011 book "The Sports Gene" estimates, based on government population data, that a staggering 17 percent of all 7-foot American men between the ages of 20 and 40 are playing in the NBA.
"The 7-footer pool is incredibly small, and they're not groomed to be good free throw shooters," Cassidy said. "But I'm sure big guys in the NBA ever since they were in seventh grade, they were off on the side of the gym shooting free throws, and it doesn't necessarily make them better. So there's got to be something else going on."
---
At the end of close games, when home fans scream like crazy to distract the road team from making free throws and are respectfully silent when the home team shoots, it's a big advantage for the home team ... right?
Not so much. According to a paper presented by researchers Justin Rao and Matt Goldman at the MIT Sloan Conference in 2012, it's the home team that sees its free throw percentage plummet.
The son of a psychologist, Rao said it's the desire to make the shot and delight those fans that forces some shooters to put in extra effort and concentration -- a little like Els at the Masters. And that conscious effort can screw it all up.
The Rockets tracked Howard's free throws, and he shot "upper-70s"in the practice gym, according to a team source, but he shot 48.9 percent in games this past season. That's a 30 percentage point gap.
Pistons coach Stan Van Gundy puts Andre Drummond's practice percentage at 65 percent, but Drummond shot 35.5 percent in games this season - another 30 point gap. (It goes without saying that the rest of the league, which shoots 75 percent from the line, could have nowhere near that big of a drop-off.)
"If these guys do much better in practice than the game," Rao said, "it points to psychology."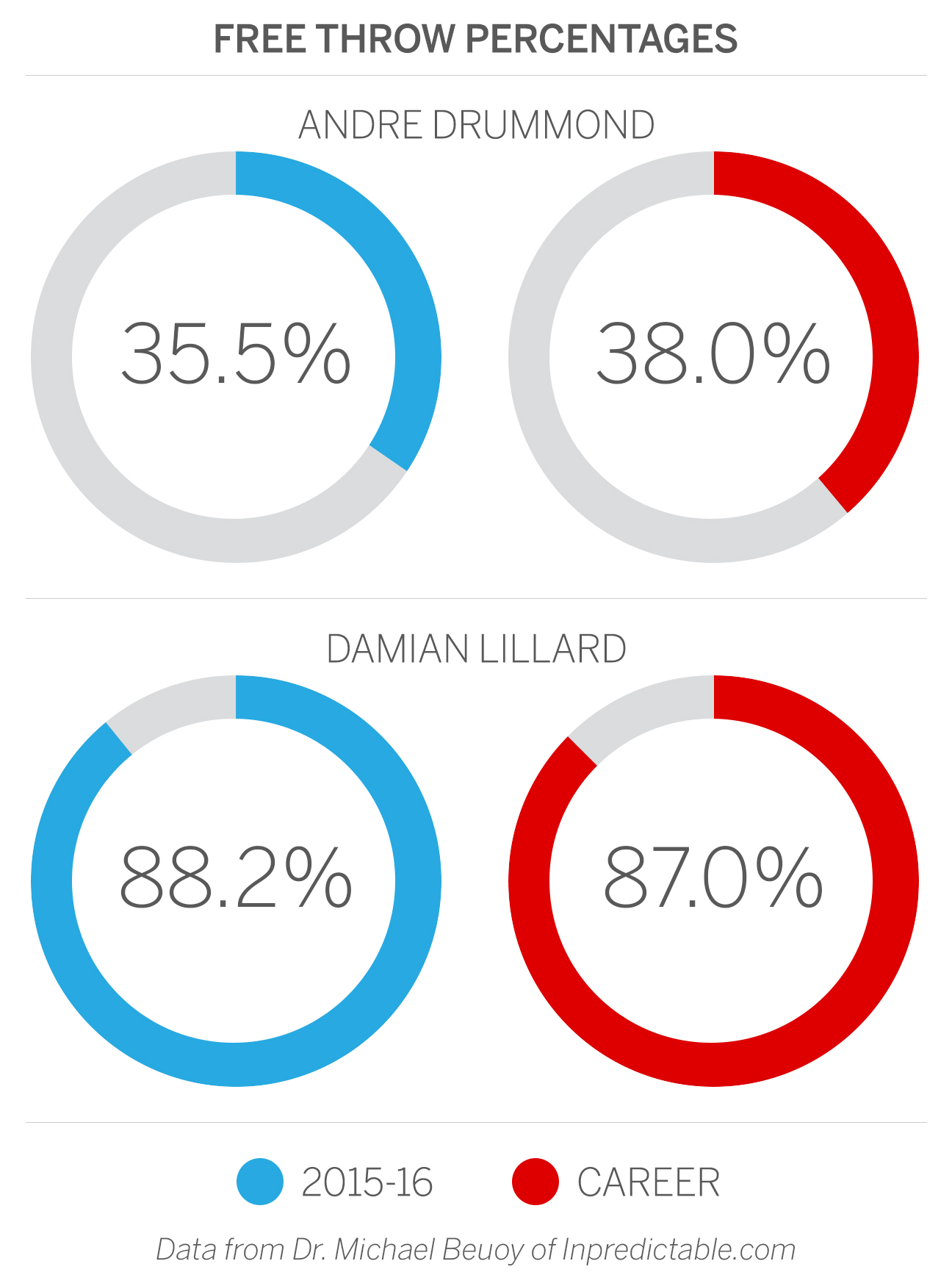 ---
"When was the last time you drank from a cup?" Dr. Christian Marquardt is on the phone, and he almost makes me spit, because surely he can't know that I have taken a sip of coffee that instant. He's a leading sports psychologist studying the neurological causes of the yips at the Science and Motion facility in Munich, Germany.
I tell him that I literally just took a sip of my coffee.
"Did you put any attention on it, or any thought? Or did you just drink it?"
No thought.
"Now, imagine it was completely filled up with hot liquid. You don't want to spill it. All of a sudden, you will act very differently."
He's right. Thoughts about how tightly I'm gripping the handle, the precise twist of my arm, the angle of the cup to my mouth ...
"Because," he explains, "you start thinking about the consequences of failure."
This is how Marquardt begins our conversation about large men missing free throws. He hasn't studied this particular affliction, but he has spent about a decade investigating the anatomy of the yips, studying over 250 amateur golfers and other pros using his SAM PuttLab technology.
Marquardt is not convinced that natural selection totally explains why big men struggle at free throws. He said the heart of the problem goes deeper -- down, for some players, to their very neurological roots.
The yips, Marquardt explains, are not mechanical. They go away if you remove the perceived risks. Take the ball away, and golfers can swing normally. But the yips roar back when the ball is returned to the putting green.
They can be distance dependent, too. Six-foot putt? No yips. Five feet? No yips. Four feet? Yips.
"And then it becomes more strange if, for example, you change the attribute of the ball," Marquardt said. "If you place magnets under the ball so the ball can no longer move, what happens? No yips."
As detailed in a 2014 New Yorker story, Marquardt sees this weird phenomenon with world-renowned pianists who deal with focal dystonia, a dysfunction of a limb or joint, particularly the hands. If you remove the piano, their fingers come back to life. Something about the task itself drives the dysfunction.
"If you are in a situation where you are in front of a task which requires precision, in the back of your mind you think: 'How can I do that? How can I be more precise?' And then add consequences. If you fail, you get a different pattern."
Ah, yes. The hot coffee. It turns out free throws aren't the problem. It's free throws in games that cause the basketball yips.
---
DeAndre Jordan is one of the best players in the NBA, yet the Los Angeles Clippers center spends long stretches of close games on the bench purely so opponents won't send him marching to the free throw line. He said he practices hundreds of free throws a day ... to no avail. Jordan's free throw rate the past four seasons (41.4 percent) is no better than his first four seasons (44 percent).
"I'd just think, like, 'OK, don't f---ing air-ball it," he recently told teammate JJ Redick on Redick's Vertical podcast. "Like, you can't air-ball it. Don't do that, and it'll be OK. I don't want to be on 'Shaqtin' A Fool,'" he said, referencing the recurring TNT segment in which O'Neal roasts players for their mishaps.
The consequence of failure is clear: humiliation by your idols that's broadcast around the world.
"All eyes are on you," Jordan said. "There are other things that you can watch that go on [in live action]. But free throws are the one time in the game where everything stops. Everybody 100 percent focuses on one person."
Humiliation can be a powerful deterrent. On March 2, 1962, Wilt Chamberlain scored 100 points while making 28 free throws and missing just four. On his Revisionist History podcast, best-selling author Malcolm Gladwell points out that Chamberlain missed four out of 32 on that famous evening by shooting underhanded. After converting a career-high 61.3 percent from the free throw line that season, he shockingly reverted back to shooting overhanded the following year.
Gladwell uses this example to demonstrate why some people choose wrong despite knowing what's best for them. Gladwell interviews Rick Barry, who says he tried to get Shaq to change. According to Barry, Shaq turned down his advice, claiming: 'I'd rather shoot zero [percent] than shoot underhanded.'"
Gladwell points out that this humiliation factor also drove Chamberlain away from the granny shot.
"I felt silly, like a sissy, shooting underhanded," Chamberlain wrote in his autobiography. "I know I was wrong. I just couldn't do it."
In other words, Chamberlain felt it was more humiliating to succeed while looking silly than to fail while looking cool. (Or, he defined success as looking cool.)
Howard made 67.1 percent of his free throws his rookie season, but he's only gotten worse as his career has goes on, bottoming-out to a career-low 48.9 percent this past season. Though he said he practices more than ever these days, he claimed the more he practices, the worse he gets.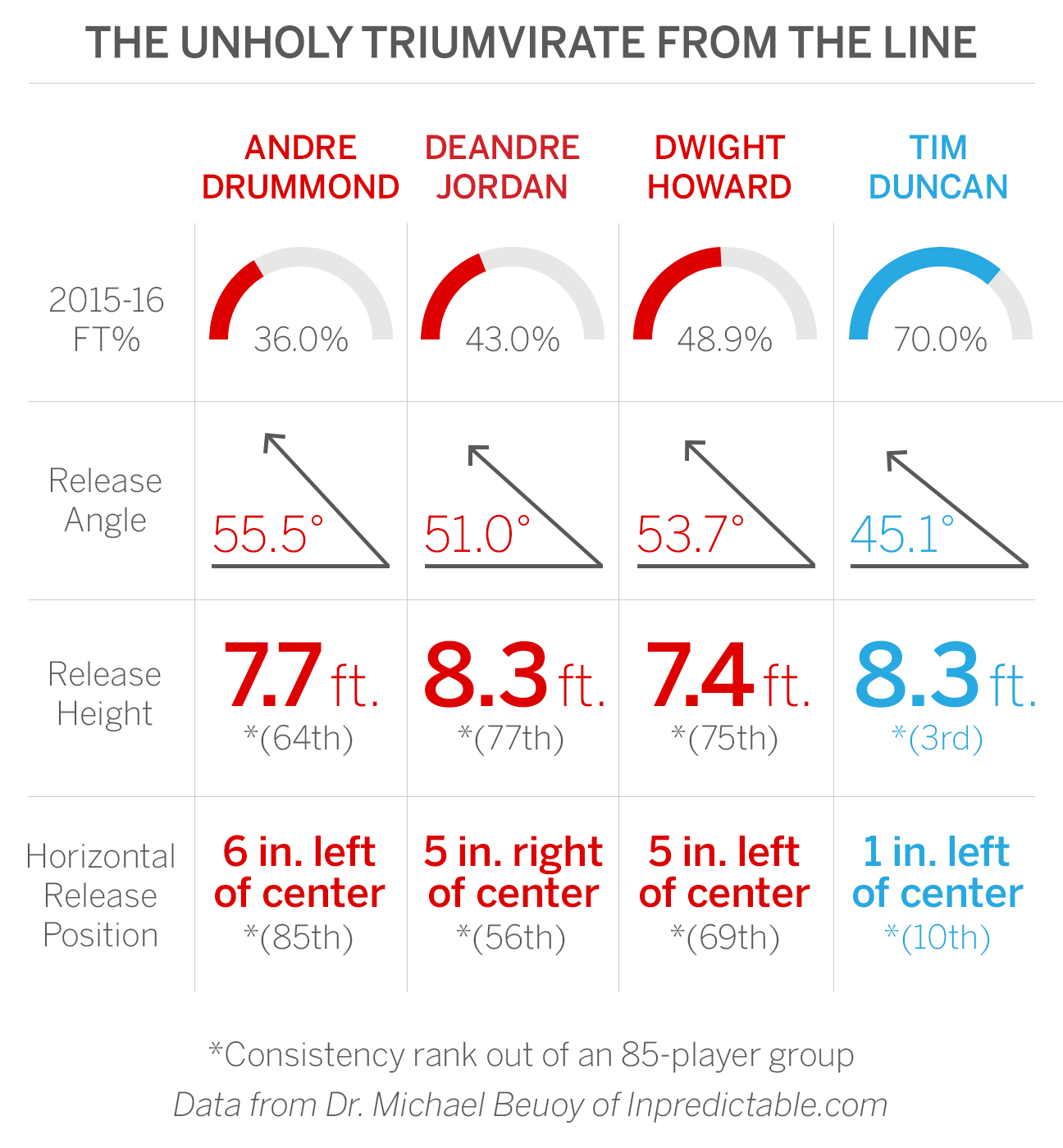 "It causes us to think more," Howard said.
Howard remembers hitting 465 out of 500 free throws in practice one day with the Los Angeles Lakers. He made 49.2 percent of his in-game freebies that season.
"And for the next two or three games, I was really locked in," Howard said. "But then I started thinking so much about it, I started missing. I was working so hard not to miss, I missed all of them.
"Free throw shooting is all mental. In practice, I don't miss. In warm-ups, I don't miss. When I get into a game, I hear people say, 'He's going to miss,' and it gets inside my head."
Like Jordan, Howard suffers from Shaqtin'-A-Fool-phobia. Hack-a-Shaq only makes it worse.
"Because of all the attention to it, our flaw has been magnified to the whole world," Howard said. "I've got little kids at basketball camps telling me, 'My dad says you suck at free throws.' Other players have flaws, but they aren't getting magnified the way the free throws are."
In Orlando early in his career, Howard said he hired a personal sports psychologist who used to work with Tiger Woods. He has also tried singing songs in his head to keep his mind off the task.
"I used to sing Beyoncé songs, that was my thing," Howard said. "I told her about it when I saw her. I said, 'When I sing your song, I make my free throws.' She seemed to like that."
---
Rick Ankiel could hear the blood draining from his head. The then-20-year-old St. Louis Cardinals phenom didn't know it at the time, but he was suffering from a mental breakdown on the mound during a 2000 MLB division series game.
"Once I threw the one pitch that didn't sit right, then it all started to unravel," Ankiel said recently.
Ankiel experienced one of sports' highest-profile cases of the yips. After a regular season that earned him second place for National League rookie of the year, Ankiel all of a sudden forgot how to pitch. He threw five wild pitches in one inning, the first to do so since Bert Cunningham in 1890.
He spent the next few years in the minors battling control problems and injury. The struggle became so mentally taxing that he switched positions, eventually making it back to the majors as a power-hitting outfielder.
Ankiel doesn't follow the NBA, but he sympathizes with hack-a-players, who also struggle to hit their targets. When his struggles set in, Ankiel's thoughts were flooded with questions of mechanics. Where's your release point? Is your elbow right? What about the grip? Why can't you just throw it, damnit?
Eventually, his hands went numb.
"I didn't even understand what was happening," Ankiel said. "I couldn't even feel the ball in my hands. The feeling went away."
Ankiel returned to the mound effectively for a brief stint in 2004, but it took years of counseling from famed sports psychologist Harvey Dorfman, who had helped Cy Young winners Greg Maddux and Roy Halladay.
Upon hearing about Jordan's mental "don't f---ing air-ball it" battle, Ankiel chuckled. "I'm not laughing at him, I'm laughing with him because I get it," Ankiel said. "I've been there. Harvey taught me to always tell yourself what you want to do, not what you don't want to do."
Ankiel said the brain blows past those verbal traffic cones and instead goes right to visualizing those forbidden images. Ankiel used to tell himself not to throw it in the dirt, or don't pepper the backstop.
"If I say, 'Don't think about a pink elephant,' what do you see?" Ankiel said. "Right.
"If I say don't f---ing air-ball it, the image you see is the f---ing air ball. The brain doesn't know how to function with that kind of message."
To this day, Ankiel is the only player in MLB history other than Babe Ruth to win 10 games as a pitcher and hit over 50 home runs. Before relearning how to perform a simple task, Ankiel had to relearn how to think. Practice had little to do with it.
"I was one of those people," Ankiel said, "who practiced too much."
---
A five-mile stretch along Carnegie Avenue in downtown Cleveland is all that separates Brooke Macnamara's office and Quicken Loans Arena, where Cavaliers players put up hundreds of shots before every game. Macnamara is a psychological sciences researcher at Case Western Reserve University, where she has spent the past several years studying the value of all of those practice shots.
Her latest research, published in the May issue of Perspectives on Psychological Science journal, focuses on the 10,000-hour rule, a theory popularized by Gladwell's 2008 book "Outliers." The rule states that to master any skill requires, among other things, about 10,000 hours of proper practice.
What Macnamara discovered is that deliberate practice among elite athletes at the national, international and Olympic levels explained just 1 percent of the variance in performance. Once you get to the top of the sport, more hours in the gym don't necessarily lead to better results.
"Practice isn't as important as these views suggest," she said over the phone. "Practice is overrated."
She also pointed to a 2007 study that shows chess players need as little as 3,000 hours and as many as 23,000 hours of total practice to achieve master status. Even among non-elite athletes, only 18 percent of the variance in performance could be explained by deliberate practice.
"I think it is in line with the American Dream: With hard work and determination, you can become whoever you want," Macnamara said. "It's a very pull-yourself-up-by-the-bootstraps sort of idea. People view that as an overly positive and inspiring [message]. But the problem with it, of course, is if it's not accurate, you have a misconception."
For some athletes, Dr. Christian Marquardt said, practice is not the answer at all -- not if the issue is thinking too much about public criticism.
"You think, 'OK, I'm at 85 percent from the line now,' and then you go back into the game and then you have even more reason to think about it when the performance drops again," he said. "Which makes you think more because there's a difference there. You start to wonder, 'What the hell is going on!?'"
The basketball brain is one trained to react. In some ways, it follows Parkinson's law, which says work expands to fill the time available for its completion. In live action, decisions are made in milliseconds. Free throws come with a whole minute or so to ponder. Thoughts expand, like a gas, to fill the space.
"I've got little kids at basketball camps telling me, 'My dad says you suck at free throws.' Other players have flaws, but they aren't getting magnified the way the free throws are."

Dwight Howard
"Sometimes the better you are inside of the game, the worse you are if you have time to think," Marquardt said. "Standing in front of a free throw, your brain starts doing something consciously. But in live action of the game, you don't really know what's going on because there are so many muscles and so many actions involved. There's no time to think."
The crowd boos, anxiety mounts and the shooter concludes that he needs to work harder to do better. But hitting a high number of free throws in practice may only provide a false sense of success. Marquardt calls this the illusion of learning.
"This is a misunderstanding," he said. "Practice does not make perfect. Practice makes permanent."
---
Think about how Reggie Miller carried himself on the court and off. Or Steph Curry. Have you ever gotten the sense that either really cared whether people liked them?
Then think about DeAndre Jordan, essentially praying nobody would make fun of him.
Somewhere in there is where the most useful work is likely to be, Marquardt said. When it comes to free throws, it's better to accept failure and learn to not fear it.
And here's where we get to the military snipers. Like basketball players, snipers work in an active, high-energy environment. But in the midst of that, they must perform a task that requires calm and focus.
In order to combat this, these highly trained shooters will synchronize low breaths with a slow heart rate to achieve maximal stillness. They call it "breathing down," and once you are calm, you have about a 1.5-second window before your brain takes over again, putting the whole enterprise in jeopardy.
"You've got to control your breathing so that as you go to pull the trigger for the shot, the pointing end of your gun isn't flailing all around with your heart rate," Cassidy explained.
Marquardt suggests working on "ramping down" -- i.e., relaxation techniques to calm the central nervous system -- before taking a free throw. Focusing on breathing and lowering the heart also lowers stress hormones from deploying and raising anxiety. Think about the process, not the consequence.
"Certainly you need to practice like hell to be a great athlete," Marquardt said. "But you need to have the right practice. You need to learn how to learn."
Cassidy spends his days watching some of the nation's highest-skilled workers perform impossible feats in the space program, but they sometimes think themselves into trouble. He said they must practice situations such as: "I'm working on this thing and that thing right now and -- whoops, I just lost power over here; now this is my most important thing. And you start working through all three and keeping your head above water. Maintaining your situational awareness as things get crazier and more dynamic is probably the single-most important attribute to being a good astronaut."
Even after months of training, his astronauts sometimes lose the ability to simply grab an object floating by them in space.
"You do it a thousand times, and all of sudden when people are watching and grading you -- it's not the 18th green at the Masters, but still, that's when we see the yips."
Cassidy sees parallels for the NBA free throw shooter, but one trick he picked up during his SEAL days has nothing to do with the hands.
"You wiggle your toes," Cassidy said. "That's a technique I tell people during space walks. If you're getting stressed and nervous and gripping things too hard, just wiggle your toes, and that miraculously relaxes your whole body. Works like a champ. Try it some time."