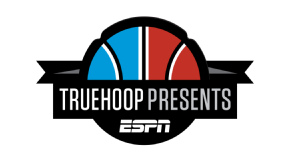 LEBRON JAMES WAS being publicly shamed.
It was the night of Dec. 5, 2015, and the Cavs trailed by 20 points in the fourth quarter of the most highly anticipated matchup of the season: James against his former team, the Miami Heat. The Golden State Warriors had opened the season with the greatest start in NBA history at 20-0. The Cavs had stumbled into Miami with two consecutive losses to drop their record to 13-6. Still, James sat quietly on the Cavs' bench in a striped tee and navy blazer as giggly Heat fans in AmericanAirlines Arena chanted, "Le-BRON is TI-red!" like bullies at a schoolyard.
The backdrop was even bleaker for James.
James was clad in street clothes, not because he was injured. He had been deemed healthy by the training staff. But then-head coach David Blatt had other plans: Thanks to the grueling NBA schedule, James would not play.
It wasn't just that this was the dreaded second game of a back-to-back. The NBA's schedule-makers had called for the Cavs to play less than 24 hours before in New Orleans for a 9:30 p.m Eastern tip-off, then fly eastward for two hours across a time zone to land in South Florida. After the Cavs had forced overtime against the Pelicans, the Cavs had sauntered off their team plane and into their Miami hotel rooms just before 5 a.m., the day of the Heat game.
With sleep on short supply, Blatt had made the call for James to sit, marking the first time in James' career that he missed a game because of rest before Christmas.
"Very short turnaround," Blatt explained before the game. "Just thinking long term here."
So despite being the hottest ticket on the Heat's slate entering the season according to TipIQ.com, with the average price climbing to $330, nearly $100 more expensive than the game against Steph Curry and the then-champion Warriors, James sat.
He did so again on Feb. 28 against Washington -- and another four times heading into the playoff stretch. James wasn't the only star with multiple healthy scratches last season. He joined Kevin Durant, Chris Paul, Carmelo Anthony, Blake Griffin, Dirk Nowitzki, Russell Westbrook and others who registered at least two healthy scratches last season alone.
To some, this represents a growing epidemic: the scourge of the "DNP-Rest." However, new science suggests that, for the coaches who employ it, it might be the most effective play they'll call all year.
GONE ARE THE days where fans could simply rely on injury reports to see whether their favorite player would suit up in that night's game.
Healthy scratches are on the rise. According to ProSportsTransactions' database, which tracks historical injuries and transactions, the first DNP listed with a "rest" label came in April 2006, for Suns PG Steve Nash and SG Raja Bell. In fact, from 2005-06 to 2010-11, there were 124 total such cases across six seasons, an average of 20 per season. But last season alone there were 146 instances of a DNP-Rest, a 70 percent increase from 2014-15.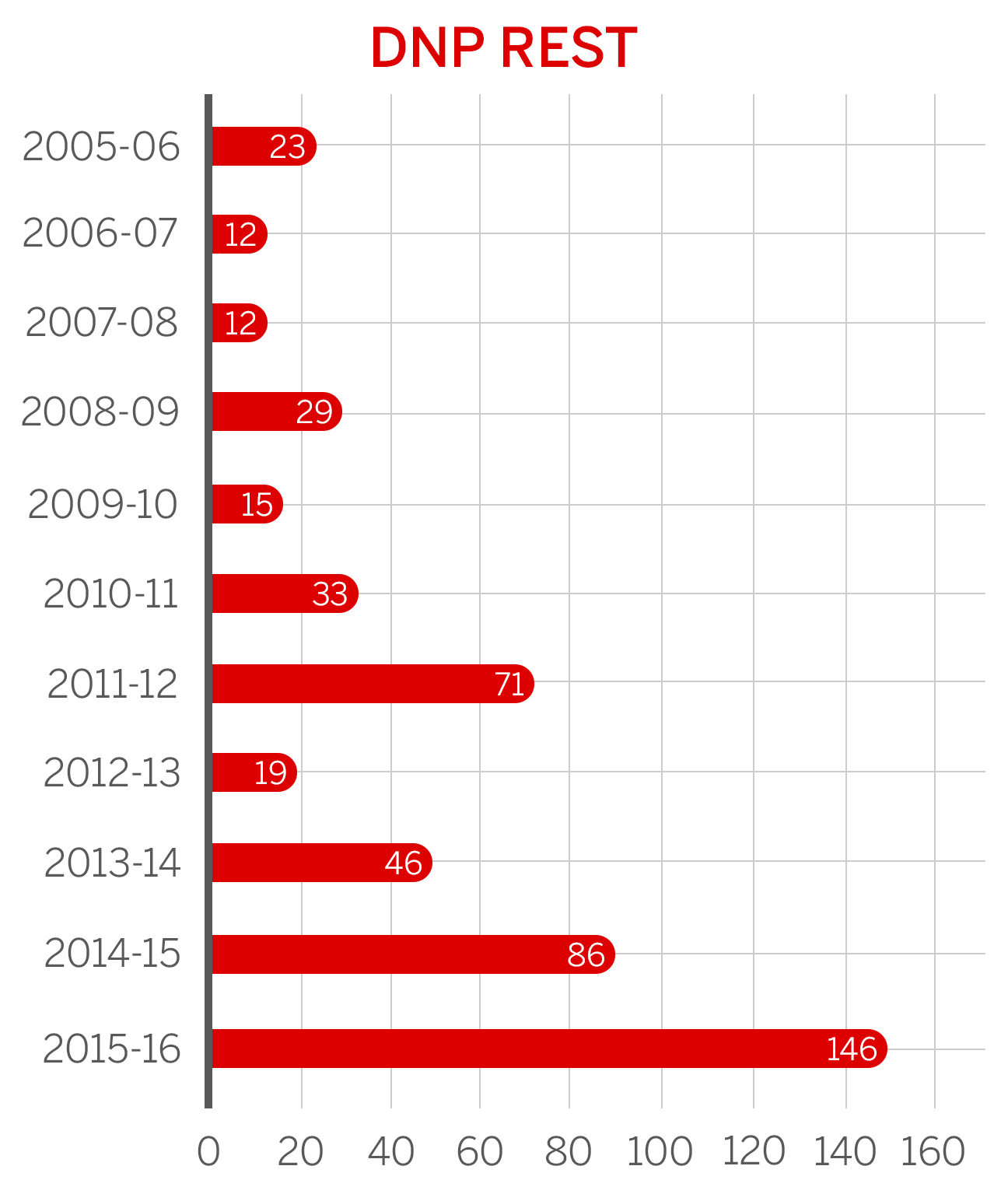 ---
"DNP-Rest" has been on a sudden rise in the past three seasons. The notable exception is the 2011-12 season, when 71 instances of DNP-Rest were largely due to the lockout-shortened schedule that featured numerous back-to-back-to-backs.
If DNP-Rest were a virus, Spurs head coach Gregg Popovich would be patient zero. On Nov. 29, 2012, Popovich sent four of his best players -- Tim Duncan (then 36), Manu Ginobili (35), Tony Parker (30) and Danny Green (25) -- back home to San Antonio instead of to Miami for the Spurs' fourth game in five nights and second game of a back-to-back set. Popovich called the strategic rest "pretty logical," but then-NBA commissioner David Stern hit the Spurs with a $250,000 fine for sitting them during a nationally televised game. In a statement, Stern concluded that Popovich's decision ran "contrary to the best interests of the NBA."
Then an interesting thing happened: Coaches stopped explicitly resting players. Perhaps fearing league-office sanctions, the DNP-Rest practice plummeted to 19 in 2012-13, dropping to a quarter of what it was in 2011-12, the lockout-shortened season that featured numerous back-to-back-to-backs.
Ever since that 2012-13 season, though, the practice of sitting healthy players has become commonplace, rising 668 percent over the next three seasons. The champion Cleveland Cavaliers were among six teams in the NBA whose healthy scratches rose into the double digits during the 2015-16 season. In 2014-15, there had been only two such teams: the Spurs and the Hawks, led by Pop disciple Mike Budenholzer.
As the practice has taken hold across the league, commissioner Adam Silver has deviated from Stern's policy. Before last season, Silver held a news conference in which he said the league "has taken a new approach" when it came to handling schedule-related matters. And while Stern called the Spurs' tactics "unacceptable" back in 2012, Silver in October deemed it the "sophistication of minutes management."
League sources say NBA players had occasionally taken games off before 2005-06, with teams typically covering it up with bogus injury labels such as hamstring soreness or a back strain. This season, with a record 46 players competing in the Summer Olympics in Rio, many around the league expect the number of healthy scratches to climb as teams manage the schedule.
Says one long-time NBA exec: "We have to strategically choose a few lambs to slaughter."
If history holds, that slaughter should begin in earnest -- as so many slaughterings have -- on the Ides of March. About 70 percent of the DNP-Rests occurred after March 15 last season, when many teams have either thrown in the towel or required some relief before the playoff grind. James, Anthony, Kawhi Leonard and Paul all missed multiple games in April to grab some R&R. According to research by ESPN's Kevin Pelton, every game in April came on average with at least one healthy player sitting out.
While April might be the cruelest month, the most common thread of DNP-Rests is games with no days off. Last season, 78 percent of DNP-Rests before the middle of March came in a back-to-back set. Within that group of back-to-backs, 74 percent of DNP-Rests came in the second game, and most came on the road. All three of Durant's DNP-Rests came on second days of road back-to-backs; Kobe Bryant rested the first two such games on the schedule of his farewell tour.
February, which saw only 2 percent of games being affected by a DNP-Rest, is perhaps not coincidentally when the All-Star break falls. The lesson: When the NBA inserts rest into the schedule, the coaches aren't forced to disappoint its fans.
GROWING UP ON Japan's sporadic broadcasts of Julius Erving and Magic Johnson games in the '80s, Masaru Teramoto fell in love with the game early. Some 30 years later, Teramoto is now an assistant professor at the University of Utah School of Medicine, where he gained notice with a 2015 study that detailed a link between concussions and the rise of the West Coast offense popularized by San Francisco 49ers coach Bill Walsh. Teramoto found that the scheme lent itself to a higher rate of concussions because its faster-paced short passes left receivers more vulnerable to blindside hits.
When Teramoto has focused on basketball, he has been struck by the sheer velocity of the modern NBA and the physical toll it takes on its stars' bodies.
"I think NBA games have changed," Teramoto says. "It's so athletic now. It's just unbelievable."
In a study provided to ESPN.com that will be published publicly in the Journal of Science and Medicine in Sport later this month, Teramoto researched three seasons of NBA injury data, from 2012-13 through 2014-15, in an attempt to determine if certain aspects of the schedule -- in particular, back-to-backs and travel -- led to players getting injured in games.
What Teramoto found surprised him: Back-to-backs alone are not associated with greater instances of in-game injury, but back-to-backs that are played on the road are significant predictors of in-game injury, generating 3.5 times the injury rate as those played at home.
The problem? Two out of every three back-to-backs are on the road.
Teramoto notes that the league has reduced overall back-to-backs to an all-time low, down to a total of 488 from 533 last season (or 16.3 per team from 17.8 per team). In addition, the percentage of road back-to-backs has slightly declined, from 69 percent to 67 percent this upcoming season.
However, the NBA simply might have too many games in too short a span.
"As much as possible, we would recommend that the NBA consider avoiding the back-to-back games on the road," Teramoto said. "If there's not much they can do with an 82-game schedule, it might be time to consider drastically changing the structure of the schedule and cut, say, five games from the season."
Granted, road back-to-backs weren't the only predictors of in-game injury that Teramoto and his team found. Generally, away games were also associated with an increased risk of in-game injury as well as those back-to-backs that are played with 3-4 games in the previous five days. In the latter case, players had 3.3 times the rate of suffering injuries in back-to-backs compared with those who had played just 1-2 games in the same span.
Put simply, game density can make a dangerous situation even worse.
WHEN IT COMES to in-season rest, James is this generation's Tim Duncan, who registered 37 DNP-Rests in the past decade before retiring this summer, far more than any other player.
James has made it clear that playing in every game is no longer a priority. Two years ago, James disagreed with the NBA dabbling with the idea to shorten games from 48 to 44 minutes, and instead called for the NBA to cut games from the 82-game schedule.
"The minutes don't mean anything ... it's just the games," James said then. "We want to protect the prize, and the prize is the players."
James' words proved prescient. In that 2014-15 season, he went on an impromptu two-week break in Miami in the middle of the season, missing eight straight games in which the Cavs won only once. This past season, he skipped six games to rest, the same number of games that the entire Golden State Warriors did for the entire season en route to a record-breaking 73 wins.
On Dec. 5, as he sat in silence, serenaded by the Le-BRON-is-TI-red chant, James, it's worth noting, was not sitting still. Instead, he could be seen twirling his rings on his right hand -- diamond ones, mind you, not the championship rings he won with Miami.
Yes, James was sitting out a back-to-back. Yes, the Cavs would lose the game by 15. Yes, seven months later, a healthy James would lead all Finals players in minutes.
No one's shaming him now.