This story appears in ESPN The Magazine's October 31 NBA Preview Issue. Subscribe today!
IT'S JAN. 28, 2011. Doc Rivers' powerhouse Celtics, featuring a Big Three of Kevin Garnett, Paul Pierce and Ray Allen, are seven months removed from their second Finals in three years. They're 35 -- 10 on the season, winners of seven of their past eight, and visiting the 20 -- 24 Suns. Prediction: blowout.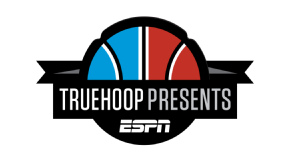 From the start, though, the Celtics stumble in startling fashion. Garnett throws a pass to no one, then gets tossed for striking Suns forward Channing Frye in the groin. Boston shoots a season-worst 34.2 percent against one of the NBA's worst defenses. The Suns roll 88-71.
Rivers, incensed, rides out most of the game from the visiting locker room after being ejected for jawing at the officials. Watching it all unfold, he wonders, Jesus Christ, was the whole team drinking last night? But the Celtics' longtime trainer, Ed Lacerte, has another theory: "We should see the sleep doctor. This is the game he pointed to."
The sleep doctor was Dr. Charles Czeisler, the director of the Sleep Health Institute at Brigham and Women's Hospital and of sleep medicine at Harvard Medical School, whom Rivers had consulted before the season, asking him to identify trouble spots on the schedule. Czeisler noted that the Celtics would be flying into Phoenix after facing the Trail Blazers in Portland the night before -- and Cleveland in Boston two nights before that. With so much travel across so many time zones in just three days, "your instincts will be bad," he said. "It'll be like playing drunken basketball. You will not win this game."
After the loss, Rivers realizes that Czeisler was right and that it's time to start adjusting routines. He calls his Big Three into the office: "We're changing, immediately."
The players push back. They like their routines. "This is what we do!" Garnett says.
Replies Rivers: "Well, we're not doing it anymore."
EVERY SEASON, NBA teams are forced to play games that, as Rivers learned in 2011, are all but unwinnable -- not because of the opponent but because of how the schedule unfolds leading up to them. In many organizations, these games are actually referred to as "scheduled losses." Says Timberwolves coach Tom Thibodeau: "Sometimes the schedule can get you. That happens."
Spurs coach Gregg Popovich circles these problem games on the schedule and prescribes the one cure for them: rest. "The guys appreciate it," he says, "and it makes them even more committed to the program because they know you're taking care of them and they're not just a piece of meat that you're going to use to win and move on."
Current Celtics coach Brad Stevens, who has consulted numerous sleep experts, says he has received similar advice. "It's very point-blank -- like, this schedule is not great for sleep. But the bottom line is the schedule hasn't changed, it's not going to change, so how do you manage it the best you can? That's why when the schedule comes out, for me, I go through the whole thing that day and plan the whole year and think about it."
And now so can you. To identify the NBA games in which it's not one team against another but one team against the schedule, ESPN enlisted multiple experts, including sleep doctors who consult with NBA teams. In partnership with ESPN Stats & Information, they ranked the season's 488 back-to-back games on several factors, such as whether the game is home or away, the time elapsed between tip-offs (including hours lost from flying east), how rested the opponent is from play or travel and whether it's part of a longer run of four games in five nights, or five games in seven. The result: There are 42 games in the 2016-17 season in which the schedule creates a distinct competitive disadvantage for one team. The seven most extreme cases are identified below. We're calling them "schedule alert" games.
Does it work? Cheri Mah, sleep consultant to NBA teams and a research fellow at the UC San Francisco Human Performance Center, helped construct the formula. Last season, using a similar formula, her system correctly picked losers with up to 78 percent accuracy. Those predictions were blind to the quality of the teams -- showing how strong the impact of back-to-back games is. "The reality is, if I could craft an NBA season," Mah says, "it would not have back-to-backs."
TODAY, RIVERS IS keenly aware of which games are "unwinnable" -- so much so that he's actually considered the once-unthinkable: forfeiting. Rivers, now the Clippers' coach, recalls that LA was scheduled in 2014 for back-to-back games, the second on the road, immediately following a seven-game road trip. "I contemplated keeping the team home, literally," Rivers says. "We knew we were walking into getting our ass kicked, and that's what happened.
"What is it they say? If you have less than five hours of sleep for three days in a row, your reactions are that of a legally drunk driver? We've seen that with our own eyes."
---
Schedule alert!
Do you like to prepare mentally for your favorite NBA team's losses, even months ahead of time? Then this is for you! With the aid of sleep scientists, we've devised a formula to identify the season's "schedule alert" games-those that are the most unwinnable because of the schedule's travel impact and resulting fatigue issues. Here's an exhaustive look at the season.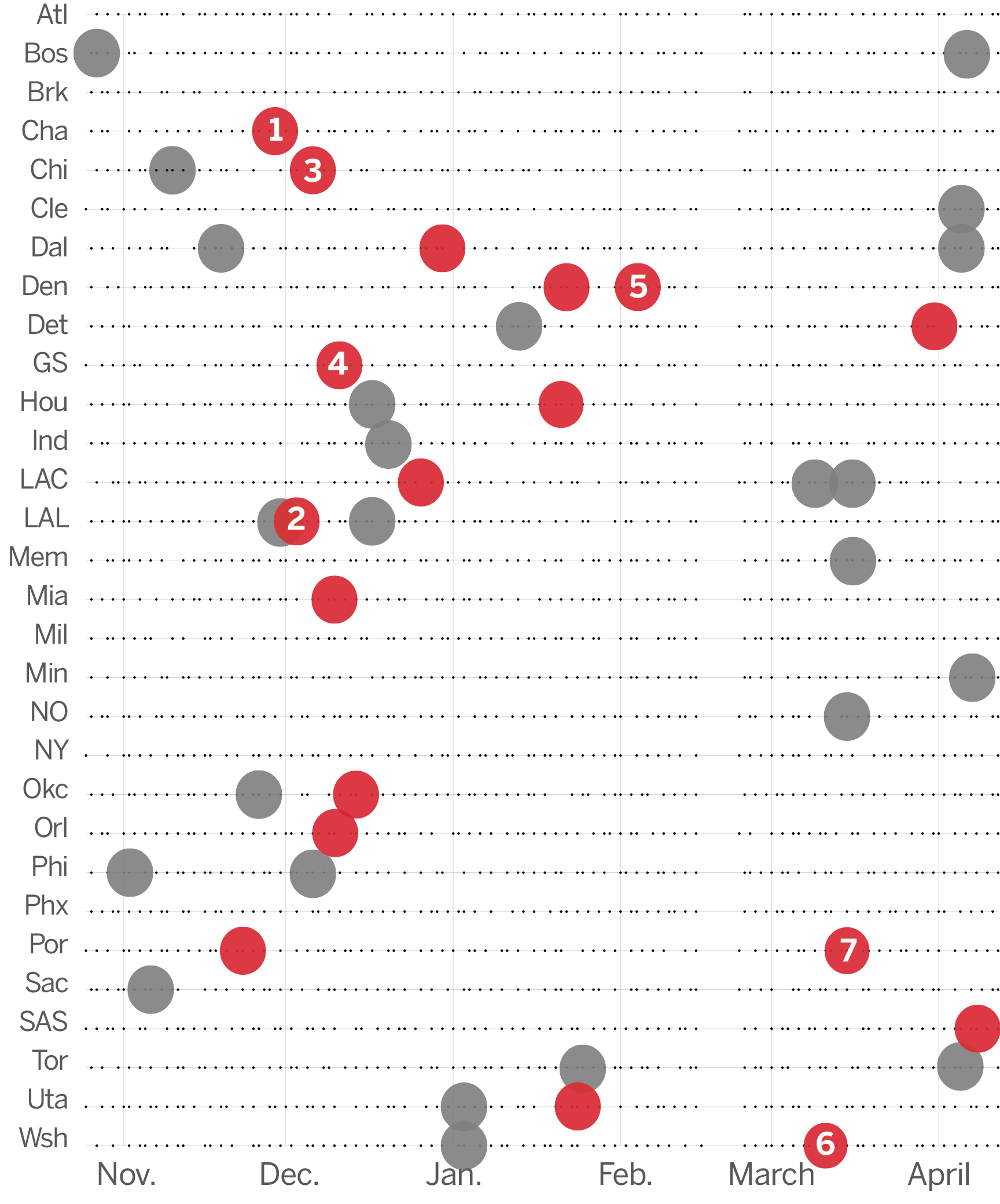 Mah Score is based on eight fatigue factors, ranges from 0 to 12, with higher scores indicating greater disadvantage.
1. 11/29: Hornets (Pistons): 8.5 Mah score
Leaving Memphis, the Hornets lose an hour flying home-and less than 24 hours later cap a four games-in-five-days stretch vs. the rough-and-tumble Pistons.
2. 12/3: Lakers (Grizzlies): 8.5
A back-to-back for LA starting in Toronto means a late trip through customs and no rest. Even tougher: This next game is the fourth in five nights-all on the road.
3. 12/6: Bulls (vs. Pistons): 9.5
Chicago, in the closest thing to certain schedule defeat, loses an hour in the air heading to Detroit -- plus the haul toward Auburn Hills, Michigan -- after playing Portland at home, to cap a four-in-five run.
4. 12/11: Warriors (Timberwolves): 8.5
This is a genuine test for Golden State, its fourth road game in five nights after playing in Memphis the night before. Plus: an early 6 p.m. start vs. a young team.
5. 2/4: Denver (Spurs): 8.5
After facing Milwaukee at home, Denver loses an hour heading East, only to cap a four-in-five against the Spurs, who have a one-day recovery edge.
6. 3/11: Wizards (Trail Blazers): 8.5
Capping not just a four-in-five but a five-in-seven stretch, this road game comes against a Blazers team that will have a one-day rest advantage.
7. 3/15: Trail Blazers (Spurs): 8.5
For Portland, this marks the third road game of a five-game trip, the fourth game in five nights, the fifth in seven ... and it's against the Spurs. Ouch.
---
Additional reporting by ESPN's Jackie MacMullan, Tom Haberstroh and Kevin Arnovitz