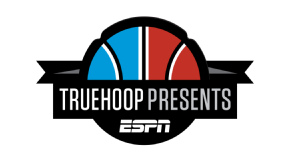 With 20 seconds left in the third quarter of the young season's biggest game, Gregg Popovich screams. He wants everyone out of the way so that Kawhi Leonard can go to work against Andre Iguodala. Leonard waits near half court as his teammates shuffle to the corners. Popovich walks two steps to his left, assuring himself a great view, then happily crosses his arms. Then he gives the go sign.
Leonard begins, slowly walking toward one of the NBA's most feared defenders with a loopy, hypnotic dribble through his legs. Once, twice -- a third time. Leonard, a borderline MVP candidate a year ago, is known to excel at just about everything on the court except this. Regardless, this feels like taunting.
Iguodala swipes at the ball. Ever so calmly, Leonard pulls the ball back to his left hip, goes through his legs another time, stutter-steps, then ends the theatrics by lunging forward with a hard dribble left before pulling up from 20 feet.
Iguodala barely gets a hand up.
Before the ball reaches its apex, three San Antonio Spurs bench players leap to their feet. Leonard lands and backpedals with gusto; it's like a bat flip from a slugger. Nothing left to be done here.
Swish. Spurs up 22 over the Golden State Warriors, reputed to be one of the best teams in decades.
Is this the new normal for Leonard? The story of this early NBA season seems to be "yes." A fearsome defender and spot-up shooter, Leonard, 25, is now fully equipped with point guard handles and is relishing the opportunity to show them to one defender after another. In the young season, Leonard ranks third among all forwards in time of possession, just behind de facto point guards LeBron James and Giannis Antetokounmpo. He ranked 17th by the same metric last season.
That just might make Leonard an MVP, and it was born of strange work he did last summer. While Kevin Durant, Klay Thompson and Draymond Green were balling for Team USA in Rio, Leonard was in a San Diego practice gym, driven to become the best ball handler in the NBA.
And he got the job done, in part, thanks to one of the NBA's most secretive tools.
---
The MJ Impulse Elite strobe glasses.
---
In his Chicago Bulls heyday, at the peak of his powers, Michael Jordan declared that he wanted to train with strobe lights -- like, from a nightclub. His longtime trainer, Tim Grover of Attack Athletics, says that to understand why, you only have to watch old video of Jordan.
"Go watch old clips of MJ at the free throw line," Grover says over the phone. "Make sure it's in-game. ... OK, do you see it?"
See what?
"The flashes," Grover says.
Once you see it, you can't unsee it. It's the worst secret ever. The blinding light of photographer's flashes obliterates the screen repeatedly throughout some of the most televised moments in history. How can a man shoot with all those blinding pulses of light?
And yet the obvious corollary -- that it affected Jordan, and that he'd adjust -- has been a secret until now. Also a secret, for a whole different set of reasons, is that the fix he devised has untold neurological performance benefits that touched off a new area of scientific study, benefiting everyone from modern soldiers to Stephen Curry and Kawhi Leonard.
---
Bulls coach Phil Jackson hated the strobe lights, and the person he blamed was pioneering photographer Andrew D. Bernstein, who was instrumental in having bright strobes installed in the ceilings of NBA arenas. They'd flash in time with Bernstein's remote-controlled cameras that captured many of the images that became posters and magazine covers.
Jackson was less concerned about blinding Jordan, though. His concern was officiating. Key moments of video replay (Was he fouled? Did he get the shot off in time?) were washed out by the lights. And those flashes would come timed with Jordan's toughest shots, making referees blink and thus miss the accompanying fouls.
So Jackson, who would later write a book with Bernstein, yelled at him about it, again and again.
"When he was on the bench, I was his nemesis," Bernstein says. "Now that he's moved upstairs, it doesn't bother him as much."
It's harder to see "white out" flashes on TV anymore. Refresh rates on modern television sets are so fast that when a strobe light flashes, it doesn't stay on the screen for more than a sliver of a second. In the 1990s, frames were slower and a strobe light could hang on the screen longer. But they're still happening, by Bernstein's estimate, a thousand times a game.
"I needed to recreate that," Grover says. "So I bought strobe lights."
What Grover did, in fact, was to call a local DJ in Chicago and set up his strobes in the corners of the practice gym where Grover worked out Jordan, Juwan Howard, Kendall Gill, Michael Finley and other Chicago-based NBA guys, who were all sworn to secrecy. Traditional shooting drills were now occasionally paired with strobe lights. At the flip of a switch, Grover lit that place up like a dance floor.
Jordan liked the effect so much that soon he wanted to travel with the strobe lights. Grover's job has many facets and soon he was calling around, combing sports catalogs. Eventually, he even looked on this thing called the internet, where he found another thing called "Strobe Spex" glasses. Grover remembers they cost about two grand.
Jordan used them a handful of times. It was a tool in the program, not the entire program. But Jordan noticed the lights helped in other ways. The game seemed to slow down. He picked up on visual cues he wasn't seeing before. For reasons he couldn't quite explain, it was making him better, even beyond tolerating photographer's flashes.
Fascinated, Grover resolved to tell nobody at all about this, lest the competition catch on. That became a problem after a while, when the battery stopped charging, the company stopped producing the glasses and he needed replacements.
---
Dr. Alan Reichow, at an earlier job, helped develop the glasses Grover bought for Jordan; Reichow later became the global research director of Nike SPARQ Sensory Performance and Vision. Grover eventually found him, and the two became fast allies in getting new and better goggles for Grover's players. In the late 1990s, Grover received Reichow's prototypes, gave them to his players and relayed feedback to the Nike headquarters in Oregon.
Grover told Reichow that Jordan, the greatest athlete in the world, was using his product.
"How did you keep it so quiet?" Reichow asked him. "They were made from my lab, and I didn't even know."
And so it was that in 2011, after a decade of tinkering, and years after Jordan's retirement, Nike came out with the Nike SPARQ Vapor Strobe. About $300, they used internal LCD lights that flash at adjustable speeds to distract the brain and force it to soak up as much relevant visual information as possible. A Duke University study using the technology found that the glasses boosted visual memory retention and improved perceptual ability.
"The general report by athletes is that it seems slower, it seems easier," Reichow says in a promotional video released at the time. "Essentially what we've done is strength training on the sensory system. Just as you would with resistance training on the physical side, we're doing resistance training for the senses of the brain."
There was a flood of fawning tech media attention ... and then a year later Grover had a new problem getting glasses for his athletes. Nike shut down the entire SPARQ program.
"And I have no idea why," Grover says.
---
On a spring day in 2012, James Speidel scribbled "I'm sorry" on a whiteboard at the hospital where his stomach had just been pumped. Washington County sheriff's deputies had found Speidel -- who consumed a combination of vodka and pain medication -- near his pickup truck, which was parked in a field in Northwest Portland.
That morning, Speidel cut the gas line to his family's outdoor grill and fed it back into the crawlspace of the home where his wife and four kids -- ages 3 through 9 -- were sleeping. He jacked up the thermostat to 74, got in his car and drove to a Starbucks, where he met with colleagues.
A few miles away, when the smell of natural gas awakened one of the children, prompting the family to flee to a neighbor's house, it became a matter for the gas company -- and the police.
Speidel, then 37, later pleaded guilty to five counts of attempted aggravated murder and was sentenced to 20 years in prison.
To this day, Speidel's LinkedIn profile reads "Business Director -- SPARQ; Nike, April 2011 -- Present (5 years 8 months)." He was, in fact, the man in charge of Nike's SPARQ business, which Nike immediately put on hold amid the investigation before quietly shutting it down for good within a year's time.
SPARQ had a lot of products, but the race was on to recreate one in particular: the Vapor Strobes.
Reichow went on to co-found a company called Vima last year, which will begin producing the "Revs" glasses in early 2017. Herb Yoo, who inked more than a dozen patents with Reichow at Nike, spun off and co-founded the company that sells Senaptec Strobe glasses. There's the military-focused MJ Impulse glasses named "Black Box," which are referred to as "The Ones From Japan" by industry insiders. The Eclipse goggles from Sensory Performance Technology are the preferred stroboscopic goggle of Stephen Curry.
The Warriors were 25-1 last season when Curry's personal trainer, Brandon Payne, was invited to the Warriors' pregame show. The Warriors were set to host the Milwaukee Bucks and Payne -- wearing a navy, half-zip, long-sleeve sport shirt while alongside two suited studio anchors -- was there to explain what on earth was happening with Curry.
After setting an NBA record with 286 3-pointers the previous season, Curry, the reigning MVP, had stunned the basketball world, raising his scoring average from 23.8 points for the 2014-15 season to 32.0 points through the first 26 games of 2015-16. Payne was there to show how the most efficient player in the NBA got even more efficient.
In the middle of the TV segment, a never-before-seen 30-second clip was shown of Curry at the Warriors' practice gym, casually dribbling a basketball with his left hand while catch-and-tossing a tennis ball with his right. He did this while wearing a pair of Eclipses.
It was Harlem Globetrotters meets Silicon Valley.
"What you're seeing is a strobing effect," Payne explained from the set. "It's like shutters; it opens and closes at different speeds."
What the audience didn't see in that dribbling clip was Payne holding a PDA that adjusted the speed of that strobe while also cradling the ability to blind Curry in his left or right lens.
"I hate it when people call it ballhandling drills or working on hand-eye coordination," Payne says now, recalling the hubbub surrounding that clip. "That's an oversimplification of it. This is neuromuscular efficiency."
Payne, who has been Curry's skills trainer since 2011, measures efficiency in units of time, not points.
"Remember, we're looking to improve by hundredths of a second," Payne says. "The difference between getting a shot off and not getting a shot off is all about fractions of time. We cannot be wasteful."
To this day, four Nike Vapor Strobe glasses are tucked away in Payne's Accelerate Basketball training facility in Fort Mill, South Carolina. Payne tested them out in 2012 after buying them on eBay, but found that the glasses rarely worked properly when covered in sweat. The glasses never made it to Curry's head.
So last summer Payne asked around for an alternative. A friend with the St. Louis Cardinals sent him the Eclipses.
"It helps to get rid of wasteful motion, wasteful timing," Payne says. "We wanted it to feel like game action was slow motion."
Curry wore the goggles during his workouts over the course of the season and kept his neuromuscular efficiency at full tilt. He turned defenders into statues and blew the lid off of efficiency norms. He notched the first 50/40/90 shooting season while scoring at least 30 points per game, becoming the first unanimous MVP in NBA history.
He also, of course, ended up smashing the 3-point record, which was his own to break.
"That," Payne says now, "is how you go from 286 to 402."
---
Leonard does not have what Jordan and Curry do: an MVP award. It's the one thing on the shelf that's missing. Leonard is an NBA champion, a two-time Defensive Player of the Year, an All-Star and a Finals MVP. But an MVP award that crystallizes his place atop the game? His giant hands haven't grasped that quite yet.
After a disappointing May exit from the 2016 playoffs, Leonard understood that he would have to be comfortable with the ball in his hands. For so long, Tony Parker had controlled the action, but he was about to turn 35. Manu Ginobili was 39. Tim Duncan was retired. Boris Diaw plays for Utah now.
So Leonard got his hands on stroboscopic goggles. Exactly how that happened remains a bit of a mystery. Terrified that word of the goggles will get out, one Spurs staffer after another refused to talk. What we do know is that for four days, Leonard wore these high-tech glasses at the gym -- picture a sleeker version of Horace Grant's goggles -- during his traditional dribbling, passing and shooting drills. Unlike Nike Vapor Strobes, this particular set of eyewear, the MJ Impulse model, is marketed toward elite military officers for combat training.
The military might use it to detect and identify threats more efficiently. From Leonard's perspective, his goal is not all that different. Basketball defenders are instead the threat.
"It's like the ball is moving in slow motion," Leonard told ESPN.com.
"They affect your perception, which will make you focus more on feel," Leonard says of the stroboscopic glasses before, characteristically for a Spur, downplaying the importance. "I used them like once or twice. ... Just being able to handle the ball in the games is where you get most of your confidence as far as that goes."
Regardless, something he did last summer worked: Despite a doubled offensive workload, his turnover percentage has actually dipped slightly in the early going. Like never before, he is channeling James Harden in his ability to spot wayward limbs and seek contact with a purpose. Leonard is averaging nine free throw attempts per game, up from 4.6 a season ago. By shooting 97 percent from the free throw line, it's easy money.
It's clear he is now the Spurs' engine on both ends. He averaged 4.7 finishing plays in isolations or as the pick-and-roll ball handler last season, according to Synergy video tracking. This season? That's up to 9.6 such plays, more than LeBron James.
---
Which brings us back to Leonard's dagger over Iguodala, revealing its own secrets. In super slow motion, you can see more: As Leonard slowly dribbles into his attack, Iguodala makes two swipes at the ball, not one. And Leonard doesn't even flinch. It's like Leonard is seeing it all happen before it actually happens.
Leonard calmly goes into his hard attack and pulls up sharply for his jumper, forcing an off-balance Iguodala to contest the shot from his heels. Iguodala is late by what must be just a few hundredths of a second. But it's enough.
As Leonard begins to release the ball in slow motion, I pause the clip. That's when I see it.
A strobe light flashes from the rafters.
---
Additional reporting by ESPN's Michael C. Wright