IN A LOW-SLUNG building in Oklahoma City's Bricktown neighborhood, just a day before the injury-riddled Mavericks began their playoff series against a Thunder team that would dismiss them in five games, a surreal scene unfolded at the Dollhouse Lounge, a burlesque-themed nightclub. (The club's Facebook page: "Win or lose, we still booze.") Mavericks owner Mark Cuban was hanging out with a group that included two of his injured players -- Chandler Parsons and David Lee -- as well as comedian Amy Schumer and her entourage. Schumer had headlined at Chesapeake Energy Arena that night, and knew Lee from his time in New York. She would later share a photo of the Mavs headliners, her friend and opening act Rachel Feinstein and herself, captioning it "Pals" on Instagram.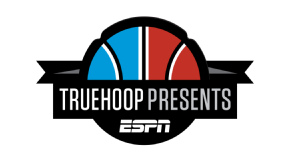 All in the name of good fun, Cuban and Parsons kidded each other for much of the night, with nothing off limits. Not even the most delicate of all topics: Parsons' next contract. You might have thought that Parsons, who planned to opt out of the final season of his contract, would have cause for concern after undergoing a second right knee surgery in two years. However, he was certain that he'd command max offers if he tested a historically player-friendly market.
A young man with much at stake, out with his boss, might tread carefully. But to expect that is to misunderstand entirely the nature of Parsons and the nature of Cuban, simultaneously among the NBA's closest owner/player pairings, and least restrained.
As the booze flowed, Cuban made joking low-ball offers, Parsons chuckled at them, and they eventually moved on. When it was almost time to make the short trip back to the Skirvin Hotel, Cuban was settling up the tab and posing for pictures with some of the wait staff, while the taxi the club's management had called for the owner idled in the alley out back.
Spotting the cab as he left with friends, Parsons saw an opportunity to get the last laugh. He hopped in with his boys, slipped the driver a $100 bill and told him to take off.
The timing worked to perfection. Just as the cab started rolling, Cuban walked out. Parsons rolled down the window and stuck out his head.
"Max or nothing, m-----f-----!" Parsons hollered at Cuban, cracking up his crew.
Just one last joke in a night full of them.
This is the behind-the-scenes tale of the NBA's biggest bromance gone wrong.
AS BIZARRE AS that scene might seem, it was business (and pleasure) as usual for the Cuban-Parsons bromance, as unique an owner-player relationship as any since Jerry Buss and Magic Johnson.
Cuban has never shied away from developing friendships with players, dating back to putting up Dennis Rodman in his guest house weeks after Cuban bought the Mavs. Although Cuban has gone clubbing with dozens of players in the nearly two decades since, both Cuban and Parsons say their friendship was different. They were two peas in a pod, perhaps the league's most personable player clicking with certainly the league's most outgoing owner.
"We're boys. We're friends," Parsons tells ESPN. "Yeah, he was the owner of the team, but I didn't look at him any differently [than other friends]. We did stuff. We enjoyed similar activities off the court. We were friends hanging out."
Parsons had joined the Mavericks by signing his three-year, $46 million offer sheet within feet of bass-booming speakers at a club called Attic in his hometown of Orlando, Florida. That moment went viral after Parsons' college buddy Dan Morgan (aka @DMoSwag) tweeted a selfie of himself with Cuban and Parsons cheesing after the ink was dry on the deal.
That set the tone for the relationship to come: business and pleasure, with too many late nights to count. Cuban and Parsons would go out together occasionally during the NBA season, when it didn't conflict with the job that Cuban was paying Parsons a lot of money to do, and often during the offseason, when they hit clubs in Dallas, Las Vegas and Los Angeles.
All the while, they talked shop: The business of running the Mavericks. It wasn't long before Parsons grew to enjoy the rarest of indulgences, normally reserved for long-term superstars: Parsons became a go-to resource on personnel matters, proposing one move after another, some of which became reality.
At one point, Parsons pitched his boss on something bold: Say farewell to high-scoring free agent Monta Ellis, who clashed with Parsons and wore out his welcome with many in the Mavs organization; go all in on recruiting Clippers center DeAndre Jordan, whom Parsons believed could blossom to become the NBA's best big man and would be a perfect fit to play with him.
Parsons had a lot of reasons to think they could get Jordan. He had known him for a decade, after meeting on the summer camp circuit as teenagers -- and he knew Jordan did not feel at home with the Clippers and was open to moving. It also didn't hurt that Jordan and Parsons both had the same agent, Dan Fegan, at that time.
The Mavs would then need only a 3-and-D shooting guard -- they later signed Wesley Matthews -- and they'd be off and running with a core of Jordan, Parsons and Nowitzki.
Cuban rubber-stamped the plan, as Parsons spearheaded one of the highest-profile recruiting efforts in recent NBA history, rarely leaving Jordan's side in the weeks leading up to free agency, wining and dining the big man in his hometown of Houston and in L.A.
Parsons joined Cuban on the owner's private jet for a pair of flights to L.A., where Cuban filmed "Shark Tank" episodes in the week leading up to free agency. One night Cuban and several acquaintances from the show went to the Hollywood club Bootsy Bellows. NBA rules prohibit team officials like Cuban from hanging out with other team's prospective free agents while they're under contract. But there are no such constraints on players. Parsons just happened to be entertaining Jordan and Matthews in the same place at the same time. Cuban coyly waved from across the club, while Parsons laid the groundwork for the Mavs' free agency plans.
When free agency arrived in earnest, Cuban was freed from NBA tampering rules. Parsons organized an all-you-can-eat sushi feast at Nobu Malibu in the opening hour of free agency. Cuban attended, as did Nowitzki, who flew in from New York for the occasion. It was an appetizer to the Mavs' official pitch the next morning, one of many free agency meetings for Jordan.
A few days later, Cuban and Parsons returned to L.A. on Cuban's private jet. It was a spur-of-the-moment decision by Cuban, who wanted to make sure the Mavs got the last word after Jordan wrapped up his official meetings. The surprise visit to the center's house seemed to work: Cuban secured a verbal commitment from Jordan.
Patron shots were poured and downed as Cuban, Parsons, Jordan and the big man's family celebrated that morning. Cuban and Parsons kept the party going the rest of the day and night. They headed to Manhattan Beach, where Cuban owns a home, and had a liquid lunch at Shellback Tavern, a favorite Cuban watering hole. Joined by a horde of friends and business acquaintances, they eventually stumbled across Manhattan Beach Boulevard to Strand House.
"Parsons, get out of the street!" a tipsy Cuban hollered during a call-in appearance on Dallas radio station 1310 The Ticket, one of a few interviews that day that led to the league office fining Cuban for violating terms of the NBA's moratorium period.
I am humbled by @DallasMavs & @MCuban kindness and understanding. I am sorry to have a change of heart.

— DeAndre Jordan (@deandrejordan6) July 11, 2015
Of course, the recruiting was doomed. After convincing the Mavs he'd join them, Jordan infamously went quiet. For a few days the Mavericks and Cuban couldn't reach Jordan at all. By the time he was allowed to sign his deal, Jordan announced he had changed his mind and would return to the Clippers.
Jordan's reversal was a setback for the franchise, but Parsons remained steadfast in his plan to play the rest of his career for his buddy/boss Cuban. And the two openly discussed the idea that Parsons would eventually take an official role in the Mavs' front office.
---
NBA OWNERS AND their players usually aren't as close as Parsons and Cuban had grown. The reality is that players usually don't keep their jobs that long. A few years is a lifetime in this business -- and Nowitzki is really the only player who has had unconditional loyalty from Cuban. Last season, things were due to get awkward, as one of the Mavericks' next huge decisions was the contract of Parsons himself.
Things took a dreadful turn when Parsons tore the meniscus in his right knee -- the same one that had already endured microfracture surgery. And on the night Parsons learned he needed another surgery, Cuban took a distraught Parsons to dinner at Nick and Sam's, a steakhouse and Parsons' favorite restaurant in Dallas. Mavs coach Rick Carlisle and his daughter Abby, who adores Parsons, joined them for a while. After the meal, Parsons and Cuban drowned their sorrows at So and So's, an uptown Dallas club that Parsons frequented.
Groggy as he might have been the next morning, Parsons woke up feeling assured that he had a long, bright future in Dallas. "As much as it hurt to see my season cut short," Parsons says, "I knew it wasn't career-ending and I knew financially I was going to be taken care of by Mark."
Parsons spent much of the spring rehabbing, and house-hunting in Dallas. He fell in love with a $7.95 million north Dallas palace, across the street from Cowboys quarterback Tony Romo's under-construction mansion, and intended to buy the house as soon as the ink was dry on his new deal in July.
"Throughout the whole process going into free agency, I always thought Dallas was going to be the place," Parsons says. "I thought we had a mutual understanding that I was going to be there for the whole time and I was going to retire a Mav. Obviously, the second surgery gave him a little doubt, and I believe some people got in his head about it."
For weeks after the regular season ended, Cuban consistently told Parsons that they'd get a long-term deal done, according to Parsons. Asked about that by ESPN, Cuban simply shakes his head, evidently disputing the account.
At one point in April, Cuban hired Parsons' childhood best friend and personal manager, Pausha Haghighi, to assist him in matters related to the team's under-construction practice facility. Cuban consulted Parsons on details of the project for weeks after the season ended.
"As much as it hurt to see my season cut short, I knew it wasn't career-ending and I knew financially I was going to be taken care of by Mark."

Chandler Parsons, after second knee surgery in March 2016
They continued their constant discussions about potential personnel moves. They talked about whether high-flying big man Hassan Whiteside was worth chasing a year after the pair had been rejected by Jordan. Parsons pushed for Harrison Barnes, seeing them as an interchangeable pair of forwards, with Nowitzki moving primarily to center, an experiment the Mavs tinkered with for a few games before Parsons' season ended prematurely.
---
BEHIND THE SCENES, Cuban faced a tough choice. Thanks to new TV revenues, the NBA's salary cap was set to explode. Parsons would, in all likelihood, command max offers. Did it make sense for the Mavericks to commit that much? Despite his max-or-nothing dig that night in Bricktown -- and his agent Fegan's assurance that he'd get multiple max offers -- Parsons told ESPN he would have accepted a four-year deal for "a lot less" than the max of $98 million the Mavs could have given him. He says Cuban was well aware of this heading into free agency, but even a hometown discount for Parsons would have been a huge contract.
At least two teams were willing to take the risk of giving Parsons a max deal despite the medical concerns, attracted to the 6-foot-10 forward's rare blend of size, shooting touch and playmaking skill. They were willing to bet that Parsons would return to the form of his final two months in a Mavs uniform, when he averaged 18.9 points, 5.9 rebounds and 3.2 assists per game while shooting 51.9 percent from the field and 47.7 percent from 3-point range.
According to Parsons, the Mavs' owner told him after the season ended that he had productive talks with Fegan and the sides should be able to agree on the parameters of a four-year deal as soon as NBA rules permitted. Asked about this, Cuban again shakes his head.
Cuban's unofficial advisory council -- which includes president of basketball operations Donnie Nelson, Carlisle, head athletic trainer Casey Smith and Nowitzki -- shared a consensus concern about a long-term commitment to Parsons. As free agency approached, team sources say they were unanimous that it'd be a poor business decision to commit a major share of the Mavs' salary cap to Parsons for the next four years because of his knee problems.
Two team sources also cited locker room concerns with Parsons, although those were labeled as "forgivable, fixable things." The primary concern: The fact that Parsons was so close with Cuban and wielded so much power in personnel matters.
"The main reason why I went to Dallas was because I had an owner that was my boy and who believed in me," Parsons says. "That's an awesome combination to have. As my years went on there, I think there was a huge jealousy factor of how cool I was with him, how I had some power and input in decisions that they make. I think that hurt some people's feelings. I think that made them jealous.
"Looking from the outside looking in, I could see how that could rub people the wrong way. My relationship with him -- like, we were so cool, we were so close, I had his ear on a lot of decisions -- I think that ended up biting me in the ass at the end."
---
IN EARLY JUNE, Parsons was at Bungalow, a club in Santa Monica, with Jordan -- the player who had crushed Cuban by spurning the Mavs. Parsons put his arm around Jordan, snapped a photo, and posted it to Instagram with the hashtag #nohardfeelings. He admits he had no thought about how that would be received in Dallas. "Yeah, it definitely pissed Cuban off," Parsons says. "It's his money and his team. Obviously, he didn't find it too funny, but I wasn't trying to get a laugh out of him or throwing shade at Dallas. It was such a story and such an ordeal with us that I was just kind of publicly burying the hatchet."
That was one stumble. Another soon followed, as things fell apart between Cuban and Parsons' friend who worked for him, Haghighi. They mutually agreed to part ways days after the Instagram picture -- though the timing could have been coincidental.
Cuban then shifted tactics and pushed hard for Parsons to opt in for the final season of his contract, which would have paid about $6 million shy of what he'd make as a max free agent. Parsons says Cuban told him they could discuss a long-term commitment the following summer -- when the cap would be even higher and Parsons would be eligible for a five-year deal -- if Parsons proved he could stay healthy for a whole season.
In the postmortem, Cuban contends a long-term deal for Parsons was never in the offseason plans due to medical concerns. "Once we knew about the knee injury, our goal was to get him to opt in," Cuban told ESPN, referring to the $16 million player option for this season that Parsons declined.
It was a pitch that Parsons considered "pretty ludicrous," even borderline disrespectful. He never remotely considered it.
"Obviously that sounds nice, but why risk it? My concern is the same as them. You're worried about paying my knee," Parsons says. "You don't want to pay me long term. These other really, really good teams do. If it's too much of a risk for them to pay me for four years, it's way too much of a risk for me to turn down guaranteed $94 million right now. It would make no sense, and no fan, no human, no one in the right mind would not do what I did."
Before long, Parsons' calls and texts began to go unreturned. When Parsons did get a hold of his buddy/boss, he says Cuban often came across as vague and elusive, as did Nowitzki.
"I was being avoided. I was being pushed out. I was being ignored. So awkward."

Chandler Parsons, on free agency negotiations with the Mavs
Cuban says he simply wanted all communication to go through Fegan at that point due to the business nature of the discussions.
A sure sign that Parsons was out of the inner circle came when the Mavs hired Larry Shyatt as an assistant coach. He had been one of Parsons' coaches at Florida. It's not that Parsons wasn't pleased with the hire, he was just shocked to learn about it via the media.
"That was the weirdest part to me," Parsons says. "How DeAndre was kind of starting to get shady and ignore Mark's calls, that's kind of like what Mark started doing to me. So it was like, 'Damn, you know what? I get it. We're going through negotiations. I know free agency can be tough sometimes, but at the end of the day, you're my friend.'
"I was being avoided. I was being pushed out. I was being ignored. So awkward."
Free agency arrived at midnight, Eastern time, July 1. The Mavs' braintrust wooed Whiteside in the opening hours, while Parsons met with the Trail Blazers in Los Angeles. Impressed as Parsons was by Portland's pitch, and intrigued by the potential of playing with one of the league's elite backcourts, he says he fell in love with the Grizzlies during his meeting with Memphis the next afternoon and committed on the spot.
Parsons had essentially come to terms on a divorce with Dallas days earlier, when the Mavs made it clear he was nothing more than a fallback option and that no long-term offer would be forthcoming.
Says Parsons: "It was just kind of shocking."
---
IT'S ALL STILL a highly sensitive subject with Cuban. He has said precious little about the reasoning for the team's decision on Parsons, a far cry from the two-part blog manifesto Cuban posted to explain his logic to fans the last time he let a good friend leave in free agency, when the Mavs declined to match Steve Nash's offer from the Phoenix Suns in 2004. He gave brief answers in an interview for this story, essentially just verifying and clarifying facts.
"We're still friends," is all Cuban would say when asked about Parsons during summer league in Las Vegas, where they once partied together each summer with a large Mavs contingent. He elaborated a bit more during a summer appearance on 105.3 The Fan's "Ben and Skin Show," saying there were "things other than basketball" that factored into the decision and wishing Parsons well except the four games the Grizzlies faced the Mavs. The first of those games is Friday night at the American Airlines Center.
After Parsons decided to join Memphis, he said his phone blew up with congratulatory texts and phone calls from the Mavs. Cuban wished him well, telling Parsons he hoped to be proven wrong. Carlisle, Nowitzki and Smith all reached out with heartfelt messages, too.
"A healthy two years in Dallas would have obviously changed everything, but he landed in a great situation in Memphis," Carlisle tells ESPN. "Many of us in the Mavs organization remain close with Chandler and wish him the best."
As far as Parsons is concerned, the fact that Carlisle, Nowitzki and Smith influenced Cuban's decision doesn't affect his view of them.
"It doesn't bother me, because I would have the same issues," Parsons says. "If you ask me about a player, I'm going to give you my honest opinion. I don't care if it's one of my good friends or not. As a businessman, I'm going to be honest and be truthful about what the situation is."
The Mavs' caution was well founded. For the second straight year, Parsons' rehab from spring surgery on his right knee stretched into the season. Parsons missed Memphis' first six games and is still on a minutes restriction and trying to work his way into a groove. Meanwhile, his replacement, Barnes, is thriving.
Parsons remains part of an active group text with Nowitzki, Smith and several other Mavs staffers that exists in large part to playfully rip Parsons for everything from his injury history to his playboy lifestyle. Parsons more than holds his own, returning fire against the former co-workers he considers friends for life.
---
PARSONS DIDN'T TALK to Cuban for a few months after signing with the Grizzlies, exchanging only a few friendly texts. Parsons, for his sake, says he understands the parting was just business, admits that if he were them, he would have been hesitant about signing a player with two knee surgeries to a $95 million deal. And so, a couple of weeks before NBA training camps opened, they decided to meet for dinner and drinks just for old times' sake, with Cuban extending an invitation to Parsons and a few of his friends to join him at Soho House, a posh, members-only spot on the Sunset Strip in West Hollywood.
A few rounds into the night, Cuban made a toast to the player he decided he didn't want to pay. The exact words that came out of Cuban's mouth are fuzzy now to those who were there, but the message remains as clear as the Tito's vodka in the glasses.
Raising his glass, Cuban told the group at the table that he wasn't sure when or in what role, but his boy Chandler Parsons would be back in Dallas.