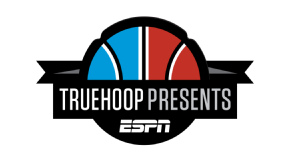 IF THE GOLDEN State Warriors are built around a Big Four, Zaza Pachulia might be the fifth. Now in his 14th season, Pachulia has never averaged more than 12 points per game. His style of play? The opposite of glitzy. In other words, he'd be incredibly out of place in the NBA All-Star Game.
Yet when the NBA announced the final tally of fan votes -- the first step in a process that determines the All-Star starters -- there was Pachulia, with 1,528,941 votes, second only to Kevin Durant among all frontcourt players in the Western Conference, well ahead of Spurs star Kawhi Leonard, who is an MVP candidate, as well as Anthony Davis, Draymond Green and DeMarcus Cousins.
Pachulia, currently out with a strained rotator cuff, also finished surprisingly high a year ago. Green, his Warriors teammate, said he wishes Pachulia would tell him his secret.
"He just won't tell me how he keeps doing it," Green told ESPN's Ethan Sherwood Strauss.
Something, it's fair to say, seems amiss.
We live in a time in which digital tricksters seem to be having their way with just about every system imaginable. The most private conversations, including those involving a national security adviser, a presidential candidate's emails and diplomatic cables, have all been shared with astonishing regularity. Voting hijinks have corrupted online fan participation in ways both large and small -- from those that send Pitbull to play a concert at a Walmart in Kodiak, Alaska, to those that result in an endangered humpback whale being renamed "Mister Splashy Pants."
Analogous scandals have rocked television shows "American Idol" and "America's Next Top Model" as well as the Rock & Roll Hall of Fame and Major League Baseball. The National Hockey League has suffered two such incidents, one in which borderline NHL player John Scott was voted into the All-Star Game in the name of hilarity -- although in fairness, he did score two goals -- and another in which the league nearly succumbed to a home-brewed fan-voting device called a "vote-o-matic."
The NBA has used fan votes to pick All-Star starters since the 1974-75 season, but it was long based on paper ballots handed out at arenas, bars and other places fans congregated. As the process moved online in 2001, the league has had embarrassing results here and there, including Yao Ming being elected a starter in the 2011 game after he'd suffered a career-ending injury.
But this year is different. This year fans voted on NBA.com, the NBA App, Twitter, Facebook, Google, and Sina Weibo and Tencent Microblogs in China. Across all the platforms combined, each fan was entitled to one ballot of 10 players per day, between Christmas and Jan. 16. The NBA's voting comes, like many fan voting systems, with a particular vulnerability: You can vote without being verified.
"Twitter is an open platform, and you can't protect yourself from someone else's open platform," says Brad Parscale, president of Texas-based web design and marketing firm Giles-Parscale, and the former digital director of Donald Trump's presidential campaign. "If your goal is to accurately measure fan support for a player, you would build a system that's authenticated to a single device [such as a cellphone]. If your goal is to change the narrative to grow the excitement of the game, then you would use an open social network."
The NBA says it uses internal screening and third-party vendors to screen out fraudulent votes. The league added a tweak this year that sources say was born of Pachulia's suspiciously high finish a year ago: Fans hold only 50 percent of the vote to determine All-Star starters. The vote of current players counts for 25 percent, and a media panel has the final 25 percent of the say.
Those mediating factors knocked Pachulia out of the All-Star Game. But they didn't answer the most basic question: Is the NBA All-Star fan vote a sham?
---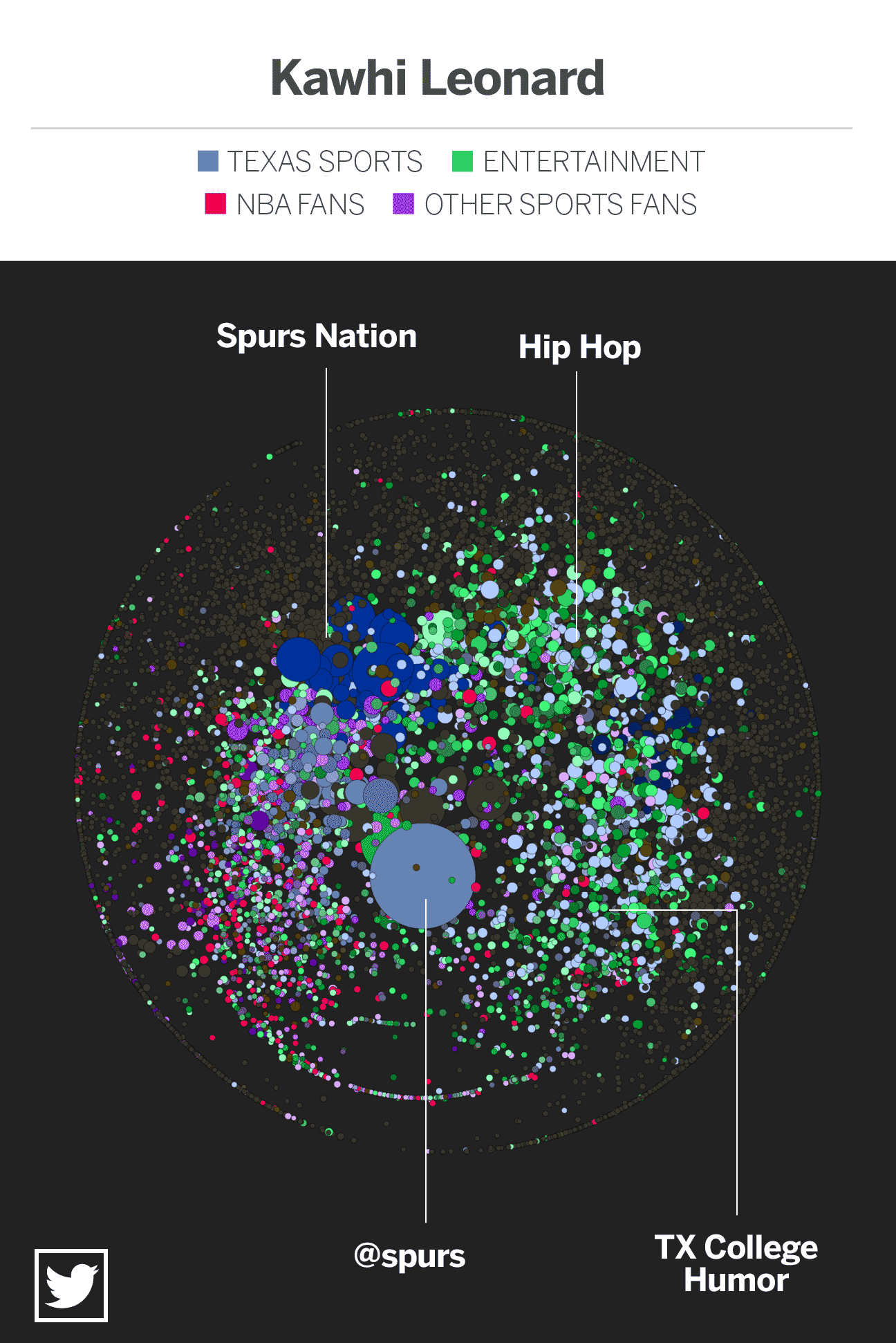 A Graphika image shows Twitter accounts that attempted votes for Kawhi Leonard. The more followers, the bigger the circle. Graphika has sorted accounts by topics of interest, which are color coded.
---
TO THE CASUAL observer, the Pachulia vote was the most alarming. But to John Kelly, the startling outlier was the Spurs' Kawhi Leonard. Kelly is the CEO and founder of the New York-based social media intelligence firm Graphika, which monitors, categorizes and maps social media traffic for public and private clients. Graphika sifted through more than 5 million tweets on behalf of ESPN and found all sorts of interesting things about NBA All-Star voting, including 10 hyperactive bot accounts voting for Leonard about 1,000 times per day, a figure that Kelly called "outrageously high."
"We examine for voting irregularities on a consistent basis and monitor for bots and other manipulations. We have measures to detect improper voting and any votes that do not comply with our rules are voided." Mike Bass, EVP, Communications for NBA
And of all the ways you could vote, Twitter, in particular, seemed to be hot for Leonard. For players such as Pachulia, Kevin Durant and Draymond Green, a typical account that voted for them on Twitter did so about three times. For Leonard, the number was, per Graphika, 6.46, the highest in the league. More starkly, about 39 percent of the tweets attempting to cast for Leonard came from accounts created since Dec 1, 2016.
And those votes were coming from new accounts with names like @kawhibot.
"If your central question is, 'Do these accounts look fishy?' -- the answer is unequivocally yes," said Ron J. Williams, founder and managing partner of proofLabs, a Brooklyn-based strategy and product development studio. "It may be some combination of bots and human-controlled accounts, but it certainly looks like a coordinated effort to game Twitter's trending algorithm."
There is no sure way to know whether those efforts were successful in registering actual votes. The NBA screens out suspicious-looking votes, but won't say exactly how.
NBA spokesperson Mike Bass would say only: "We examine for voting irregularities on a consistent basis and monitor for bots and other manipulations. We have measures to detect improper voting, and any votes that do not comply with our rules are voided."
What's certain is that someone was trying to get Leonard in the game. When we began to ask experts whom it might be, many suggested asking Parscale. A former Spurs season-ticket holder, Parscale directed Trump's digital efforts during the presidential campaign from a low-slung building along the 410 freeway in northern San Antonio. A Bloomberg report detailed his mastery of the emerging art of exercising digital influence. The technique focused on using more than 100 people to solidify the positions of likely Trump supporters -- and sow doubt wherever influential groups of Clinton supporters gathered online.
When asked in January if he was behind the bots voting for Leonard, Parscale wrote in an email, "No, I didn't even know Kawhi was up for the award. I have been very busy with getting Trump elected."
But he did quickly suggest that the system has vulnerabilities.
"Here's the issue: There's no way to perfectly lock this out, and the way [the NBA] did it is designed to create narrative," Parscale said. "There's no way around it. I might have 1,000 technical ways to make it limited, but there's no way it's locked in."
---
IT WAS A bitterly cold Christmas Day in central Macedonia when Aleksander Saklev, a 21-year-old programmer, tweeted at the Spurs' official Twitter account. The NBA's All-Star voting season had kicked off that day, and Saklev wanted to help put his favorite player, Kawhi Leonard, in the All-Star Game.
Saklev saw this tweet from the Spurs.
This Christmas Santa Klaws wants your vote and all you've gotta do is hit RETWEET.

Kawhi Leonard #NBAVOTE pic.twitter.com/Wrmuyqdqat

— San Antonio Spurs (@spurs) December 25, 2016
In response, he tweeted at the Spurs from his @sakle17 handle: "Hello if today I retweet 10 tweets that say ex. Kawhi Leonard #NBAVOTE does that count as 10 or just 1?"
The Spurs did not reply to his inquiry, but another Twitter user chimed in to tell Saklev that it would count as 10 votes.
With that, Saklev went to work.
Using programming tools Raspberry Pi and Python, he immediately programmed 10 separate Twitter bots to vote for Leonard, who became Saklev's favorite player during the 2013 NBA Finals.
"I loved how he played the game," Saklev told ESPN by email. "I instantly did research on his rise to the NBA and was amazed at how he overcame the death of his father and how he appreciates his mother and how humble he is generally."
Though Saklev had fewer than 200 followers on his personal account, he believed he could single-handedly make Leonard an All-Star starter. Saklev's system was remarkably simple: Anytime some fan tweeted the phrase "Kawhi Leonard #NBAVOTE," Saklev's 10 Twitter bots would automatically retweet it, in the hopes of it counting as 10 votes.
By Dec. 28, the 10 bots -- with aliases named after Leonard (such as @kleonard95, @kleonard1995), Kevin Spacey (@kspacey 17) and Saklev's favorite soccer players, Luis Nani and Rio Ferdinand (@luisnani1995 and @rioferdy71) -- were up and running. Fans around the world found these egg-avatar accounts retweeting their Leonard votes within seconds. Soon enough, Saklev saw his bot farm create more than 200,000 votes for Leonard.
As Pachulia rose through the voting ranks, Saklev grew antsy, thinking another high finish for Pachulia could inspire further changes by the NBA. About two weeks after launching his Twitter bots, Saklev tweeted, "NBA fans don't be mad next year when fan voting for all star is abolished. Remember you voted for Zaza this year..."
Saklev generated nearly 250,000 attempted votes for Leonard. But after the first voting ballot results were released to the public, Saklev had a realization: The NBA was filtering out his votes.
"Everyone thinks that this is made to make a lot of votes," Saklev said in an email. "But after doing research about the voting system, no matter whether you tweet or retweet, it counts as 1 per day."
Saklev had built the bots to no avail.
---
AT 7:22 P.M. on Jan. 7, Justin Bieber issued a command to his nearly 90 million Twitter followers, the second-most on the social media platform behind fellow pop music star Katy Perry:
Everyone RT this to get my man Chris Paul @cp3 into the All-Star game. #NBAVote @CP3

— Justin Bieber (@justinbieber) January 8, 2016
Two minutes later, Bieber, who has more followers than all but 15 countries have people, doubled down: "I got u bro. Best guy right here. Chris Paul. @CP3 #NBAVote."
Like most of Bieber's tweets, these two instantly screamed across the web, eventually combining for more than 89,000 retweets and 135,000 favorites.
Graphika's evidence suggests Bieber accounted for more than half of Chris Paul's Twitter votes.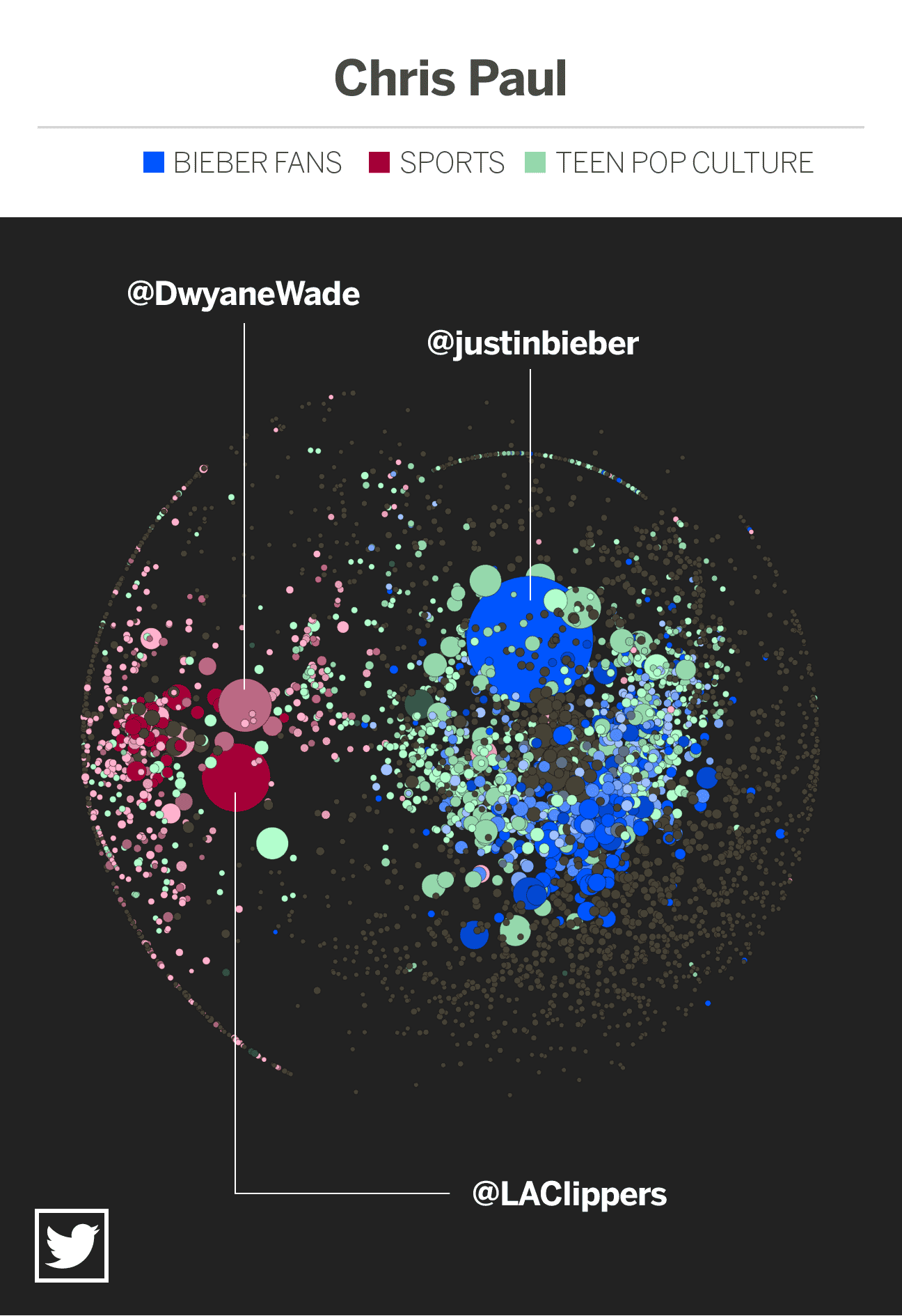 This Graphika image shows Twitter accounts that voted for Chris Paul. The bigger the circle, the more the followers. Justin Bieber and the flood of votes Paul subsequently got from Twitter users whom Graphika categorizes as Bieber and pop music fans overshadow basketball fans.
---
Paul, who will miss the All-Star Game because of a thumb injury, finished fifth among Western Conference guards, with 735,460 fan votes from Twitter, Facebook, Google, NBA.com and in the NBA App combined. Fans of LeBron James helped him tally an NBA-high 1.89 million votes, but according to Graphika's Kelly, no one rocked the vote better than Bieber did for Paul.
"Justin Bieber was incredibly effective at getting his followers to vote for Chris Paul; that's the good news," Kelly said.
As you can see in Graphika's map, accounts known to be influenced by Bieber created a lot of votes for Paul.
"The bad news for Paul was that most of those followers did it just once, whereas the engaged basketball fans typically voted for their players several times," Kelly said. "So the true fan vote counts for more in the long run."
---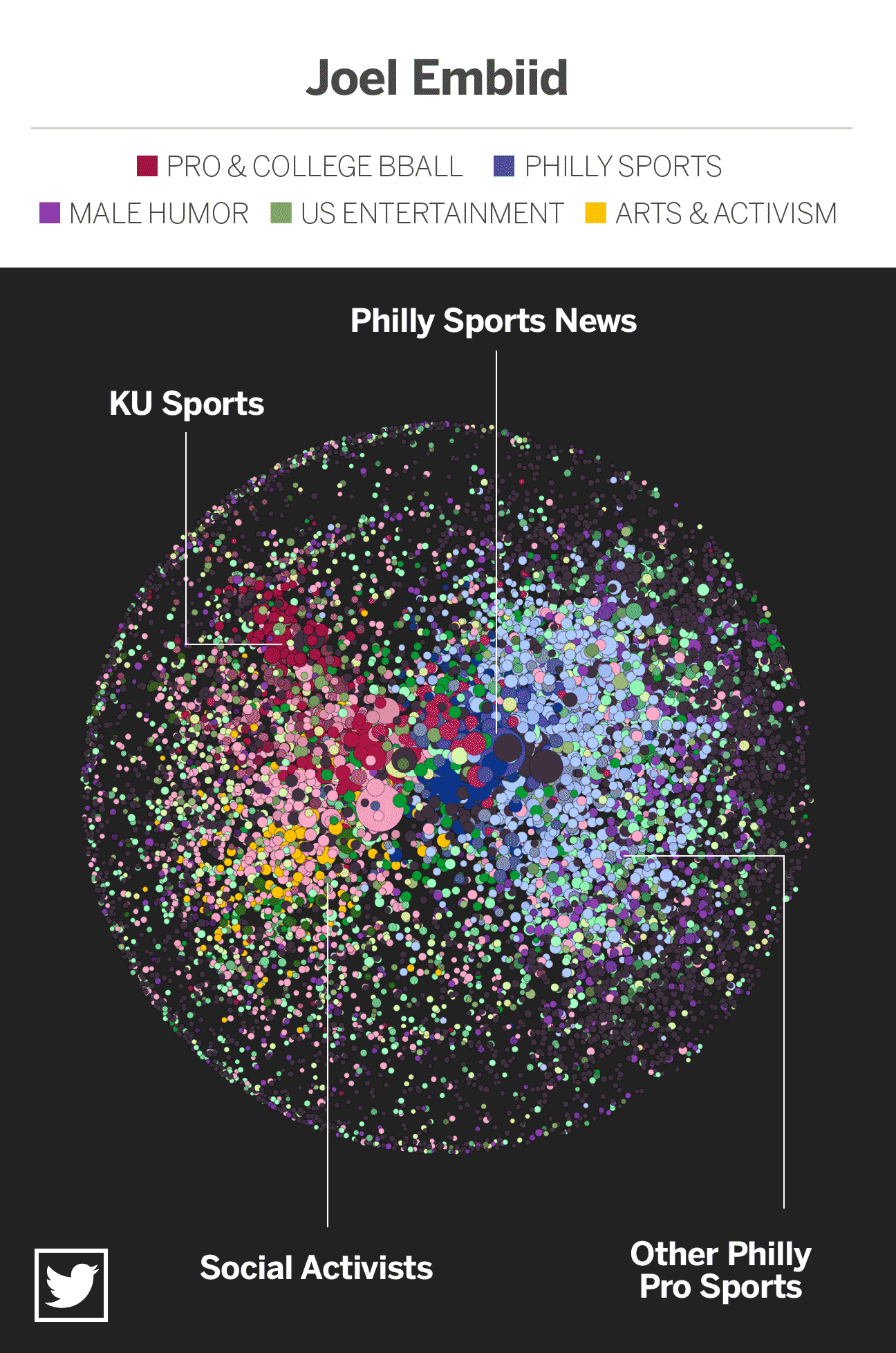 Injured 76ers center Joel Embiid is credited with an authentic and inventive social media presence, and it shows. His Twitter votes come from all over and include a strong foundation of small accounts -- not unlike a politician with large numbers of small donors. The founder of Graphika, which made this image, calls it a "picture of success."
---
PHILADELPHIA 76ERS CENTER and social media darling Joel Embiid is inventing new and better ways to connect with fans. Graphika found that Embiid's aggressive and colorful Twitter campaign to drum up support for his All-Star candidacy created a robust group of digital followers that is unlike other NBA stars. For instance, Kevin Durant's online votes came largely from Warriors fans, but Embiid received love from 76ers fans, Eagles fans and Jayhawks fans as well as social activists and many others. A full 84 percent of the accounts supporting Embiid were from communities outside of the local Philly sports scene, including national pro and college sports fans as well as music and entertainment fans.
"This is who you want to be," Kelly said after examining Embiid's results. "This is the picture of success."
When All-Star reserves were announced, Embiid, who finished third in the popular vote among East big men, with 922,174 votes, did not make the team. But it was not due to a lack of digital trying.
"Once again," he tweeted, "the popular vote didn't matter..."
---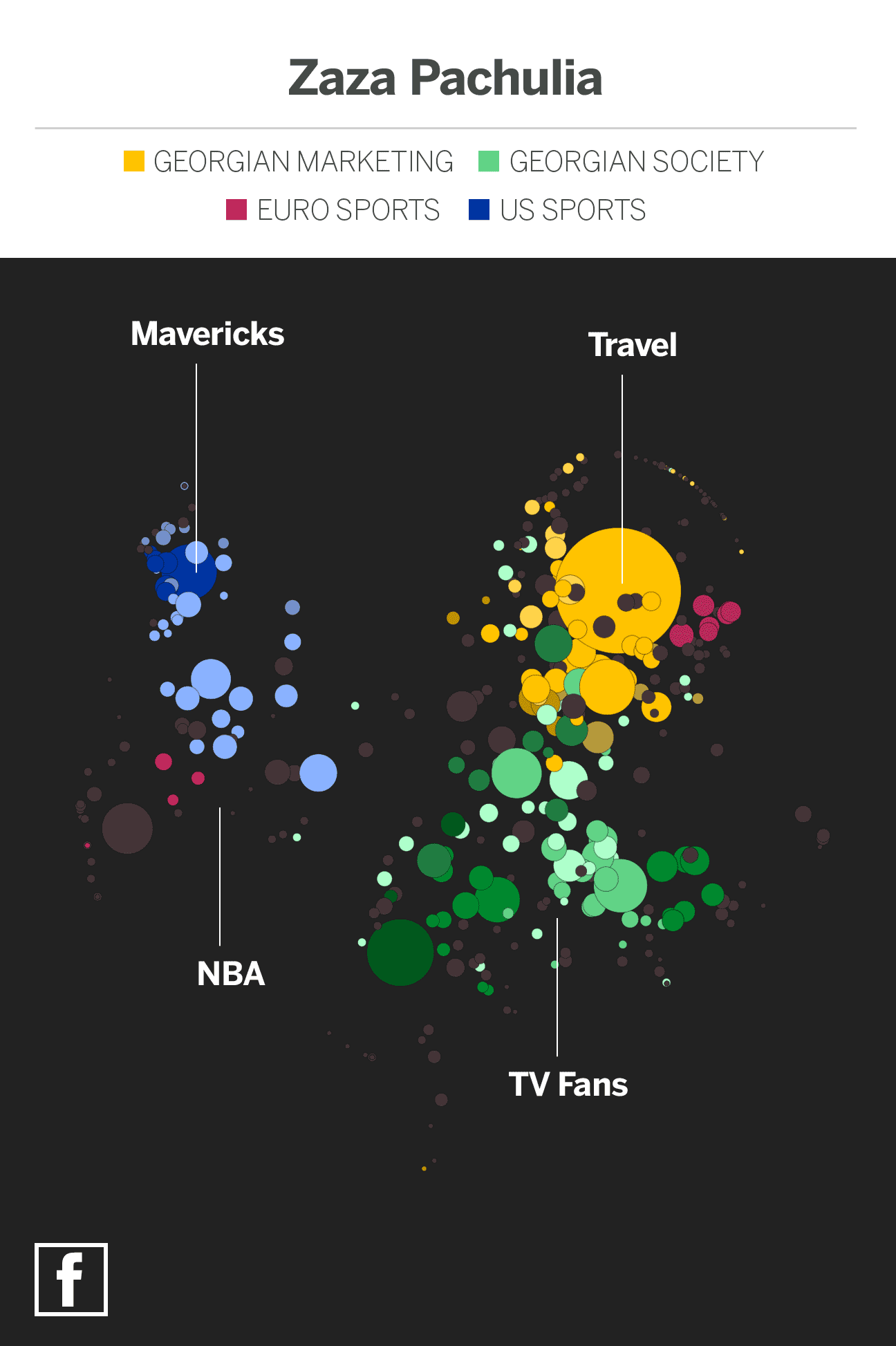 Graphika found that Zaza Pachulia's social votes came largely from Facebook. In this chart, each circle represents a Facebook account that voted for Pachulia; the more the likes, the bigger the circle. Support from his home country of Georgia comes from many different sources -- and vastly outweighs his U.S. support.
---
WHICH BRINGS US back to the epicenter of this year's controversy, Pachulia, about whom Graphika's analysis reveals one huge surprise: Pachulia's eye-popping social media vote totals look credible. They come largely from Facebook and largely from Pachulia's home country of Georgia, but in a manner that is not easily identifiable as fishy. There are no obvious bots generating huge numbers of votes, but rather many different individuals voting a few times each.
"He's got not just the Georgian basketball fans engaged," Kelly said, "he's got the whole society."
Pachulia received support from Georgia-based social media accounts that Graphika identified as sports fans, but also from everyone else, from techies and marketing professionals to fashionistas and the literati.
In all, about one-third of the Twitter accounts and four-fifths of the public Facebook pages supporting Pachulia were from Pachulia's home country. And those Georgian Twitter fans voted an average of 3.84 times each vs. 2.77 times each for his U.S. basketball fans.
In other words, the NBA's fishiest voting returns look fishy mostly because the system isn't used to seeing such large numbers of super-motivated fans.
Or to put it another way: In 2015, Mavericks owner Mark Cuban told ESPN he thought All-Star voting was a broken system, mostly because the vote totals are low enough to represent a tiny percentage of fans.
"S---, nobody even tried to hack it," Cuban said. "That's how bored they are."
---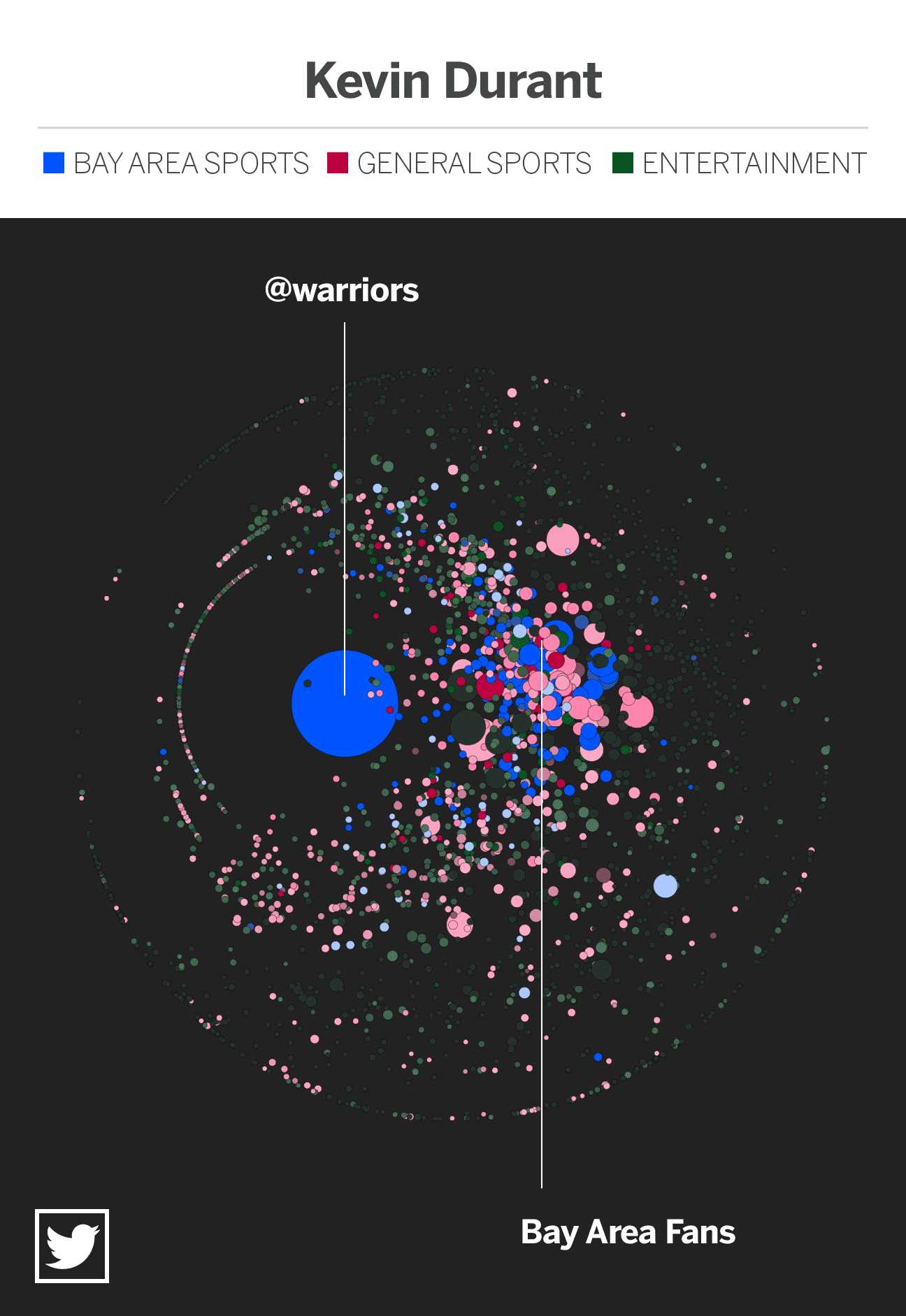 A Graphika chart of Kevin Durant's Twitter support shows a typical NBA star, whose Twitter votes come mostly from fans of the local team, without overseas help (a la Pachulia), pop star support (a la Paul) or carefully cultivated constituencies (a la Embiid).
---
KEVIN DURANT'S VOTING pattern looks much like Leonard's -- largely driven by fans of the local team -- but without the frenetic bot activity. Indeed, Graphika's analysis found that 52 percent of the Twitter vote for Durant follows the Warriors, and many of the rest are also Bay Area sports fan accounts.
Durant is no Embiid or Pachulia, and this pattern might not be a portrait of an avid global interest in All-Star voting. But it does at least look to be uncorrupted. Yet each social media expert contacted by ESPN reached the same conclusion about the current voting system: It's vulnerable.
There's pressure to get it right. In many cases, there's more than prestige at stake. It's not unusual for player contracts -- with teams and sponsors -- to have significant incentives for making the All-Star team.
A.J. Lawrence, a Brooklyn-based angel investor in social media startups and previous owner of the New York-based digital strategy company JAR Group, says campaigns based on sophisticated fake social media accounts are something to guard actively against.
"Just check out some of the things we saw during the last election cycle, but overall they are a very cheap way to try and trick people," he said.
Williams of proofLabs adds: "The bottom line is that there is a well-established cottage industry of influencer marketing operators that specialize in getting content trending on social channels via coordinated networks of Twitter accounts."
As for Saklev, the Kawhi Leonard superfan, while he might have failed to hack the system this time, he predicted that attempts to manipulate this year's social media voting would spook the NBA into rethinking the process all the same.
"I think probably from the next year, the fans voting percentage will be lowered maybe to 33 percent or even 25 percent," he wrote in an email. "Or maybe the social-network voting will be canceled fully."
---
Additional reporting by Tom Haberstroh