In August, Isaiah Thomas was in Philadelphia to rub elbows with former 76ers guard Allen Iverson at the Hall of Famer's celebrity summer gala. Clutching a prized autographed jersey, Thomas paced his hotel room reciting Iverson's career stats with the Philadelphia 76ers -- 27.6 points and 6.1 assists per game -- and found inspiration.
"I've got to get better," Thomas told a companion. "Damn, I gotta be Allen Iverson. I gotta get better."
Seven months later, Thomas is averaging a career-best 29.5 points and 6.2 assists per game for the division-leading Boston Celtics. In fact, Thomas' stat line per 36 minutes this season rivals Iverson's 2001 MVP campaign.
How has the 5-foot-9 guard who was drafted No. 60 overall in 2011 taken his game to new heights? A look at the data tells the story of Thomas' rise.

Boston's micro scoring machine
Thomas had never scored more than 38 points in a game over the first 388 games of his NBA career. Since mid-December, he has matched or exceeded that mark 10 times in 36 games. That includes a monster, 52-point outburst against Miami in late December, in which Thomas set a Celtics franchise record with a 29-point fourth quarter. Thomas' five 40-point games this season rank him fourth in the NBA behind only Russell Westbrook (14), James Harden (9) and Anthony Davis (6).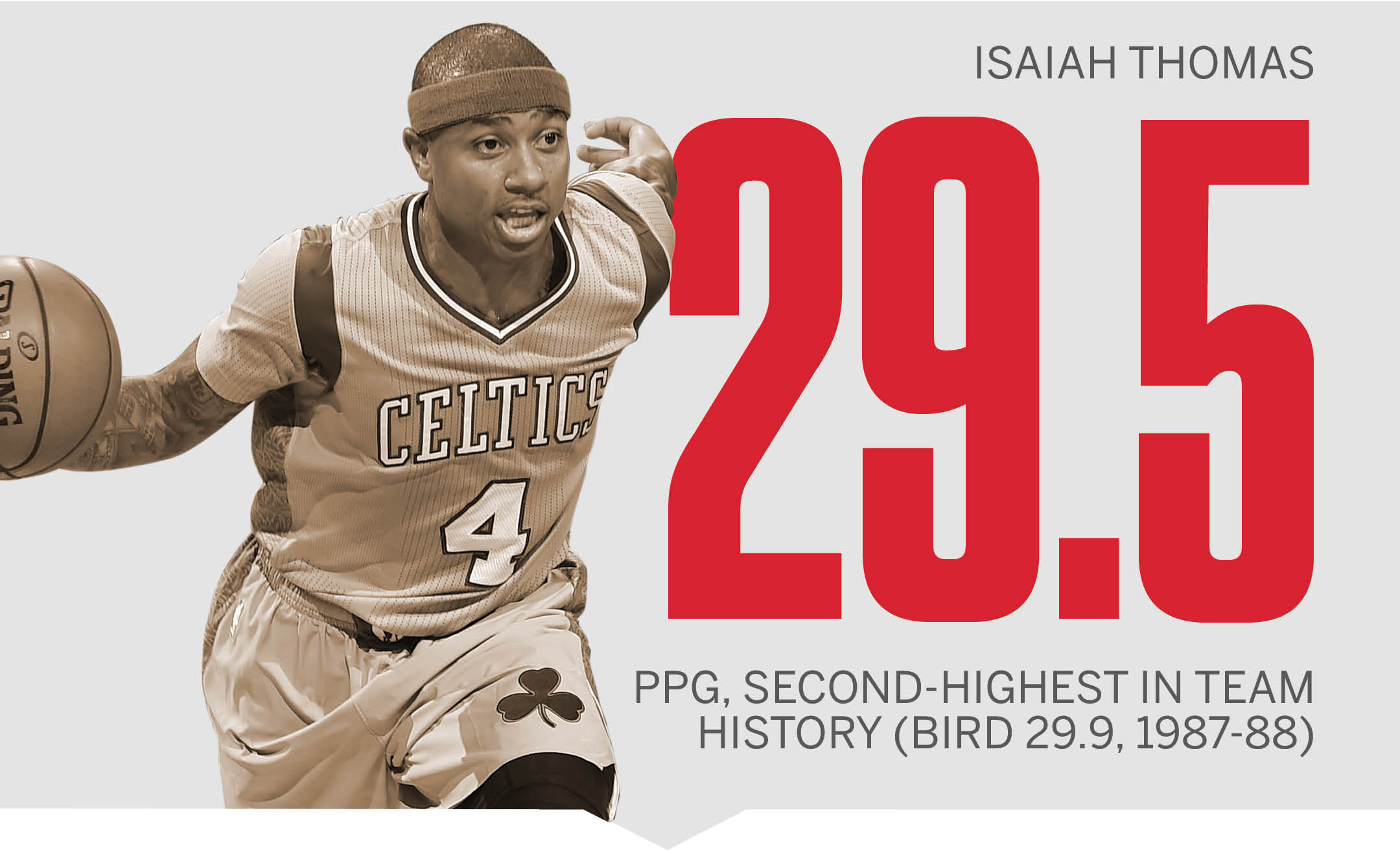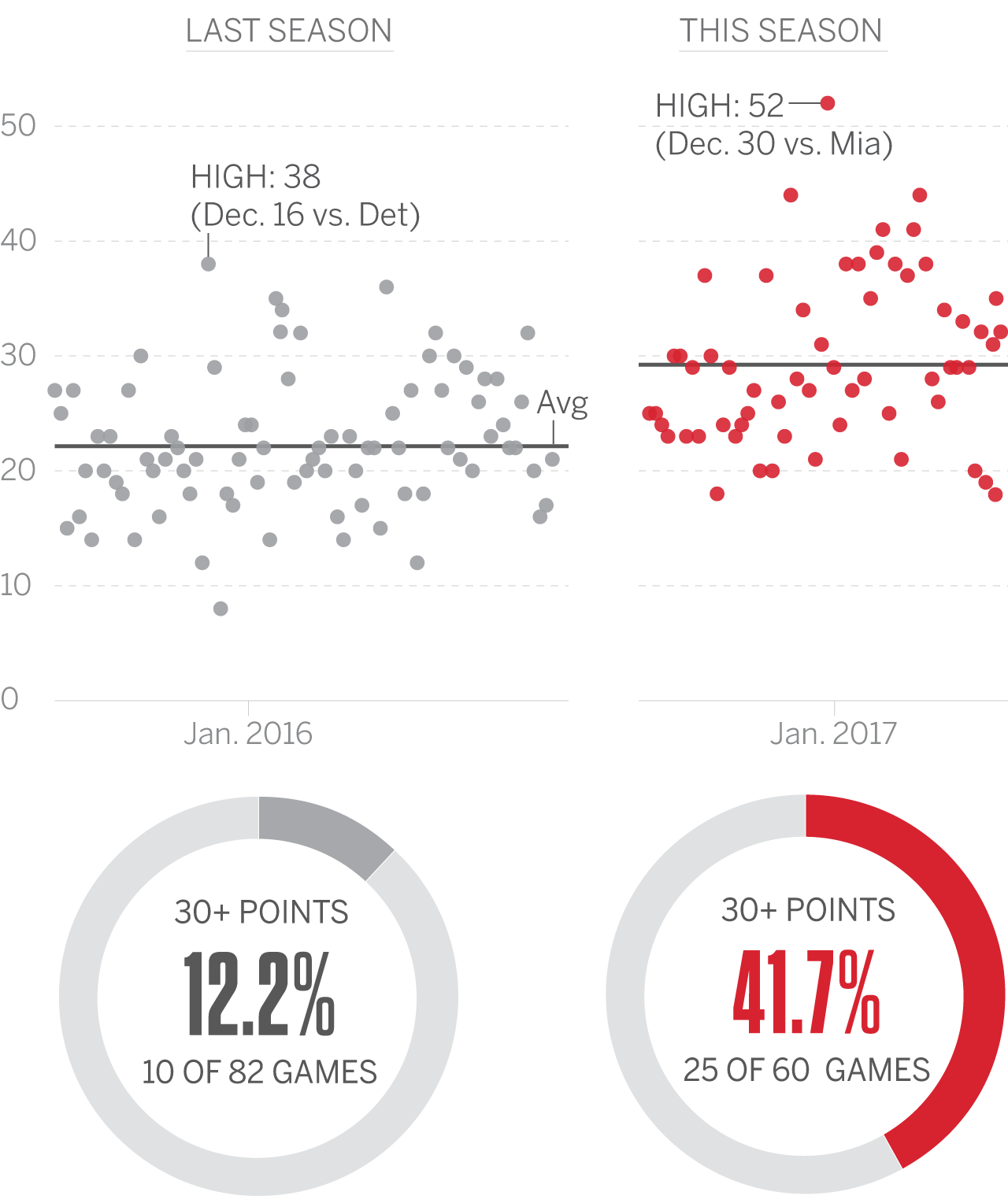 Thomas set a Celtics franchise record by scoring 20 or more points in 43 consecutive games before his streak ended with a 19-point effort in a Feb. 27 loss to the Atlanta Hawks. Thomas shattered a four-decade-old record held by the Celtics' all-time leading scorer, John Havlicek. Unfazed when the streak ended, Thomas pledged, "I'll break it again." Averaging 29.5 points per game with 18 games remaining in the regular season, Thomas is within striking distance of Larry Bird's single-season franchise scoring record of 29.9 points per game.

"The King in the Fourth" owns clutch time
Averaging 10.3 points per game in the final frame, Thomas is on pace to set a new NBA record for fourth-quarter scoring. No wonder he has been given the Game of Thrones-inspired "King in the Fourth" nickname. Now he points at his wrist after big fourth-quarter plays. Said Thomas: "The whole world knows what time it is in the fourth quarter."
But how does Thomas stack up to another one-man wrecking crew like Westbrook? Here's a comparison of how much they are contributing to their teams' totals in the final period this season:
Percentage of team's fourth-quarter totals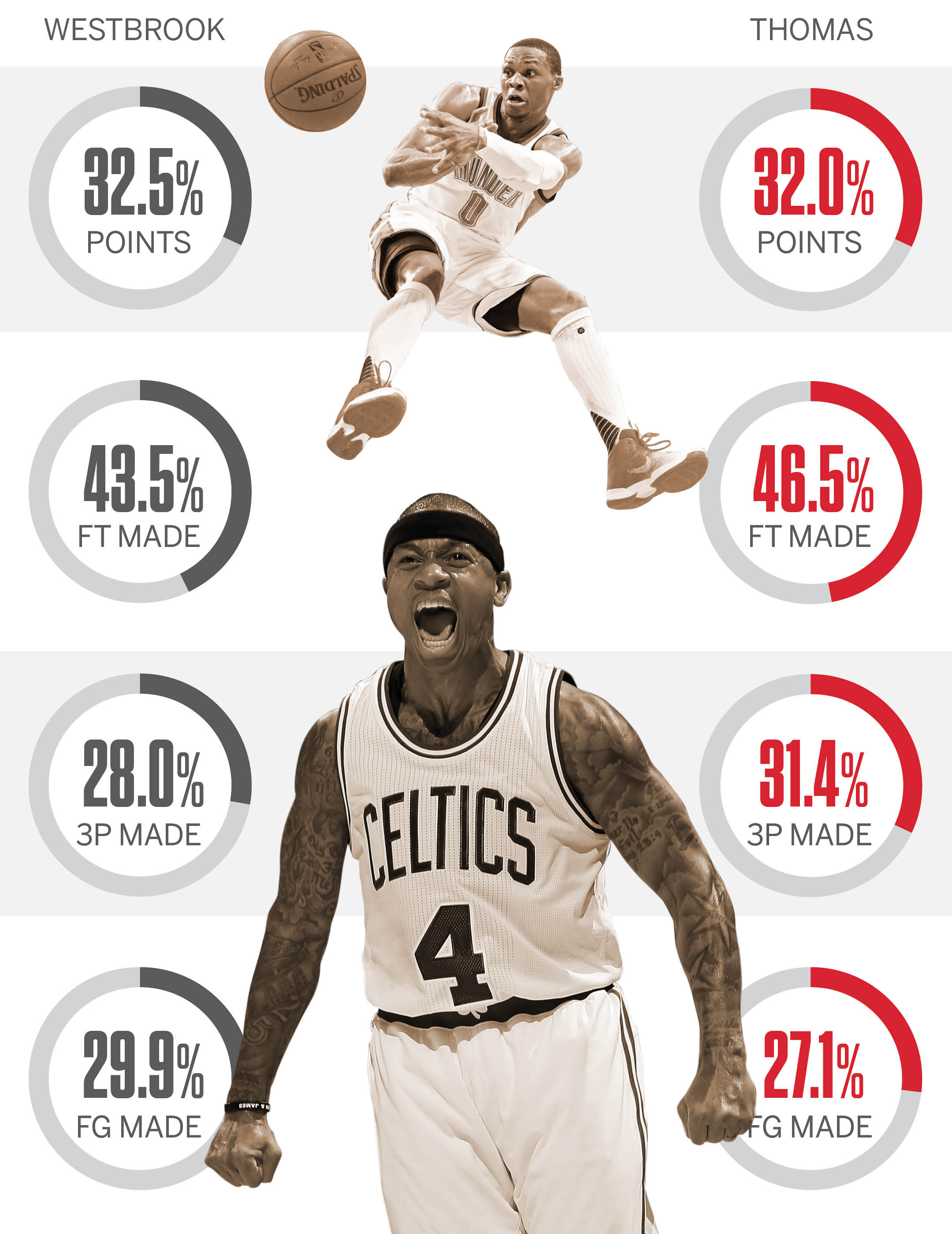 IT, the pick-and-roll maestro
While Thomas is running only a small percentage more pick-and-rolls this season, his efficiency in those sets has spiked dramatically. During the 2015-16 season, Thomas averaged 0.857 points per play as the pick-and-roll ball handler and shot just 38.6 percent from the floor, according to Synergy Sports data. Among 19 players with at least 500 pick-and-roll ball handler plays finished, Thomas ranked 11th in the league.
This year? Thomas is averaging a robust 1.029 points per play while shooting 44.3 percent in the pick-and-roll, and he ranks second among the 16 players with at least 450 such plays finished (trailing only Toronto's Kyle Lowry). Thomas is making better decisions -- and making more shots. Here are three ways he is getting it done:
First look 3-pointer: The Celtics love running side pick-and-rolls for Thomas, particularly on the right side of the floor (29.4 percent of his pick-and-rolls occur there, compared to 7.4 percent on the left). Thomas' first read is whether there's enough space to launch a 3-pointer. If the switching big doesn't run out at him, Thomas can fire away behind the screen, or sometimes he'll reverse and fire on the opposite side of the screener. In a league in love with the corner 3-pointer, Thomas is shooting 37.6 percent above the break on 434 attempts. Last season he shot 33.8 percent on 397 attempts.
---
No fear among the trees: While most look at Thomas' height as a detriment, he's crafty enough with his shot arcs that he embraces when a big gets switched onto him. Utah Jazz 7-foot-1 shot-swatter Rudy Gobert clogging his path? No problem. Thomas creates a little space and sends a rainbow over the Stifle Tower. A 33 percent shooter in the paint (non-restricted area) last season, Thomas is shooting 42.5 percent there this season.
---
Speed, body control, strength: Thomas got wind earlier this year that 76ers rookie big man Joel Embiid wanted to guard him on a switch, and Thomas gave him his wish in a January meeting. With a speed burst, Thomas raced past Embiid, waited to draw contact from behind and finished the and-1 layup (then told Embiid he heard his comments on his way to the free throw line). Said 76ers coach Brett Brown: "His ability to control speeds -- he can go from 80 [mph] to 100, back down to 40, back to 90. He really can get you off-balance and create separation. And that, because he can shoot, now lets him dance and get to the rim and take a hit and finish."
The addition of Al Horford cannot be overlooked when assessing Thomas' increased scoring efficiency this season. Horford is one of the league's best screeners, and that is reflected in Horford's sitting among the league leaders in screen assists, a hustle metric that measures when screens lead directly to made baskets. Thomas' monster spike in efficiency in off-screen actions is a direct result of the space created by Horford's screens.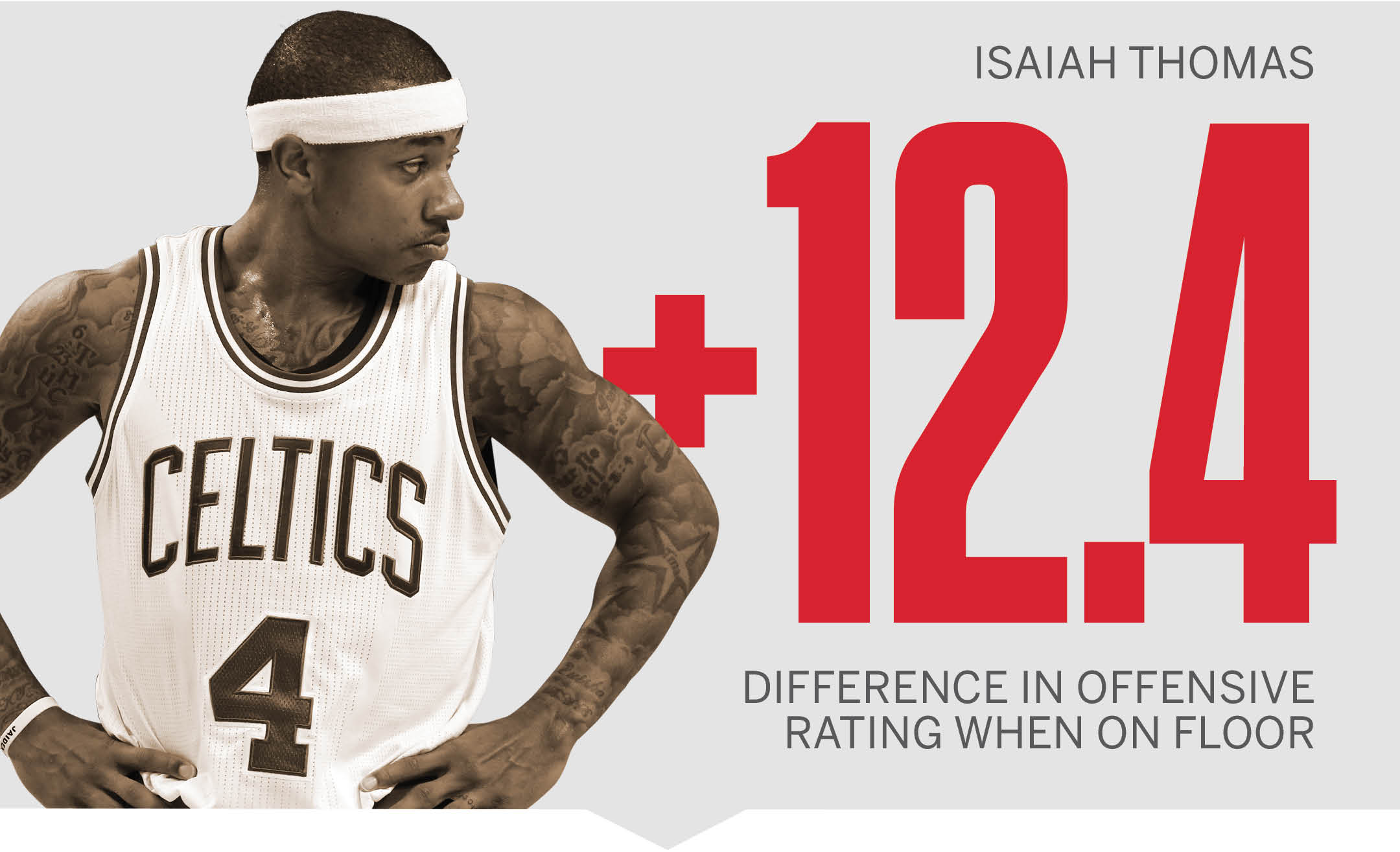 When Thomas sits, Celtics turn into a lottery team
Thomas faces an uphill battle to be considered alongside Westbrook and Harden in the MVP race. But maybe the strongest case for Thomas is that no other player may be as important to their team's offense. Per Basketball Reference, Boston's offensive rating -- points scored per 100 possessions -- with Thomas on the court is a preposterous 116.2 and nosedives to 103.8 when he's on the bench. Essentially, the Celtics play offense like the 52-11 Golden State Warriors with Thomas on the court, and like the 11-51 Brooklyn Nets when he's off it.
Offensive Rating (Celtics with/without Thomas)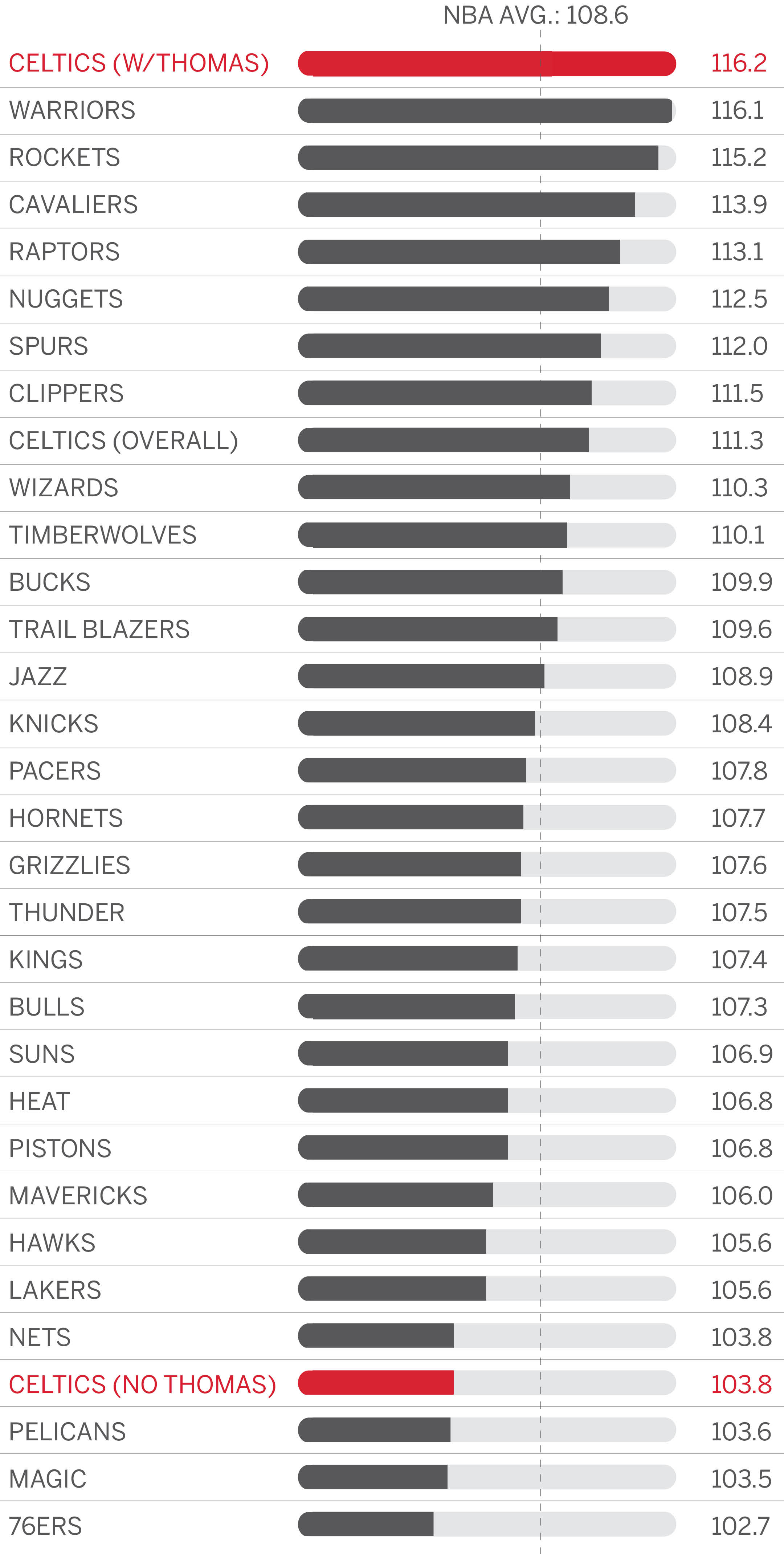 Statistics as of Tuesday. Statistics courtesy of ESPN Stats & Information, NBA.com and Basketball-Reference.com.