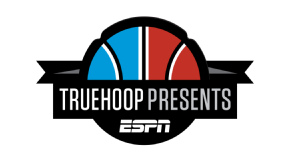 THE STORY OF the night ended up being the arrest of New York Knicks legend Charles Oakley, after a squabble with Madison Square Garden security. But for NBA commissioner Adam Silver, the Feb. 6 game between the Los Angeles Clippers and Knicks featured one other little issue, quietly hiding on the wrist of the Clippers' starting center.
As the game tipped off, DeAndre Jordan rose high to slap the ball away from Knicks star Kristaps Porzingis. Jordan did so with a black sweatband covering his right wrist. The thing is, Jordan doesn't historically wear wristbands. But he did in this game, he tells ESPN, to hide a little biometric computer he has taken to wearing strapped to his wrist.
The Whoop is a biometric device like many others -- think Fitbit or Garmin. This one tracks heart rate, skin temperature and other metrics. What has Jordan learned from the collected data? It has helped him with his sleeping habits, his recovery from travel, what to eat and what not to eat. Simply put, he has learned "what I need to do and what I don't need to do."
"It's pretty good," Jordan told ESPN.com two days after the Knicks game. And it's the future -- the brave new world of big data is coming to the NBA, and every sport, thanks to an influx of new technologies like this, promising to reduce injuries and improve performance. Jordan is among the first of many.
Some other NBA players wear them off the court but not in games because they don't want to get in trouble. Sources say Jordan is not the only player to hide one under a sweatband this season. The question is how quickly the league can keep up because, for the moment, it's not clear that, under NBA rules, Jordan's Whoop is allowed at all.
---
A COUPLE OF weeks after the Clippers-Knicks game, NBA commissioner Adam Silver takes to the podium for his annual Tech Summit, a Silicon-Valley-meets-NBA showcase of the league's latest and snazziest gadgets. Two years ago, virtual reality was the keynote technology that Silver highlighted. Last year, it was holograms.
This year? Biometric data, the very thing Jordan and other players are also trying to leverage.
Silver stands behind a podium and welcomes an NBA player to the stage for a lighthearted production.
"Unlike last year, this is not a hologram," Silver tells the audience, in a scene published on the NBA's official YouTube account. "That really is New Orleans Pelican and Baton Rouge native Langston Galloway."
Galloway walks alone onto the stage in his red Pelicans uniform and Silver asks him how he's doing.
"I'm doing good," Galloway replies. "I'm a little confused, though. What's all this right here? What's going on? What's all this?"
Galloway lifts up his jersey to show wires strapped to his torso like he's a hospital patient.
Silver turns to Galloway: "I had a conversation with your agent; he was going to explain it to you. That stuff on your chest is an early-stage wearable, which gives us advanced biometric readings of your body."
At this moment, a screen behind Galloway lights up to show a simulated dashboard of biometrics and fluttering graphs. Galloway's heart rate, skin temperature, VO2 max, respiration levels, sleep quality, caffeine levels and blood pressure, all in real time.
"I thought we talked about this in the CBA. C'mon now. C'mon," Galloway says.
The crowd laughs.
"Well, I cleared this with Michele," Silver jokes, referring to the player's union director Michele Roberts. "I'm not sure she's here. But sort of. It's all good for today."
Then Silver launches into his pitch.
"More importantly, this prototype could give you and your team a deeper read on health and performance. And based on what's on the screen, everything is looking pretty good for you right now, but although those measurements indicate that you should have had something to eat this morning except for those two cups of coffee."
The crowd laughs again.
"What we're hoping to have you do this morning is to take a shot so we can show off this new technology," Silver says. "But given your readout and what we know from your shooting percentage, it looks like you have a 78 percent chance of making this shot."
The screen behind Galloway begins to calibrate based on his levels. After some chatter, Galloway misses a free throw. Some New Orleans cheerleaders come onstage for a little gag.
"All right, Langston," Silver says. "Thank you for doing this. Pelican cheerleaders, thank you so much."
The three-minute presentation ends and Galloway walks off stage.
Galloway had made his small mark in the league's slow march to a high-tech future, and three days later the Louisiana native was traded.
---
LATE LAST SEASON, then-Cleveland Cavalier Matthew Dellavedova wore a Whoop in games and was quickly told by the NBA that he had to stop. Wearables became such a hot topic that the league and the players' union included it in labor talks after the season.
Tucked deep inside the NBA's new collective bargaining agreement is a newly added 800-word section titled "Wearables," which outlines the proper protocol for teams that want to put wearable devices on players. It states that teams can ask players to wear any of six approved devices on the court, but they can be used only on the practice court. Games are off-limits.
Per the CBA: "Pending an agreement between the parties, Wearables may not be used in games, and no player data collected from a Wearable worn at the request of a Team may be made available to the public in any way or used for any commercial purpose."
What's crystal clear is that teams can't force players to use wearables -- certainly not for games. The worry for players is that teams will use this information against them in contract negotiations. And these are real human beings here, not props or robots in the greater "big data" experiment.
But it brings up the question facing Jordan: What if players themselves want to use these devices?
---
WITH 10 MINUTES to go in the third quarter against the Knicks, Blake Griffin led a fast break. After three dribbles in transition, Griffin saw Jordan streaking down the court on the right side and lobbed a pass over Knicks big man Kyle O'Quinn's head. Jordan caught the alley-oop and threw it down with both hands, two of his 28 points in the game.
Jordan wants to be doing this -- jumping and dunking on opponents -- for a long, long time. On an injury-riddled Clippers team, Jordan has stood apart as the iron man of the NBA. The 6-foot-11 specimen has played every game in five of the past six seasons. Few players have managed their health better than the second-round-pick-turned-All-Star.
For a man who relies so heavily on athleticism and staying in shape, Jordan says paying attention to his body's signals is critical to him and his family's future. Jordan is turning 30 next offseason, and he's set to hit free agency in the summer of 2018. He knows the salary cap has exploded to unforeseen levels. There are more dollars at stake than ever.
And so he's doing what he can to secure a long, healthy career. Starting Jan. 28 in the Bay Area, Jordan began wearing the Whoop, which was presented to him by his trainer, Robbie Davis, who works at his training facility GameShape Inc. in El Segundo, California. "I refer to it daily with DJ," Davis says. "The instant feedback he gets each morning about how his body is recovering is fantastic."
The Clippers, sources say, had nothing to do with Jordan's new accessory.
When reached for comment, the NBA indicated that wearables are prohibited for in-game use. In the NBA's Operations Manual, all specialized equipment must be approved in advance by the Basketball Operations Department before a player can wear it during a game. The question becomes whether a Whoop device under a sweatband on a wrist is classified any differently than a splint or padded cast -- which are very much allowed.
The players' union, sources say, considers it an "open issue" until July 1, when the new CBA kicks in, as there is no language in the current CBA that outright bans wearables.
---
AFTER A WIN in Charlotte, Griffin got dressed and strapped on a Whoop at his locker. Griffin hasn't been wearing it in games because he's unsure whether it's allowed or not. Nonetheless, the Whoop strap has been particularly insightful on the road, showing his sleep duration and sleep quality in hotel rooms across America -- and even giving recommendations on what time to get to bed for optimal recovery.
"The big thing for me is the sleep coach," Griffin said. "It gives you the extra confidence that you're rested and ready."
Griffin and Jordan are playing some of the best ball of their careers. With guard Chris Paul back in the fold, there's no denying that the Clippers have championship aspirations and an uncertain future. Paul, Griffin and J.J. Redick can all be free agents this summer. Kevin Durant just sprained his MCL and the Golden State Warriors suddenly look vulnerable at the top of the Western Conference.
The Clippers' situation is fragile. But the key players are trying to make sure their careers are not. Biometric devices and injury prevention are at the heart of the whole thing. Silver's tech summit presentation showed what the NBA, with all its health-conscious bells and whistles, might look like in the future.
But whether the NBA is ready or not, that tech-crazy future is now.