BROOKLYN NETS COACH Kenny Atkinson has a thick towel around his neck and an office with a spectacular view of the Manhattan skyline. There's an exercise bike there, and Atkinson is on it, pedaling furiously.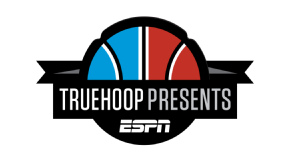 It's 4:30 in the morning.
A few hours earlier, the Nets lost another game, and this is the punishing ritual of the coach of the worst team in the NBA. After paltry few hours of sleep, he watches the loss again, on a laptop mounted to his bike. When the Nets screw something up, he turns up the resistance knob on the bike.
Fast. Faster.
He types madly on the keyboard as ideas come, his hands already damp with perspiration. The worse the team plays, the harder he pedals. The harder he pedals, the more he sweats on the laptop. "If you sweat on them too much, the whole thing blows up," Atkinson explains in his distinctive Long Island drawl. He's a first-year coach on his fourth laptop.
The Brooklyn Nets don't win much, and they're not tanking. Their 11-52 record is worst in the NBA, and because the Celtics have the right to swap draft picks with them this June and own the unprotected rights to their first-round draft pick in 2018, this is the one team where losing doesn't help the cause in any way.
"I'll be quite honest with you," Atkinson says. "There are people I really respect who told me, 'You're insane if you take this job.'"
Atkinson accepted the challenge knowing that futility would be his companion for the foreseeable future. But what Atkinson can't accept -- what he won't accept -- is when the players depart from the ethics Atkinson is determined to impart, in the name of building a Spurs-like winning culture. What Atkinson can't stand is when the players lose their resiliency, when an 8-0 run balloons to a 12-0 run, then 18-0, because in their haste to make it better, his team strives to recapture momentum all at once with a grand basketball gesture that falls literally and figuratively short.
In those situations, Atkinson pleads, "Get back to your habits!" Sometimes they do. Sometimes they don't, so when Brook Lopez takes 12 dribbles from the 3-point line, or Randy Foye glides over the screen instead of going hard through it, or Trevor Booker fails to retreat quickly in defensive transition, the evidence awaits the coach at 4:30 the next morning, glowing on a laptop in a dimly lit office that should be dark -- and vacant -- at that hour.
"So when we lose that culture, when those habits go out the window, that's when I put my bike on level 20," Atkinson says. "That's when I punish myself."
The self-flagellation continues until another laptop blows up, another game is lost and another day begins with no tangible traction in the standings.
Losing is a strategy in the NBA. The Philadelphia 76ers transformed it into a multiyear "process" that is just now beginning to bear fruit. The Lakers have no alternative but to clandestinely embrace futility as a silver lining in an otherwise mind-numbing season, with a high draft pick and the infusion of young, raw malleable talent as its balm.
Without the benefit of that salve for the next two drafts, Atkinson and general manager Sean Marks are faced with a daunting proposition: How do you establish a culture of winning when all you do is lose?
---
WHEN NETS OWNER Mikhail Prokhorov bought an 80 percent stake in the Nets in May 2010, he was all about winning -- in a hurry. He spent his first months hotly pursuing the biggest collection of stars in the history of free agency: LeBron James, Chris Bosh and Dwyane Wade.
In the words of Heat president Pat Riley, Prokhorov "jumped in and went right to the roulette wheel and put it all on 00."
The audacious billionaire, who ran for president of Russia in 2012, was once asked about his involvement in corrupt activities. His response: "Yes, of course I participated in them. What, I don't live in this country?"
He imported that brashness to the NBA, declaring on arrival his team would win a championship within five years. He engaged in a public squabble with Mavericks owner Mark Cuban over Deron Williams and promised to "crush him with a kickboxing throw down" if Williams left for Dallas (he didn't). He gleefully tweaked Knicks owner James Dolan, whom he called "the little man" by leasing a 225-by-95-foot mural of himself and minority owner Jay Z adjacent to Madison Square Garden.
Prokhorov aimed straight for the jugular. Riley recalls various road trips where he encountered Prokhorov shadowing, at one time or another, Wade, James or Bosh, lingering just long enough to make a connection with some of the most coveted players in the game.
"He was after all the same guys we were," Riley says.
When those big stars landed together with Riley in Miami, Prokhorov issued succinct marching orders to Nets general manager Billy King: Find me winners. Eventually, King swung for the fences by trading for veteran champions Paul Pierce, Kevin Garnett and Jason Terry before the 2013-14 season, giving up a treasure trove of draft picks that many believe might lead to a title -- in Boston.
Still, Riley respected the approach.
"I'm looking at that roster with [Deron] Williams and Lopez and Garnett and Pierce, two guys who always gave us trouble, and I'm thinking, 'They can be a contender,"' Riley says. "They upped the ante in a positive way."
The Nets also set records for team salaries and punitive luxury-tax payments. In Pierce and Garnett's lone season together in Brooklyn, the team won 44 games and was eliminated by the Heat 4-1 in the Eastern Conference semifinals.
"I'm a gambler -- I might have done the same thing," Riley says. "At the time, they were trying to build something. They had a new arena, a new owner, and so you go after the best players, and you tell everybody you are going to win. It didn't work, and now they are paying the price."
By February 2016, Prokhorov executed a stunning about-face by publishing an open letter admitting he had learned there are some things you can't buy and that he would be applying that lesson moving forward. He would concentrate on a team "with real passion to be here and no pulling teeth trying to convince them."
Not long after that, he called Sean Marks.
---
SEAN MARKS HELD one of the most enviable positions in the NBA -- assistant general manager to Spurs Jedi master RC Buford. Immersed in the league's most lauded culture, Marks rebuffed Prokhorov's initial advances, but Prokhorov, who had long admired San Antonio, was persistent.
When they finally met, Marks outlined a vision that included a top-shelf analytics group, a performance staff that touches each player daily with designated individual sessions, regular interactions with mental health experts, revamping the family room to create a more welcoming environment for wives and children and parents, and expanding the already gleaming practice facility on 39th Street in Brooklyn with an additional $1 million in improvements. At the core of his vision, he explained, was a long-term plan of developing consistency and excellence that would require years, not months.
"I was clear in our meeting," Marks says. "I told them, 'If you are looking for a quick fix or similar to what you did before, I'm the wrong guy.'"
Prokhorov agreed to all of it, as well as the hiring of Atkinson as coach. Atkinson, a former Knicks and Hawks assistant who is known as one of the most innovative player development coaches in the game, tacked on his own wish list: implementing an up-tempo style, a staff of assistants fit enough to lace up their high tops and participate in full practices and a philosophy of spreading minutes evenly across the roster rather than relying too heavily on stars such as Lopez and Jeremy Lin.
"There was a humility to the ownership group when I met them," Atkinson says. "They put up their hands and said, 'We did it this way, and it didn't work. We're going to do it another way.' That's got to be hard, especially for a billionaire who has been extremely successful."
Atkinson's friends warned him to stay clear of Brooklyn. Laying the foundation for a new culture is one thing; the thorny problem of convincing players to buy in is quite another. Losing breeds losing, then it breeds misery, and then it breeds discord.
"So there's doubts," Atkinson concedes, "but then all of a sudden you hear yourself saying, 'Screw it!' Because you're in it. Because you believe in what we're doing here.
"Now, you could look at it and say, 'Well, that's dumb, Kenny.' I get it. I don't know if a calculating person would do this. Forget the math. You got to bet on humanity."
Prokhorov authorized construction of a rooftop lounge at the practice facility, resplendent with a granite bar and large leather cushioned seats and the Statue of Liberty looming in the distance. The Nets will use the space for draft parties, charity events and team-bonding gatherings, a page straight out of San Antonio's playbook. Yet the true goal is to entice players to stay and train in Brooklyn over the summer. The facility also features a 2,500 square-foot players' lounge with a full kitchen and rotating chefs. There's cold and hot tubs, an underwater treadmill and force plates, designed to measure an athlete's gait, balance and sports performance.
Marks made a few other changes. What was once a generic conference space is now the team's "war room," where the coaches, analytics staff and front office spar with one another over how they can improve their team. Marks had the team's mantra carved into the glass of the war-room window: "A united team driven by high character, competitive and talented people working unselfishly to achieve sustainable excellence." Inside, on the war room's white board, Marks has scribbled, "If you interrupt that means you aren't listening," a fervent belief espoused by Spurs coach Gregg Popovich.
Marks' office isn't particularly ornate, but there is one notable piece of wall art framed above his desk: Prokhorov's open letter pledging humility and patience.
---
WHEN ATKINSON WAS THE ARCHITECT of Linsanity in New York, he prepped Lin for his meteoric ascent by delivering a brutally honest salvo: "You're too selfish."
"We'd be watching film, and he'd put his head down and go," Atkinson says. "I'd show him that, and he'd say, 'I think I can take that guy.' And I'm saying, 'No! Make the right play.'"
While the two often clashed, Lin said, he never doubted Atkinson's interest in making him a better player. As others celebrated Lin's Knicks scoring outbursts, Atkinson was more juiced by the nights Lin dished out 12 assists.
The connection remained strong enough that Lin agreed to a three-year, $36 million contract with Brooklyn last summer. His choice raised more than a few eyebrows. As one All-Star veteran sniffed, "He took the money. Some guys don't care about winning."
Apprised of that comment, Lin merely shrugs.
"I'm used to people saying, 'What are you doing?'" he says.
While management advised everyone they should brace for the grind of a rebuilding year, Lin truly believed the Nets could surprise people.
"I wanted to make it so much better than people anticipated," he says.
Center Brook Lopez, in his ninth season as a Net, also thought the team might surprise people. He says it "feels different" because under his ninth coach, everyone is consistently accountable.
Atkinson imported a practice from his mentor, Mike Budenholzer, who uses film sessions to single out the vets and spare the rookies. If there's a bad defensive rotation, even if rookie Isaiah Whitehead is at fault, someone else will pay.
"The other day Kenny was yelling at Jeremy, 'You should be helping these guys more!'" Foye says. "And Jeremy wasn't even playing."
Sometimes, the mistakes are so egregious Atkinson allows the images to do the talking. He'll add a subtle "WTF" with eight question marks scrolling at the bottom of the screen for emphasis.
But the caustic moments are counterbalanced any number of ways. Atkinson and Marks encouraged Lopez to do what Tim Duncan once did: drop 12 pounds from his 7-foot frame to take some pressure off his knees.
Brooklyn started the year 3-7, but that was before Lin strained his hamstring -- twice -- and missed 44 of the next 45 next games. Brooklyn has lost 11 games by five points or less, but Atkinson says the most gut-wrenching defeats are the ones when the Nets are never in the game.
Asked to identify a promising moment, Lopez brightens as he describes some exquisite ball movement during a stretch in a December game against Philadelphia. Asked if the Nets won that one, his smile fades.
"No," he answers.
---
THE HIGHLIGHT OF THE SEASON was a Nov. 29 double-overtime victory over the LA Clippers, when D-League alum Sean Kilpatrick poured in 31 points after the third quarter. The Nets also dropped 143 points on the New Orleans Pelicans by shooting 57 percent from the floor. Afterwards Alvin Gentry dubbed the Nets "a dangerous team."
"They run their offense as well as anybody in the league," Gentry said. "And they run it so hard. On the nights they're making shots, they're tough."
The Nets lead the league in possessions per game (101.5), according to ESPN Stats & Information, even more than Golden State. Their assists per game (20.8) would be higher if they could only make shots.
"Sometimes the circumstances have been difficult, I'm not going to lie about that," Foye says. "But this is the best group I've ever been with."
Marks' old team, the Spurs, decimated Brooklyn by 29 points on Dec. 10. The loss was so lopsided that afterward, Buford actually told his protégé Marks, "Sorry."
In the locker room after the game, and to the delight of his coach, Booker teed off on his teammates in an epic rant about "hero ball."
"You look at the way the Spurs play, and it just got to me," Booker says. "The way they move the ball is incredible. And the way we didn't move the ball was selfish. So I called our team out, including myself. I told them, 'We have to find a way to be more like them.'"
That is a tall order when you rank 29th in the league in turnovers (16.7 a game) and shoot 34.2 percent from the 3-point line.
---
IF YOU CAN'T WIN, you need to lose with dignity and professionalism, which is why Atkinson was thrilled when Brooklyn signed Luis Scola. At 36, Scola was past his prime but among the NBA's most admired professionals, lauded for a work ethic, basketball intelligence and character that, Atkinson says, made him worth every penny of his $5 million salary, "even if he doesn't play a minute."
Scola was surprised to find, however, that many nights that's precisely what happened. "I need to find out what to do with it and remain positive," Scola said after yet another DNP-CD. "It's been challenging. I thought it was going to be fun here."
Following the All-Star break, Scola requested his release, and the Nets made a difficult decision to grant it.
If the living, breathing symbol of their positive, united culture can't hang in, how will the young players, who need to be part of the future?
---
IN MINNESOTA, THE NETS ALMOST notched a rare road win, but it all went awry when Brooklyn inexplicably began to double Karl-Anthony Towns in the post.
"I was shocked," Atkinson says. "We never double."
Two days later, in Miami, that disappointment has been "flushed" -- "that's what we say when we just need to move on from a game," Marks explains -- and the Nets assemble at American Airlines Arena for their pregame shootaround.
The players implement their "quick post" in lively fashion. On each possession, Atkinson barks, "Contest!!" When rookie Caris LeVert stripps assistant coach (and ex-NBA point guard) Jacque Vaughn, the players cheerfully hurl insults.
Atkinson is talking about toughness. He grabs the ball, plows full tilt into the key and collides with Foye, who absorbs the charge from his coach. The players erupt with cheers. When Quincy Acy -- plucked from the D-League on Jan. 10 -- sinks a half-court bomb to end the workout, his new teammates mob him as if they had won the NBA title.
That night, on the same American Airlines floor, Brooklyn jumps the Heat by contesting and shooting and taking charges. They build a 30-19 advantage, but then a Booker jumper falls short, followed by an errant Bojan Bogdanovic 20-footer, and then suddenly nobody can make a shot.
Miami counters with a 17-0 run, and the lead evaporates. Brooklyn shoots 15.4 percent from the 3-point line (4-of-26), and they lose.
---
Most nights after a game, Atkinson hurries home to kiss his two young children goodnight. His wife, Laura, has been a godsend. She waits to have dinner with him and patiently lets him unburden himself of the disappointments of the day, knowing better than to try to solve the myriad issues her husband endures.
When Laura finally turns in, Atkinson is left alone to ponder another day's work. He distracts himself by turning on NBA League Pass, but it always comes back to what he could do better. It's not the minutiae of how to defend the pick and roll, it's the pressure to please the surprisingly upbeat fans (Brooklyn averages 15,333 a game), or Marks, or Prokhorov, or the players, always the players, who have been taught their entire lives to be results driven.
Atkinson calls Marks "the beacon" because of his enduring positive outlook. The coach and the GM are both ending the first year of their three-year contracts. In 2014, the Nets lost $144 million on basketball-related business.
"We're not satisfied with 'we almost did it,'" Marks explains, "but sometimes it's all we have."
"And that's when you get that sinking feeling again, because you didn't win the game," Atkinson says. "It's kind of a melancholy feeling you carry around."
Sometimes Atkinson wonders if he should drag his exercise bike onto the court during practice, because most of his creative ideas flow from it. The point of this year, and this job, is to build the habits that will be the foundation of the team's next greatness. The unanswerable question is how long Marks and Atkinson have to complete the foundation, then start building the walls and roof, which is mostly a question of unearthing, or developing, players other teams missed.
To that end, the Nets believe the rookie LeVert is a keeper, perhaps shooter Joe Harris as well, and Whitehead and Spencer Dinwiddie have shown flashes.
Whether the team is progressing quickly enough depends on Prokhorov's judgment, which was once famously hard to assess. When Pierce was a Net, he called the owner "The Apparition," because it was impossible to see him. Working in the current regime's favor: Marks has a weekly call with Prokhorov; instead of calling the owner "The Apparition," Atkinson calls him "Mike."
Prokhorov declines a phone interview with ESPN, saying his English is not good. So he emails: "There is no shortcut to a championship." Initially, his approach was to run the Nets "in the same way I've approached my business, which, by the way, has brought considerable success. That is to say, throw everything you've got at a challenge, and you're bound to be the victor." Yet Prokhorov acknowledges Brooklyn's current situation is different, and that winning "requires the patience to build, step by step."
The Process in Philadelphia cost former Sixers general manager Sam Hinkie his job when owner Joshua Harris eventually lost his nerve and capitulated to outside pressures. Will Prokhorov exhibit the necessary patience to endure the lean years?
"I try to be zen about it," Prokhorov writes. "It's a process, as they say."
A process that isn't great for sleep. By the time Atkinson falls into bed, it is after 1 o'clock in the morning.
Three and a half hours later, his alarm rattles him awake.
Time to get back on the bike.