With eight assists against the Phoenix Suns on Friday, Russell Westbrook clinched the holy trinity of NBA stats: averaging a triple-double for a season. It's been done only once before in NBA history, and that was before it even had a name -- 55 years ago by Oscar Robertson in the 1961-62 season. Since then, a few players gave reason to believe it was doable again -- Magic Johnson, Jason Kidd, LeBron James -- but the 6-foot-3 Westbrook is the one who broke through.
Here's a look at how Westbrook's season stacks up in the NBA's historical context.
RUSS & OSCAR: THE EXCLUSIVE CLUB
When the Thunder's season started, the front office, coaching staff, trainers and medical team all got together and developed a plan that coach Billy Donovan would rigidly follow throughout the season. Knowing Westbrook -- and knowing the responsibility he would eagerly shoulder -- they were going to monitor his workload and diligently manage his minutes. He played more than 40 minutes in a game only five times -- all in overtime contests -- and his season-high was 45 minutes. In putting up his 30-10-10 averages, he did it in nearly 10 fewer minutes per game and 25 fewer possessions per game than Robertson. Increase Westbrook's workload to the 44.3 minutes per game Robertson played in 1961-62, and Westbrook would be at 39.9 points, 14.6 rebounds and 13.3 assists per game.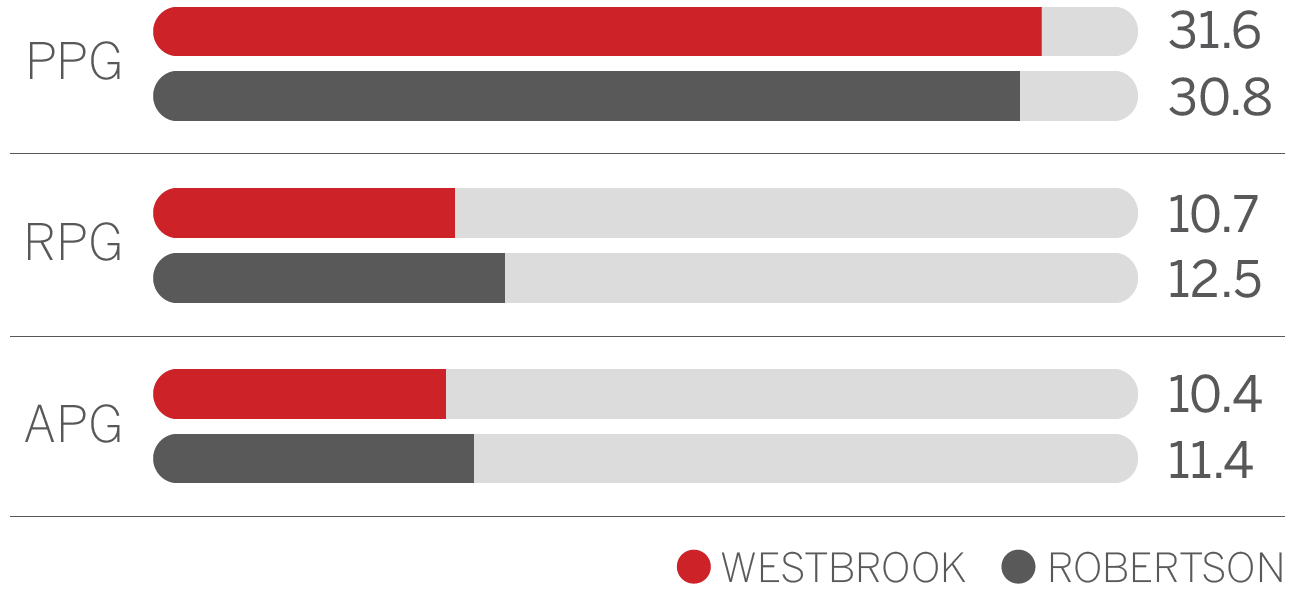 ---
TWO AT THE TOP: MOST TRIPLE-DOUBLES IN A SEASON
Averaging a triple-double or catching Robertson's single-season mark: Which is a more impressive feat? Each seemed untouchable before the season started, but as the stats kept piling up, it became clear that Westbrook was on an unstoppable path to both marks.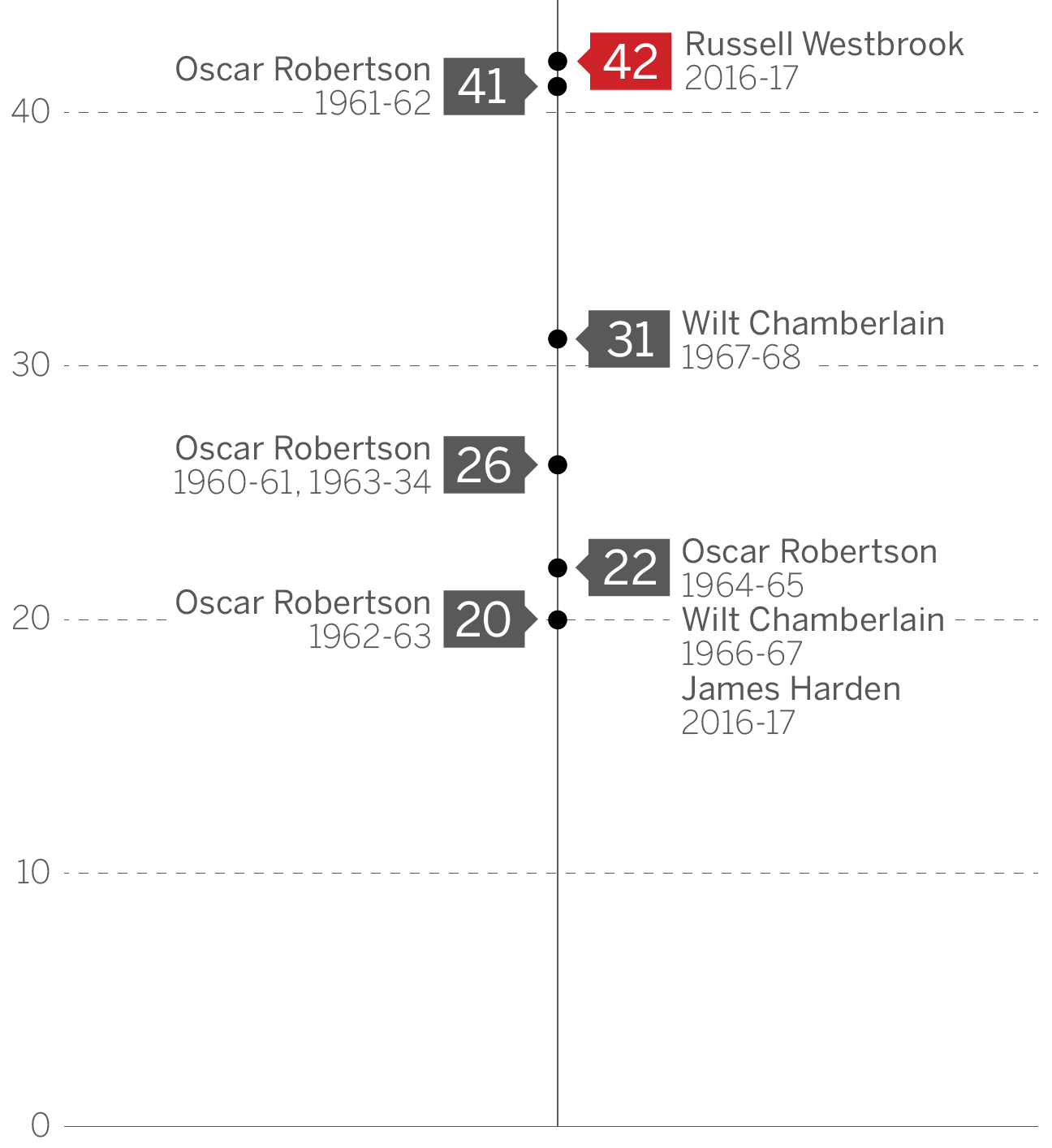 ---
WESTBROOK CLIMBS THE LADDER
Early in the season, Westbrook caught LeBron James on the career list at 44 triple-doubles, and he did it in 395 fewer career games. Westbrook now has 24 more triple-doubles than James. Most wondered at the time whether Westbrook could realistically catch Larry Bird at 59. Russ passed Bird in January. It was downright nonsensical to think he could get to Wilt Chamberlain at 78, fourth all-time. But Westbrook recorded his 79th career triple-double Sunday night, his 42nd of this season.
Here's a look at where Westbrook checks in on the all-time list, and how his triple-double frequency measures up to the greats. Hint: Both are impressive.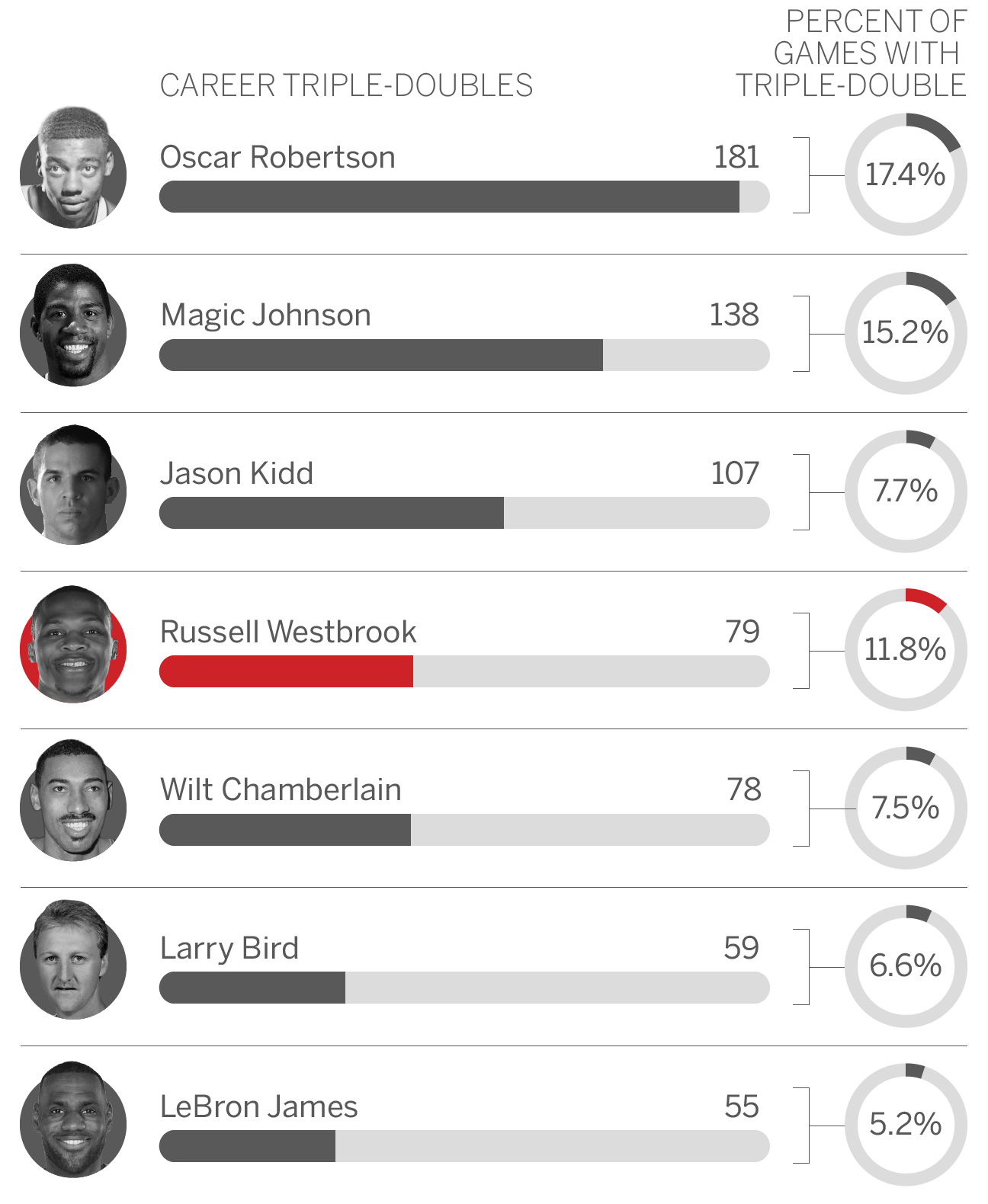 ---
A TRIPLE-DOUBLE REVOLUTION
There has been a remarkable triple-double boom -- the previous NBA record of 78 leaguewide in a single season has been shattered -- and there doesn't seem to be a great explanation as to why. Some point to better offenses, more spacing or friendlier rules. But in reality, maybe the easiest way to understand it is that one transcendent player is doing transcendent things: Of the NBA's 117 this season, 35.9 percent came from Westbrook.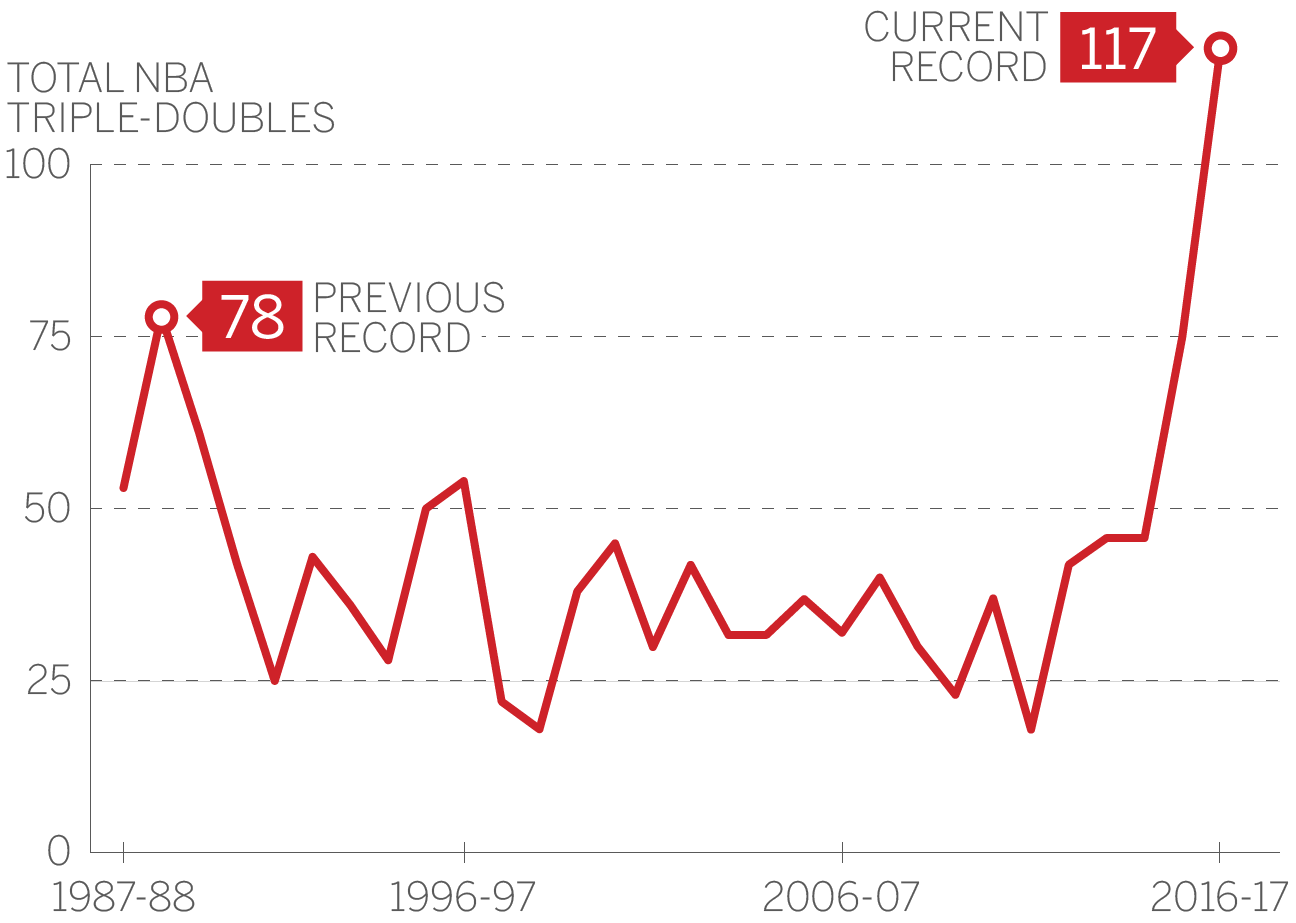 ---
TRIPLE-DOUBLES = WINS FOR OKC
Westbrook has been asked a number of times why he thinks the Thunder typically win when he hits the triple-double bar. The truth might be in the assists -- when Westbrook records 10 dimes, the Thunder are 36-12. When he shoots 25 or more times, they're 17-18. The Thunder are often at their best when Westbrook lets his distribution lead and his scoring follow.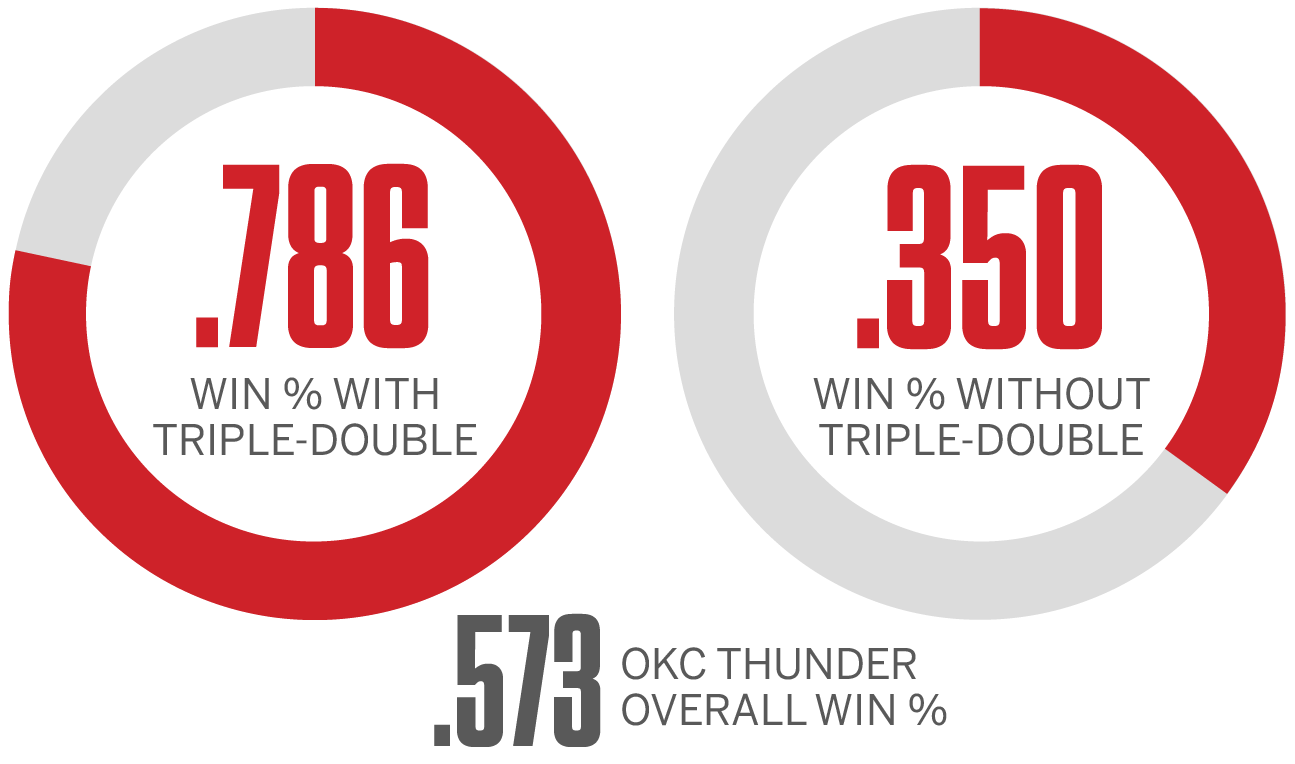 ---
(ALMOST) NO TEAM WAS SAFE
It's unknown whether Westbrook had a list on his refrigerator at home and crossed off victims as he went, but few teams were safe this season. The two teams Westbrook didn't get -- the Blazers and Bulls -- were spared by only a handful of rebounds and assists. Westbrook hasn't posted a triple-double against only two teams in his career: the Bulls and, of course, the Thunder, who hope he never does. The numbers in the chart are for this season:

---
THE EXPANSION OF THE TRIPLE-DOUBLE!
Westbrook, Harden and James have combined for 76 triple-doubles. The rest of the NBA: 39. But even with the lopsided distribution, the NBA saw an overall revolution -- and a diversity in where they were coming from and how they were achieved.
Overall, 23 players have recorded triple-doubles this season. Nikola Jokic has had six, showcasing his flashy passing ability as a 6-foot-11 big man. Draymond Green had the first triple-double without 10 points, substituting 10 steals instead. Giannis Antetokounmpo used his length, athleticism and versatility to pick up two. Westbrook had three 50-point triple-doubles and Harden had two, something that hadn't been done since Kareem Abdul-Jabbar in the 1970s. Not all triple-doubles, or triple-doublers, are created equal, and this season showcased the variety.

All stats through April 12. Stats courtesy of ESPN Stats & Information and Elias Sports Bureau.