This story appears in ESPN The Magazine's May 8th NBA Playoffs Issue. Subscribe today!
In Gregg Popovich's 20 full seasons as head coach, his Spurs -- efficient, consistent and cryptic in their ways -- have never missed the playoffs. Like, not once. What's the secret to their stunning success? Simple: being better than everyone at everything.

Two Decades and Counting
No other team in the four major sports comes close to matching the Spurs' 20-year active playoff run. San Antonio's consistency stems from its innovation: Whether it's corner 3s or DNP-rests, analytics or a commitment to international players -- the Spurs did it first, which means they stay ahead of the rest.
ACTIVE PLAYOFF STREAKS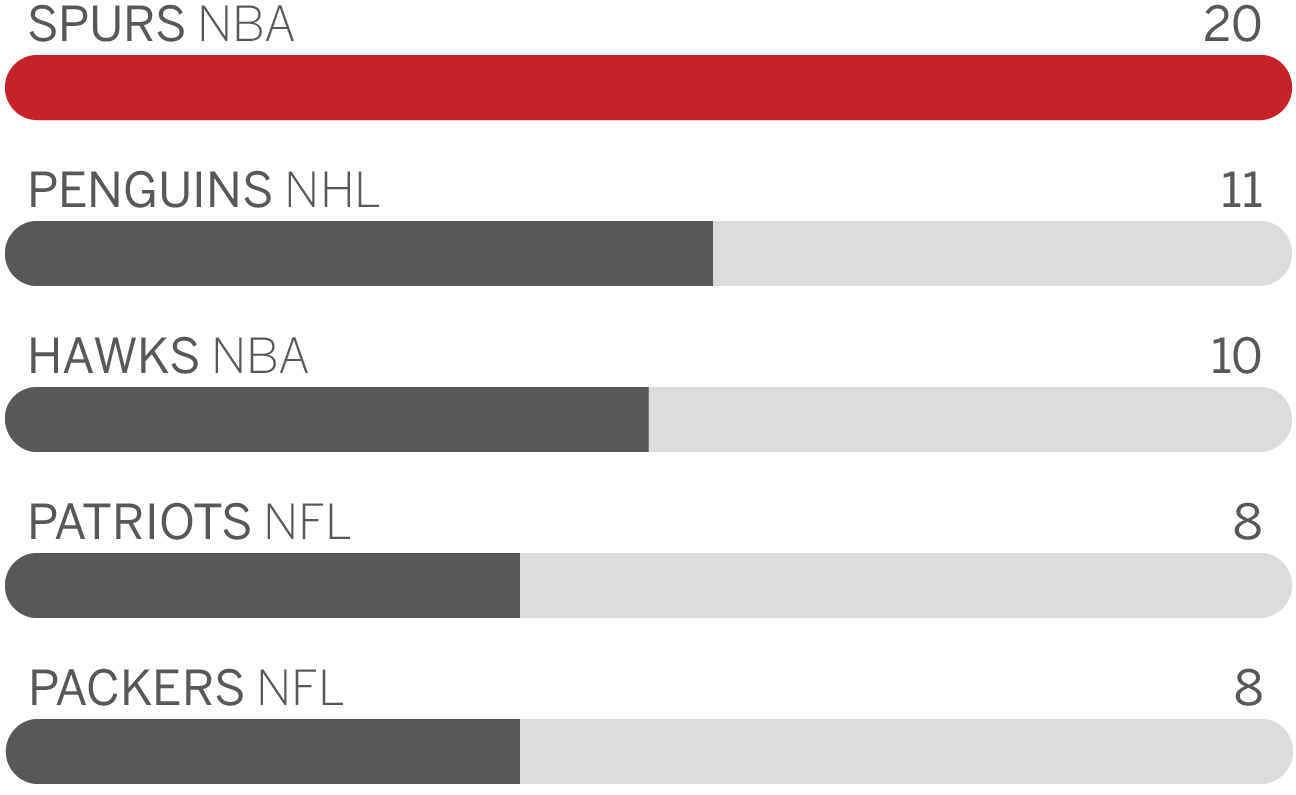 Offense
When the NBA zigs, the Spurs zag. Pop's team adopted the corner 3, basketball's most efficient shot, long before those Splash Brothers Warriors did. When everyone else caught on -- and started guarding the perimeter -- the Spurs turned to the open midrange J. Today? They make the most of every possession.
CORNER 3 ATTEMPTS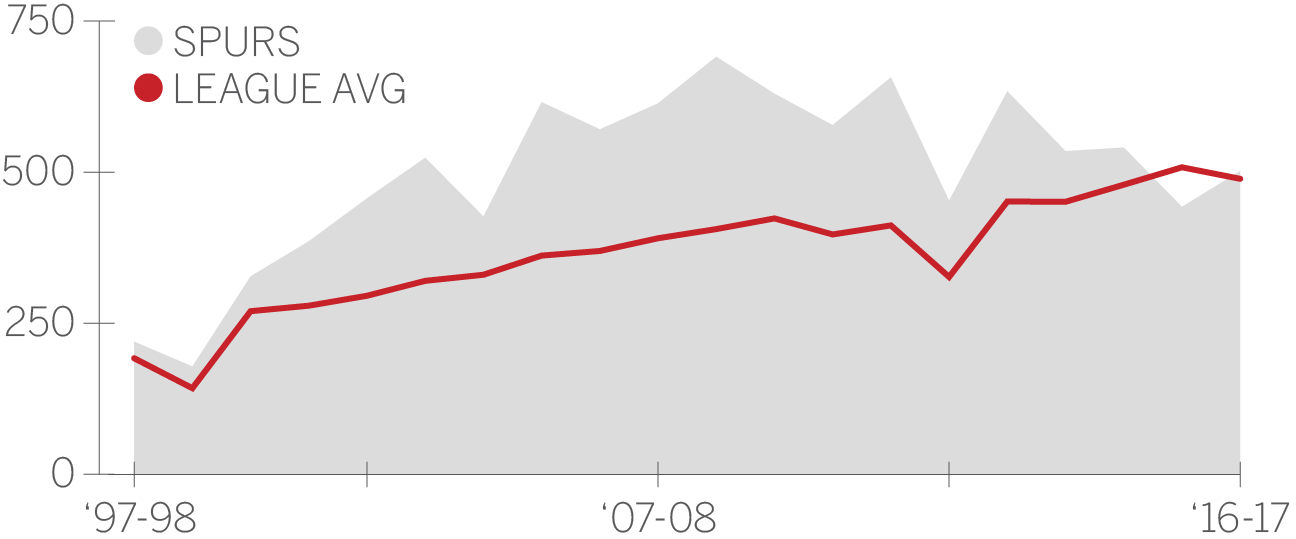 ---
MIDRANGE SHOT ATTEMPTS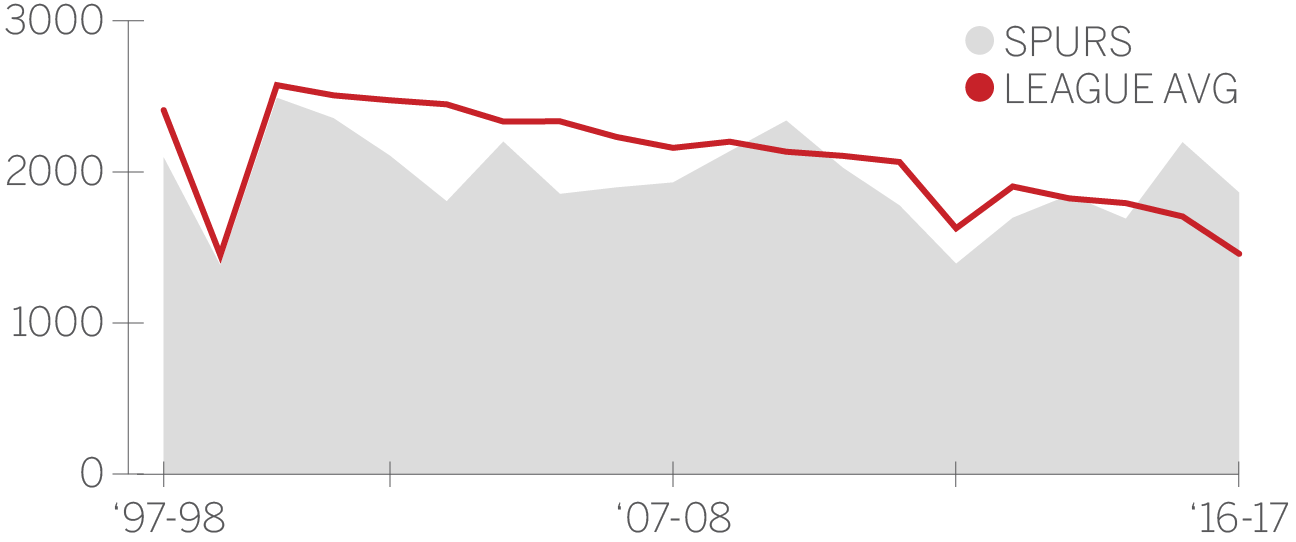 ---
EFFECTIVE FIELD GOAL PERCENTAGE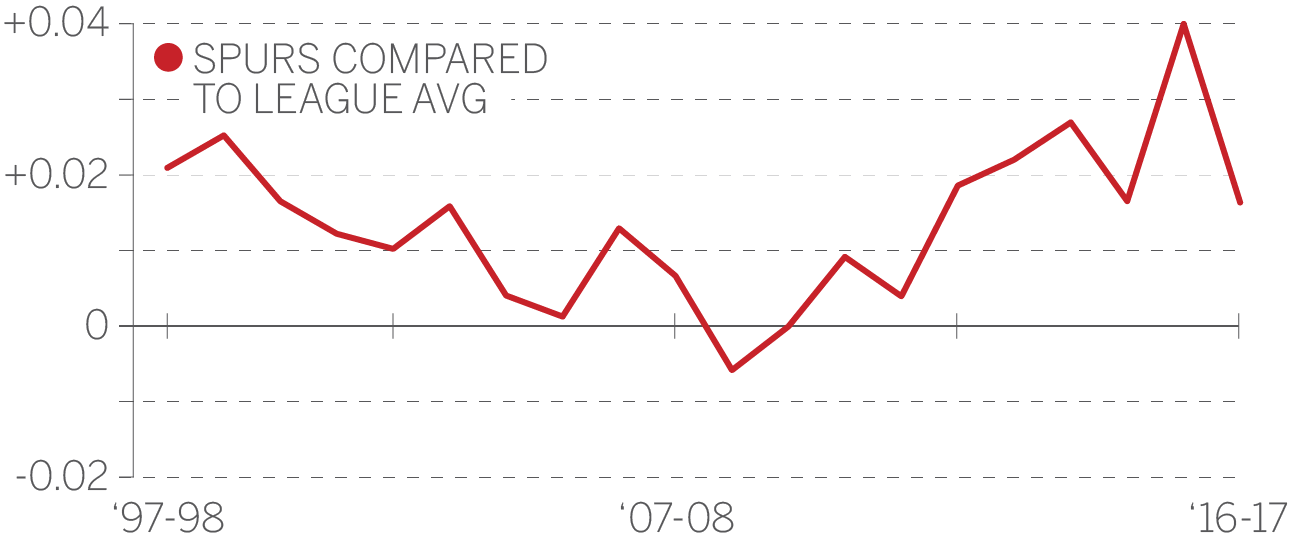 Defense
If any team believes that defense wins championships, it's San Antonio; the Spurs have shut down opponents decade after decade. Even without Tim Duncan, who ranks third all time in defensive rating, they still took the top spot in defensive rating this season, ahead of the Warriors and Jazz.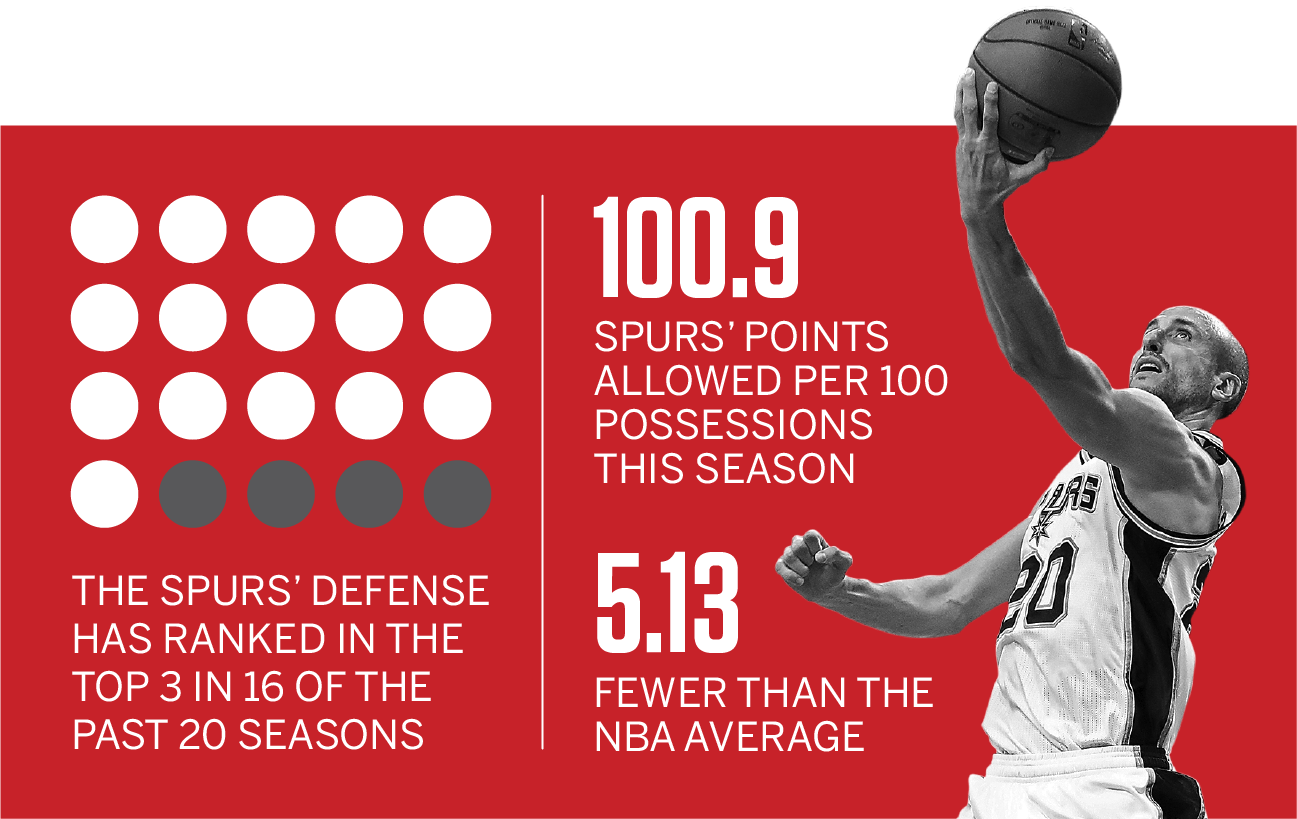 The Rise of Kawhi Leonard
No Duncan? No problem. Since the Spurs last won the championship in 2013-14, Leonard has evolved from emerging role player to indispensable MVP candidate. His impact on the team -- as measured by impact percentage -- has nearly doubled, going from ninth to second. In 2016-17, only LeBron James and Jimmy Butler did more at Leonard's position.
IMPACT PERCENTAGE*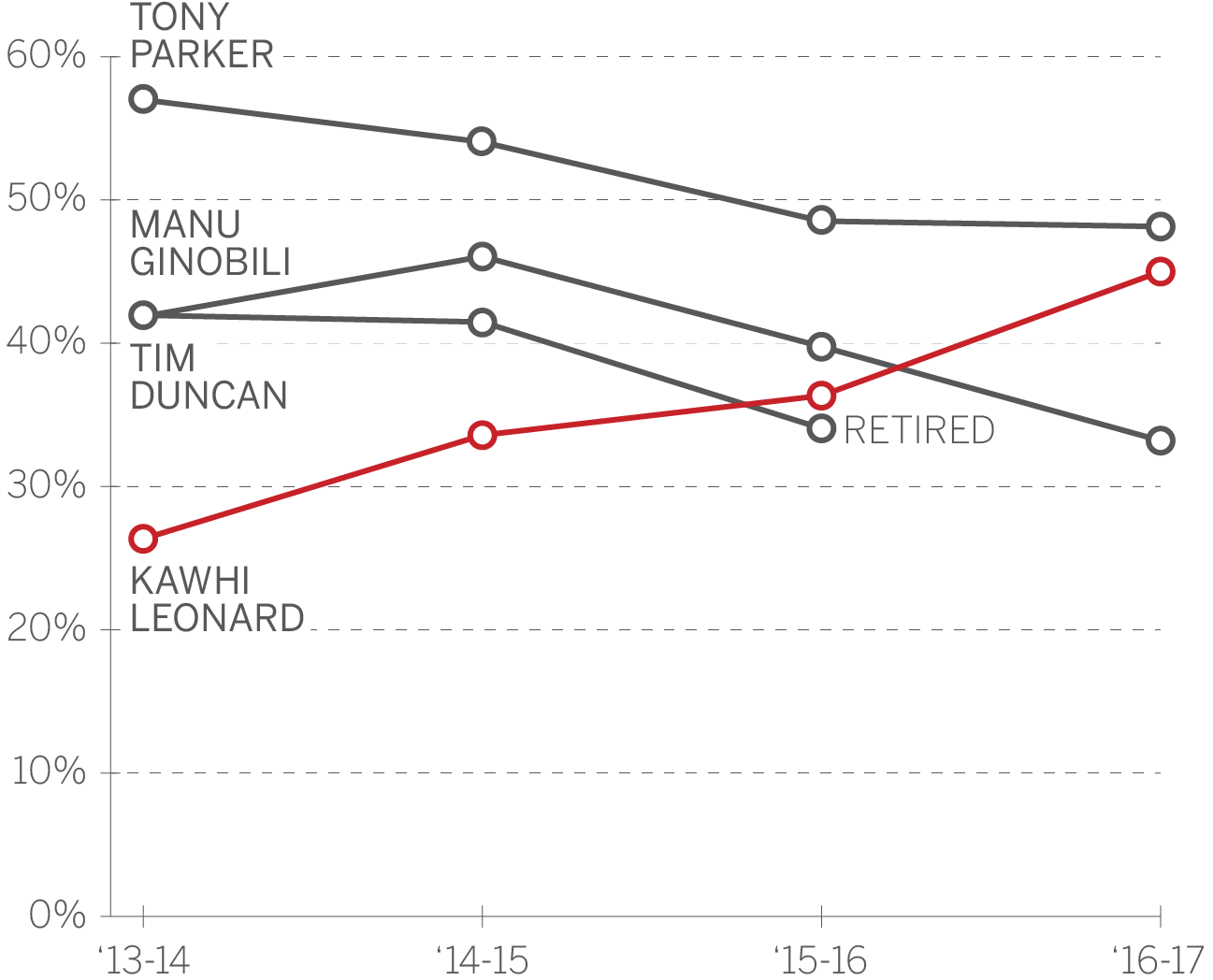 *Impact percentage takes all possessions in which a player ended the possession (FGA, FTA or turnover) or impacted the possession (had a drive, received a ball screen, set a ball screen, isolated or posted up), then divides that number by the total number of possessions in which the player was on the floor. Data courtesy STATS's SportVU, for regular season.
---
TOP 5 IN THE IMPACT PERCENTAGE AMONG NBA SMALL FORWARDS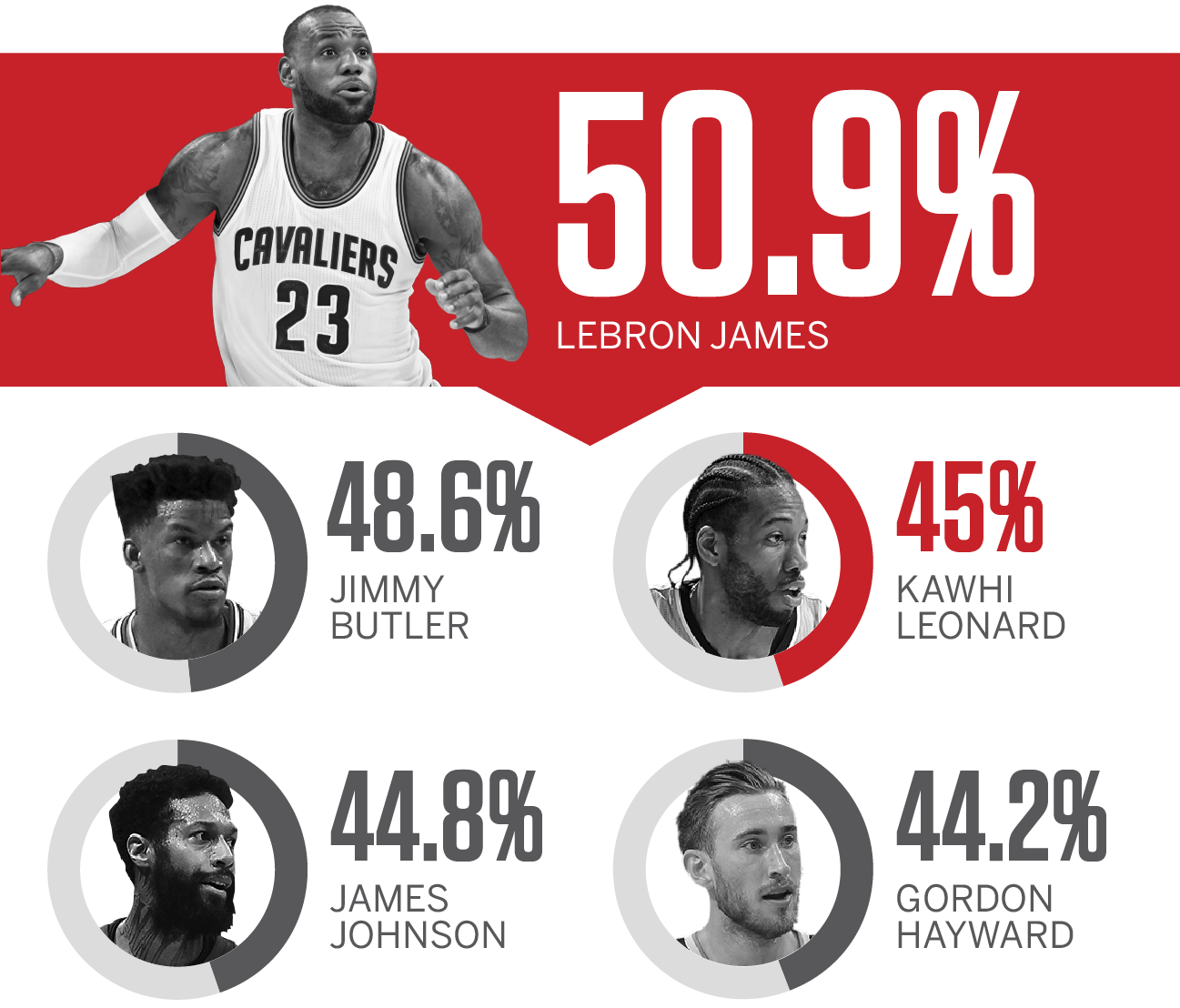 Future Forecast
Bad news for the rest of the NBA: there's no end in sight to the Spurs' dominance.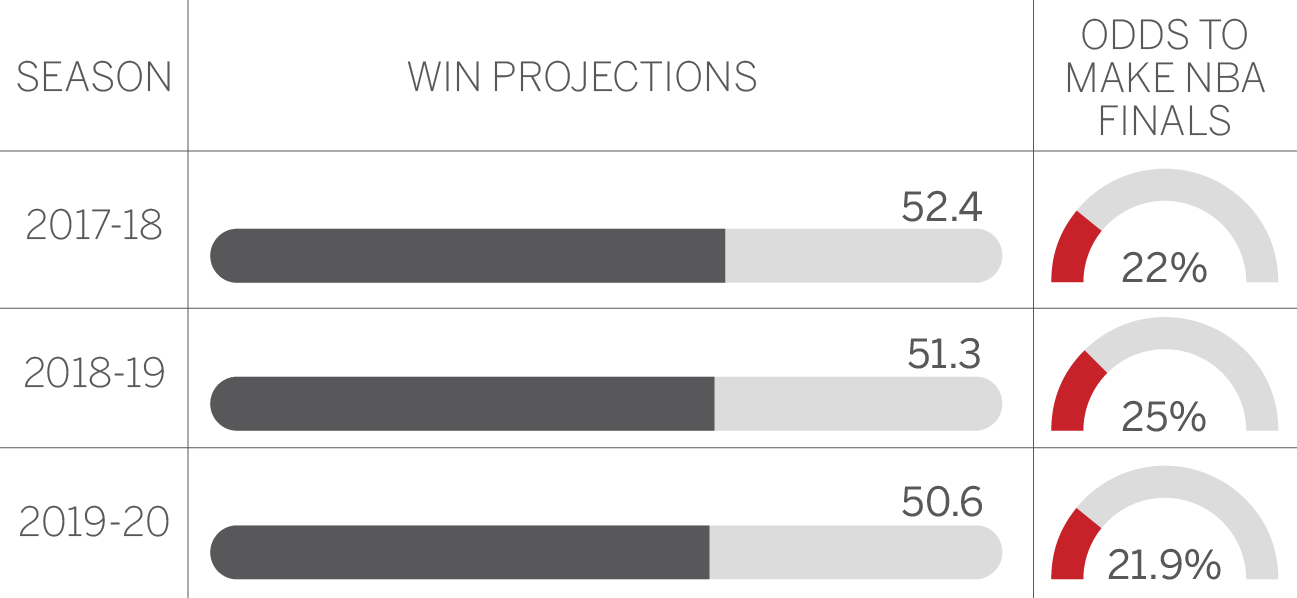 Additional reporting by Kevin Arnovitz. Data courtesy ESPN Stats & Information. The 1998-99 and 2001-02 seasons were lockout-shortened.