Editor's note: This story was originally published on Aug. 16 and has been updated following completion of the Kyrie Irving trade.
A mere four years after hitting the reset button, the Celtics are coming off a season in which they won an East-best 53 games and, following another extreme roster makeover this summer, the Celtics believe they have shuffled even closer to legitimate title contention.
How did Boston turn things around so quickly?
Boston's president of basketball operations Danny Ainge and his front-office staff, including assistant general manager Mike Zarren, began with an initial roster teardown while targeting undervalued talent that formed the Celtics' chip-on-their-shoulder core. The team also feverishly stockpiled future draft picks.
They hit a couple of home runs along the way -- the 2013 blockbuster with the Brooklyn Nets in particular, but also snagging Isaiah Thomas virtually for free thanks to the aftershocks of the Nets deal. Stevens squeezed every drop of talent out of the players that passed through -- and there have been many -- and the rest of the league, including some of the biggest free agents of the past two summers, took notice of Boston's expedited climb and rushed to join the voyage.
Despite three playoff appearances in Stevens' first four seasons, Ainge remained unsatisfied and brought in 11 new faces this summer. That group included Kyrie Irving, the prize of a brazen late-August swap, and the Celtics believe he can help them overtake the Cleveland Cavaliers team he helped win a title in 2016.
In total, the Celtics made more than 70 major moves over the past four years, including 22 trades that helped bring back 16 future draft picks. A look at how Boston fast-forwarded through the rebuilding process:
Jump to: 2013-14 | 2014-15 | 2015-16 | 2016-17 | 2017-18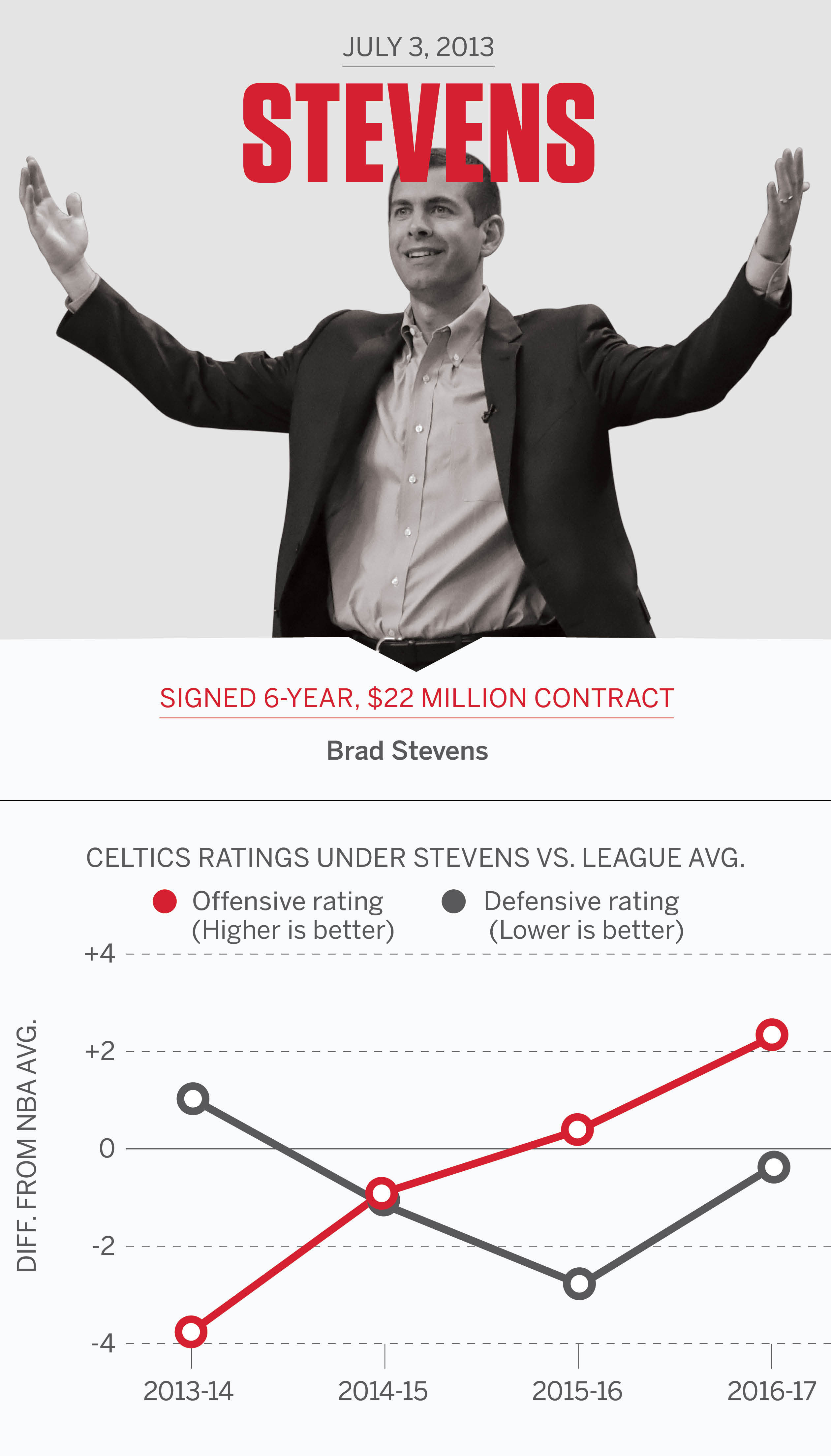 There's a rather hilarious photo from when the Celtics introduced Keith Bogans, MarShon Brooks and Kris Humphries -- the primary player haul from the Nets blockbuster -- and only Stevens, two weeks into the job, is smiling. Bogans, who earned an absurd $5 million windfall in order for Boston to maximize a trade exception, and Brooks look like hostages, while Humphries and Ainge seem leery at best.
Boston won just 25 games that season, but Stevens offered a glimpse into his ability to maximize talent, turning fringe NBA player Jordan Crawford into an Eastern Conference Player of the Week in December. Stevens' first season featured a mere two in-season trades, but Boston's roster overhaul was just warming up.
Here's all you need to know: With this summer's trade of Avery Bradley to the Detroit Pistons, not a single player from that 2013-14 season remains on Boston's current roster.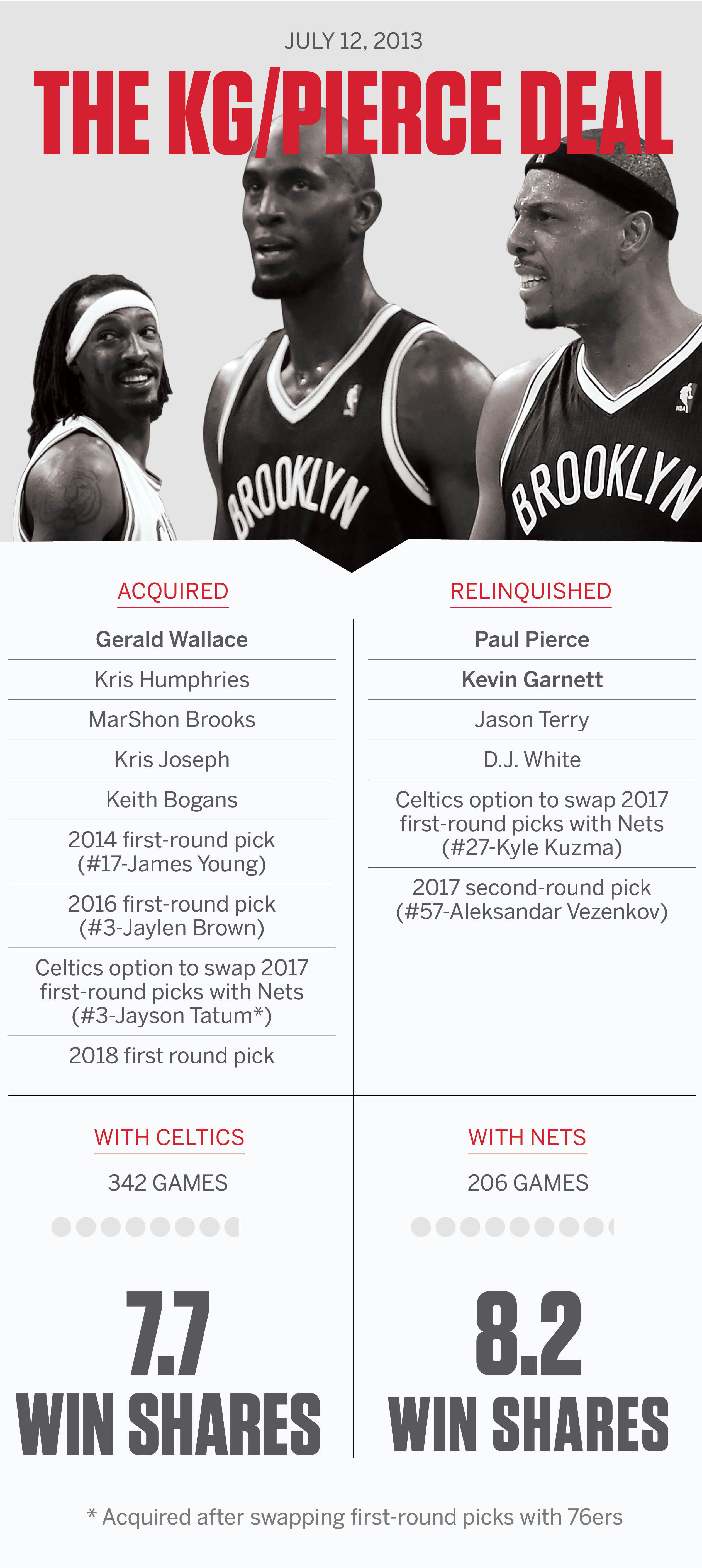 It's easy to forget now, but Celtics fans weren't initially thrilled with Boston's decision to trade away Pierce and Garnett. The player haul was underwhelming and the future draft picks received didn't seem all that glitzy considering Brooklyn was perceived as an immediate title contender after adding Boston's two stars.
Unfortunately for the Nets, they almost immediately imploded. While James Young didn't pan out from the 2014 draft, there are high hopes that the Celtics have two pieces of their future core in Jaylen Brown and Jayson Tatum.
The Celtics also collected the Nets' 2018 first-round pick -- a selection now headed to Cleveland in the Irving deal -- to wrap up one of the most lopsided deals in recent NBA history.
---
Other notable transactions
Aug. 15, 2013: traded Fab Melo to Memphis for Donte Greene
Jan. 7, 2014: traded Courtney Lee to Memphis for Jerryd Bayless and Ryan Gomes
Jan. 15, 2014: traded Crawford and Brooks as part of three-way trade with Miami and Golden State in exchange for Joel Anthony and three future second-round picks (Jordan Mickey, Deyonta Davis, Ben Bentil)
June 26, 2014: drafted Marcus Smart (sixth) and Young (17th)
Season totals
Moves: 14 | Trades: 4 | Future picks added: 3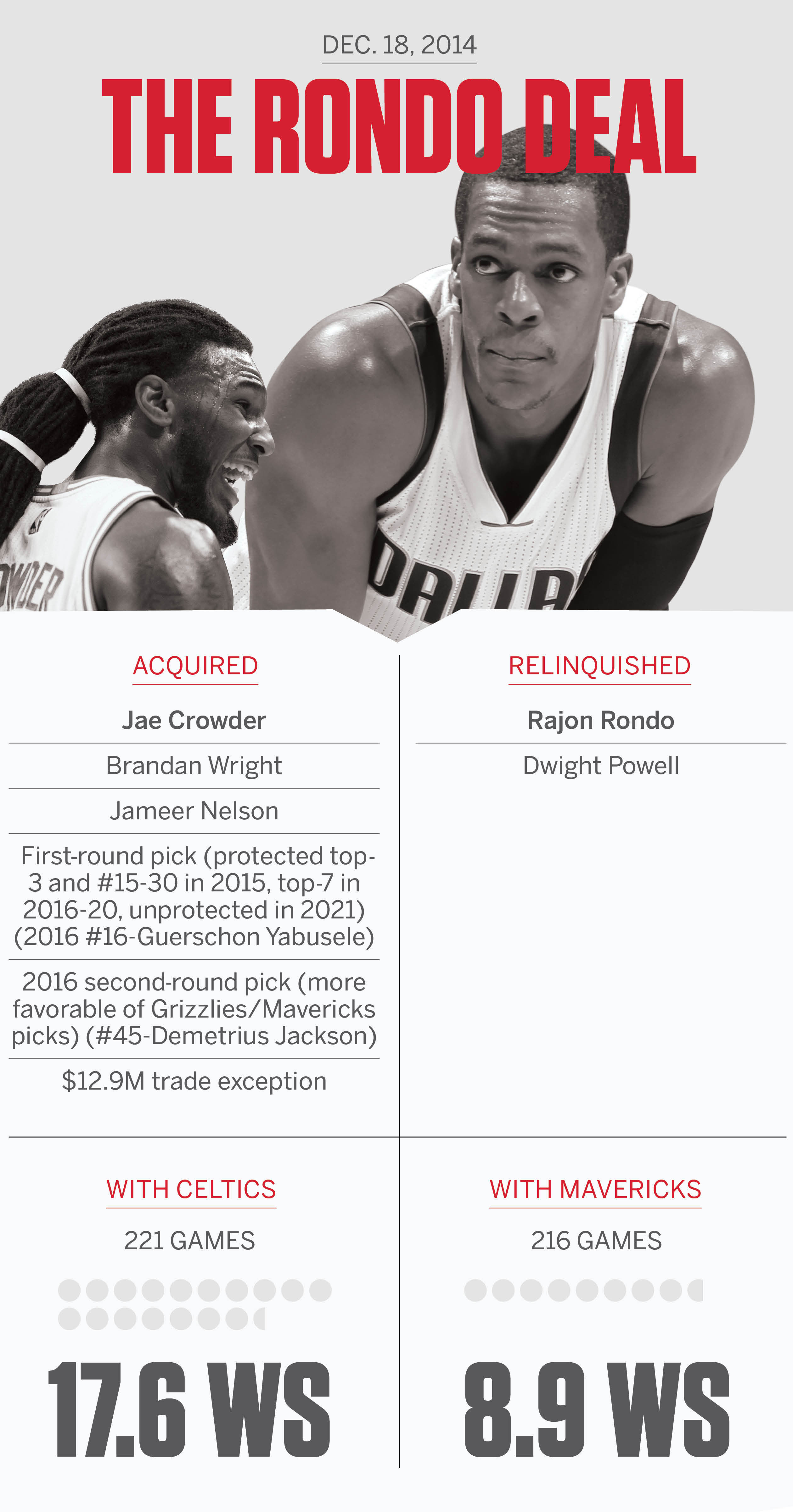 The Nets blockbuster is most often referenced as Ainge's best move, but the 2014-15 season was a master class in roster reshaping.
Less than a year after naming Rondo the 15th team captain in Celtics history, Ainge made a surprising December deal that moved the guard to Dallas for a package of picks and players. Crowder emerged as the gem of the swap, blossoming into a two-way force with a bigger role in Boston. Rondo's time in Dallas couldn't have gone worse, and the Mavericks happily let him walk away after the season.
Crowder later re-signed with Boston on a team-friendly five-year, $35 million contract that makes him one of the best values in the NBA. Boston's 2017-18 roster will feature two rookies that were culled from this deal (or its offshoots) in Guerschon Yabusele (16th in 2016) and Semi Ojeleye (37th in 2017).
In all, Ainge made 11 trades in a seven-month span, including one stretch in January when the Celtics completed four swaps in a week. The Celtics carried a staggering 41 different players during the regular season but emerged from all the wheeling and dealing with Crowder and another building block: Isaiah Thomas.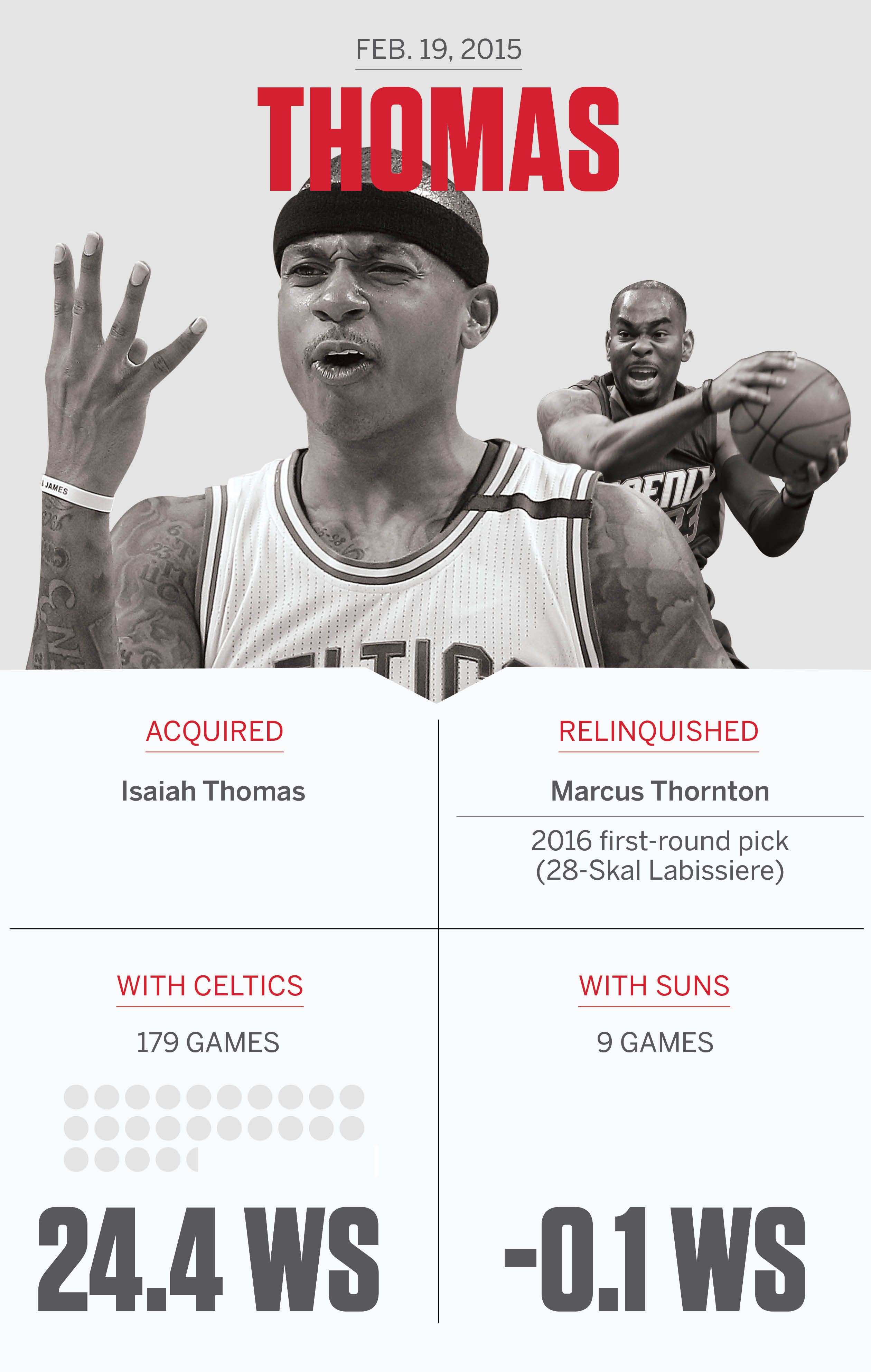 Stevens has often noted how, just minutes before the 2015 trade deadline, he didn't think Boston was making a move. But the Phoenix Suns re-engaged the Celtics on their interest in Thomas, and a deal came together quickly.
Suns GM Ryan McDonough later admitted he wished he had a mulligan, as the Celtics gave up only Cleveland's first-round pick -- acquired in July 2014 for the Pierce trade exception -- and Thornton to land Thomas.
In Boston, Thomas earned two All-Star appearances and finished fifth in MVP voting last season while earning his first All-NBA selection. Despite emerging as the clear face of the franchise, the Celtics boldly made Thomas the centerpiece of a jaw-dropping deal that secured Irving in late August.
---
Other notable transactions
July 10, 2014: traded a conditional 2015 second-round pick (not exercised) to Cleveland for Tyler Zeller, Thornton and a 2016 first-round pick (Skal Labissiere, 28th)
July 15, 2014: re-signed Bradley (four years, $32 million)
July 19, 2014: traded Humphries to the Washington Wizards for a conditional 2015 second-round pick (not exercised)
Sept. 25, 2014: traded Bogans and two conditional future second-round picks (not exercised) to Cleveland for Dwight Powell, Erik Murphy, Malcolm Thomas, John Lucas III, a 2016 second-round pick (Abdel Nader) and a 2017 second-round pick (Kadeem Allen)
Sept. 29, 2014: signed Evan Turner (two years, $6.7 million)
Jan. 9, 2015: traded Brandan Wright to Phoenix for two future second-round picks (Rade Zagorac, Ojeleye)
Jan. 12, 2015: traded Jeff Green as part of three-way deal with Memphis and New Orleans in exchange for Tayshaun Prince, Austin Rivers, Quincy Pondexter and a future first-round draft pick
Jan. 15, 2015: traded Austin Rivers as part of three-way deal with LA Clippers and Phoenix in exchange for Chris Douglas-Roberts, Shavlik Randolph and a 2017 second-round pick (Jabari Bird)
Feb. 19, 2015: traded Prince to Detroit for Jonas Jerebko and Gigi Datome
June 25, 2015: drafted Terry Rozier (16th), R.J. Hunter (28th), Jordan Mickey (33rd) and Thornton (45th)
Season totals
Moves: 25 | Trades: 11 | Future picks added: 8


With Stevens craving more roster continuity, Boston's moves slowed, including a quiet trade deadline in February 2016. The Celtics won 48 games, but a mind-numbing four-way tiebreaker forced them to open the playoffs on the road against the Atlanta Hawks. The fifth-seeded Celtics were eliminated in six games but made enough of an impression on Hawks big man Horford that he signed with the team as a free agent two months later.
Notable transactions
July 9, 2015: signed Amir Johnson (two years, $24 million)
July 9, 2015: signed Jonas Jerebko (two years, $10 million)
July 27, 2015: traded Gerald Wallace and Chris Babb to Golden State for David Lee
July 27, 2015: signed Jae Crowder (five years, $35 million)
June 23, 2016: drafted Brown (third), Yabusele (16th), Ante Zizic (23rd), Demetrius Jackson (45th), Bentil (51st) and Nader (58th)
June 23, 2016: traded draft rights to Deyonta Davis and Rade Zagorac to Memphis for a future first-round pick
Season totals
Moves: 18 | Trades: 4 | Future picks added: 3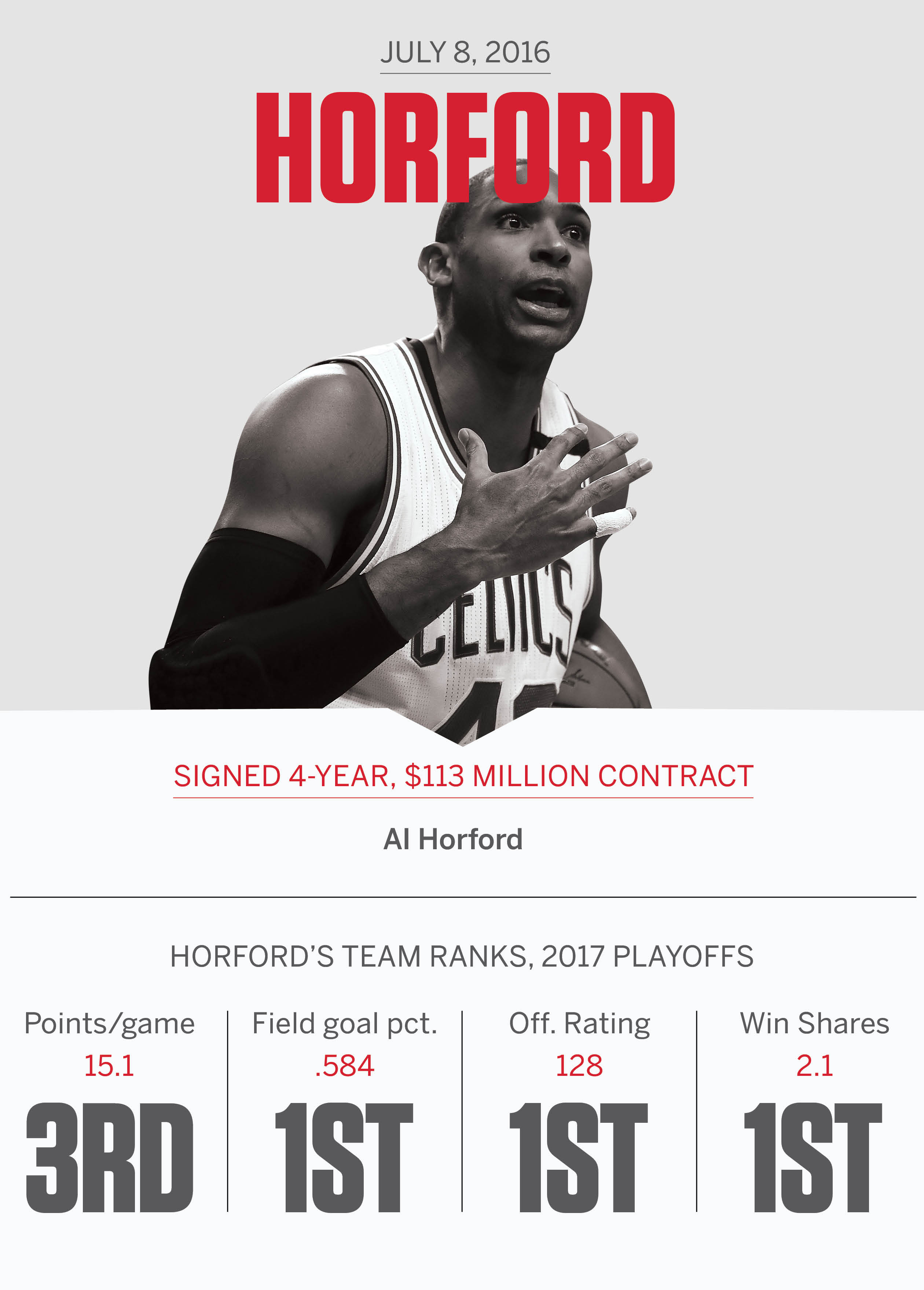 The Celtics went nearly two decades without honest-to-goodness cap space but entered the summer of 2016 with room for two max contracts.
Ainge swung for the fences, luring Horford away from the Hawks and making Kevin Durant think hard about Boston's situation before electing to sign with Golden State. The Celtics utilized three first-round picks in June's draft, turning Brooklyn's No. 3 pick into Brown then drafting Yabusele (16th) and Zizic (23rd) before stashing them overseas for the year.
The Celtics again limited their trade activity and were rewarded by more growth from their core. Thomas led the East in scoring and Boston won an East-best 53 games and landed the top seed before bowing to the Cavaliers in the East finals when Thomas was forced out after just six quarters because of a nagging hip injury.
---
Other notable transactions
July 27, 2016: signed Gerald Green (one year, $1.3 million)
July 27, 2016: signed Zeller (two years, $16 million)
June 19, 2017: traded 2017 first-round pick (Markelle Fultz) for a 2017 first-round pick (Tatum) and a future first-round pick
June 22, 2017: drafted Tatum (third), Ojeleye (37th), Allen (53rd) and Bird (56th)
Season totals
Moves: 11 | Trades: 1 | Future picks added: 2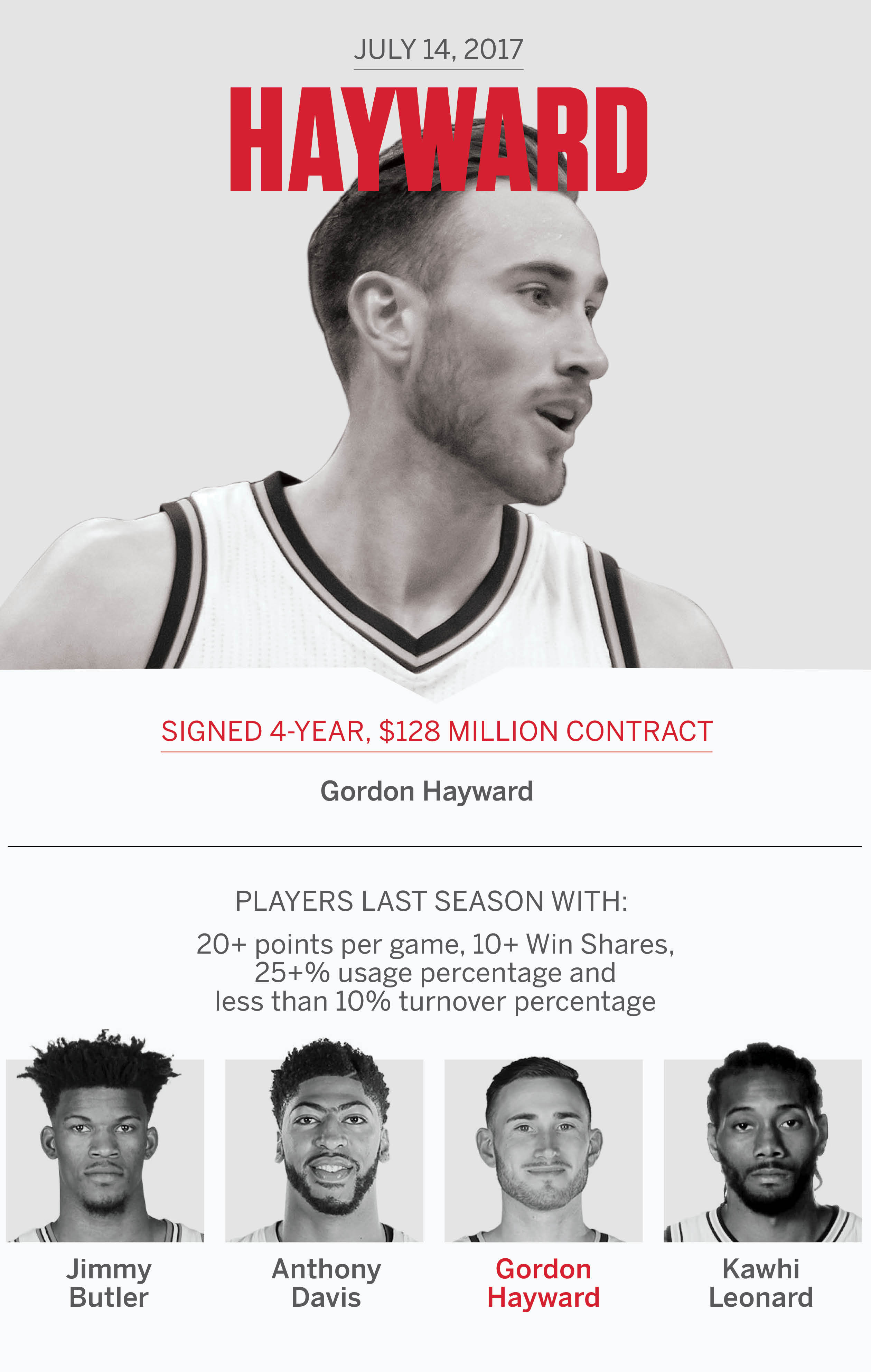 The Celtics, the East's No. 1 seed last season, entered the summer armed with the No. 1 pick thanks to a fortuitous option to swap picks with the Nets (the KG/Pierce blockbuster never quite stopped giving).
Boston could have been content to add a prized top pick and run it back with many of the same faces. Instead, Ainge dealt the No. 1 pick to the Philadelphia 76ers for the No. 3 pick and what might be another lottery pick in one of the next two drafts. Boston selected Jayson Tatum, who displayed an NBA-ready offensive game in summer league, and signed the best available free agent in Gordon Hayward.
Hayward inking a max deal meant dealing Avery Bradley, the longest-tenured player on the team, to the Pistons, and Boston overhauled the entire back end of its roster. Asked in the aftermath of that tinkering if he was done dealing, Ainge said he would never stop exploring potential deals.
He wasn't kidding.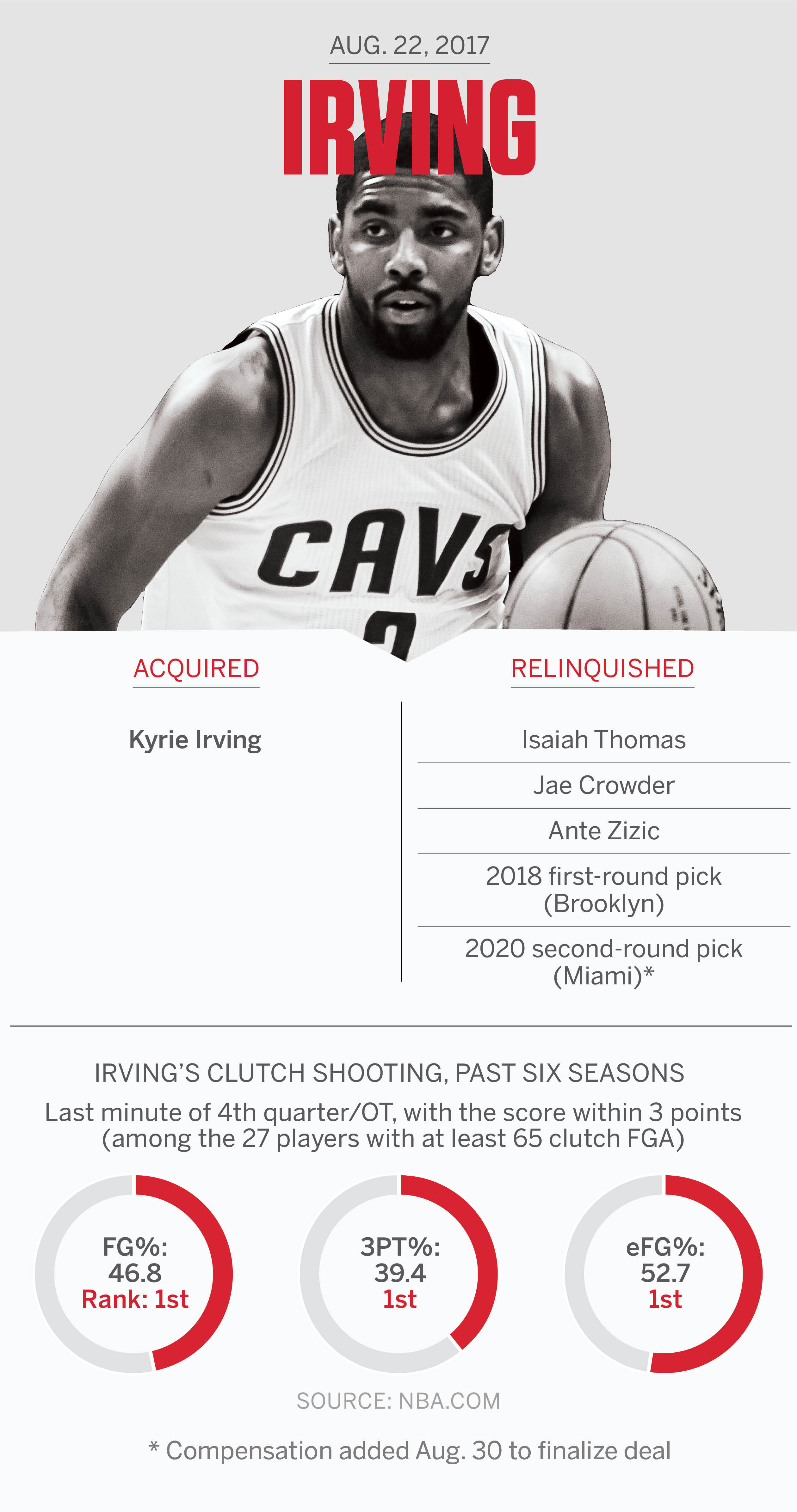 On Wednesday, the Celtics rocked the NBA by completing a deal to send Thomas, Crowder, 2016 first-round pick Ante Zizic, Brooklyn's 2018 unprotected first-round pick and a 2020 second-round pick to Cleveland in exchange for Irving.
The Celtics will bring back just four players from last season's East finalist in Horford, Brown, Marcus Smart and Terry Rozier. But Ainge has not-so subtly hinted at the need for more top-end talent, and the Celtics believe they have better positioned themselves for title contention with a Irving-Hayward-Horford combo.
The Celtics are hoping that Irving, removed from the king-sized shadow of LeBron James, will emerge as a clear-cut top-10 NBA player. Boston paid a steep price for his services, but believes that, at just 25 years old, Irving is more likely to sustain the elite level of production necessary to make Boston a legitimate title contender.
How do they replace Thomas, a point guard who earned the "Game of Thrones" inspired "King in the Fourth" nickname last season? Irving has proved himself as one of the most clutch performers in the NBA over his career, most memorably hitting a clutch 3-pointer over Stephen Curry in the final minute of Game 7 of the 2016 NBA Finals.
Irving yearned to be an alpha, and he'll get that chance in Boston. The Celtics are banking that he'll be supremely motivated to show he was more than King James' sidekick.
---
Other notable transactions
July 1, 2017: signed Zizic (five years, $15.4 million)
July 2, 2017: waived Zeller
July 7, 2017: traded Bradley and a 2019 second-round pick for Marcus Morris
July 15, 2017: signed Nader (four years, $6 million)
July 19, 2017: signed Aron Baynes (one year, $4.3 million)
July 20, 2017: signed Yabusele (five years, $19.5 million) and Daniel Theis (two years, $2.2 million)
July 31, 2017: signed Shane Larkin (one year, $1.5 million)
Season totals to date
Moves: 10 | Trades: 2 | Future picks added: 0

The Celtics have no remaining picks from the Nets trade but essentially turned those selections into Brown, Tatum and Irving. And the well is far from dry for Ainge, who still has the necessary assets to pursue additional top-level talent down the road.
Boston still has as many as five first-round picks over the next two drafts, which could include a top-5 pick from the Los Angeles Lakers. Ainge can continue to infuse his roster with low-cost, young talent or pursue deals for proven stars.
The latter seems like a safe bet. After all, the last four years have only cemented Ainge's "Trader Danny" moniker.
Transaction data courtesy of ProSportsTransactions.com.