We've covered the leading candidates for rookie of the year and most valuable player, as well as predictions for first-time All-Star selections. Now our panel is projecting which additions will prove to be the best and worst for NBA teams this season.
We asked the ESPN Forecast panel of 44 experts to rank its top three choices for the 2017-18 season's best newcomer, with a first-place vote receiving five points, a second-place vote receiving three and a third-place vote receiving one.
Here are the results:
Forecast: Best newcomer of 2017-18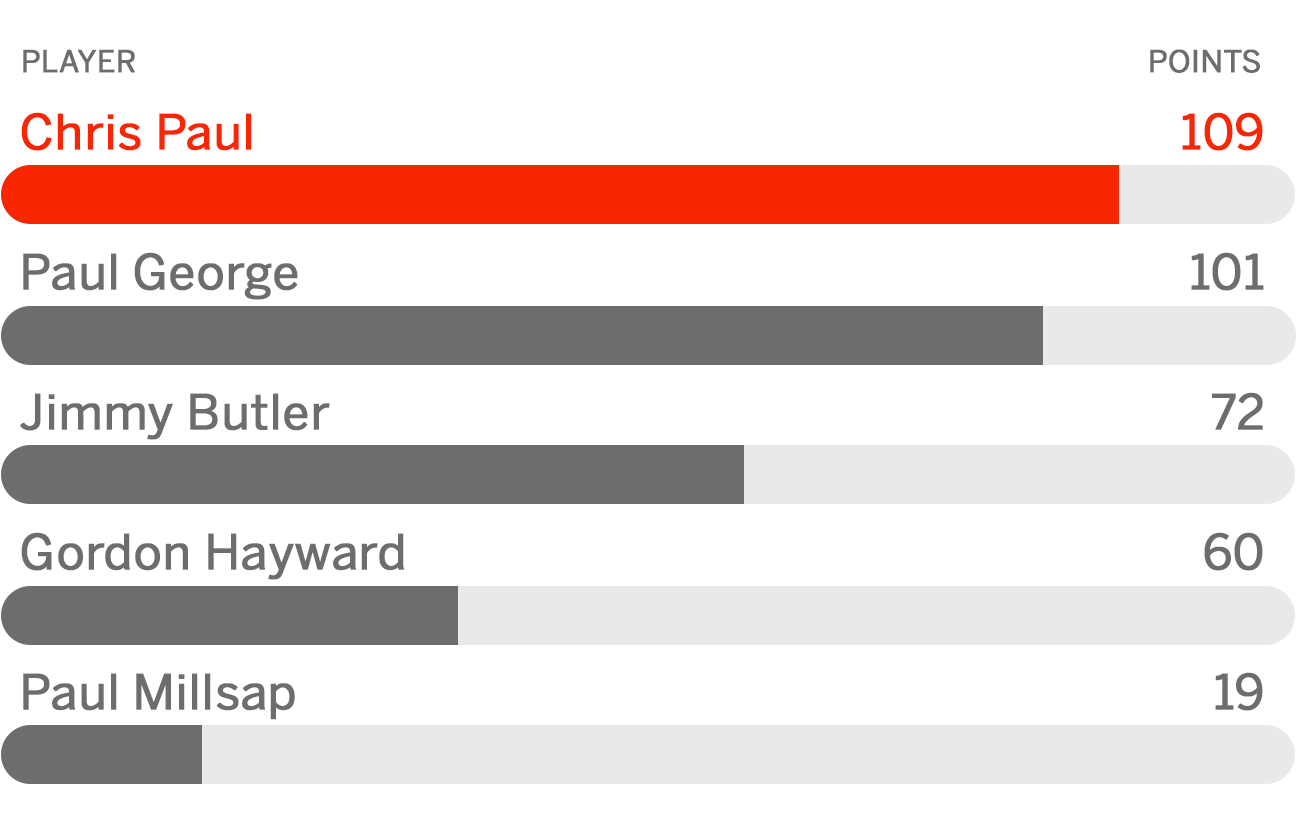 ---
1. Chris Paul
Houston Rockets | PG
First-place votes: 15
Total points: 109
Comments: Lost in the debate about how Chris Paul and James Harden will share the ball is the fact that they both are deadly off-the-ball options. Paul will get more open looks from outside in Houston than he ever saw in Los Angeles, and he'll likely make opposing teams pay. Last season, he shot 57 percent on unguarded catch-and-shoots, which was better than Stephen Curry, Klay Thompson and JJ Redick, to name a few.
Paul also gives coach Mike D'Antoni a change-of-pace option as Houston will now be able to play multiple styles. It might take some time to strike a balance, but just as "point guard James Harden" worked out last season, don't be surprised if "shooting guard Chris Paul" pleasantly surprises. On the defensive side, Paul might be the only point guard in the league who's an on-the-ball upgrade over Patrick Beverley. -- Micah Adams, ESPN Stats & Info
---
2. Paul George
OKC Thunder | SF
First-place votes: 13
Total points: 101
Comments: In their first-round playoff series last season against the Rockets, the Thunder were outscored by 58 points in the 46 minutes that Russell Westbrook was off the floor. Simply put, they could not survive without him.
George is not only the perfect complement to Westbrook in that he's a great catch-and-shoot option, he's also fully capable of running the show when Westbrook is off the floor, and gives coach Billy Donovan another pick-and-roll facilitator and end-of-the-shot-clock creator. -- Adams
---
3. Jimmy Butler
Minnesota Timberwolves | SF
First-place votes: 8
Total points: 72
Comments: Weighted for playing time, Minnesota graded out as the NBA's youngest team last season. Perhaps it was the reason they struggled to close out tight games, getting outscored by 14.3 points per 100 possessions in clutch time. Enter Butler, who was among the NBA's elite closers last season. He posted a player efficiency rating (PER) of 44.5 in clutch situations in 2016-17, second in the NBA behind only MVP Russell Westbrook.
In addition to the ends of games, Minnesota will surely hope that Butler rubs off defensively on young star Andrew Wiggins. While Butler is among the NBA's best perimeter defenders, Wiggins ranked 91st among 93 shooting guards in Defensive Real Plus-Minus. -- Adams
---
4. Gordon Hayward
Boston Celtics | SF
First-place votes: 7
Total points: 60
Comments: Hayward is coming off a season in which he averaged career highs in points per game, rebounds per game and PER, and he provides a wing scoring threat that Boston sorely lacked last season.
Though Hayward's 21.9 points per game last season might not scream superstar, he did it on just 15.8 attempts per game while playing for the league's slowest-paced team. When looking at scoring on a per-possession basis, Hayward ranked 16th in the NBA, ahead of players such as Paul George, Jimmy Butler, Andrew Wiggins and Klay Thompson. -- Adams
---
5. Paul Millsap
Denver Nuggets | PF
First-place votes: 1
Total points: 19
In many ways, Millsap is the perfect do-it-all, two-way star to mesh with the Nuggets' array of intriguing pieces. His years spent in Mike Budenholzer's unselfish "Spurs East" offense in Atlanta should help him adjust quickly to Denver's somewhat similar style, and his defensive versatility should help the Nuggets make strides improving upon their 29th-place finish in defensive rating.
Millsap's best offensive seasons came playing alongside Al Horford, one of the best passing big men in the league. After posting the least efficient shooting season of his career last season alongside Dwight Howard, it's reasonable to expect a return to respectability sharing the frontcourt with center Nikola Jokic. -- Adams
---
Also receiving votes: D'Angelo Russell, Brooklyn Nets (8); JJ Redick, Philadelphia 76ers (6); Lonzo Ball, Los Angeles Lakers (5); Carmelo Anthony, if traded/released (3); Kris Dunn, Chicago Bulls (3); Avery Bradley, Detroit Pistons (1); Rudy Gay, San Antonio Spurs (1); Brook Lopez, Los Angeles Lakers (1); Milos Teodosic, LA Clippers (1).