With Kyrie Irving and Carmelo Anthony looking to find new homes, we could be in for some unsettled times in Cleveland and New York. And those aren't the only places trouble might be brewing.
We asked the ESPN Forecast panel of 44 experts to rank its top three choices for 2017-18's Team Turmoil -- the franchise poised to sabotage its own chances through off-court stumbles -- with a first-place vote receiving five points, a second-place vote receiving three and a third-place vote receiving one.
Here are the results:
Forecast: Team Turmoil for 2017-18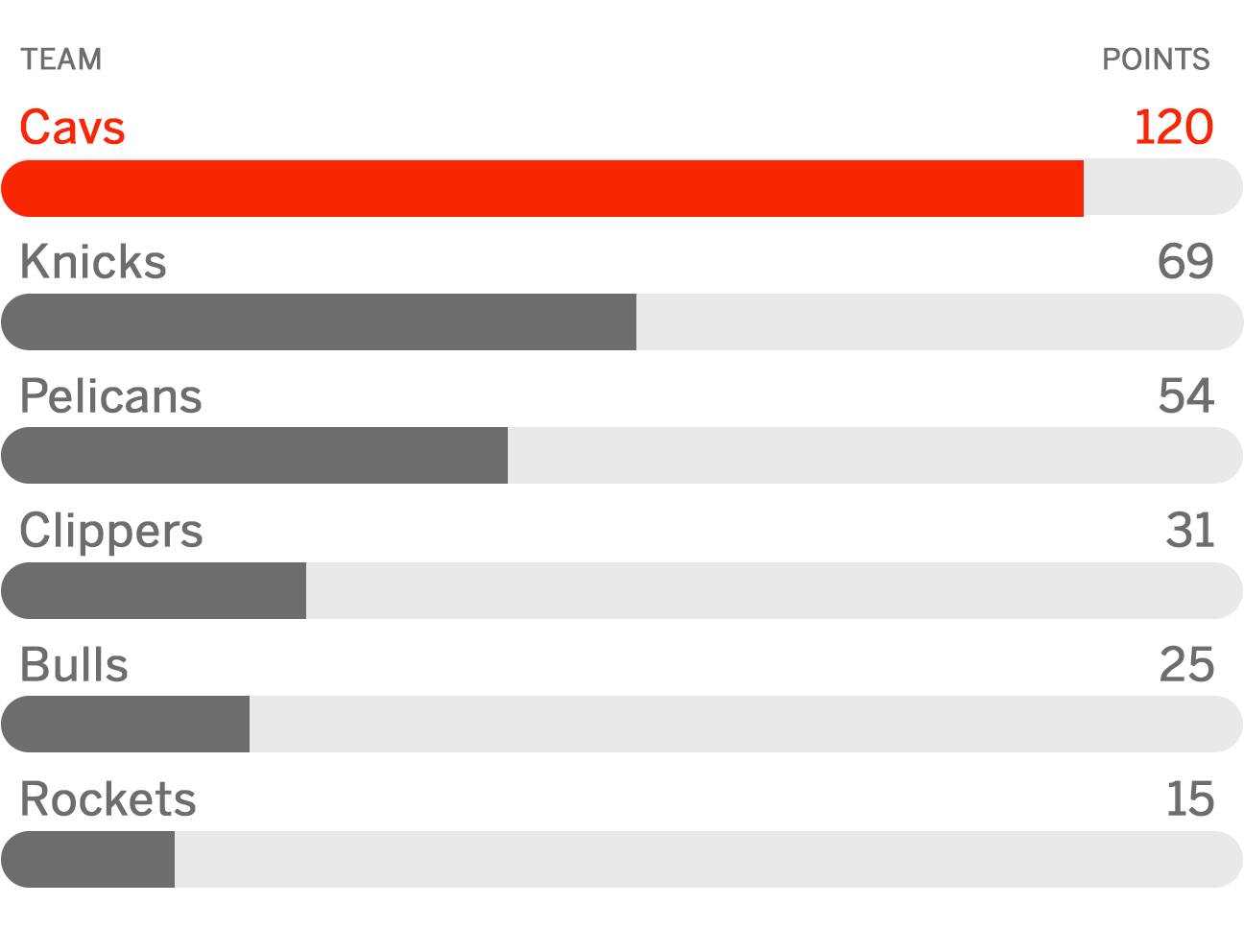 ---

1. Cleveland Cavaliers
First-place votes: 21
Total points: 120
2016-17 record: 51-31
Comments: Perhaps the only team that can stop the Cavaliers from making four straight NBA Finals appearances is the Cavaliers, as there is apparent turmoil in the locker room, the front office and the owner's box. Let's run through the summer so far: Kyrie Irving's trade request, LeBron James Instagram videos and subtweets, wedding dances, a Paul George trade that fell through, navigating free agency without a GM, Dan Gilbert accompanying the Cubs to the White House ... and we're not even halfway through the offseason!
Yet despite all of that, the Cavaliers remain massive favorites in the desert to once again win the Eastern Conference. No matter what happens, it will be a fascinating season in Cleveland leading into next summer when LeBron will have yet another big decision to make. -- Micah Adams, ESPN Stats & Information
---
2. New York Knicks
First-place votes: 7
Total points: 69
2016-17 record: 31-51
Comments: It was supposed to be a celebratory sophomore campaign for Kristaps Porzingis but instead devolved into a series of sideshows involving Carmelo Anthony, Phil Jackson, Derrick Rose, James Dolan and Charles Oakley. Jackson and Rose are gone, though, and a resolution has been reached between Oakley and Dolan.
Still hanging in the balance is the status of Anthony, as it remains to be seen whether he'll return or be traded to the Rockets or Cavaliers. New GM Scott Perry has his hands full in helping the Knicks chart a course back to contention. -- Adams
---
3. New Orleans Pelicans
First-place votes: 6
Total points: 54
2016-17 record: 34-48
Comments: There's not a more tantalizing duo than Anthony Davis and DeMarcus Cousins, perhaps the two most talented big men in the entire league. Throw in the mercurial Rajon Rondo, added after the Pelicans had already re-signed point guard Jrue Holiday to a max contract, and New Orleans is officially home to the league's most intriguing chemistry experiment. There's no doubt that Pelicans GM Dell Demps is playing with fire.
On paper, Davis and Cousins offer wrecking-ball potential no team in the NBA can match, the zag to the leaguewide zig of the small-ball era. But basketball isn't played on paper, and, if there's a false start out of the gates, things could head south quickly. This has all the makings of a boom-or-bust season in New Orleans. -- Adams
---

4. Los Angeles Clippers
First-place votes: 3
Total points: 31
2016-17 record: 51-31
Comments: In January 2014, Chris Paul suffered a shoulder injury that kept him sidelined for almost two months. Doc Rivers turned the keys over to Blake Griffin, who responded by averaging 27.5 PPG, 8.2 RPG and 4.4 APG while leading the Clippers to a 12-6 record. In a best-case scenario, that's the Griffin who leads them in Year 1 of the post-CP3 era, thriving as a point forward with DeAndre Jordan roaming the paint, Danilo Gallinari scoring on the wing and Patrick Beverley putting the screws on opposing point guards. Yet if the Clippers have taught us anything, it's to temper expectations.
Although he's still just 28 years old, Griffin is nearly four years removed from his most dominant peak and has played in just 66 percent of the Clippers' games over the past three seasons. Toss in Gallinari's injury and the Clippers are a few tweaks from a rudderless roster for extended stretches. -- Adams
---

5. Chicago Bulls
First-place votes: 2
Total points: 25
2016-17 record: 47-35
Comments: After a long look in the mirror, the Bulls' front office made the difficult decision to unload Jimmy Butler. It was a commendable move that regardless of the haul would have left Chicago playing for the future. Yet the haul itself was widely viewed as questionable, even before factoring in that Chicago included its own first-round pick. Although losses would have piled up with any Butler trade, the return props the door open for constant questioning.
What if Zach LaVine isn't the same after his torn ACL yet still draws a big payday entering restricted free agency? What if Kris Dunn's rookie struggles carry over into his second season? What if Dennis Smith Jr., whom the Bulls passed over in favor of Lauri Markkanen, turns into an All-Star? With Dwyane Wade opting in, Fred Hoiberg faces yet another potentially turbulent season. -- Adams
---

6. Houston Rockets
First-place votes: 0
Total points: 15
2016-17 record: 55-27
Comments: Daryl Morey's wizardry could ultimately result in Houston cementing its status as No. 1 contender to Golden State's burgeoning dynasty. Yet despite the growing confidence that James Harden and Chris Paul will figure it out, it's not a given. What if Harden and Paul, both of whom ranked in the top seven in time of possession last season, decide they'd rather have the rock? What if Paul's notoriously fiery on-court demeanor doesn't jibe with Harden?
The last time we felt bullish about the Rockets after a big move, it ultimately backfired as Harden butted heads with Dwight Howard. This time, Harden welcomes another high-profile player who happens to play the same position and does so after delivering easily the best season of his career. -- Adams
---
Also receiving votes: Los Angeles Lakers (12), Minnesota Timberwolves (11), Charlotte Hornets (8), Oklahoma City Thunder (6), Memphis Grizzlies (5), Brooklyn Nets (4),Detroit Pistons (4), Philadelphia 76ers (4), Atlanta Hawks (3), San Antonio Spurs (2), Toronto Raptors (2), Portland Trail Blazers (1), Sacramento Kings (1), Utah Jazz (1).
The Lakers (2), Wolves (1), Hornets (1) and Grizzlies (1) received first-place votes.