With the Cleveland Cavaliers among our favorites for Team Turmoil in 2017-18, the Eastern Conference might be as wide open as ever. But despite the offseason drama surrounding LeBron James & Co., does the road to the NBA Finals still go through The Land?
We asked the ESPN Forecast panel of 44 experts to rank its top three choices for the 2017-18 Eastern Conference champions, with a first-place vote receiving five points, a second-place vote receiving three and a third-place vote receiving one.
Here are the results:
Forecast: 2017-18 East champs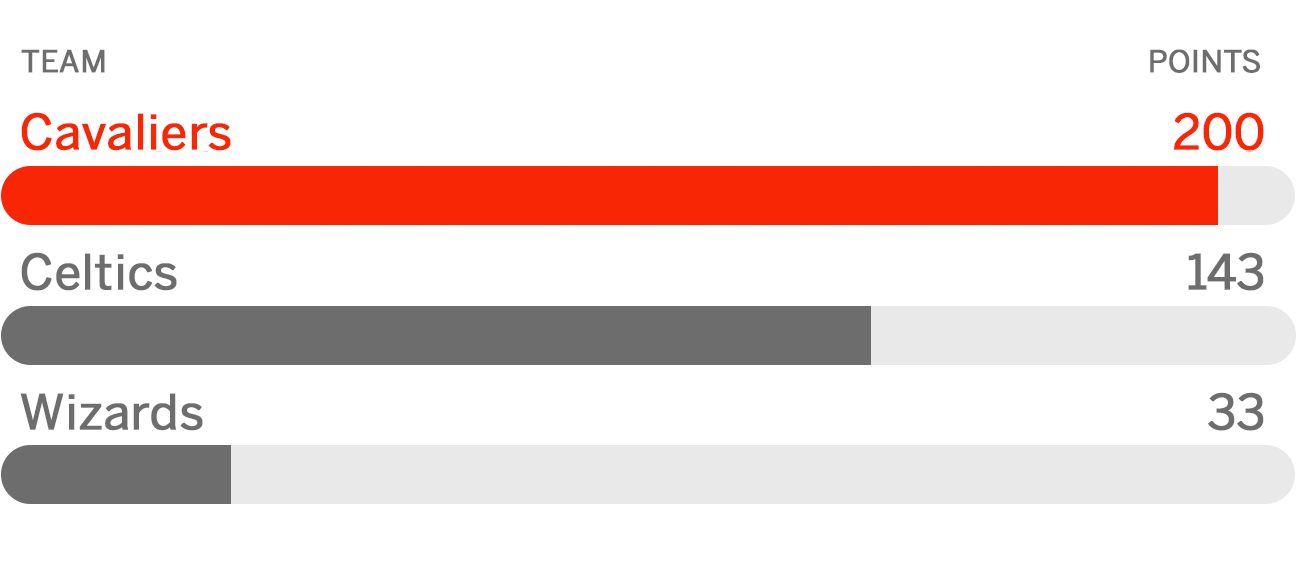 ---

1. Cleveland Cavaliers
First-place votes: 34
Total points: 200
2016-17: L, NBA Finals
Comments: For all the offseason drama, the road to the East title still goes through Cleveland, as more than 75 percent of our panel picked the Cavaliers to reach the NBA Finals for the fourth straight season. Potential chemistry issues aside, if Kyrie Irving is in a Cavs uniform, it's tough to peg anyone else in that top spot.
Even if they were to trade Irving, there's evidence that LeBron James & Co. have enough to get the job done. Over the past three seasons, the Cavaliers have played 3,828 minutes -- about 80 full games worth -- with James on the floor without Irving. In those minutes, they've outscored teams by 9.6 points per 100 possessions, nearly identical to the plus-9.5 figure they've posted with both James and Irving on the court. Though Irving's shot-making in high-leverage spots might be impossible to replace, all signs point to LeBron's presence as enough to warrant top dog status. -- Micah Adams, ESPN Stats & Info
---
2. Boston Celtics
First-place votes: 10
Total points: 143
2016-17: L, East finals
Comments: If the Cavaliers do trade Irving, no team is ready to pounce quite like the Celtics. History will remember the 2017 Eastern Conference finals as a noncompetitive five-game series in which the Celtics were clearly outclassed. And yet were it not for Irving delivering a transcendent Game 4 performance with James saddled in foul trouble, it would have been tied 2-2 going back to Boston.
Should they meet again -- with or without Irving -- one can see how swapping out Avery Bradley for Gordon Hayward might be enough to swing the pendulum in Boston's favor. If Jaylen Brown develops and rookie Jayson Tatum hits, Boston's perimeter suddenly looks spry, switchy and far more imposing. Perhaps that's what the 10 members of our expert panel who picked the Celtics see playing out. -- Adams
---
3. Washington Wizards
First-place votes: 0
Total points: 33
2016-17: L, East semis
Comments: Washington's two major moves this offseason consisted of inking John Wall to his new super max and matching Brooklyn's max offer to Otto Porter Jr. For now, the Wizards' path to contention is banking on the continued development of their young pieces.
Porter is an advanced stats darling, ranking sixth last season in real plus-minus among small forwards (ahead of Gordon Hayward and Paul George) while leading the Wizards in win shares ahead of both Wall and Bradley Beal, both of whom enjoyed career seasons. Kelly Oubre revamped his shot over the summer and will need to improve to keep the bench units afloat, especially after losing Bojan Bogdanovic in free agency.
The Wizards' starting lineup logged 1,347 minutes, nearly 500 more than any other five-man lineup in the NBA, and posted a scoring margin equal to that of a 60-win team. Every other Wizards lineup, even those featuring four starters and a single reserve, combined to perform at the level of a 37-win team. -- Adams
---
Also receiving votes: Toronto Raptors (10), Milwaukee Bucks (9), Miami Heat (1).