Last season, the Golden State Warriors blitzed their way into the NBA Finals en route to the 2017 NBA title. What has changed for Stephen Curry, Kevin Durant & Co.?
Not much, which is why they're the overwhelming favorite yet again to repeat at Western Conference champs.
We asked the ESPN Forecast panel of 44 experts to rank its top three choices for the 2017-18 Western Conference champions, with a first-place vote receiving five points, a second-place vote receiving three and a third-place vote receiving one.
Here are the results:
Forecast: 2017-18 West champs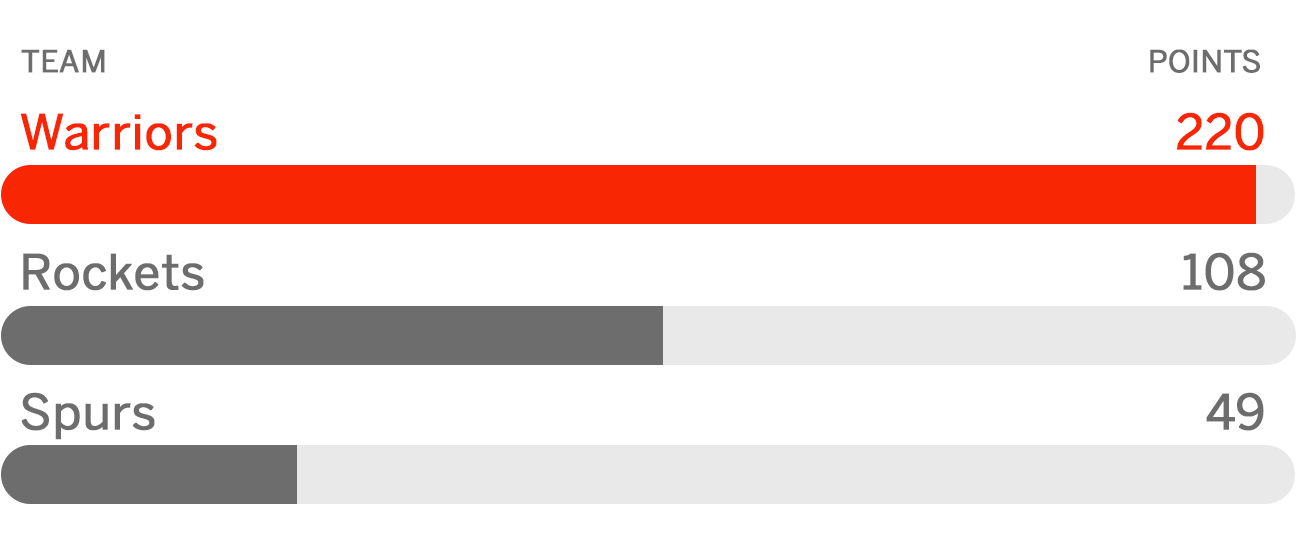 ---
1. Golden State Warriors
First-place votes: 44
Total points: 220
2016-17: W, NBA Finals
Comments: Golden State didn't drop a single game in the Western Conference playoffs and returns with 10 of its top 11 in minutes played. Though Kevin Durant and Stephen Curry were never serious threats to leave, they managed to re-sign the All-Star duo as well as Andre Iguodala, Shaun Livingston, Zaza Pachulia, David West and JaVale McGee, all of whom played specific roles and were on the open market.
The only player not returning is Ian Clark, who will be replaced by Nick Young and Omri Casspi, two floor-stretchers likely to fit in seamlessly with the Warriors' free-flowing offense. ESPN's Real Plus-Minus pegs the Warriors for 62 wins, a total that might seem modest yet still easily outpaces every team out West. -- Micah Adams, ESPN Stats & Info
---

2. Houston Rockets
First-place votes: 0
Total points: 108
2016-17: L, West semis
Comments: Instead of lying down and ceding the West to the Warriors, Houston GM Daryl Morey orchestrated a salary cap clinic, trading for Chris Paul to create a two-headed point guard attack unlike any we've really ever seen and adding versatile wings PJ Tucker and Luc Mbah a Moute. Morey might not be done either, as the Rockets have been linked to a Carmelo Anthony trade for much of the summer.
After running virtually everything through James Harden last season en route to breaking every 3-point shooting record, Houston will have varied options and the personnel to play any number of ways. -- Adams
---
3. San Antonio Spurs
First-place votes: 0
Total points: 49
2016-17: L, West finals
Comments: In a whirlwind summer defined by contenders making splashy moves, leave it to the Spurs to mostly stand pat. Aside from swapping in Rudy Gay for the departed Jonathon Simmons, San Antonio seems content to roll with the group that had the Warriors down big Game 1 of the Western Conference finals until Kawhi Leonard's untimely injury.
It's surely a small sample size, but in the 92 minutes that Leonard was on the floor against the Warriors last season, including both the regular season and playoffs, the Spurs outscored the champs by 31 points. -- Adams
---
Also receiving votes: Oklahoma City Thunder (17), LA Clippers (1), Minnesota Timberwolves (1).