At the beginning of each season, when the salaries of pro athletes are publicized, we're always left wondering: How much do they actually take home?
This NBA season, we partnered with sports tax expert Robert Raiola, director of the sports and entertainment group for PKF O'Connor Davies, to analyze the salaries of the league's highest paid players. We crunched their paychecks to come up with our best estimates of what they walk away with after deductions, as outlined to us by representatives of the players union.
You'll notice that deductions from gross salary include federal, state and city taxes (and in Kyle Lowry's case, Canadian taxes), agent fees (assumed at 3 percent) and a maximum 401K contribution of $18,000. In the case of players who live in a no-income-tax state, you'll see that they are paying taxes -- so-called "Jock Taxes" from playing in other states.
You'll also see that players get back the 10 percent of their salary that was held in escrow from last season, after it is taxed. And they lose 10 percent to escrow for this year, which will be given back as long as the owners pay the players the agreed upon 51 percent of Basketball Related Income (BRI). You'll also notice a surplus that players will get this year. Every player receives $355,449 (before taxes) because after the 10 percent escrow was given back, there was additional money, a shortfall of $163.5 million in total, that needed to be given back to reach the agreed upon percentage.
Note that only paychecks were analyzed here and not any additional revenue the players take in, such as endorsement income.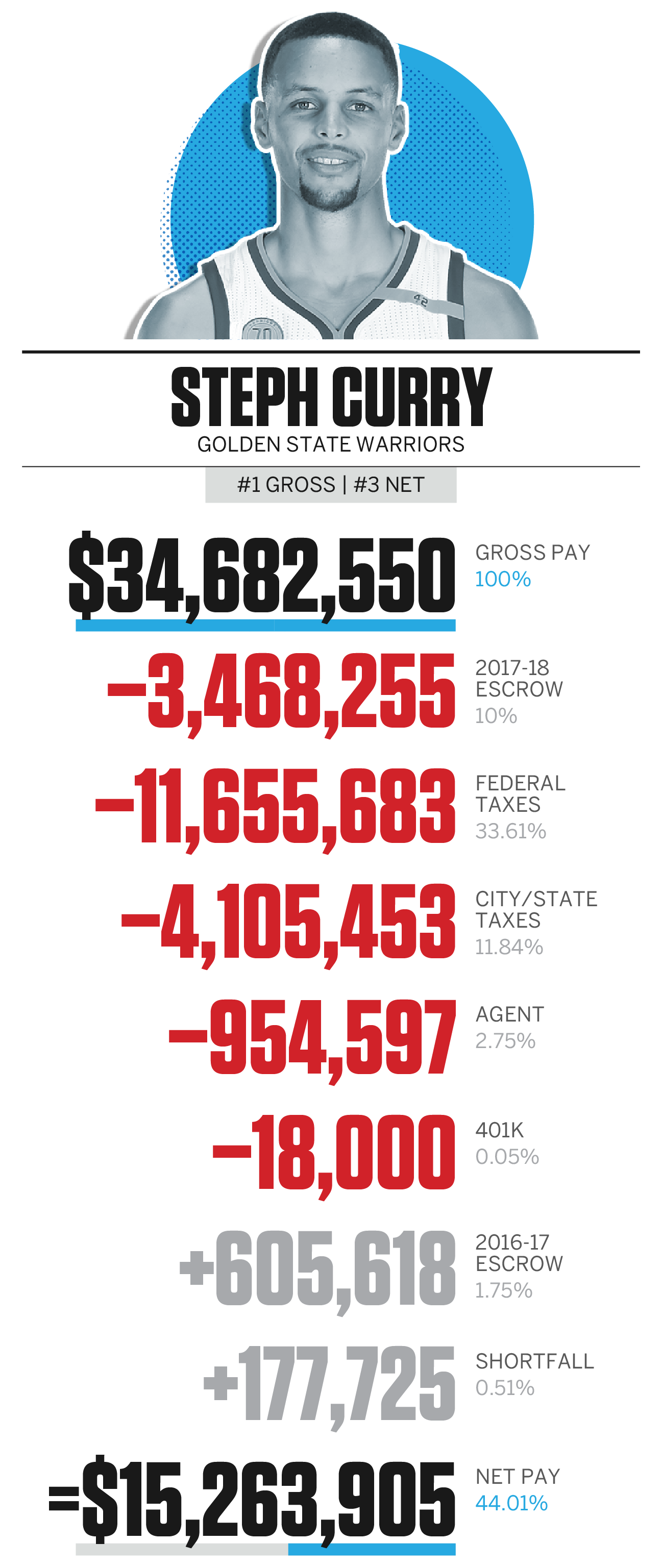 For the previous four seasons, Stephen Curry was paid a total of $44 million. Thanks to a five-year, $202 million extension, Curry will now average $40.2 million per season. Curry's salary of $34.8 million this season tops the previous high of $33.1 million by Michael Jordan in 1998. If you adjust for inflation, however, that top MJ salary is $50 million in today's dollars.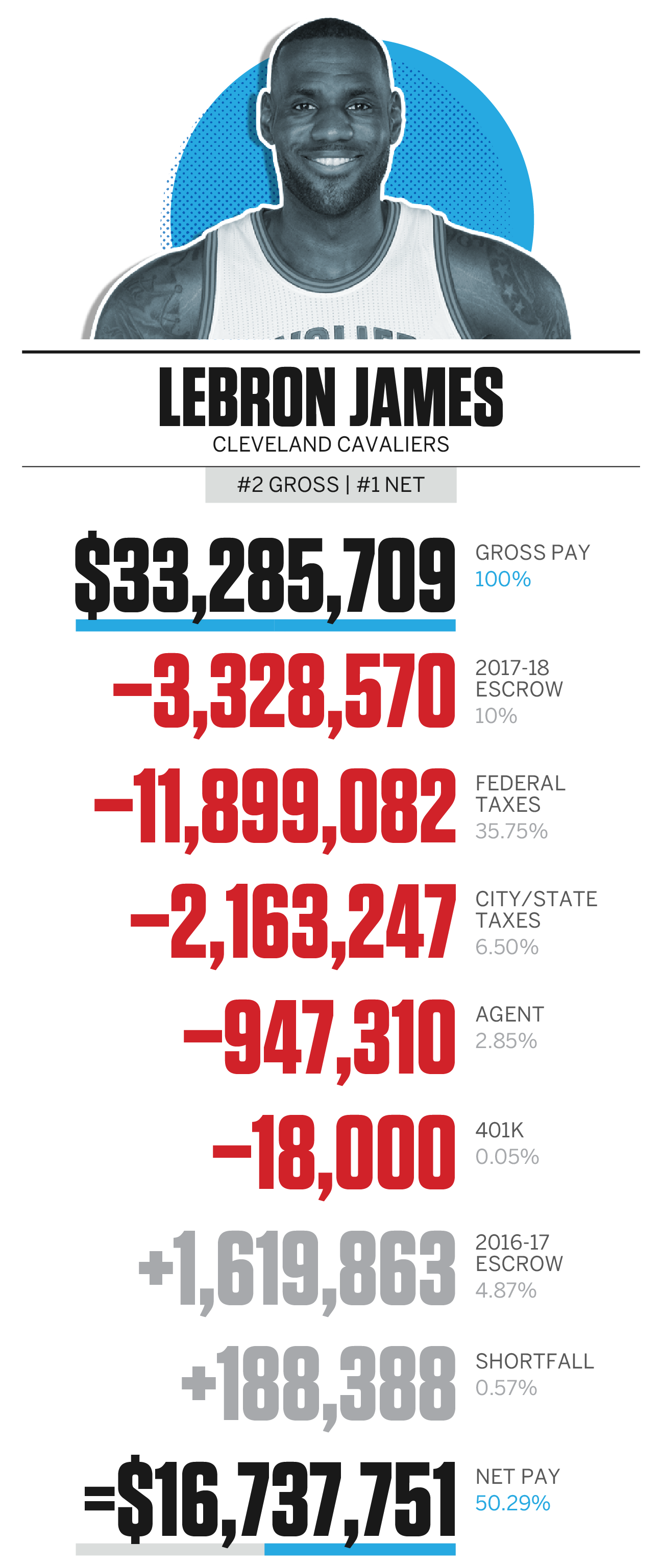 LeBron James grosses $33.2 million this season. He can re-sign with the Cavaliers for about $207 million for the next five years next summer. Or he can max out with another team in a four-year deal that will pay him about $54 million less. James signed a lifetime deal with Nike that will add another $1 billion to his fortune. He has been strategic in his business investments, cashing out recently in Beats By Dre when the deal with Apple went down ($30 million), and his equity in Blaze Pizza is at $35 million from a less than $1 million investment.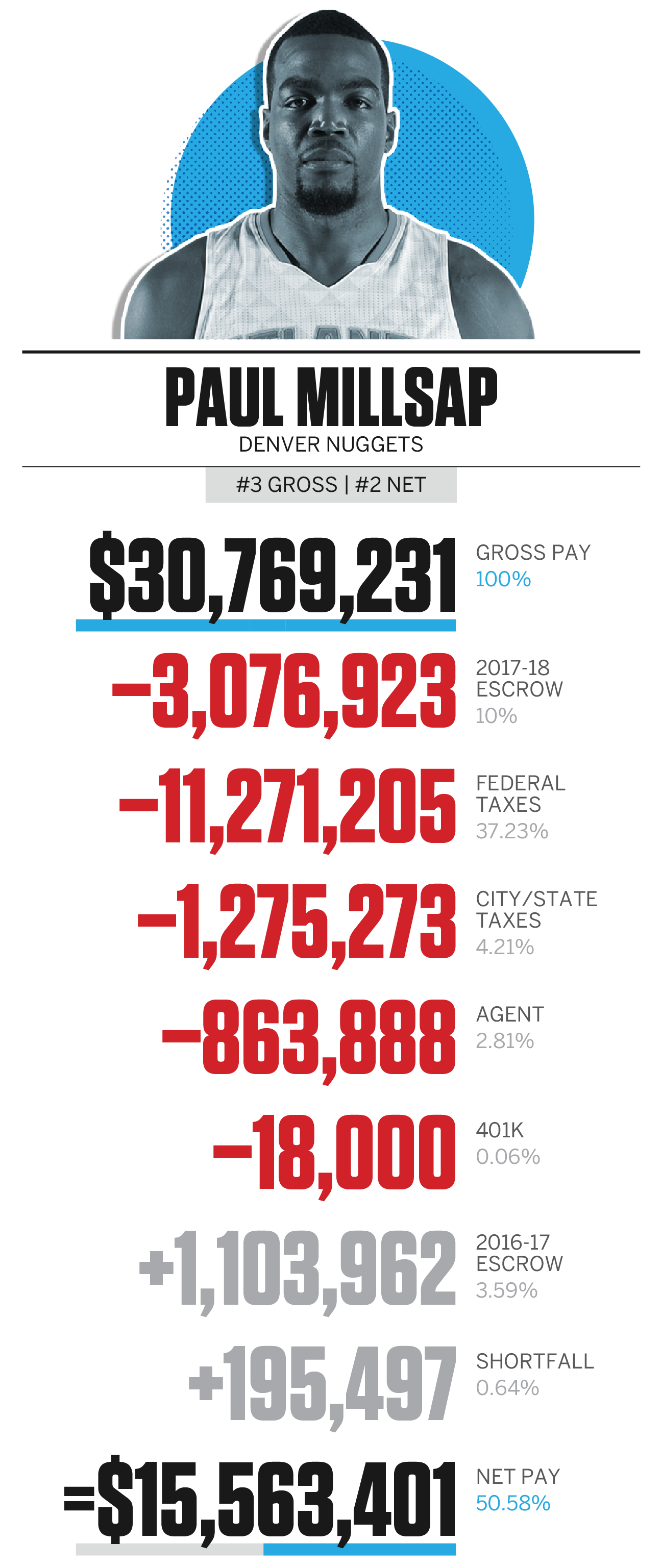 Paul Millsap has the greatest rise in salary from his rookie season to today. As a 2006 second-round draft pick of the Utah Jazz, Millsap made $2.1 million for his first three seasons. Now, in his 12th season in the league, he's making more than 15 times that.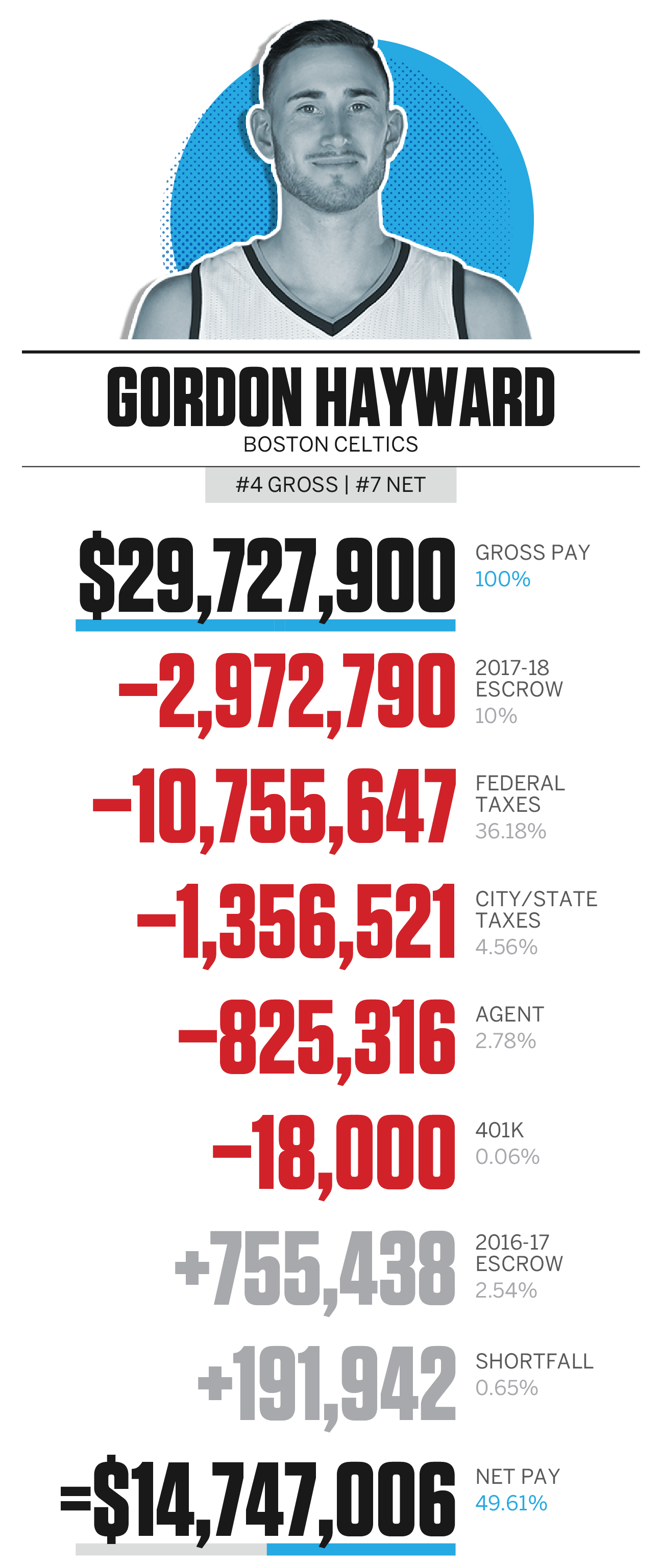 Gordon Hayward signed a four-year, $128 million max deal in his move from Utah to Boston. But Hayward's move to Massachusetts comes at a tough time. A proposed amendment could raise state taxes on earners above $1 million from 5 percent to 9 percent, beginning in January.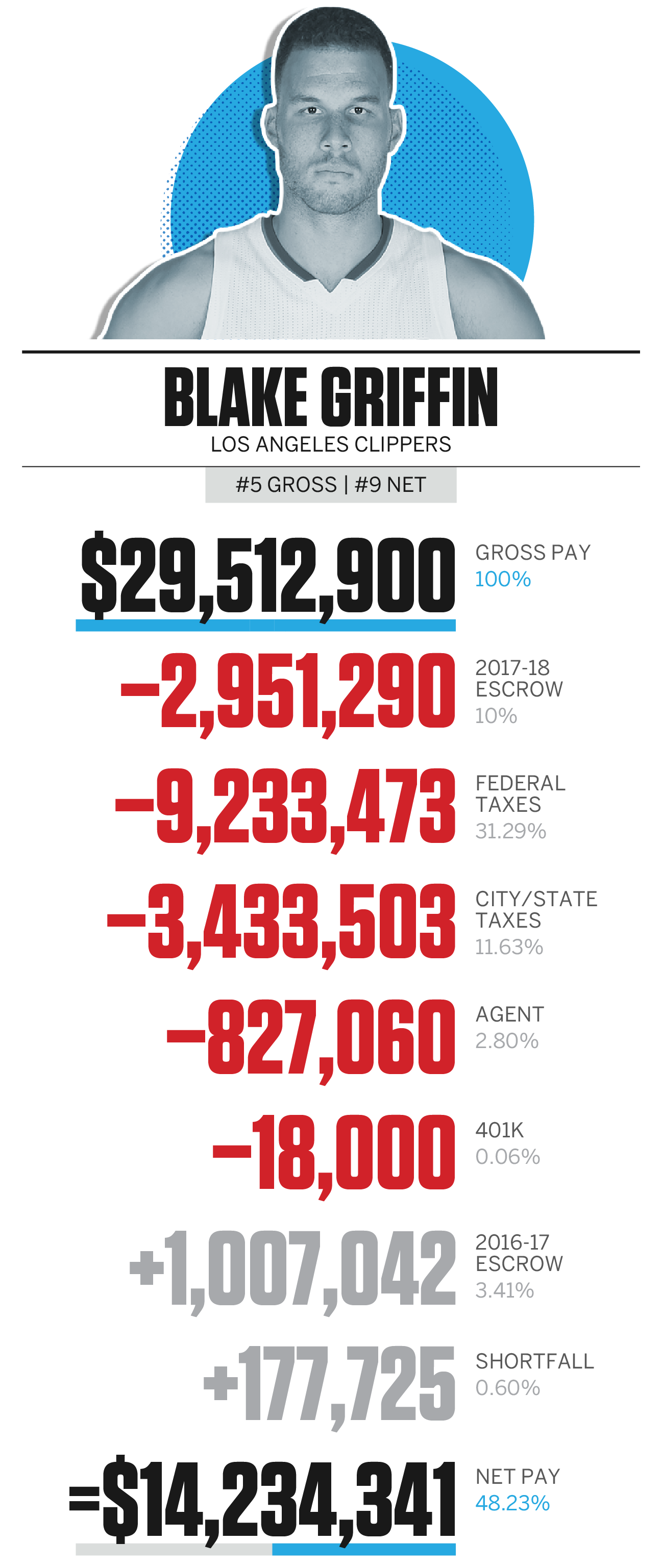 Despite injuries and one high-profile fight, Blake Griffin was re-signed by the Clippers to a five-year deal worth $171 million. The 13.3 percent California state tax takes a huge haircut off his earnings.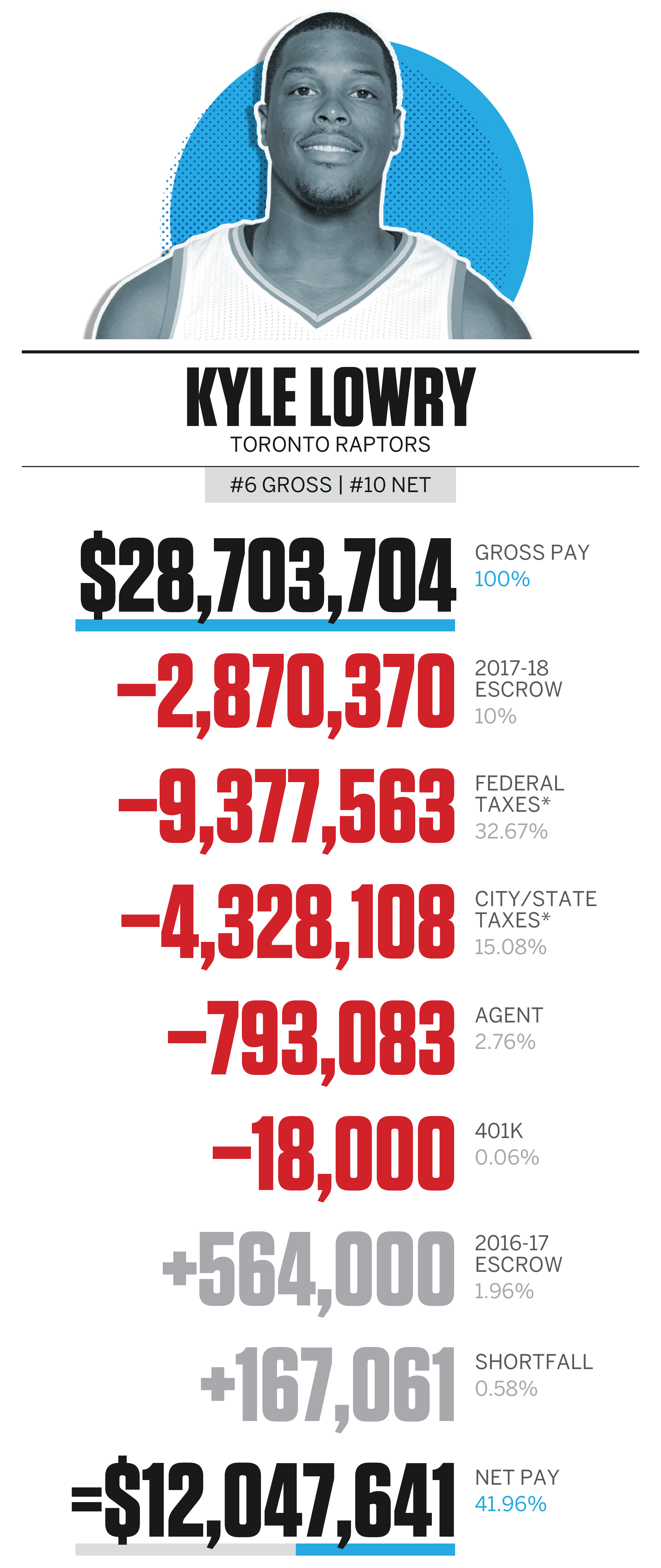 Kyle Lowry made a combined $65 million in his first 11 years in the NBA. He'll make a guaranteed $93 million for the next three. Lowry is assessed a 53.5 percent tax on his Canadian source income. He receives a partial foreign tax credit in the U.S.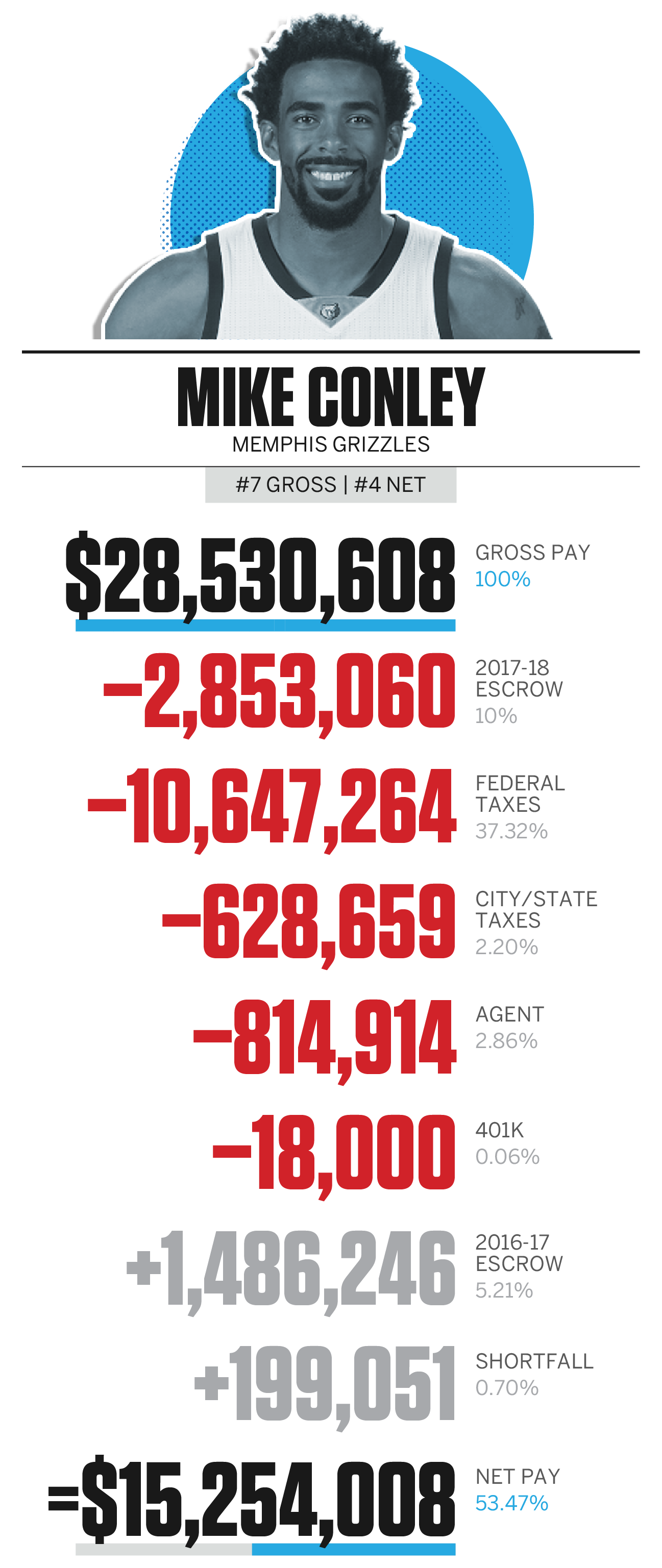 Last season Mike Conley signed the biggest contract in NBA history with a deal totaling $153 million. He responded by having his greatest scoring season, with 20.5 points per game while shooting 40 percent from 3-point range.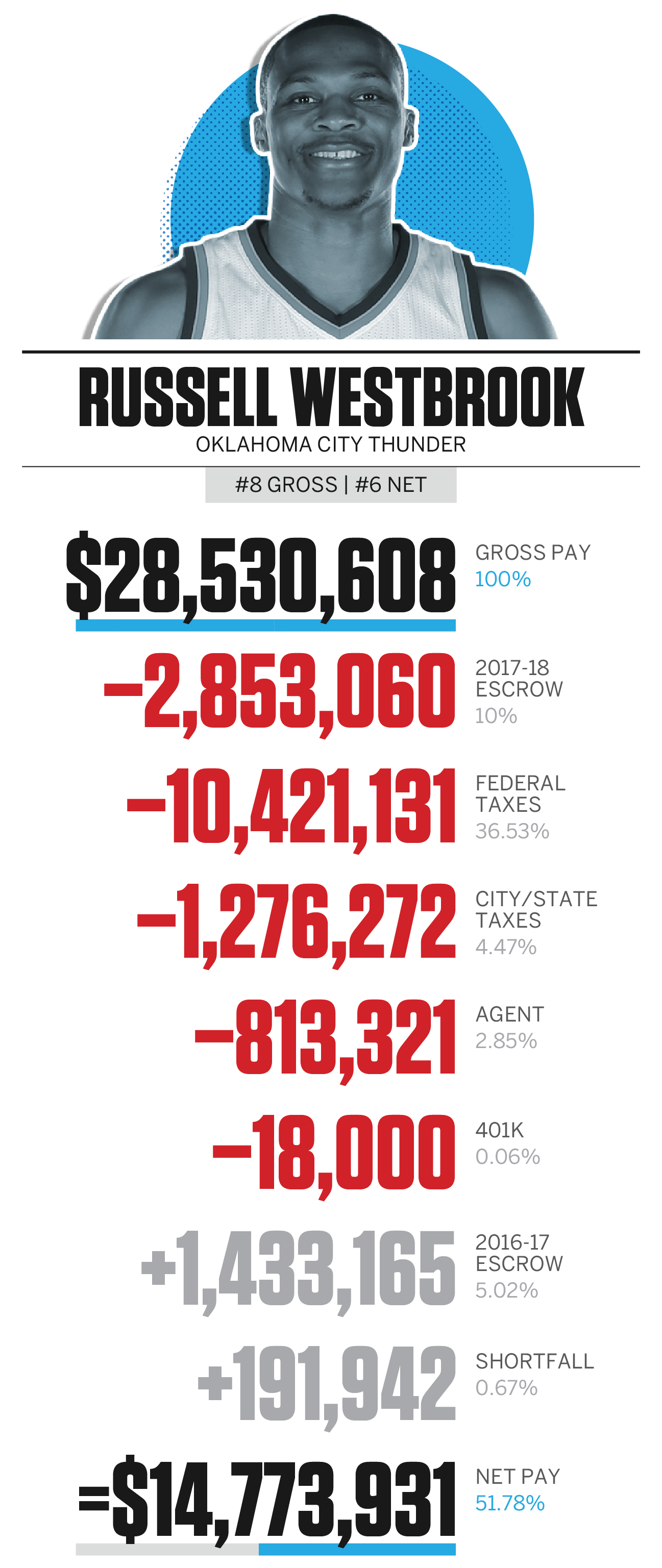 Russell Westbrook is eligible to sign a five-year extension with the Thunder worth $207 million. There's something to be said for value of the money in Oklahoma City, the NBA's smallest market. But Westbrook already owns a home in Los Angeles. He bought it for $4.65 million in December 2015 from Kardashian star Scott Disick.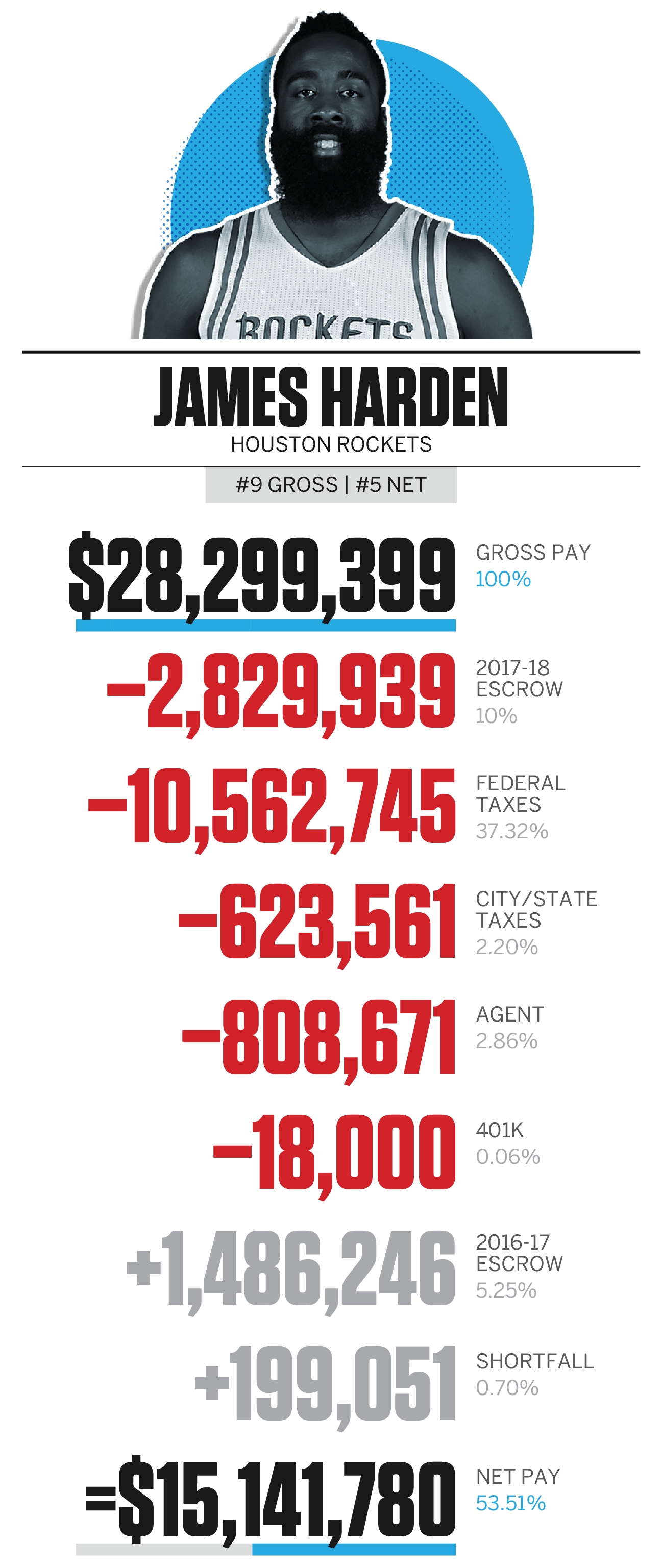 James Harden signed a $169 million supermax extension in the offseason that will begin in 2019-20. Combined with the two years, $59 million left on his current contract, Harden is owed an NBA record $228 million of salary. Harden will earn $570,732 a game in his final season under contract (2022-23). He pays no state income tax on his non-salary revenue, such as endorsements, thanks to his living in Texas. That's big, considering he signed a 10-year, $200 million deal with Adidas.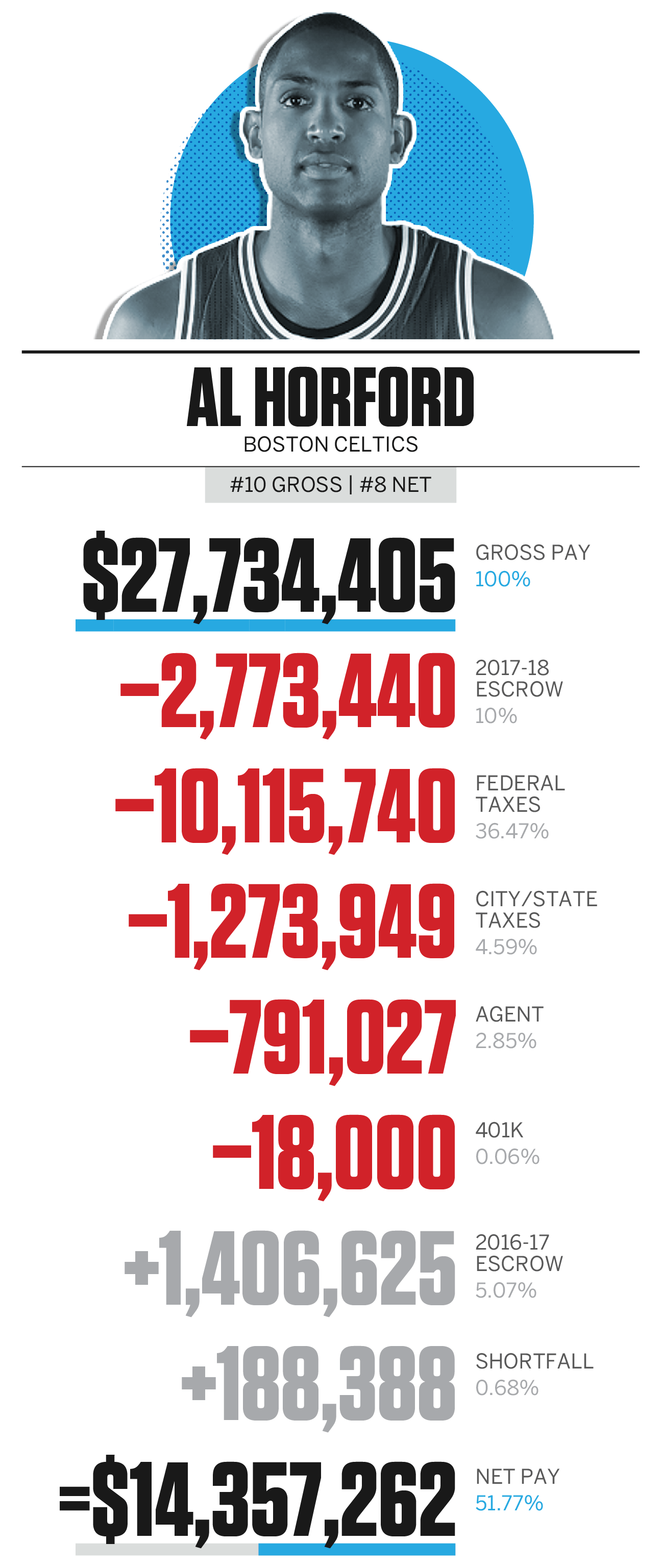 Al Horford scored 14 points and had nearly seven rebounds per game last season. He is in the second year of a $113 million contract. Some fans were concerned about the size of his contract last season, but a year later, with more money being paid out, his contract looks a little better this season.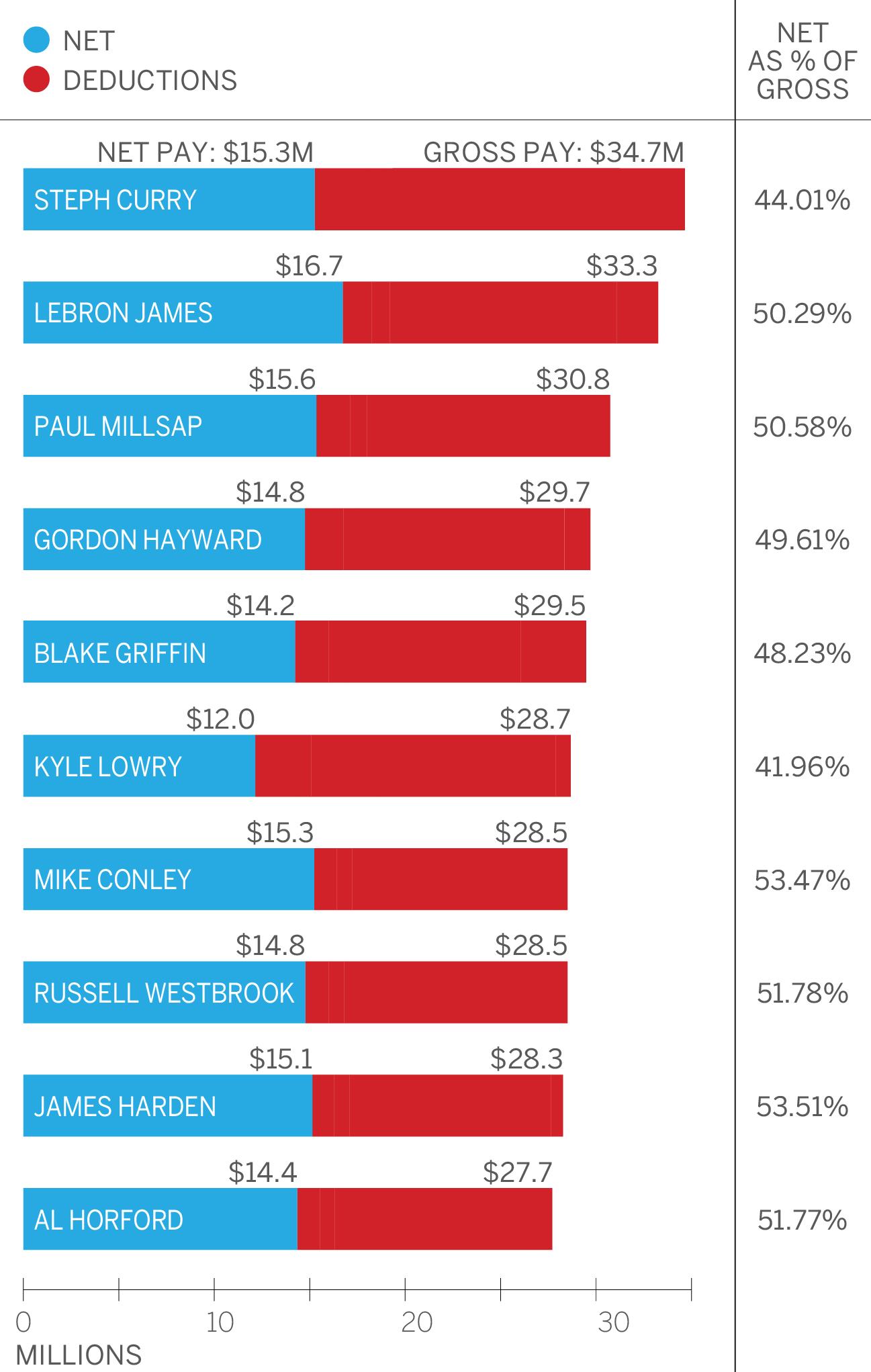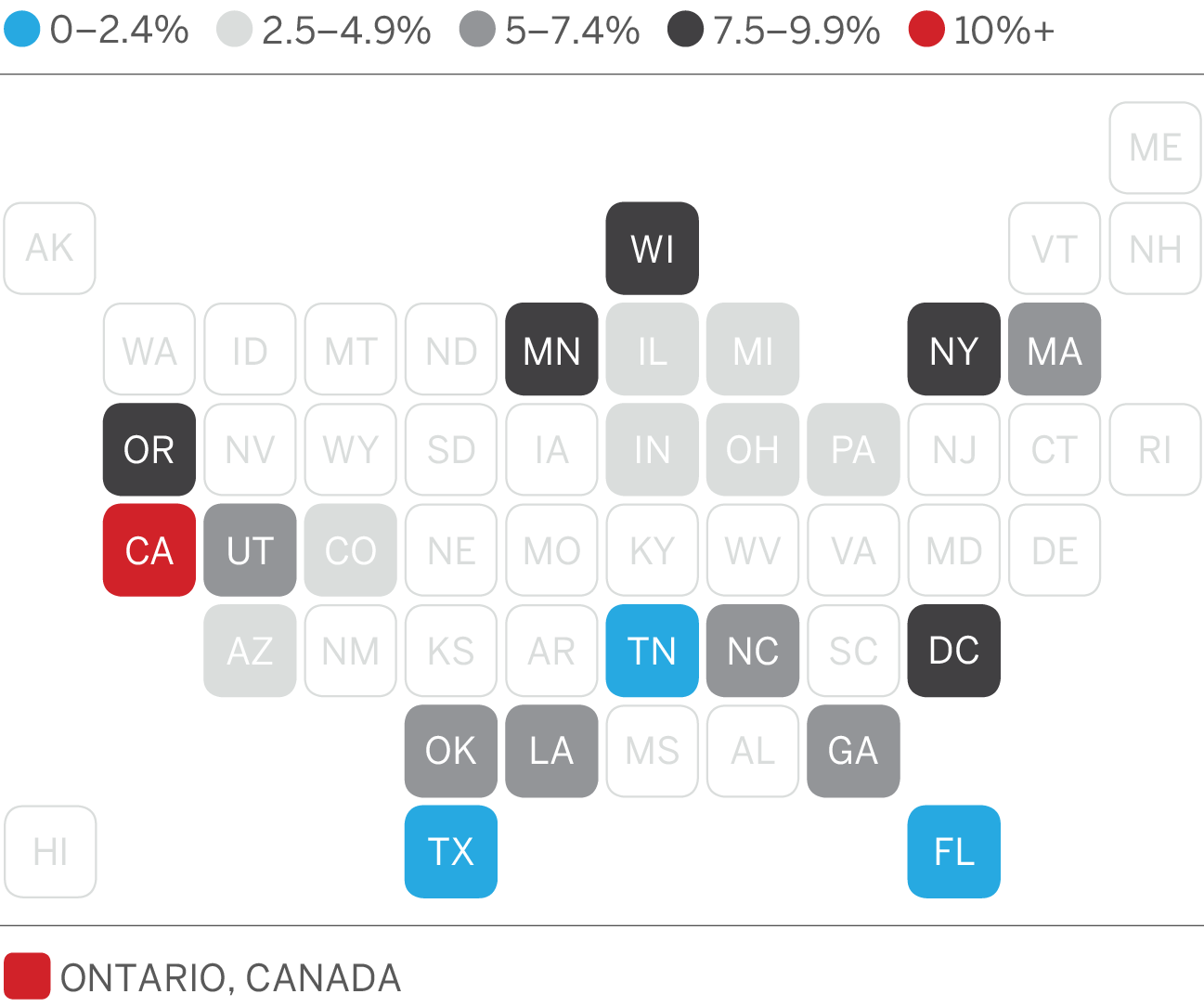 This map shows the level of state income tax in the NBA. Florida, Texas and Tennessee have no state income tax. California is the only NBA state to tax players more than 10 percent. Canada also taxes players on the Raptors at a higher rate.