Remember when the Golden State Warriors were just another solid Western Conference playoff team? Yeah, it feels like a long time ago. Flash back to 2013-14 and the idea of framing the entire NBA season around the team from the San Francisco Bay Area would have seemed preposterous.
But perhaps the most remarkable thing about Golden State's ascension to the NBA's championship throne is that nobody really saw it coming. A nearly unstoppable dynasty was hiding in plain sight -- and the next one might be too. Look closely and you can see another team out West following the same blueprint that the Warriors laid out in the not-too-distant past. It's not flashy new superteams in Houston and OKC, and it's not Lonzo Ball Plus Two Max Contract Slots In 2018.
Nope, it's Denver (yes, Denver!). When you compare these 2017-18 Nuggets to those Warriors from the season before they won the title, the parallels suggest we might be overlooking the NBA's next great team -- again.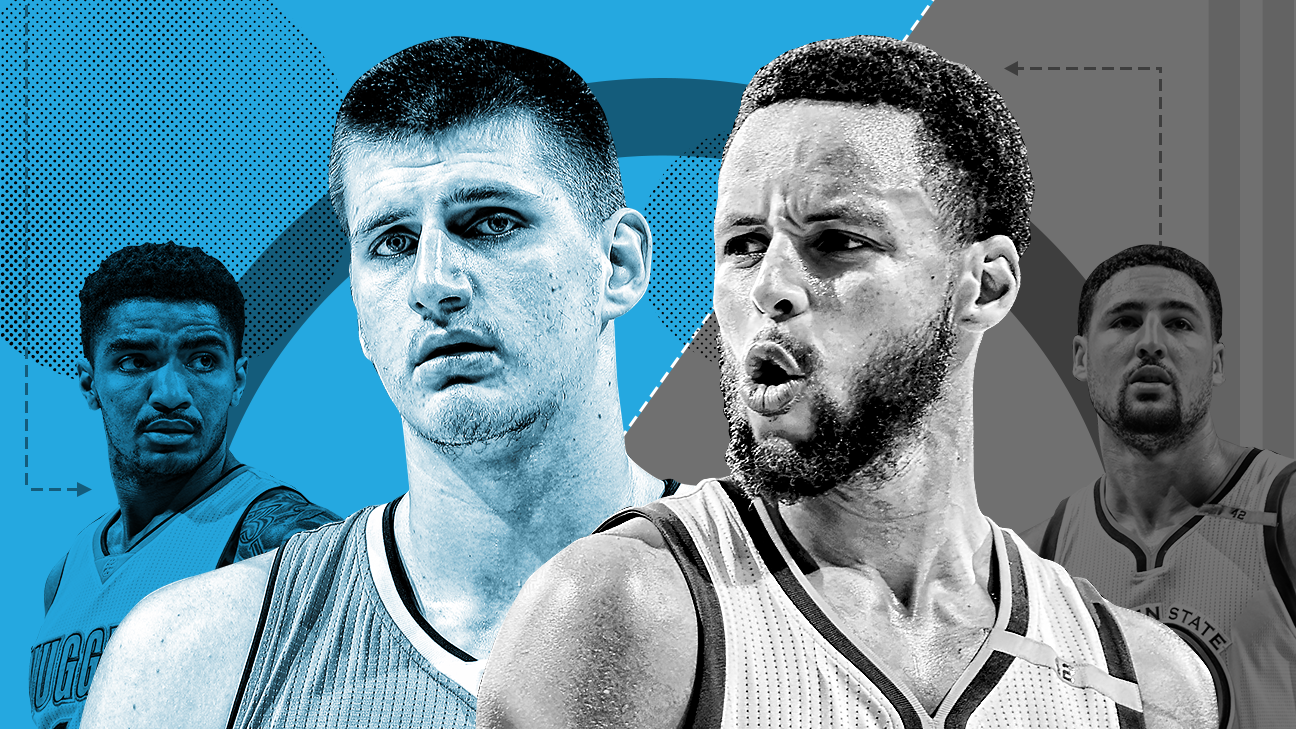 The strategy laid out by the Warriors and since copied by the Nuggets is to build mostly through the draft, add role players with smart trades and nail one major impact free agent.
Among the top eight players in projected minutes for the Nuggets are four homegrown draft picks, three role players acquired via trade and one high-impact contributor signed as a free agent, which is the same distribution the Warriors used in 2013-14.

When it comes to the draft, both front offices did it the hard way by nailing picks outside the top five, which is a difficult task. Golden State drafted eventual All-Stars with the No. 7, No. 11 and No. 35 picks, spots that in the lottery era have developed into All-Stars 33 percent, 15 percent and 9 percent of the time, respectively. The chance of finding All-Stars with all of them is about 1-in-200.
Denver is following suit with a group consisting of Nikola Jokic, Gary Harris, Jamal Murray and Emmanuel Mudiay. That sounds crazy? The same thing could be said of Golden State's young core four years ago. Although Stephen Curry had emerged as a likely first-time All-Star entering that season, neither Klay Thompson nor Draymond Green registered on that kind of radar. Jokic, Harris and Murray combined for 15.6 win shares last season, near the 16.1 win shares produced by Curry, Thompson and Green in 2012-13.

This season, there are the Warriors and then there's everyone else.
"They're going to be the highest favorite we've ever had going into a season, any team in any sport," according to one oddsmaker at the Westgate Las Vegas SuperBook.
They've truly come a long way. Entering the 2013-14 season, the Warriors were looking up at an impressive array of contenders out West that included the Spurs (one Ray Allen missed shot away from winning the previous title), Thunder (featuring MVP-to-be Kevin Durant and Russell Westbrook), Clippers (with Chris Paul and a healthy Blake Griffin) and Rockets (added Dwight Howard to pair with James Harden). The road to the top of the West went through multiple established star duos and trios, leading ESPN's Summer Forecast panel to project the Warriors for a sixth-place finish in the West.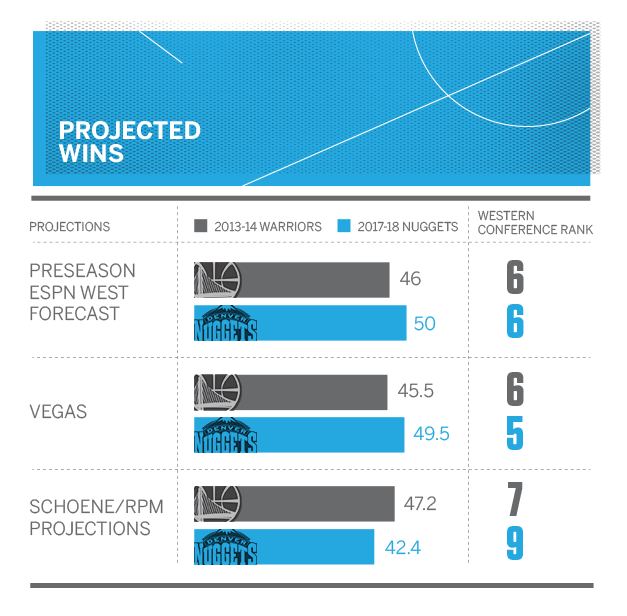 That's exactly where the Warriors finished, winning 51 games in a loaded conference that featured seven 50-win teams and left a 48-win Suns team out of the playoffs.
Now there's a real sense of déjà vu as the NBA is once again unbalanced. The Nuggets are looking up at a swath of star-heavy Western Conference powerhouses and figure to be somewhat of a high-quality afterthought. They also were picked by ESPN's Forecast panel to finish sixth. But as the new-look contenders try to find a groove early, there's a real opportunity for the Nuggets to steal some headlines, as they have the NBA's easiest schedule in October and November, according to ESPN's Basketball Power Index (BPI).

Breaking news: Stephen Curry and Nikola Jokic do not have similar games. And yet both succeed as offensive wunderkinds, thanks in part to a skill unmatched by any counterpart. Curry's shooting ability is unlike anything we've ever seen. The threat he presents by simply stepping on the floor unlocks defenses in ways that numbers can't fully articulate.
Jokic's playmaking presents a similar challenge. Seven-footers simply aren't supposed to thread needles and facilitate offense to the degree he does. Maybe you've heard this before, but it bears repeating: Since Jokic became the starting center in mid-December of last season, Denver -- not Golden State -- led the NBA in offensive efficiency.
The Warriors didn't become "The Warriors" until Curry transformed into a transcendent talent, a metamorphosis that began to take shape in 2012-13, gained momentum in 2013-14 and became reality in 2014-15. He's a bona fide superstar and a face of the NBA.
Jokic is three years younger and already ahead of where Curry was entering 2013-14.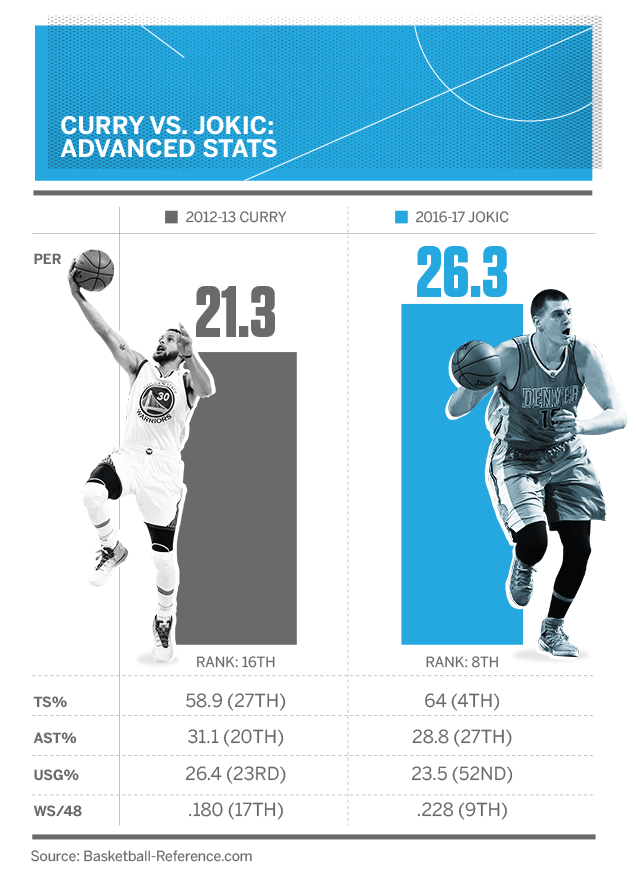 Heading into that season, Curry had yet to make an All-Star team, even though he was coming off a 2012-13 campaign in which he ranked in the top 20 in player efficiency rating (PER), win shares per 48 minutes and real plus-minus (RPM). Though he finished 19th in RPM -- an estimate of a player's true on-court impact -- the then 24-year-old Curry was still a minus defender, as his overall standing was buoyed by being fourth in offensive RPM to offset a defensive RPM of -0.78 that ranked outside the top 250.
Jokic ranked sixth in overall RPM last season with a much more balanced profile. He finished among the top 35 in both the offensive (12th) and defensive (34th) components, which should help dispel some of the notion that he's exclusively a one-way player (even if his rim protection will never come close to matching Rudy Gobert's). Contributing 6.7 points per 100 possessions to his team's performance last season, Jokic outperformed Curry's 2013-14 season, in which Curry finished sixth in the MVP race.
If you narrow the focus to those special skills -- Jokic's passing and Curry's shooting -- Jokic still reigns supreme with respect to their peer groups. Jokic averaged 6.3 assists per 36 minutes last season, 174 percent greater than the league-average starting center. Conversely, Curry's made 3s per 36 rated 120 percent greater than the league-average starting point guard. Point-center Nikola Jokic is truly a game-changer. Even if Jokic's playmaking doesn't rewrite the record books like Curry's shooting has, the fact that only Russell Westbrook, James Harden and LeBron James had more triple-doubles last season is a testament to his ability to control all facets of the game.
Although the advanced metrics indicate that Jokic already is a superstar, all signs point to this being the season that public perception catches up. Of course, Jokic will have some more help this season in the form of four-time All-Star Paul Millsap.

A veteran All-Star with a strong defensive pedigree whose on-court impact far exceeds box score contributions joins a young core hungry to compete -- where have we seen that before?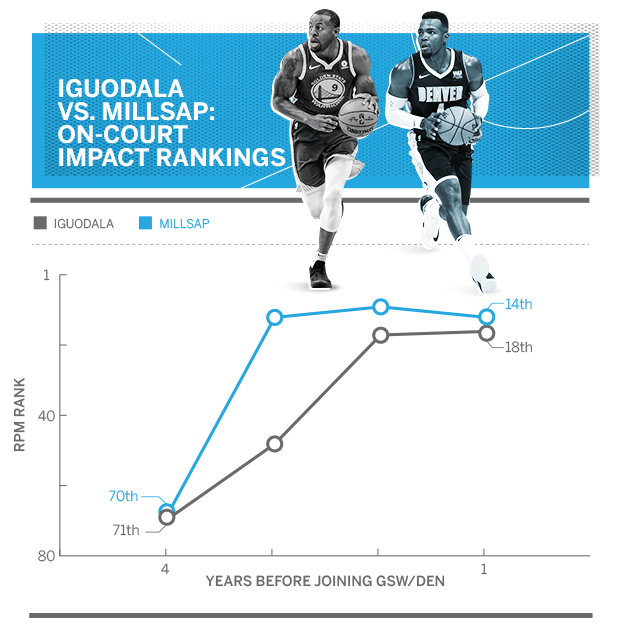 When Iguodala joined the Warriors, he was coming off two straight seasons in which he ranked among the top 20 in RPM, despite averaging a pedestrian 12.7 points per game over that same span. The casual fan might have seen a dependable and versatile player, but not necessarily a star.
Iguodala's impact was immediate and also severely understated. While Curry made the All-Star team and both David Lee and Klay Thompson pumped in more than 18 PPG, Iguodala averaged his fewest points since his rookie season, while not leading the team in any major statistical category. Without Iguodala on the floor, lineups with those three on the court outscored teams by 3.4 points per 100 possessions. In the more than 1,000 minutes with Iguodala, Curry, Lee and Thompson on the floor, the team's net rating soared to plus-17.1, suggesting that Iguodala's impact far outweighed anything that shows up on the back of a basketball card.
Perhaps not surprising then, Iguodala finished third in RPM that season behind only LeBron James and Chris Paul.
Millsap provides a similar under-the-radar impact that might not be gleaned from per-game averages. Last season in Atlanta, the Hawks' net rating of plus-2.0 with Millsap on the floor was seven points greater than when he was off the floor. That's a larger impact than Iguodala made in Denver in 2012-13, the season before he teamed up with the Warriors.
Millsap is one of just seven players who ranked inside the top 15 in RPM during each of the past three seasons, a club that includes All-NBA mainstays LeBron James, Stephen Curry, Kawhi Leonard, Chris Paul, Russell Westbrook and Draymond Green. At 32 years old, Millsap is two years older than Iguodala was entering 2013-14, and it doesn't take much imagination to see him starting for one season in Denver before transitioning to the same super-sub role Iguodala has embraced in the Bay Area.

"Twenty-three years old with a money stroke from beyond the arc and two-way potential as an elite 3-and-D shooting guard." That same description could have been written in October 2013 about Klay Thompson or October 2017 about Gary Harris.
Were it not for his fellow Splash Brother, Thompson would likely be viewed as the best shooter in the world. He's also coming off an NBA Finals in which he spent more time guarding Kyrie Irving than any other Warriors player, while holding him to 38 percent shooting and 0.8 points per play. That's a lofty goal for Harris to match.
However, compare Harris to Thompson at the same age and you come away thinking Harris has all the tools to get there. Last season, Harris averaged more points per 36 minutes, shot a better percentage from 3 and finished with more win shares than Thompson did as a 22-year-old. And he did it while playing more than 30 minutes per game, a significant piece of the rotation, even if he didn't yet quite have as large of a role as Thompson did at that same point.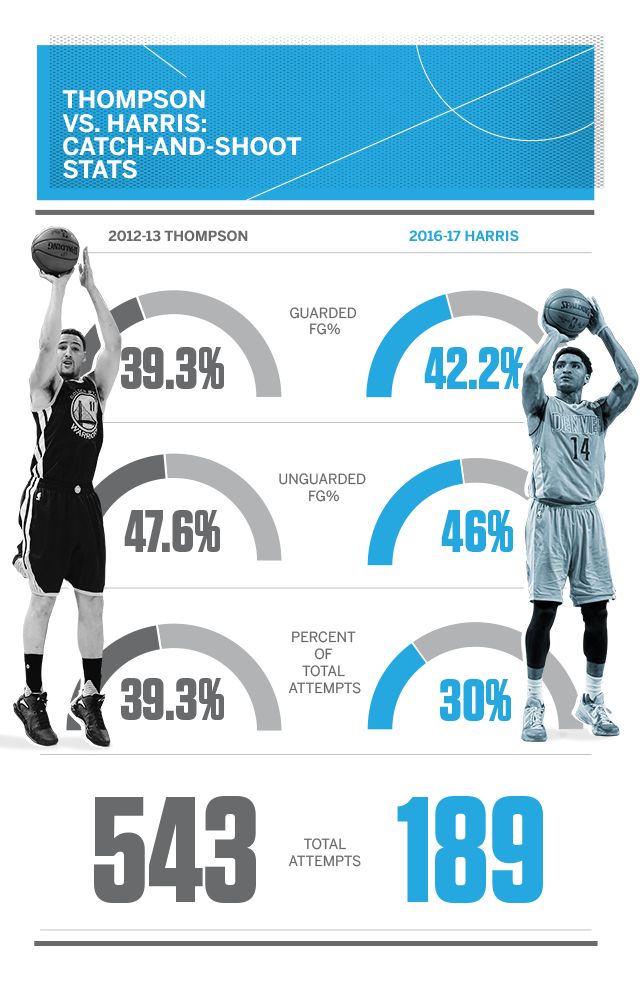 Of particular interest is Harris' ability to stretch the floor in Denver's high-octane offense playing off of Jokic. As the charts show, Harris is every bit as effective a catch-and-shoot threat that Thompson was back in 2012-13, though with less volume. Harris also shot a blistering 54 percent from the corners, which ranked second among the more than 100 players that attempted at least 60 of them. Offensively, Harris is every bit as advanced as Thompson was at this same point, which is frightening to consider, given Thompson's ability to go scorched earth.
Harris has further to go than Thompson on the defensive end, where he gives up three inches and thus doesn't have the size to check as many positions as effectively. According to Synergy, Harris ranked in just the 15th percentile in points per play allowed in the half-court, though some of that can be attributed to scheme and Denver's generally porous defense overall. Regardless, he ranked among the league's worst shooting guards in defensive RPM last season, despite having the tools to become a plus defender.
Golden State's offense might get more attention, but the team also has ranked among the top five in defensive rating over each of the past three seasons. Thompson's ability to check the opposing team's best perimeter threat plays a significant role in that, and if the Nuggets are going to evolve into a dynasty, Harris needs to show similar development.

Golden State didn't truly become special until Draymond Green emerged as an All-Star talent. Even with Curry, Iguodala and Thompson, the Warriors needed Green's all-around brilliance to evolve into the unselfish, efficient, 3-point-shooting, switch-everything, two-way force that led to the winningest three-year stretch in NBA history.
It was a star turn that few saw coming following Green's rookie season of 2012-13, in which he played just 13 minutes per game while stuck behind David Lee, Carl Landry, Andrew Bogut and even Festus Ezeli in the quest for playing time. Though he didn't truly break out until the 2014-15 season -- during which Green was thrust into a starting role after the injury to Lee -- the writing was on the wall following 2013-14, as he ranked among the top 25 in RPM, sandwiched directly between LaMarcus Aldridge and Russell Westbrook.
Denver has a whole cupboard full of malleable young players who could blossom into the key piece, the most promising of which is Jamal Murray. Entering his second season, Murray projects for 2.7 RPM wins in 2017-18, which would exceed Green's RPM wins from the 2012-13 season. While Green contributed far more in his second season, it's also worth pointing out that Murray entered the league three years younger than Green. There's plenty of time to play catch-up.

Even if it's not Murray, there are other possibilities. The Nuggets have five other first-round picks, all 22 or younger, in Juancho Hernangomez, Emmanuel Mudiay, Trey Lyles, Malik Beasley and Tyler Lydon, giving them plenty of options to throw at the dartboard. After all, it's not always the prospect you expect to develop that does. Four years ago, if you had to guess which other Warriors player would turn into an All-Star, the house money probably would have been on Harrison Barnes, not Green. That Barnes developed into a useful starter gives hope for Denver, as well, as it's not necessarily star or bust for the young horses in the stable.
Of course, the other benefit to building up the bench with young talent is it gives you options to explore trading for potentially attainable star players. Everyone talks about how Boston is loaded in young assets to acquire another star, and yet Denver's treasure chest isn't far off. In addition to the young collection of talent, the Nuggets own all of their first-round picks moving forward. If they decide to fast-track contention, they have a variety of pieces that could be attractive in a bid to land Mike Conley, Kyle Lowry, Bradley Beal, CJ McCollum or someone of that caliber.
Of course, Denver should not start securing permits for a downtown parade this June. These things take time. And just like the Warriors before them, it's most certainly a long shot, especially when you're doing it without the benefit of an obvious franchise-changer like LeBron. When the Warriors won the title in 2014-15, they became the first champions in the lottery era to win it all without a single top-five pick among their top five in minutes played. But even that team had seasoned pedigree in former No. 1 overall pick Andrew Bogut and former No. 4 overall pick Shaun Livingston. That team entered the season projected to finish seventh in the West.
Denver probably won't seriously contend this season. And they might not register 12 months from now, either. But any conversation about who's next absolutely needs to include the Mile High franchise that is doing a better Warriors impersonation than any other team.