Click here to jump to this month's schedule alert games.
Doc Rivers eyed the schedule, carefully hunting land mines, an annual August tradition for all NBA head coaches. In years past, Rivers, the Clippers' skipper, could always find a handful of games that he knew his squad would likely surrender not because of the opposition but because of the circumstances entering that game itself.
Such circumstances might include a game falling during a lengthy road trip, or at the tail end of a brutal back-to-back set, or it required travel across time zones, or it came against a team that had been off for a few days -- or maybe it was all of the above, a cocktail of misfortune.
In a league that adopted an 82-games-in-169-days approach, there was little that worn-down teams could do in these situations, especially against well-rested opposition -- and especially during the second half of the season.
"It's a significant advantage," Rivers tells ESPN. "And going into those, you know that. There's nothing you can do about it. They're going to be fresher. They're going to play faster. They're going to play harder. Our job, even in those games, is to try and find a way to win the game and get through the game. That's what you try to do."
But this year, while searching for "schedule losses," as these games are known around the league, Rivers instead found some relief.
Following growing criticism from LeBron James, Kobe Bryant and Dirk Nowitzki, along with several health experts, the NBA altered its 2017-18 regular-season slate, eliminating four-in-five stretches for the first time in league history, reducing five-in-seven sets and trimming 57 total back-to-backs, among other adjustments.
To create more rest days, this NBA regular season began Oct. 17, one week earlier than last season and the earliest start since 1980. "There are some rough patches," Rivers says, "but it's a good schedule."
Spurs coach Gregg Popovich, who pioneered resting players more than a decade ago, even praised NBA commissioner Adam Silver on Monday before his Spurs faced the Celtics in Boston, saying the schedule "speaks a lot for how much [Silver] cares about the players and the league."
Said Popovich, "The league, obviously, they've compromised a great deal. This schedule is great."
Is it really?
"It's an important step in the right direction," says Dr. Charles Czeisler, the director of sleep medicine at Brigham Health and Harvard Medical School, who has consulted with NBA teams on managing their schedules.
"First of all, it's an acknowledgment that this is an issue. Secondly, it's a league taking steps, trying to reduce the adverse impact of sleep deficiency and circadian [rhythm] disruption."
However, Czeisler added, "there's still a long way to go."
When asked the same question about the NBA's schedule, Timothy Royer, Psy.D, a clinical neuropsychologist and president and owner of Michigan-based Neuropeak Pro, which specializes in athletic performance and recovery, was more blunt.
"The short answer: no," says Royer, who has worked with NBA players for a decade and with teams for the past six years, including consulting on their schedules to optimize recovery and brain performance.
Speaking of the NBA's schedule and not of any specific teams, Royer says, "Yes, it's great that they're looking at something, but it's like polishing a car that has dents in the hood."
---
Schedule alert 2.0
Last summer, in ESPN The Magazine, we debuted our "schedule alert" project, utilizing multiple experts, including sleep doctors who consult with NBA teams, as well as reams of data from ESPN Stats & Information, to identify potential schedule loss games.
The experts ranked 488 back-to-back games based on various factors, including travel, game density, recovery time and game location.
And based on a formula constructed by Cheri Mah, a sleep consultant to NBA teams and a research fellow at the UC San Francisco Human Performance Center, we targeted 42 games.
The results: We correctly predicted 69 percent (29 of 42) of schedule alert games overall, including 76.5 percent (13 of 17) of "red alert" games -- those in which one team faced an especially steep competitive disadvantage due to the schedule.
In one of those "red alert" games last November, the Hornets faced a nightmare scenario: They were closing out a four-in-five (and a five-in-seven) stretch at home against the Pistons, having played the night before in Memphis before flying back home that same night and losing an hour along the way. (A Hornets staffer also told ESPN that he was "lucky" to get three hours of sleep that night.) The Pistons, meanwhile, entered the game with a two-day recovery advantage.
"ESPN said today that we have the lowest chance to win out of any game that will be played in the league this year," Hornets coach Steve Clifford said beforehand, referencing our project. As expected, Clifford's Hornets were blown out, 112-89, even though Pistons star center Andre Drummond was ejected in the second quarter.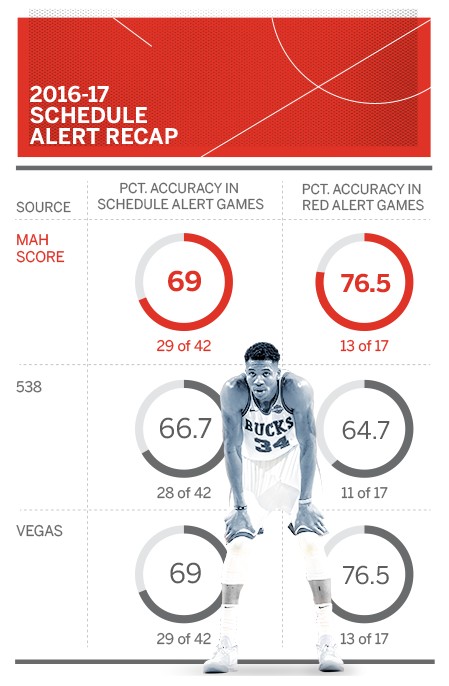 Now, schedule alert is back again for 2017-18, featuring an improved formula based on 10 seasons of data (2007-08 through 2016-17) totaling more than 12,000 games.
Based on a 15-point scale that includes some of the same factors mentioned above, we found 54 schedule alert games for the 2017-18 season, each featuring a MahScore of 8 or higher with a predicted loss of 63 percent based on the past 10 seasons.*
Of those 54 games, nine have a MahScore of 9 or higher -- "red alert" games -- and a predicted loss of 68.2 percent.
In all, we found that 27 teams have at least one schedule alert game -- and the Denver Nuggets have the most with six of them.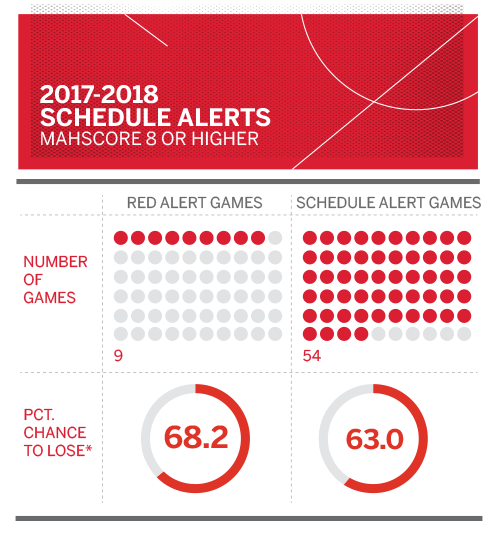 A key factor: These predictions are blind to the quality of a team. So even the defending champion Warriors have a schedule alert game.
Another factor: Because of tweaks that the NBA made to its 2017-18 schedule, there has been a reduction of games with a MahScore of 9 or higher; there would have been 24 such games a year ago, but now there are just nine.
At the beginning of each month, we'll list the schedule alert games for that month while showing how those in schedule alert games fared the month before.
While health experts lauded the NBA for being proactive in its changes to the schedule, those same experts say the changes don't truly take aim at the main issues that players face with regard to rest and recovery.
Is the league making progress?
Excluding the six-day All-Star break in mid-February, teams will play a back-to-back set every 11.8 days this season; last season, they played one every 10 days.
To Czeisler, the difference with the pace of back-to-backs -- a setup that he and other experts have previously said the NBA should do away with entirely -- isn't much of one.
"It's like saying, 'OK, every 10 days, I'm going to make you stay up all night,'" Czeisler said. "Then as the overlord, I'm going to say, 'You know, you've been doing a great job. I'm not going to make you stay up all night every 10 days anymore. I'm going to make you stay up all night every 12 days.'"
The NBA reduced the number of back-to-back sets from an average of 16.3 per team to 14.4, marking a record low for the third straight season, but, Czeisler said, "that's still 14.4 too many." (Czeisler has an idea about how the NBA might be able to reduce back-to-back games altogether.)
"Improving the schedule has been a priority for us in conjunction with the Players Association," NBA spokesman Tim Frank said in a statement to ESPN. "The expansion of the regular season by seven days along with holding additional dates in our arenas has allowed us to reach a historic low in back to backs and completely eliminate instances of four games in five nights. Our scheduling process has been reviewed by both performance and sleep experts, as well as athletic trainers, strength and conditioning coaches and sports scientists. We are encouraged by the improvements we have made thus far, and will continue to study and utilize all available information as it relates to our player health and wellness initiatives."
Speaking of the schedule, Lakers icon Kobe Bryant told ESPN earlier this year, "The one complaint that I would make would be focused on the sport and not really about me, physically, and complaining about what I have to go through.
"We can give the fans a greater show. If guys were able to get more rest and were healthier and all this other stuff, you wouldn't have players sitting out games, back-to-backs and all this other s---. So everyone would get a maximum performance because players would be extremely well-rested and coming in looking to kick ass every single night and looking to put on a show for [the fans] every single night. The product that the fans would get would be better."
Despite calls from Bryant, other stars and sport science experts for the league to reduce its schedule, the NBA has stuck with 82 games -- though Silver hinted at the possibility of an eventual change.
"There's nothing magical about 82 games," Silver told USA Today in September. "It's been in place for 50 years, but for the long-term planning of the league, as we learn more about the human body and the wear and tear of travel and the competitive landscape ... invariably we'll look at the regular season. And in looking at the regular season, it may create more opportunities for international franchises."
Instead, among other changes, the NBA moved to protect 22 marquee nationally televised games this season in the wake of DNP-rests skyrocketing in recent years.
Now, neither team competing in those 22 games will be involved in a back-to-back or five-in-seven scenario or will have traveled more than 3,500 miles seven days before the game.
Silver also has the authority to fine teams at least $100,000 for resting players in high-profile games, USA Today reported.
"On the TV games, the only thing I wonder about is how far down does the list go," Popovich said Monday in Boston. "Are you going to tell us which ones are the marquee players and which ones aren't? I guess they will if we don't play them and the fine comes, then I guess we'll know this guy is a marquee player."
(To be clear, the memo sent out from the league office to NBA general managers, head coaches, team physicians and athletic trainers does not specifically reference the resting of "marquee" players. It does, however, specifically state that teams are prohibited from resting "healthy" players for any high-profile, nationally-televised game. It further notes that any violation of this rule would result in a fine of at least $100,000.)
Royer noted that regardless of the NBA's schedule changes, the issue is an NBA culture -- one that he has witnessed firsthand -- in which teams don't have a protocol for what is healthy for sleep. Instead, such decisions can be made on the fly. As an example, Royer cited a common dilemma teams can face in Los Angeles, an especially popular nightlife destination.
"[Players] all want to be in L.A. and stay in L.A. so [they] can hit the clubs and do some different things," Royer said. "And it doesn't matter that maybe we should have moved on to work our way back to the East Coast earlier -- or it might be the older guys, they want to get back home. [But] even though we had a double overtime and it's 1 a.m., we're now going to drive to the airport and it's 2 a.m. Now we're going to jump on a plane. I've traveled with the team many times and [we'd] get in at 5 in the morning on the East Coast. You're like, 'This is insane.'"
In another situation, Royer said that after games, a team might fly across time zones, not arrive until late, and yet players might still rise to shoot that same morning, even if a coach advises against it. "That's like the factory worker coming in and saying, 'I've got to make more widgets,'" Royer said, speaking generally and not of one specific team. "[The factory's management would say], 'No. You need to go home and rest because you're going to get hurt in the factory.'
"Instead, the coaching staff, the training staff are like, 'Man. So-and-so is unbelievable.'"
For every hour that someone gains while traveling across time zones from East to West, it can take that individual about one whole day to fully recover, Royer points out.
And for every hour that someone loses while traveling across time zones from West to East, Royer adds, that same person can need about a day and a half to recover.
But given the pace of the NBA schedule, in which -- excluding the six-day NBA All-Star break -- teams will play a game every 2.07 days this season (as compared with 1.98 last season), "there's never even any time to [recover]," Royer says.
This season, the Timberwolves will travel a league-high 55,289 miles -- more than twice the circumference of the Earth at the equator -- over 176 days. That's like flying from New York City to Pittsburgh every single day for about 25 weeks.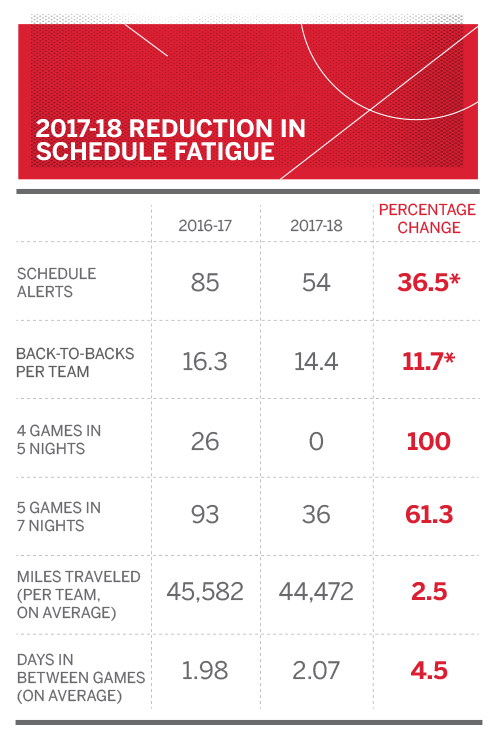 *(Indicates a percentage point change of 1.26 and 2.3, respectively, out of all possible matchups.)
Last week, on Oct. 25, the Timberwolves played the Pistons in Detroit on the second night of a back-to-back set -- a game that registered a MahScore of 8 in terms of the schedule-related challenges that Minnesota would face.
En route to a 122-101 win, the Pistons outscored the young and promising Timberwolves 24-0 in fast-break points while outscoring them 40-18 in the second quarter alone.
"Things change very quickly in this league," Timberwolves coach Tom Thibodeau told reporters after the blowout loss. "You can be going good, but if you don't come with an edge every night, you're going to get knocked on your butt."
---
November's schedule alert games

This marks the second of a back-to-back set for the Bucks, who hosted the Thunder on Tuesday before (on Halloween, no less) flying east to Charlotte on the same night ... and losing an hour in the process. It's also the Bucks' third game in four days. The Hornets will enter the game with a one-day rest advantage.
Update: Bucks lose 121-126

Ah, Brooklyn will be facing the most notoriously difficult traveling scenario in the NBA, having to head to Denver to close out the tail end of a back-to-back set. The Nets will be heading to Denver from Phoenix, where they'll play the Suns the night before, to face a Nuggets squad that will have a two-day rest advantage.
Update: Nets lose 104-112

After facing the Pelicans at home, the Pacers will head out that night to close out a back-to-back set in Detroit against the Pistons, who will have been off for three days. That's quite a rest advantage for Stan Van Gundy's squad. Even worse for the Pacers: This will mark their sixth game in nine days -- and their fourth on the road.
Update: Pacers lose 97-114

The Rockets will face the gritty Grizzlies at home before heading out that night -- and losing an hour in the process -- to Indianapolis to face the Pacers, who will enter this game with a one-day rest advantage. This will also mark the Rockets' third game in four days.
Update: Rockets win 118-95

The Bulls will be in the midst of a Western Conference road swing, and this contest will mark the third of a four-game trip and the second of a back-to-back set. So after playing the Lakers in Los Angeles, the Bulls will head to Salt Lake City -- and lose an hour in the process -- to face the Jazz, who will enter the game with a one-day rest advantage.
Update: Bulls lose 80-110

After playing a Sunday matinee in Minnesota, then facing the Bulls in Chicago on Tuesday, the Suns will head out that night for Detroit -- and lose an hour in the process -- to close out a back-to-back set against the Pistons, who will have a one-day rest advantage. This marks the Suns' third game in four days -- all of them on the road.
Update: Suns lose 107-131

The Wizards will duel with the Timberwolves in Minnesota on Tuesday, then head out that same night -- while losing an hour in the process -- for Philadelphia to close out a back-to-back set against the 76ers, who will enter the game with a one-day rest advantage.
Update: Wizards lose 113-118

This is one of our nine red alert games this season. After playing the Wizards at home, the Timberwolves will head to New Orleans to face the Pelicans, who will have a whopping three-day rest advantage. It will also mark the third game in four days for the Timberwolves.
Update: Timberwolves win 120-102
---
October's schedule alert games
Pacers lose to the Heat in Miami 112-108, Oct. 21
MahScore: 8
Indiana lost to the Trail Blazers in Indianapolis on Oct. 20, then headed out that night for Miami and, according to the Indianapolis Star, did not arrive until after 4 a.m. due to plane mechanical difficulties. The Pacers, playing without Myles Turner (concussion, sore neck), trailed by as many as 21 in the third quarter and fought back, but it wasn't enough. The Heat, who were without Hassan Whiteside (bruised knee), entered the game with a two-day rest advantage. Pacers coach Nate McMillan noted that his team was "a little winded" in the first half.
Kings lose to the Nuggets in Denver 96-79, Oct. 21
MahScore: 8
After beating the Mavericks in Dallas on Oct. 20, the Kings had to close out a back-to-back set in Denver (remember, infamously difficult). And the Nuggets, who entered the game with a two-day rest advantage, thoroughly trounced their visitors, especially on the glass, where Denver held a 58-39 edge. The Kings shot just 32.5 percent in the first half and had scored just 27 points late in the second period. According to the Sacramento Bee, Kings coach Dave Joerger said his team was "slow." Kings guard Garrett Temple called the team "passive."
Timberwolves lose to the Pistons in Detroit 122-101, Oct. 25
MahScore: 8
Following a 23-point thrashing from the Pacers at home, the Timberwolves headed to Detroit -- losing an hour in the process -- to face the Pistons, who entered the game on a one-day rest advantage. And the Pistons put on a clinic, outscoring the Timberwolves 24-0 in fast-break points while outscoring them 40-18 in the second quarter. Tobias Harris matched his career high with 34 points to lead Detroit. All-Star guard Jimmy Butler (upper respiratory ailment) was out for Minnesota.
Lakers lose to the Jazz in Salt Lake City 96-81, Oct. 28
MahScore: 8.5
After losing to the Raptors in Los Angeles, the Lakers boarded a flight a few hours later and headed to Salt Lake City -- losing an hour in the process -- to close out a back-to-back set (and their third game in four nights) against the Jazz, who entered the night with a two-day recovery advantage. The Lakers trailed 21-7 early and then 31-16 in the first quarter. The Lakers also shot just 5-of-22 from long range and were held to their lowest point total of the season. "Besides the first quarter, I thought our guys competed hard, at least," Lakers coach Luke Walton told reporters afterward. "I was proud of them for not giving in to the fatigue of getting in at 3 a.m. and having the back-to-back, three-games-in-four-nights thing."
ESPN's Chris Forsberg contributed to this report.