Editor's note: This story has been updated to reflect Tuesday's Cavaliers-Bucks game.
On Tuesday night, LeBron James hit the court for his 1,072nd regular-season game.
Why is that noteworthy? Because Michael Jordan played in 1,072 regular-season games in his 15-season career, and in case you've been under a rock or off Twitter for the past decade, the NBA world has been known to compare the two legends' careers.
How does the duo stack up as King James matches His Airness?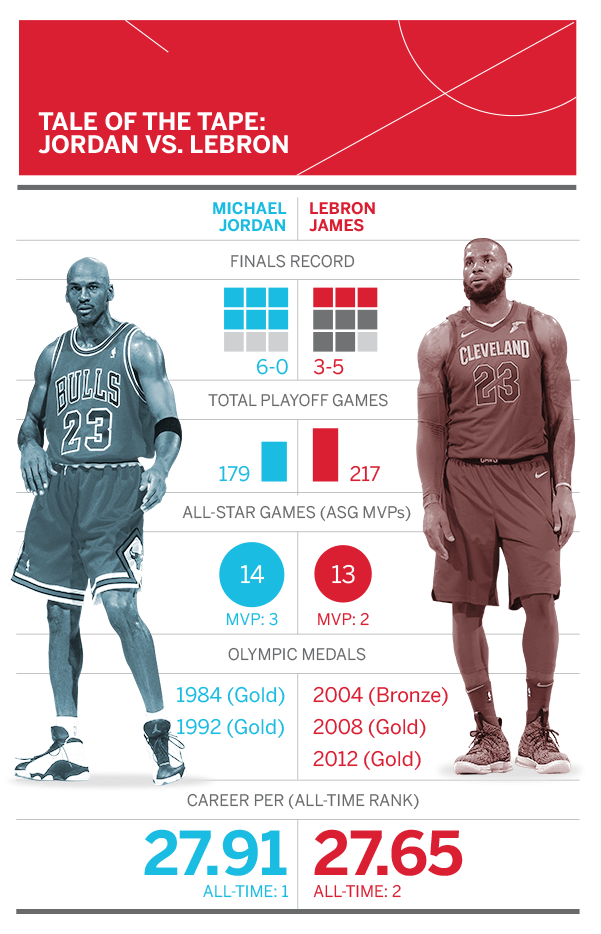 Two stat kings

LeBron has appeared in 94 percent of his team's games in his career. Although that's a greater percentage than MJ's 92 percent, it's worth noting that James has never played in all 82 games, something Jordan did nine times, including in his final season with the Washington Wizards in 2002-03.
Although Jordan played in more than 100 more games than James in which he finished as his team's outright leading scorer, James has more than twice as many games (103 vs. 44) in which he finished as his team's outright leader in points, rebounds and assists.

Any room in the trophy case?

Although James holds the edge in All-NBA nods, Jordan holds the advantage in All-Defense selections and MVP awards. Can LeBron catch MJ? He's seven years younger than Jordan was at the time of his 1,072nd career game -- LeBron started his career two months shy of his 19th birthday -- so King James has some time to catch up.

Who has shared the court with the legends?
In total, 107 players appeared as teammates alongside Jordan, while 135 have appeared alongside James. One lucky quartet -- Jerry Stackhouse, Brendan Haywood, Larry Hughes and Scott Williams -- played with both of them.
When it comes to playing with former No. 1 overall draft picks, LeBron -- the top pick in the 2003 draft -- holds an overwhelming lead over MJ throughout their careers, although only one, Kyrie Irving, shared the court with LeBron during his prime.
James also briefly shared a roster with former No. 1 overall picks Andrew Wiggins and Anthony Bennett in Cleveland, but both players were traded prior to the start of the 2014-15 season.
Although James and Jordan never shared the court as opponents, the duo has met in plenty of occasions as player and owner. Unfortunately for Jordan, his Charlotte Hornets (and Bobcats prior) haven't had much success against LeBron.