Here we go into the second half of the season:
1. A Dirkaissance
Dirk Nowitzki is back, and he's a big reason the frisky Mavs are 12-13 over their past 25 games. No player has ever been this impactful while having such a hard time, like, running and walking. Seriously, zero in on Dirk during his first stint of each half, and you'll catch him sneaking in a deep knee bend -- some old-man calisthenics -- when he's away from the action.
Since Dallas fell into that 3-15 ditch, Nowitzki is averaging 14 points per game on very close to 50/40/90 shooting. Again, he can barely move. Teams still scrap their base pick-and-roll defense to account for his jumper. They'll switch little guys onto him, or send third defenders flying at him even if it leaves another Maverick open -- whatever it takes to prevent Dirk from launching.
A Nowitzki ball screen remains one of the game's most lethal plays. The Mavs pour in 1.18 points per possession when Nowitzki sets a pick for a ball-handler, seventh among all high-volume screen-setters, behind only Zaza Pachulia, LeBron James, Luke Babbitt, Channing Frye, Jordan Bell and Draymond Green, per Second Spectrum. (To review: three Warriors, the game's best player, a shooting big man who plays with the game's best player, and Luke Babbitt for some reason.) Only Marc Gasol, Robin Lopez and DeAndre Jordan have set more ball screens.
He's even setting up office hours at the center of the foul line again after shying away from post-ups early in the season. The Mavs have scored 1.32 points per possession on any trip featuring a Dirk post-up, the fourth-highest mark among 81 guys who have recorded at least 50 post-ups, according to Second Spectrum.
He is a key member of the Mavs' fittingly wacky Death Lineup: Nowitzki, Yogi Ferrell, J.J. Barea, Devin Harris and Dwight Powell -- still outscoring teams by an ungodly 19 points per 100 possessions. He's happy to sit during crunch time if the Mavs have a lead, and Rick Carlisle needs defense.
Dirk, forever.
2. Whining about garbage-time layups
First, it was Mike Budenholzer expressing some, umm, consternation about OG Anunoby's pick-six dunk with 17.1 seconds left and Toronto leading Atlanta by 11 two weeks ago. (Budenholzer later apologized.) Then on Wednesday, Damian Lillard seemed annoyed that Chris Paul caught a pass from Trevor Ariza near Portland's basket, and dared lay the ball in with Houston up by seven and about 15 seconds left.
Stop whining! This is the NBA! If you want to prevent teams from running up the score, don't turn the ball over! Foul someone!
These aren't obscene, obnoxious plays. Budenholzer demands the Hawks run their offense with a certain crispness even in garbage time. Anunoby defends with the same crispness, steals the ball, and finds his momentum already taking him toward the basket. In that case, have some fun, rook. He didn't slap any mustard on his dunk.
Houston was up only seven when Paul caught a pass, momentum also going toward the basket, and lofted the ball in. Nutty comebacks -- or almost-comebacks -- happen all the time in the NBA. If you are up by less than 10 with 20 seconds left, you should be free to do whatever the hell you'd like. Paul didn't showboat, either.
The story would be different if these guys went out of their way to humiliate a prone opponent. Paul and Anunoby execute normal basketball plays. It's almost more embarrassing -- and more condescending -- if Anunoby U-turns and dribbles out the clock.
A touch pass is the product of a firing, impatient brain. It requires understanding -- instantly -- how any possible pass from a teammate will warp the geometry of the floor, and what cracks will emerge in the defense.
Jokic, the greatest passing big man in the game today -- and perhaps since prime Arvydas Sabonis -- is the master of a violent, clubbing slap pass that might be completely unique to him among current players:
Jokic is winding up to smack the ball even as it is in the air, on its way to him.
Larry Bird is probably the greatest touch-passer in basketball history. He sometimes mimicked this action with his dribble; he'd bounce the ball down, gird himself for a touch pass as it hit the floor, and then whap it with one hand when it came up again. Sabonis, Magic Johnson, Jason Kidd, Toni Kukoc, Vlade Divac, and a few other names come to mind as all-time touch-passers.
But even most of Bird's were two-hand volleyball-style touches, not one-handed smacks like this.
Like a lot of savants, Jokic sometimes plays with an annoyed antsiness. He can't wait for the ball to arrive, even if none of his teammates understand why. In every game, you will see Jokic holding the ball at the elbow, staring at a teammate, and nodding in the direction of an open cutting lane with the subtlety of Kramer in the police lineup: "GO THERE! NOW! HOW DO YOU NOT SEE WHAT I SEE?"
Jokic remains fascinating to evaluate. He is not a traditional franchise player. He takes only 12 shots per game, and he's using a slightly lower portion of Denver's possessions than he did last season. He spends entire halves kind of floating around, scanning for teammates. You want to scream: "YOU SHOT ALMOST 60 PERCENT ON POST-UPS LAST SEASON! GET YOUR ASS DOWN THERE!"
But there is a higher art to a lot of what Jokic does. He understands the power -- both on the court and in terms of chemistry -- of making his teammates feel good. Even passes that don't turn into assists -- and have little chance of doing so -- carry hidden value. Jokic always makes the right pass, even if it merely kicks off a sequence that ends with a good Denver shot three passes later. Pull a different lever, and an entirely different sequence -- a less profitable one -- unfolds.
He leads all big men in hockey assists, by a hair over Draymond Green. Jokic is the almost the inverse of Kristaps Porzingis, the unicorn to whom he is so often compared. Porzingis shoots and scores a lot more, and does so with reasonable efficiency. He can command a game in crunch time. You will never have to order Porzingis to go and get the damned ball.
But he barely passes. Who is the better offensive player? It's hard to say, but your answer probably reveals something of your deepest beliefs about basketball. (On defense, Porzingis has a big edge, obviously.)
Denver is in a mini-swoon. They can probably use a more assertive, back-to-the-basket Jokic tonight against Memphis -- and Jokic's stylistic twin, Marc Gasol.
4. Unnecessary exclamation points in Miami
Something I hadn't noticed until visiting Miami last week: Their three championship banners have an exclamation point after "champions."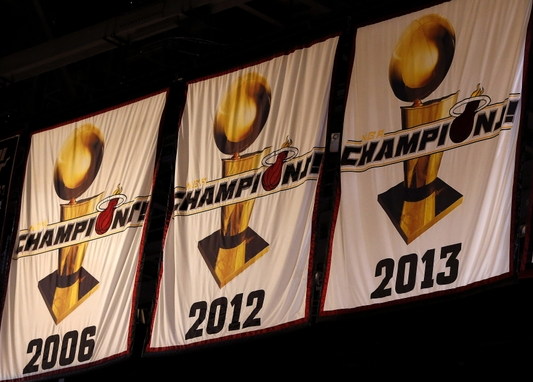 I normally like anything that plays up Miami kitsch, but this somehow seems undignified -- something a pee-wee team might do. Punctuation marks end sentences, and without any set-up, the single word "champions" doesn't function as one.
5. When Rodney Hood doesn't settle
Catch Hood on the right night, and he looks like a star -- raining 3-pointers, and dropping in soft, old-school lefty floaters. He makes you forget all the other nights when he goes 2-of-7 on those tough midrange looks.
Only 11 percent of Hood's shots have come within four feet of the hoop, a career-low, and a mark that puts him in the 9th percentile among wing players, per Cleaning The Glass. His tendency to settle deflates his free throw attempts and passing numbers. You can't drive-and-kick if you abort drives before drawing extra help. Hood averages less than two assists per game -- a teensy number for a wing who has the ball so much.
He has more in him. When he takes that one extra dribble deep into the paint, Hood unlocks more options, and serves up some canny interior passes:
You can see him pause to contemplate his pet floater before prodding for something better. Hood is already shooting 39 percent from deep. He tries on defense, and he's big enough to bully smaller guys in the paint. This extra dribble is the missing piece.
It's always interesting to watch how ball-handlers react when behemoths drop way back into the paint against them on the pick-and-roll. Some happily pull up for jumpers. Some prefer teardrops. Some pause around the foul line to take stock.
And then there is Oladipo, who will use the open space as an acceleration lane and zip right around the big fella:
Oladipo has played the entire season with that hunched fury. Coaches and execs often say the hardest part of being a star -- the last hurdle -- is digesting that you have to bring it every night. You scored 30 tonight? Awesome. We need it tomorrow, and then in the game after that.
Oladipo has scored at least 15 points in all but two of the games he has played this season. Opponents destroy the Pacers with Oladipo on the bench; Indiana is 0-5 in games he has missed.
Kyrie Irving leads all Eastern Conference guards in All-Star votes, and if you asked 100 fans to name the best guard in the East so far, I bet 75 percent of them would say either Irving or DeMar DeRozan. The statistical resumes are similar, but given his defense, the answer may be Oladipo. Put this dude in the All-Star Game.
LeVert's per-36-minutes numbers since Nov. 22: 17.5 points on 47 percent shooting, including 43 percent from deep, and a very impressive 6.5 dimes. The results are finally catching up to the process.
LeVert looked overwhelmed at first when injuries to D'Angelo Russell and Jeremy Lin forced him into a backup point guard role. He's still turnover prone, with a habit of driving himself into corners he can't escape.
But he keeps defenders off-balance with change-of-pace dribbles, and wraps some slick interior passes:
He has a nice chemistry with Jarrett Allen; LeVert has assisted on 28 of Allen's baskets, the most he has dished to any teammate. (No other Net has provided Allen nearly that many helpers; Spencer Dinwiddie, a revelation this season, is No. 2 in assists to Allen -- with just nine. Playing time patterns account for a lot of that, but it's clear LeVert and Allen have connected.)
I hate this on two levels: That the Hornets still do it, and that Batum has been so blah, it sometimes doesn't seem to hurt Charlotte much -- including on their recent road trip, when their bench perked up.
But since Batum's return, opponents have outscored Charlotte by about 13 points per 100 possessions when their two lead ball-handlers sit together. And yet somehow, Stephen Silas was rolling these bench mobs out for almost 11 minutes per game.
Those groups cannot produce NBA-level offense unless Frank Kaminsky is raining an unusual number of 3s and spinny floaters. Beyond that, there are a lot of Johnny O'Bryant jumpers and Michael Carter-Williams line drives that endanger the structural integrity of backboards. (Carter-Williams is shooting 27.6 percent!)
Batum has been such a nonentity that you wonder if he'd be up for carrying bench-heavy units, anyway. He's jacking only 9.7 shots per game, and barely getting to the line. Batum has used just 17 percent of Charlotte's possessions, by far his lowest share since coming over from Portland -- an inexcusably low number for any max-salaried player who is not a shot-blocking center.
Batum has settled back into his Blazers fourth option role for a team that needs a viable second option. (Charlotte also really misses Cody Zeller.) Let's hope this is just the lingering effect of his early-season elbow injury.
Charlotte plays seven of its next eight games at home. It is now or never. They already lost the first home game of this stretch Wednesday to a Mavs team on a back-to-back, and they have not at any point played with the oomph that suggests a streak might be coming. Maybe the welcome return of Steve Clifford will ignite them.
9. Over-the-backboard 3s
I'm not sure we regular humans can fully appreciate the insane, pinpoint accuracy of great NBA shooters. To drain a 3 from the deep corner, they have to aim the ball so that it almost grazes the backboard. Some shots fly right over the corner of the backboard before plopping into the hoop. The difference between a perfect swish and an embarrassing clank is just a few centimeters.
I mean, look at this:
That shot didn't end up counting, because Kyle Korver stepped just out of bounds. You know what? Count it anyway. This is a basically a H-O-R-S-E shot taken under duress in an actual NBA game. It should count even if a sliver of shoe is out of bounds.
Does this dead-eye precision translate to other sports? Would Korver develop into an Olympic-level archer if he dedicated himself? What about those rifle events in which shooters have to hit targets the size of a period at the end of a sentence?
10. Jumbo pick-and-rolls for Ben Simmons
Being such a bad shooter that defenders duck under picks against you isn't an NBA death sentence. Simmons is fast enough to win the race to the other side of that pick. He's so strong, he can shoulder-check backpedaling defenders out of the way and flick the ball in.
Still: There will be some nights when the tactic stalls out an offense. Brett Brown has a few counters in the bag, including a jumbo two-man pick-and-roll Doc Rivers popularized in springing Rajon Rondo in Boston:
Rivers called this play "45," combining the positional designations for the two screeners -- the power forward and center -- and he used it a lot for Chris Paul, too. It's hard for any defender to slide under a four-person scrum, and meet Simmons on the other end.
Simmons is such an unusual player. He is a jumper-less, gigantic point-whatever figuring out the world's toughest league on the fly. He is searching for the right pass-versus-score balance on the pick-and-roll, and is somewhere in the middle right now. (Not in the middle: Carmelo Anthony. Anthony is more likely than any other player to shoot after using a ball screen, per Second Spectrum.)
Posting up has probably been more of a struggle than Simmons expected, especially since opposing point guards are so often stuck on him. Given his sublime passing skills, Simmons will grow into an unguardable post-up creator against that sort of size mismatch.
But it requires patience. Simmons is shooting just 41.2 percent on post-ups with a high turnover rate, per Synergy Sports. Philly has scored 0.53 points per possession directly out of Simmons post-ups -- the worst mark in the league by an alarming margin, per Synergy Sports. (The eye test suggests these numbers are underselling his impact as a post threat a bit, but they are still broadly representative of his play.)
Regardless: He's already one of the league's 10 best passers -- a fast-twitch, do-it-all athlete who can guard all five positions. #TTP