Two-and-a-half seasons into his NBA career, surprise one-and-done Devin Booker has transformed into a borderline All-Star and arguably the third-best player to come out of the 2015 draft. During the pre-draft process scouts questioned if Booker -- who would go on to become the No. 13 pick -- could become more than a shooter in the NBA. His size, stroke, feel for the game and footwork were impressive, but if he was going to remain the quick-action shot-maker teams saw at Kentucky, would he tick enough of the other boxes on both ends to warrant a lottery selection?
"When we got to Kentucky, everyone said they're going to sacrifice," Booker said after a December game. "We had such a talented team. You see Karl-Anthony Towns shooting 3s now, [John Calipari] wouldn't let him do that. So we all had a role on that team that we all followed. I think once I got in those draft workouts teams realized, 'Oh, he can put the ball on the floor a little bit.'"
At age 21, Booker has developed into much more than a 3-point threat. He's the Phoenix Suns' future and present -- an evolving three-level scorer, smooth pick-and-roll player and a budding facilitator.
Through 40 games this season Booker is one of only 10 players averaging at least 25 points, five rebounds and five assists per 40 minutes. The others? Stephen Curry, LeBron James, Kevin Durant, Giannis Antetokounmpo, James Harden, Damian Lillard, DeMarcus Cousins, Blake Griffin and Russell Westbrook.
Sure, some of that is a product of Booker carrying a heavy load for a bad Suns team (his true shooting percentage ranks eighth in that group). But of those 10, only Giannis and Booker are younger than 27.
Here's how he surged passed expectations for a late lottery pick, and what we can learn for future drafts.
---
How he's improved
While the fact Booker has greatly outplayed his draft slot is due partially to teams misevaluating certain aspects of his game, the majority of it is a product of his continued development. He has added new elements to his game every season, and it's his growth as a ball-screen and isolation player that has really taken him to new heights.
In 38 college games and 248 half-court possessions, Booker used only eight pick-and-rolls (2.3 percent of his offense) and four isolations (1.2 percent of his offense), according to Synergy Sports. He made only 12 shots around the rim (floaters and finishes), which is fewer than one every three games.
At the NBA level, though, Booker is Phoenix's workhorse. He has the eighth-highest usage percentage in the NBA, ahead of Curry, LeBron, Lillard and DeMar DeRozan. According to Second Spectrum data, Booker receives on average 21.9 picks per game. Although he hasn't been overly efficient, he has developed into a scoring threat out of ball screens and would likely be even more successful with additional talent around him.
The pick-and-roll has made up 26.7 percent of his offense for the second consecutive season, more than 10 times his rate at Kentucky. Not only has he been saddled with much more responsibility since the moment he landed in Phoenix, but he's proven capable of handling it. It's the combination of added volume and individual improvement that has allowed him to look like a future All-Star and one of the top young offensive guards in the NBA. But what specifically about Booker's game has allowed him to turn into more of an on-ball threat than scouts expected?
1. Expanded pull-up game
Booker's ball-screen and isolation success starts with his ability to hurt defenses with his pull-up. Although he didn't get many opportunities to show himself as a shot creator at Kentucky, in retrospect it should have been a bit easier to see this coming when you consider his size, footwork, touch and feel. Given the spacing of the NBA game, players with his tools usually develop into threats, even if they aren't full of burst or wiggle.
His crisp footwork, especially, could have been indicators of him turning into a more dynamic pick-and-roll pull-up shooter. Looking back, the eye test supports what we know now:
Booker made jumper
Booker is assisted by Tyler Ulis.
His on-the-move shooting potential also could be seen in his tremendous elevation, balance and touch when sprinting off screens. He had an excellent base exploding into his jumper and did a great job getting square in the air and shooting near the peak of jump.
Booker drains 3-pointer on Murray.
Devin Booker knocks down the triple over Jamal Murray and then imitates his celebration after starting a petty war.
But there are plenty of NBA snipers who do a great job on the move without becoming prolific pick-and-roll shooters (Kyle Korver, JJ Redick, Klay Thompson). Booker has become more comfortable with the ball, operating at different speeds and keeping defenses honest with his pull-up game. While partially a function of his role, Booker barely put the ball down more than once or twice on a possession at Kentucky. His now-crisp handle really stands out in his NBA film, and it's deep pull-ups like this that set the table for the rest of his attack.
Booker takes Anderson off the dribble for layup.
Devin Booker gets Ryan Anderson one-on-one and takes him to the rack to finish with a finger roll.
Dillon Brooks does a great job getting into Booker's body early, but all he needs is a small window to dribble into his pull-up from 30 feet.
Whether in ball-screens or isolation situations, range like this makes Booker a really tough cover in the half court, as he's knocking down a career-best 3.1 3-pointers per 40 minutes and at a 38.5 percent clip.
Booker isn't a guard teams can use drop pick-and-roll coverage against, as he's too much of a threat to rise up either from 3 or in midrange spots. Even when big men meet him at the line, he's more than comfortable knocking down tough pull-ups with range. Through 40 games Booker is scoring 0.934 points per possession on pull-ups, according to Synergy Sports, which ranks in the 70th percentile, an increase from his first two seasons.
Even when teams do get into his body and get him off the 3-point line, he does a great job of bouncing out with step backs or using his size, handle and pace to get to midrange spots.
Opposing coaching staffs usually try to show him different looks. They'll be physical with him at the point of attack, blitz him with aggressive traps to get the ball out of his hands or switch onto him and force him into a contested jumper.
While playing the law of averages is a sound strategy, Booker is still an extremely skilled isolation player, which is a major area of growth since his college days. After using only four total isolation possessions in 38 games at Kentucky, he averages just more than three per game at the NBA level, according to Synergy Sports. While a lot of teams opt to switch against him, his ability to elevate into his jumper makes him tough to contain.
He also does a great job of using slight nudges or stop-on-a-dime, behind-the-back dribbles inside the arc to create just enough space to rise and fire. In general, he has added a handful of combo moves to his once-basic handle, and that has unlocked his pull-up game accordingly.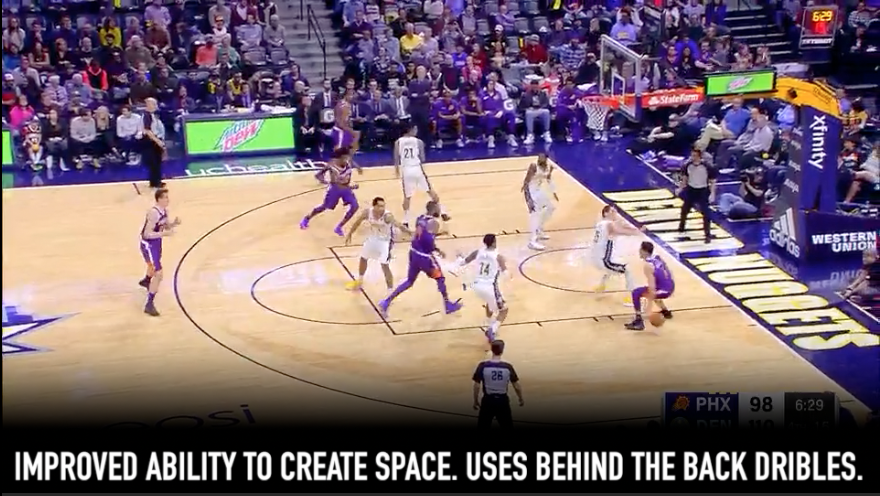 While living off of contested pull-up 2-pointers isn't exactly the new wave of modern basketball, Booker is extremely gifted at doing exactly that both from the post and the perimeter. He's at his best against smaller 2s like Gary Harris and Avery Bradley, as he uses his elite footwork, handle and deception to get to his jumper at will.
Ulis made 3
Booker assists Ulis for the shot.
Although Phoenix isn't loaded with talent -- and Booker can be a bit trigger-happy -- he's doing a better job of blending scoring and playmaking while using the framework of his pull-up to set up the rest of his game.
2. Pace and getting to the rim
At Kentucky, Booker more or less played at one speed. Almost every time he put the ball on the deck it was to get to a midrange pull-up, which became predictable for opposing defenses.
It's a big reason why scouts weren't convinced he'd become more than a versatile shooter at the NBA level, as 89 percent of his total shots in the half court were jumpers and he attempted only 3.1 free throws per 40 minutes. His game appeared to be trending more toward Thompson than Harden, without the defense of Golden State's two-way star.
He was much more shooter than shot creator at the college level. Even when he had a lane to the rim he opted to hard plant and rise up in midrange spots.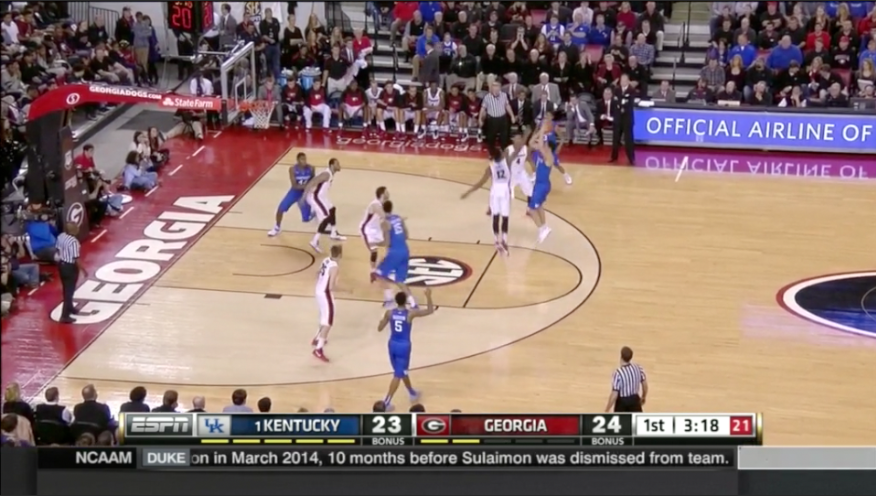 While he still prefers pull-ups, Booker is doing a much better job of slowing the game down and reading the defense, getting into the paint for floaters, finishes or fouls. Only 65.6 percent of his shots are jumpers this season, and he's playing with pace while toying with big man and weakside defenders in pick-and-roll.
He needs to improve as an at-rim finisher, which was a real concern at the collegiate level as well. He's not a freak leaper and his so-so wingspan and average frame limit him a bit in traffic. Still, Booker never showed the live dribble game he has put on display now, and he's using it effectively.
We've seen how the threat of a jumper combined with NBA spacing usually eases concerns about lacking burst with the ball. Although still not full of wiggle and Kyrie Irving's chop-you-up sizzle, he has greatly improved his ability to get into the lane as the primary ball-handler. His efficiency can improve, but Booker is now making more than three at-rim shots plus floaters per game. His free-throw attempts per 40 minutes have more than doubled since college (now up to 7.4).
"Once you get known as a shooter like I did when I was really young, you gotta work on something else," Booker said. "People were closing out hard, I'd get by them, used to just one-two dribble pull-up. But now, obviously, the NBA game's a pick-and-roll game and I knew I had to work on that. I was working on it before college, in college, and now I'm getting a chance to display it."
Now he's freezing big men and guards alike:
Booker made jumper
Booker gets the assist from Dakari Johnson.
Heralded defenders like Kentavious Caldwell-Pope have to respect Booker's triple-threat game as well. He does a great job of using hard jab steps and rip-throughs to get to his pull-up, which in turn opens up drives:
Booker also looks more comfortable stringing big men out in ball screens and using hesitation dribbles to attack. He still kills his dribble on occasion and is learning how to attack aggressive coverages, but plays like the one below are a welcome sign for both his ball screen slashing and finishing.
In the play, Booker's drive and finish against Philly is one of the best examples of his improvements as a ball-screen slasher and skill finisher.
First, he freezes Joel Embiid with the hesitation dribble, then in Harden-like fashion he keeps the ball low with strong hands as Ben Simmons digs off the wing, and he ends the possession with a high-arcing lefty touch shot -- plus the foul. While it's difficult to live off of finishes like this on a consistent basis, it speaks to Booker's improved skill level, comfort level and touch around the rim.
He's also learning how to snake ball screens, getting to the middle of the floor and using his ability to open his hips and shift gears to break down defenses.
Booker is still in the 30th percentile as a finisher, shooting only 50.5 percent. His 46.4 2-point percentage suggests he's not the most efficient No. 1 scoring option, and his finishing is part of the reason why. He's also shooting only 34 percent on floaters, which is average by NBA standards. But the improvement as a deceptive, skill finisher has been noticeable, especially considering his age.
This 2-foot floater is an example of a shot Booker didn't utilize at Kentucky (he attempted only two floaters all season). He's making less than one floater per game this season and has shown some ambidexterity in the process.
In addition to an improving finishing package, Booker already has a lot of the veteran foul-drawing tricks down.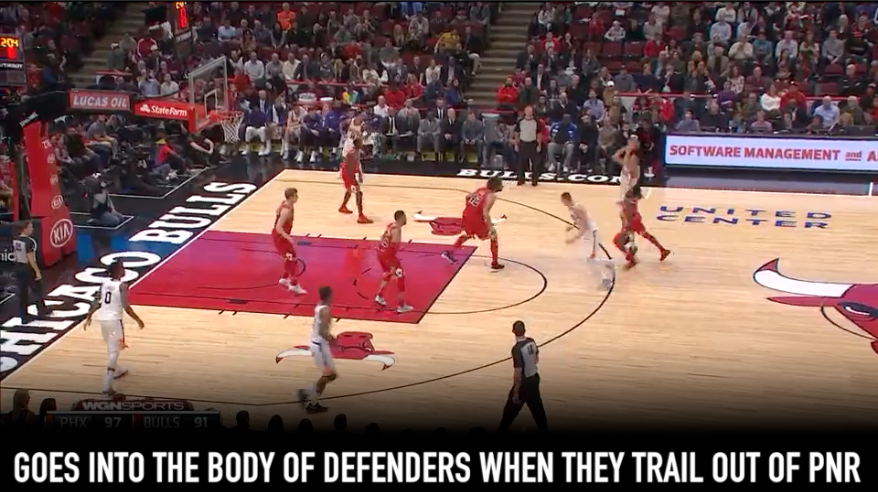 3. Playmaking flashes
What can really take Booker's game to the next level is his facilitating, as he has had some success operating more or less as Phoenix's primary half-court ball handler. He went from studying mostly Thompson to now watching a lot of Harden, and it shows. His scoring efficiency has dipped over the past 10 games, but he's averaging 7.4 assists per 40 minutes, including 10 dimes in 41 minutes against the Rockets on Sunday.
"I like to watch James Harden," Booker said. "With his scoring ability he opens it up for his team. Houston has a lot of shooters over there where he can find and create for others but his scoring ability opens it up for them. Not saying I'm on that level yet, but that's definitely somebody I watch and I think that he has it perfected."
His ability to operate as a pseudo point guard is where he has grown the most since college. He always had a high basketball IQ and feel for the game. His ability to slide into a role and shine within it at Kentucky spoke to that, and he often made the right play.
He also did a great job of relocating or playing read-and-react basketball in two-man situations.
Although his feel was there, becoming a pick-and-roll facilitator didn't appear to be in his near future.
"On the NBA level it's new," Booker said. "But when you have super athletes -- Tyson Chandler, Marquese Chriss -- that can go get lobs, you have to know your players, shooters that open the floor for you, so [I'm] just figuring it all out."
He's quickly learning how to use his scoring threat to become more of a distributor -- like Harden -- averaging a career-best 5.6 assists per 40 minutes. His 25.2 assist percentage is also a career-high, up from 16.3 percent last season. His increased effectiveness shows in the film as well. He has done a great job of playing with pace and occupying the big defender before connecting on lobs with either hand:
He's at his best throwing alley-oops to rollers, and he's benefited from having big men like Chandler and Chriss:
He also has had some impressive moments making well-timed pocket passes, which bodes well for his ability to handle more aggressive coverages long term.
Booker can still find ways to use both sides of the floor, hit the weakside shooter and get more creative with his delivery. For now, he knows how to string out the big man with snake dribbles and has the size, at 6-foot-6, to deliver the ball over the top.
If Booker is ever put in a situation with a dynamic ball-handler, shooters and a rangy hard-roller, he could fully unlock that passing potential.
---
What we underestimated
1. Scouting before college
Booker's high school game wasn't overly scouted by NBA personnel, but as the RSCI No. 20 recruit he was still a part of most major high school showcases. Some scouts saw him at Elite 24 and the Nike Global Challenge in 2013, and most evaluated him at McDonald's All-American and Jordan Brand Classic in 2014, both of which include valuable open practices and scrimmages.
Even though Booker showed occasional ball-handling ability in those settings, he was more or less a shot-maker whenever surrounded by elite talent. If we would have dug a little deeper into his high school and AAU game, we may have seen more.
"You gotta understand at Kentucky we had nine or 10 pros -- with me running the point, Trey Lyles on the wing, Karl Towns on the block. We didn't really need him to dribble," said Phoenix and UK teammate Tyler Ulis, who first saw Booker play in eighth grade. "His job was to shoot. Cal limited him to one or two dribble pull-ups because that's what he was good at. He was unstoppable at it."
Although EYBL and high school is a far cry from the NBA, Booker's stats with the Alabama Challenge are a little more on par with what we've seen at the NBA level thus far. He was a more prolific distributor, got to the free throw line at a higher rate and had more volume inside the arc.
As the Mississippi High School Player of the Year, Booker did a little bit of everything on the floor. Like most eventual collegiate standouts, he was the alpha dog who wore a lot of hats, and that initial skill base has started to resurface more at the NBA level.
It's often hard to shake the college sample, especially if that was a scout's first impression.
2. Importance of role for growth
Situation is arguably the most important factor for NBA success beyond the clear measurable attributes. While going to a team like Phoenix could have been a way to develop losing habits for a lot of players, it gave Booker the freedom to expand his game with added responsibility and live reps against all-NBA defenders rather than a chair in an empty gym. If Booker landed with a playoff team that already had ball-dominators, would he have developed into a budding star?
Booker's combination of added responsibility with his work ethic, confidence and skill level is key. The growth and experience he has been able to gain playing more on the ball does wonders for his future potential and fit in any NBA offense. He's still extremely effective as a quick-action player, sprinting off of screens, spacing the floor via spot-ups and attacking gaps instinctually. So far this season Booker is scoring 1.22 points per possession via spot ups (91st percentile) and 1.06 points per possession off screens (69th percentile). He's a valuable shooter and playmaker out of these quick-hitting situations:
---
What's next?
In terms of improvement areas, it's clear Booker needs to become a better defender. According to ESPN's defensive real plus-minus (DRPM), Booker ranks 101st among 106 shooting guards. His lack of elite length and physicality on the defensive end were major question marks coming into the NBA, and with such a heavy load to carry offensively he hasn't been able to do much to shake them so far.
"It's a heavy load sometimes but I feel like that's what I'm built for with the position I'm in, so every time go out there [I'm focused on] staying with that defensive mindset," Booker said. "At the same time getting everybody involved and knowing when to be aggressive. When you lead the floor you've got to control everybody, not just yourself."
Booker has decent feet and positional size, so it's not out of the question that he could improve if the Suns are able to bring in or develop more offensive talent to ease the burden a bit. It's hard to envision him becoming a Thompson-esque two-way defender unless he's surrounded by offensive juggernauts like Curry and Durant, but it's not out of the question that he becomes at least adequate.
Big picture, Booker looks the part of a future All-Star. According to the DraftExpress database, he's one of only 10 players to average at least 24 points per game under age 22 -- Towns, Davis, Durant (twice), Carmelo Anthony, LeBron (twice), Shaq, Michael Jordan, Bernard King and Rick Barry. But he may be best suited as a high-end second option next to a more dynamic slasher who can put consistent pressure on the rim in the half court, at least on the type of team that could compete in the playoffs.
For now Booker is the Suns' rising star on a team still waiting for pieces like Chriss, Dragan Bender and Josh Jackson to develop. He's one of the more respected young scorers in the NBA among his peers, and head and shoulders better than anyone expected he would be at this stage of his career, Suns brass included.
"He worked for it and now he's here," Ulis said. "I feel like he's one of the top shooting guards in the league. He's young, he's still getting better. He's going to take over the new wave of young guys with Karl Towns, Porzingis and those guys."