Ready or not, the NBA 2K League is here. Earlier this month, the 17 participating NBA franchises drafted from among 102 human players -- six per team. Starting Tuesday, the teams will compete against each other as unique characters -- not avatars for actual NBA players -- through the league's regular season and playoffs.
My video game participation peaked with Goldeneye for Nintendo 64. Even so, those of us with an interest in court design awaited what NBA teams might do with their virtual floors. They could be more adventurous, and if some nutty out-of-the-box gamble resonated, perhaps they might one day incorporate it into real NBA games featuring real humans playing real basketball.
ESPN obtained an exclusive first look at the finished courts. Here they are, in alphabetical order, with some instant analysis:
76ers Gaming Club
Philly may have the NBA's best top-to-bottom art. The mix of blue, red and clean nods to history always works.
This is a little more audacious, and doesn't quite match Philly's usual standards. The empty paint trend mostly phased out of the NBA over the past two or three years, but as we're going to see, it (unfortunately) returns with a vengeance in the virtual NBA. Lightly shaded logos within each 3-point arc are very much in -- see Denver and New Orleans in real life -- but this version is clunky. There are just too many shaded objects competing for your eye's attention.
Using the "7" and "6" to make up the liberty bell is smart, but it kind of looks like the numbers are melting in a Dali-esque way. They are sad, instead of proud.
The whooshing ball logo along the baselines is snazzy, and even a blah Sixers court is acceptable.
Blazers Gaming
There is enough going on here that I don't mind the empty, non-painted look, which appears even emptier with white lines. The Blazers pinwheel logo is a masterpiece -- one of the only abstract logos in all of U.S. pro sports -- and this slanted, blocky, 3D-ish version is a natural digitized update for a videogame league.
In a motif we'll see over and over, the rigid, straight-line font is meant to evoke old-school computer and videogame text -- a cool touch. Each letter has a little wing trailing it, making it look as if the words are in motion -- and mimicking the pinwheel.
Portland's deep red is always gorgeous.
The diagonal floor panels tracing the same angle as the logo represent a rare unique design element. Great stuff. I even begrudgingly accept the "5" being used as the "S" in the end of "Blazers."
Bucks Gaming
The Bucks' rich green is always a winner, and the blue 3-point arc is a subtle homage to trim on the parent club's court. The robotic, futuristic Bucks logo -- with a larger shaded version behind it -- is a risk I'm not sure pays off. Doesn't it look like a cow skull you'd see in an abandoned Old West landscape -- like you've already killed the 2K Bucks?
There's that Nintendo-era videogame font again.
Cavs Legion Gaming
I've given up on the Cavs designing anything that looks good as long as they maintain the wine-and-gold color scheme. Something about the way those colors mix makes it impossible.
The gray wordmark shaded into the near sideline looks vaguely amateurish, though it does mirror the city skyline on the parent club's court. The thing carved out within the "A" is supposed be the handle of a sword taken from the real team's secondary logo. It looks like part of a corn plant.
As Cavs art goes, this is fine, I guess.
CLTX Gaming
See, this is why fogies like me have trouble getting behind videogame leagues. This isn't, like, glaringly offensive, but Boston has kinda desecrated the most-loved and historically significant look in the NBA -- and perhaps in all of sports beyond the New York Yankees pinstripes.
What are the cubes in the black border of the digital parquet floor? Why is the leprechaun, joyfully arrogant on the real floor, so steely here? And "CLTX"? Are we really doing this? That doesn't even save you many letters!
The green, though? The green always looks good.
Grizz Gaming
My head hurts just looking at this thing. It combines two troublesome trends in court design -- empty paint, and shaded logos -- only it super-sizes the double-Gs so they are taking up damn near the entire floor. And what are the shaded objects popping out of the four corners?
The best touch: using mirror-image G's (for Grizz Gaming) to make up the bear paw at center court. Having a mini-claw in each corner (just out of bounds) is a nice way to round the whole thing out. The combination of dark blue and the parent club's icy Beale Street Blue remains a hit.
Heat Check Gaming
Perfectly average. I do like how the flame logo is actually a black "H" within a white "M" within a red "M." It also reminds of the hair from one of those troll dolls that became popular in the 1980s and '90s.
Between the light orange 3-point arc and the yellow-ish "check" scrunched into the middle of the baseline wordmark, there may be too many contrasting colors jostling for attention.
Jazz Gaming
Oof. There is too much going on here -- the trapezoidal sideline and baseline color scheme, the tri-colored logo (with the white "U" in the shape of the state of Utah -- nice!), and the giant shaded logo encircling it. One of those would have been eye-catching. Taken together, it's too much.
One element I missed on first glance: The "A" in "Jazz" along each baseline is a musical note. The Jazz have always been pitch-perfect on those subtle touches. That said, Utah loses points for any piece of Jazz art -- other than their genius orange-and-red alternate court design -- that doesn't include their usual note logo, with a multicolored ball as the notehead.
Kings Guard Gaming
OK, now we're getting nuts. The split baselines are jarring -- probably a little too nuts. The midcourt logo is a mutant hybrid of the Sacramento Kings shield logo, a lion (the real team's mascot), and the Transformers face. There are too many virtual painted areas that don't have any virtual paint!
I love the purple lines, and I wonder if the purple checkers would work across the full baseline. I enjoy purple, basically.
Knicks Gaming
I was a defender of the old orange Madison Square Garden court, but this shade looks a little brighter, and there is just too much of it with the massive basketball logo at center-court. Will the kids think "KNX" is cool? It's not. Which Manhattan buildings are those supposed to be? Were they designed on Hypercard in the late 1990s?
We've seen this exact baseline font -- or fonts so close to each other that they might as well be the same -- a half-dozen times already. Perhaps we'll get more variety in Year 2.
Magic Gaming
Now we're talking. Simple and sleek, yet also vaguely space-agey -- appropriate for a videogame league -- thanks to whatever the hell that spooky thing is at center court. The silver channels etched into the right side of that black orb are supposed to represent an "edgier" basketball, but all I see is a cool-looking marble. It's still cool-looking, though.
I like how they've subtly replicated that same silver windowpane pattern inside the key -- exactly the sort of unconventional design note these teams should brave. Splotching some blue along the baseline adds a needed dose of color, and nods to the parent club.
Enough with this baseline font, though.
Mavs Gaming
Holy hell. We have the bifurcated baseline motif the Kings also used, but with a new, gutsy and absolutely blasphemous element: differently colored painted areas, one blue and one black. I ... I don't even know how to digest this. This is crazy. I love the Mavs for trying it. I think I like it.
The center-court logo -- a stylized, interlocking "M" and "G" for "Mavs Gaming" -- is almost certainly intentionally reminiscent of Asian language characters.
You know what? This might just be the coolest Mavs-related piece of art in a long, long time. Maybe? I think? That's a low bar, but still.
Pacers Gaming
There is perhaps a little more disconnect here than elsewhere between the parent club and the 2K franchise. I would prefer more harmony.
The center-court logo is supposed to be a new-age version of Boomer, the Pacers' in-arena panther mascot, but it looks more like a combination of a dragon and Transformers face (again). You can do only so much damage with a blue-and-gold color base, though.
Pistons Gaming Team
My god, that logo is badass -- way better than the real Pistons generic "name-over-ball" logo. It is similar to an alternative logo the Pistons commissioned from Mark Fox, a Bay Area designer, in the 1990s, before they chose a flaming horse head instead.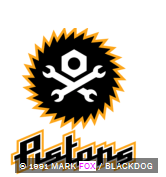 Back then, Fox used car parts to nod at the Pistons nickname and mimic skull-and-crossbones imagery. Pistons GT has dropped the pretense and incorporated a straight-up skull crisscrossed with churning pistons. Hell, yes.
The red-on-blue contrast is a little harsh, but this would work as a real court. The red "GT" along each baseline also provides some symmetry. Using smaller pistons as the "I" in "Pistons" along the baseline is neat.
Raptors Uprising Gaming Club
Boring. That empty paint again. Can we get one dinosaur reference, maybe?
It's fun to know Raptors Uprising took that northward-pointing arrow -- called a "chevron," apparently -- from the side of the shorts the real Raptors wear. But blown up by itself, it just looks like a punctuation mark.
Warriors Gaming Squad
Just fine, but only because the Warriors color scheme is so pleasing. It's as if the virtual Warriors aimed to create the least daring court anyone could possibly build around that color scheme. Kill the empty paint, forever.
A colored 3-point arc -- blue here -- is always welcome.
Wizards District Gaming
Wonderful. This is better than the Wizards' actual court, despite (again) that empty painted area. Using red for every line on the floor is risky, but it at least brings some life to the plain wood.
The center-court logo, with the three stars from the District of Columbia flag, really pops without dominating the landscape. The best touch: the giant star "underneath" the court, with its five red points sticking out along the baseline and sidelines. That is a bold stroke that came off well.