Editor's note: This is an updated version of a piece that originally ran on May 21, 2017.
There is no team LeBron James has faced more often in his NBA career than the Boston Celtics. Including both the regular season and postseason, James has played 89 games against the Celtics entering Sunday's Eastern Conference finals Game 7 in Boston, where he'll play the final game of his seventh postseason series against the franchise with more titles than any other.
James has certainly had his fair share of failures against the Celtics -- anyone who saw the 2010 Eastern Conference semifinals can recall them in frightening detail. But he has racked up plenty of success against Boston, too.
We look back at his top 10 games/moments against the franchise that has emerged as the closest thing he has had to an Eastern Conference rival during his 15 years in the NBA.
1. 2012 Eastern Conference finals Game 6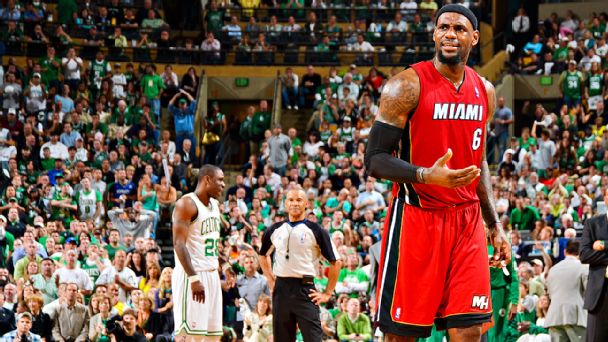 This is the famed "forged in fire" game. With the Heat on the verge of elimination and his legacy on the line (remember, at this time, James had yet to win a single title), James came through with the signature performance of his career, scoring 30 of his 45 points in the first half to lead the Heat to a 19-point win and send the series back to Miami for Game 7.
---
2. 2018 Eastern Conference finals Game 6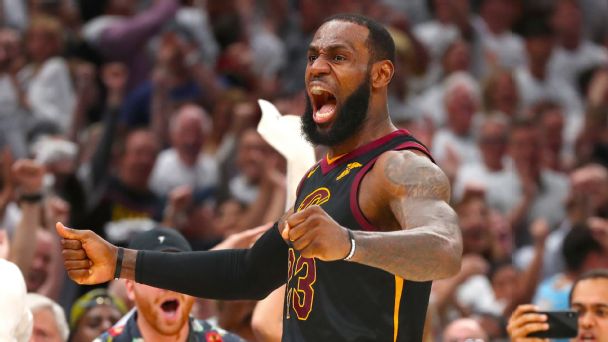 There were plenty of differences -- James was playing for the Cavs, not the Heat, and the game was at home, not on the road -- but Friday night's Game 6 felt like the echo of that epic Game 7 back in 2012. He actually outdid his scoring total from that game, finishing with 46 points, and it can be argued that his team needed him more in this game, especially once Kevin Love went out in the first quarter with a head injury. The main reason the 2012 game remains higher on the list is the stakes were higher -- James had yet to win a title at that point; whereas he has three rings on his fingers now.
---
3. Dunk over Jason Terry/winning shot (March 18, 2013)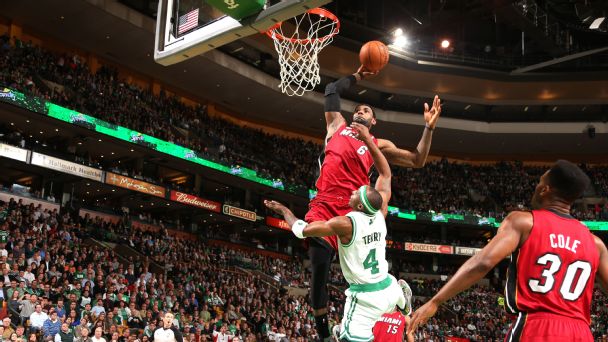 To this day, no one knows exactly what Terry was thinking when he attempted to contest this alley-oop, resulting in one of the most memorable plays of James's career against any team.
But what gets forgotten is that later in that same game, James rattled home a jumper with 10 seconds left to give Miami its 23rd consecutive win.
---
4. 2017 Eastern Conference finals Games 1 and 2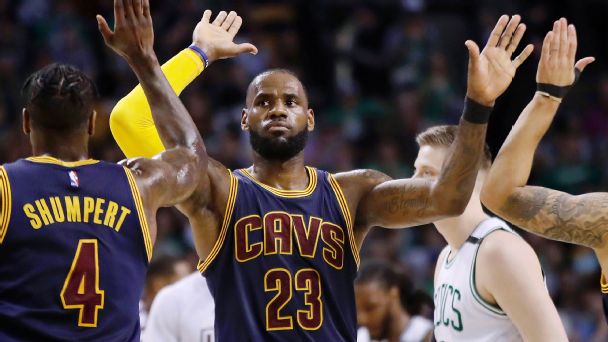 After Boston fought all season to secure the East's top seed and the home-court advantage that came with it, James swooped in and took it away in demoralizing fashion, handing the Celtics a pair of playoff losses like they'd never seen before. He was all over the court on both ends -- an incredible feat given the 50,000-plus minutes he had racked up in his career to that point -- averaging 34 points on 62 percent shooting in the two wins in Boston.
---
5. 2011 Eastern Conference finals Game 5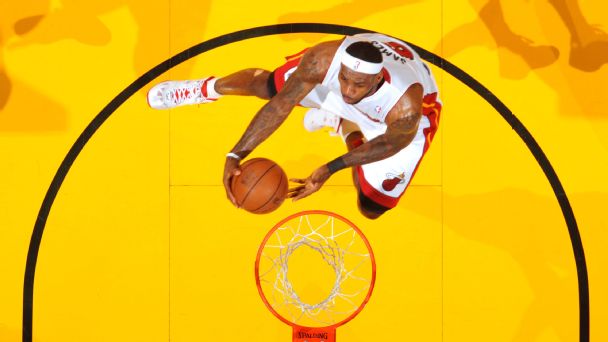 The Celtics had knocked James out of the postseason in two of the previous three years, but things were different in his first season in Miami. The game was tied at 87 with 2:30 left before James went on a personal 10-0 run to close things out and exorcise his Boston demons.
---
6. Triple-double in duel with Paul Pierce (Feb. 15, 2006)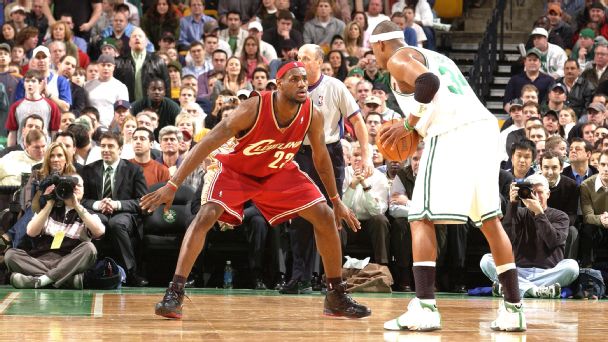 Long before James put Terry on a poster, he did the same to future teammate Delonte West in a game that set the stage for an incredible rivalry between James and Pierce in the 2000s. Pierce finished with 50 points for the Celtics, but James put up 43 to go along with 12 rebounds and 11 assists in a double-OT Cavs win.
---
7. 2008 Eastern Conference semis Game 7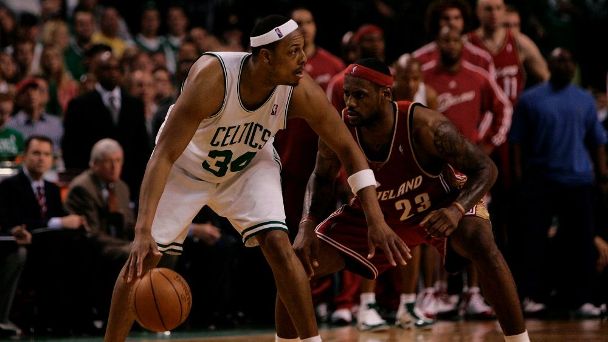 Another classic Pierce-James duel, with Pierce and the Celtics coming out on top this time. James nearly carried the Cavs to an unlikely win over the 66-win Celtics, finishing with 45 points (the second-most ever in a Game 7 against the Celtics). He pulled the Cavs within 1 with 2:20 left, but Cleveland never got any closer, falling by five points to the eventual NBA champs.
---
8. 2012 Eastern Conference finals Game 7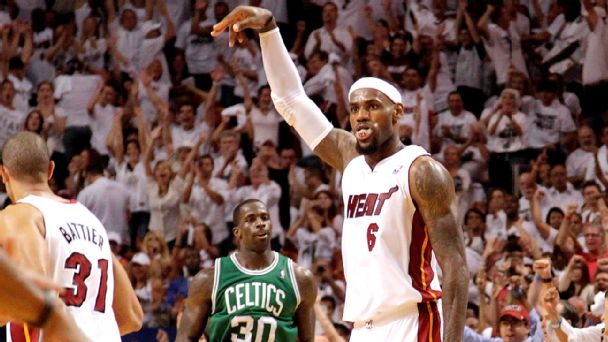 No. 1 on this list wouldn't be as meaningful without this game, in which James played all but 28 seconds, finishing with 31 points and 12 rebounds to push the Heat to their second consecutive Finals appearance -- and eventually James' first title. This game ended the Big Three era for the Celtics, as Ray Allen would go on to sign with the Heat in the offseason.
---
9. 2008 Eastern Conference semis Game 4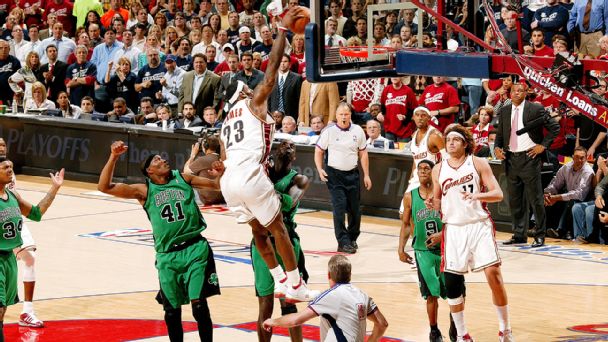 This can be summed up in six words: "With no regard for human life."
---
10. 41 points in first game vs. Celtics after return to Cleveland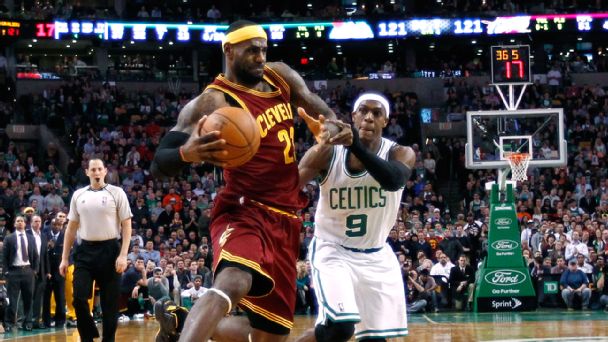 James has topped the 40-point mark against the Celtics eight times in his career, seven of which have come in a Cavs uniform. In his first game against Boston in his second stint with the Cavs, James put up 41 points on 16-of-27 shooting. He scored eight of the last nine points for the Cavaliers as they overcame a 17-point fourth-quarter deficit to escape Boston with a 122-121 win.