On Monday, we unveiled our projections for the Rookie of the Year race. Today, Summer Forecast continues with predictions for the NBA's rising stars.
Will Ben Simmons and Donovan Mitchell make the All-Star team in their sophomore seasons?
We asked our ESPN Forecast panel to predict the players who are most likely to make their first All-Star team in February 2019. Voters were allowed to select up to five names for both the Eastern Conference and Western Conference.
Here are the players who received the most votes: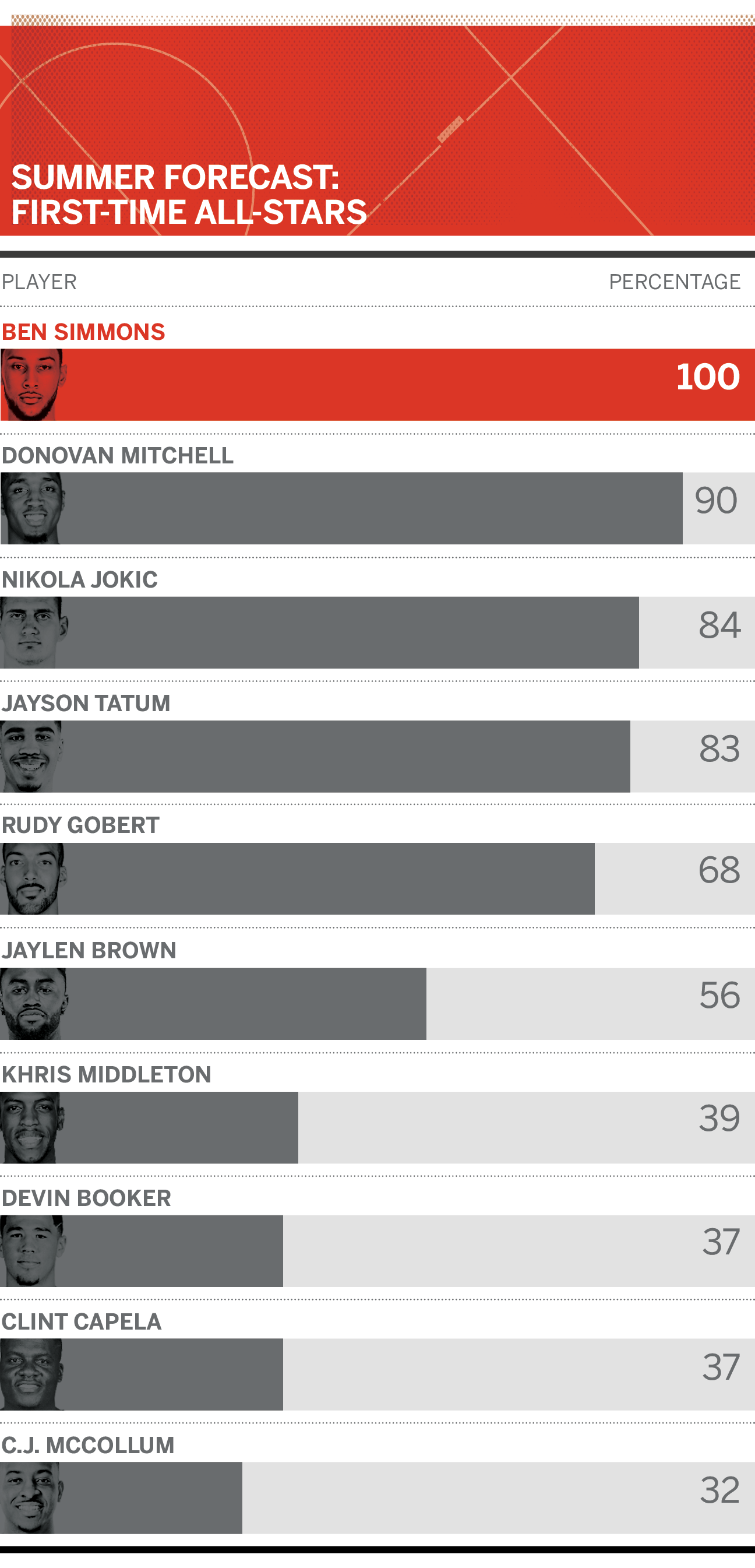 Percentage of votes: 100
Simmons was left tweeting eye-roll GIFs in February after being snubbed for a spot in the 2018 All-Star Game, including when East point guards Goran Dragic and Kemba Walker were named injury replacements over him. Simmons, who earned Rookie of the Year honors while averaging 15.8 points, 8.2 assists and 8.1 rebounds per game, can confidently keep the third weekend of February clear if he continues to put up triple-doubles with regularity. -- Chris Forsberg
---
Percentage of votes: 89.5
Mitchell already enjoyed a taste of All-Star Weekend by winning the Slam Dunk Contest last season. But it's what he did after the All-Star break that lands him high on this list. Mitchell averaged 22.5 points per game after the break last season and, more impressively, the Jazz owned a net rating of plus-15.2 points per 100 possessions with Mitchell on the court during that span (skyrocketing from plus-2 prior to the All-Star break). Mitchell's emergence helped the Jazz surge to the fifth seed in the West. -- Forsberg
---
Percentage of votes: 84.2
Jokic swam in a sea of All-Stars while finishing 10th in ESPN's offensive real plus-minus last season. In fact, he sat immediately ahead of an All-Star quintet of Russell Westbrook, Karl-Anthony Towns, Kyrie Irving, Jimmy Butler and DeMar DeRozan. Jokic averaged 18.5 points per game while shooting 39.6 percent beyond the 3-point arc, all while adding 10.7 rebounds and 6.1 assists per game. He was rewarded with a max contract this summer and, even in a loaded West, could soon add an All-Star berth to his resume. -- Forsberg
---
Percentage of votes: 83.3
Last we saw Tatum on an NBA court, he was dunking on LeBron James and nearly willing the shorthanded Celtics to the NBA Finals. If the Celtics ease All-Stars Kyrie Irving and Gordon Hayward back from injury, it might allow Tatum an opportunity to further assert himself as a star in the making. Tatum, only 20 years old, averaged 18.5 points per game during the Celtics' playoff surge. -- Forsberg
---
Percentage of votes: 68.4
A pair of knee injuries in the first half of the 2017-18 season denied Gobert a chance to earn his first All-Star nod. But the Jazz went 30-8 after Gobert returned and the 7-foot-1 big man earned Defensive Player of the Year honors despite missing 26 games overall. The Jazz owned a defensive rating of 97.7 with Gobert on the court last season and finished second overall in the NBA in defensive rating (just 0.1 points behind league-leading Boston). -- Forsberg
---
Percentage of votes: 55.6
The 21-year-old Brown took his play to another level in the 2018 playoffs, averaging 18 points per game while teaming with Tatum to push the Celtics to the cusp of the NBA Finals. Celtics fans were so enamored with Brown's progress that many scoffed at the notion of including him in any potential package when the Spurs were fielding offers for Kawhi Leonard. Brown's offensive opportunities might be more limited with the return of Irving and Hayward, but his two-way impact could earn him All-Star chatter if Boston is the East's top dog with LeBron James now out West. -- Forsberg
Also receiving votes: Khris Middleton 38.9 percent; Devin Booker 36.8; Clint Capela 36.8; CJ McCollum 31.6; Aaron Gordon 27.8; Myles Turner 16.7; Brandon Ingram 10.5; Eric Gordon 10.5.