Will LeBron James lead the Los Angeles Lakers to a big turnaround in Year 1? Or will King James and his new teammates be mired in drama all season?
According to our Summer Forecast results, there's a strong possibility of both outcomes this season.
We asked the ESPN Forecast panel to rank its top three choices for 2018-19's Team Turnaround, and the franchise poised to make the biggest jump this season. We also asked our panel to rank its top three choices for 2018-19's Team Turmoil, the franchise most poised to sabotage its chances through off-the-court stumbles.
Here are the results: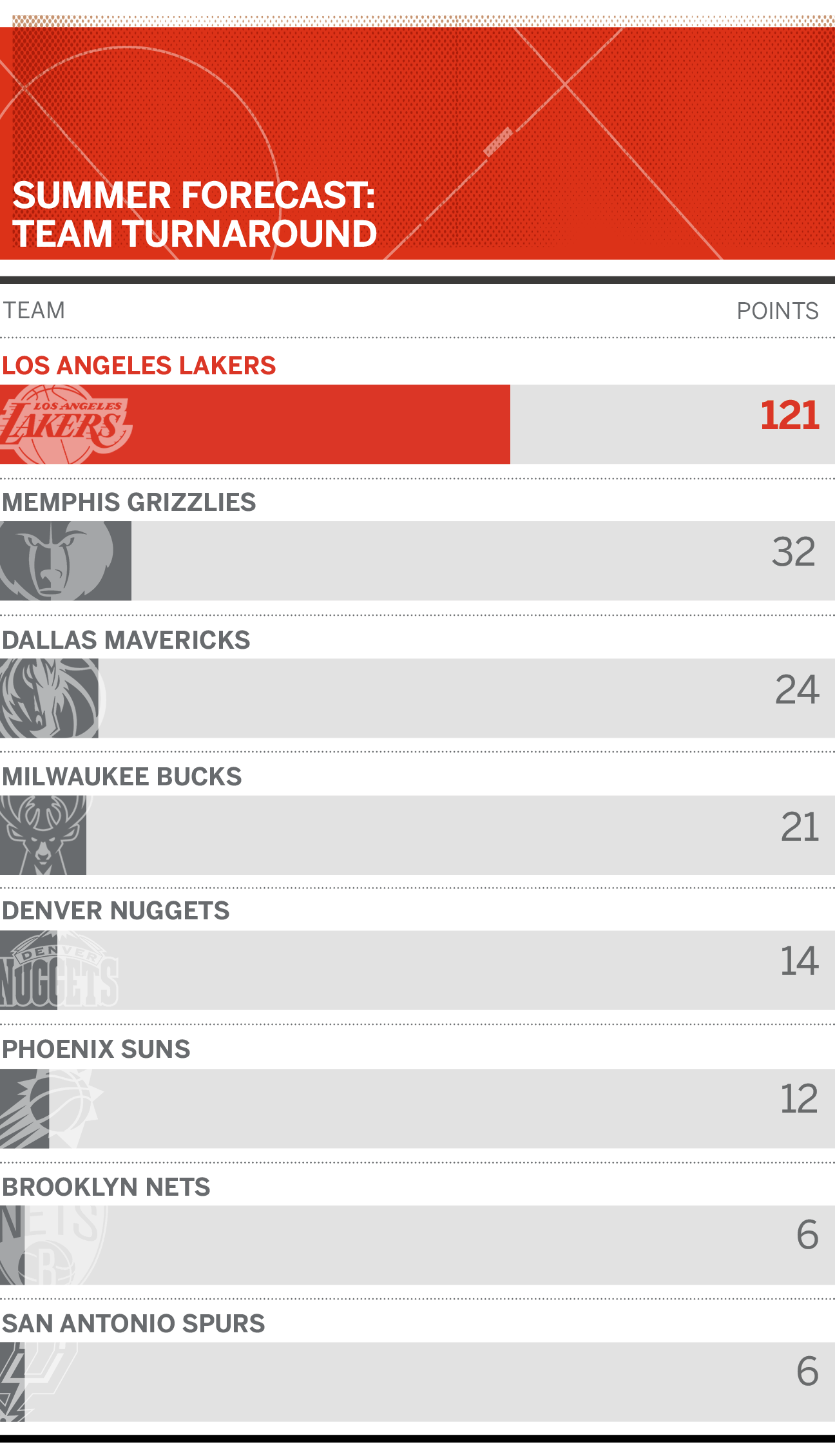 Total points: 121
First-place votes: 72.7 percent
There's no question as to why this team is expected to see considerable improvement, as LeBron James' greatness is self-explanatory. While analysts haven't exactly been wowed by the team's other free-agency acquisitions -- none of whom is known for being particularly strong from the perimeter -- it's fair to think the Lakers' youngsters will progress in meaningful ways this season.
Lonzo Ball illustrated good defensive instincts, Brandon Ingram lit up the Warriors for a career-high 32 points en route to a highly efficient season, and Kyle Kuzma highlighted why he should be seen as a foundation piece going forward. Playing with James figures to only enhance their best attributes. If that's the case, L.A. could make noise in the postseason, despite its youth. -- Chris Herring
---
Total points: 32
First-place votes: 12.1 percent
Getting a healthy Mike Conley back would be an enormous boon on its own for Memphis, a team that spiraled badly without him and a fully engaged Marc Gasol. But the club also snagged the best defender in the draft, forward Jaren Jackson Jr., and built a more versatile roster by signing point forward Kyle Anderson, a plus-minus savant. The Grizzlies then traded for Sacramento's Garrett Temple, a solid defender who is accurate from deep.
Quietly, the team has gotten back to its Grit-n-Grind roots. It wouldn't be a big shock if these moves resulted in a playoff appearance, even in the loaded Western Conference. -- Herring
---
Total points: 24
First-place votes: 6 percent
DeAndre Jordan and the Mavs buried the hatchet and hashed out a deal for him to finally join Dallas. Yet the Mavs player most worth watching this season is clearly Luka Doncic, the prospect many analysts believe was the best in the draft.
Dallas' roster will contain a mix of younger guys, including Doncic and Dennis Smith Jr., and more veteran ones, including Dirk Nowitzki, Wesley Matthews and Jordan. If Doncic and Jordan can develop good pick-and-roll chemistry, that's reason enough to think the Mavs will win more than the 24 games they did last season. -- Herring
---
Total points: 21
First-place votes: 6 percent
After a season in which Milwaukee had to deal with almost-constant change -- bringing in Eric Bledsoe via trade, firing Jason Kidd and welcoming Jabari Parker back from injury -- the Bucks are expecting more stability this year.
They're hoping for more consistency on offense, as new coach Mike Budenholzer figures to put in place the system that worked wonders in Atlanta. They'll have better shooters in Brook Lopez, Ersan Ilyasova and first-round pick Donte DiVincenzo to help space the floor. But Milwaukee should also improve on defense after simplifying its odd, switch-happy scheme that failed so often. If all that takes place, Giannis Antetokounmpo could reach the second round of the postseason for the first time in his career. -- Herring
Also receiving votes: Denver Nuggets (14 points), Phoenix Suns (12), Brooklyn Nets (6), San Antonio Spurs (6), Boston Celtics (3), Chicago Bulls (3), Utah Jazz (3), New York Knicks (2), Detroit Pistons (1), New Orleans Pelicans (1), Orlando Magic (1).
---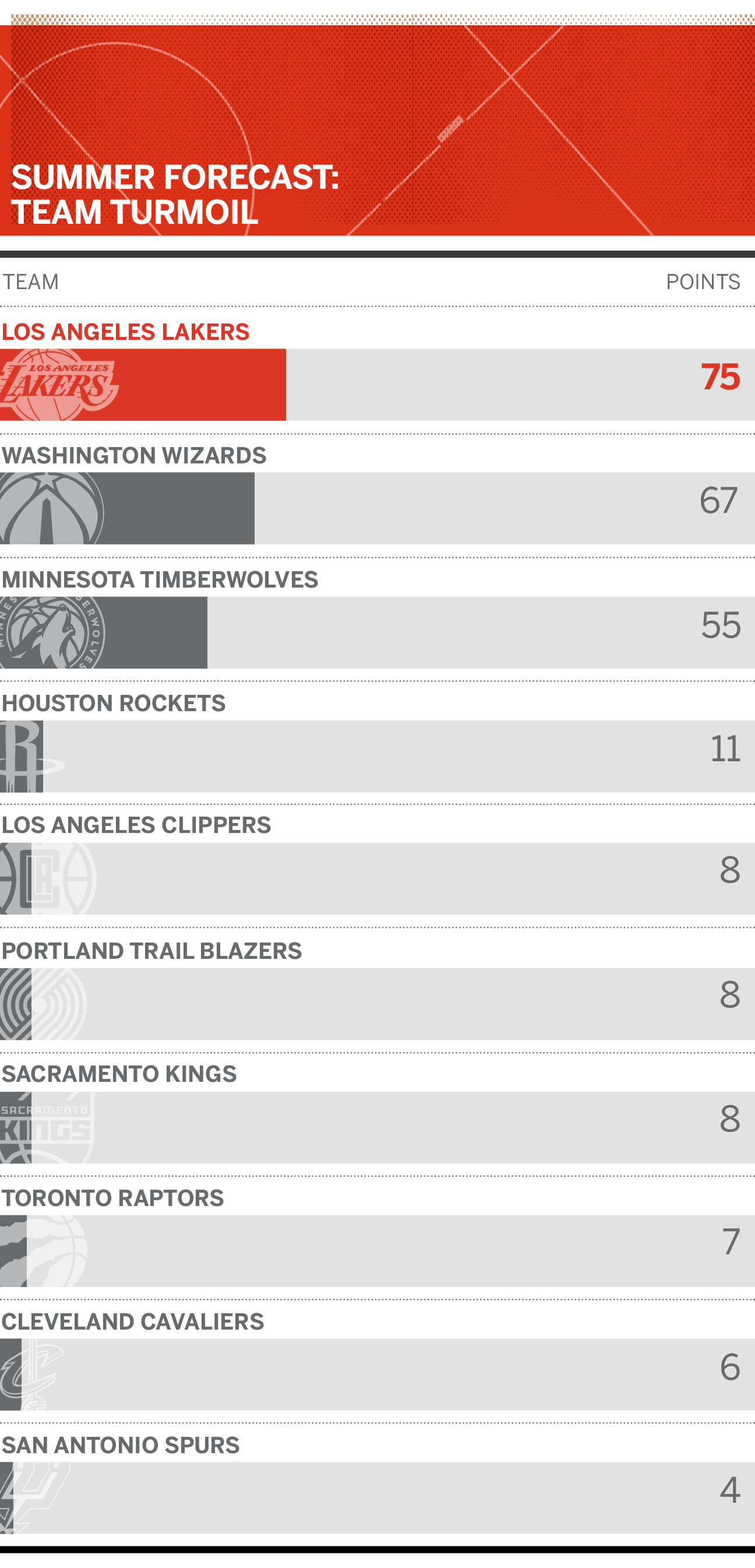 Los Angeles Lakers
Total points: 75
First-place votes: 27.2 percent
James' presence alone increases the potential for drama in Los Angeles. That's the reality that comes with employing the top player on the planet. But the Lakers also added Lance Stephenson, Rajon Rondo, JaVale McGee and Michael Beasley -- all players with strong personalities who are on one-year deals and eyeing free agency again in 2019.
Next, factor in the possibility that the Lakers could miss the playoffs -- something James hasn't endured since 2005 -- and the presence of Lavar Ball, who might have something to say if Rondo starts ahead of Lonzo Ball. Buckle up. -- Ian Begley
---
Total points: 67
First-place votes: 33.4 percent
There was plenty of sniping in the Wizards' locker room last season, particularly between John Wall and the recently traded Marcin Gortat. After Washington's first-round loss to Toronto, the Wizards' front office went out and acquired someone who brings the potential for more drama: Dwight Howard, who is on his fourth team in nearly three years.
Wall says it will be his job to get the best out of Howard this season, but he also acknowledged that he'd heard mixed reviews about the former All-Star big man from past teammates. If Howard can regain his footing in Washington, pegging the Wizards near the top of this list might end up looking silly. But based on recent history and the current roster, there's reason to expect some conflict in the nation's capital. -- Begley
---
Total points: 55
First-place votes: 24.3 percent
On the surface, Minnesota seems to be in a great place. The club snapped a 14-season playoff drought last spring and brings back a roster brimming with young talent. But a look under the hood shows that the team's two top players (Karl-Anthony Towns and Jimmy Butler) are dealing with contract uncertainty and the third, Andrew Wiggins, isn't playing up to the level of his $146 million deal.
Butler, sources confirm, turned down an extension worth $100 million over four years because he can make more money as a free agent this summer. As such, his ensuing free agency will be a storyline all season. Towns is eligible for a five-year extension worth more than $150 million but ominously said last month that "a lot" of things have to be talked about between him and the organization. It's a leap to say that Towns' quote is an indication of internal strife in Minnesota, but there have been reports suggesting that Butler doesn't get along swimmingly with Towns and his other teammates. -- Begley
---
Total points: 11
First-place votes: 6 percent
Houston coach Mike D'Antoni admitted last season that he resigned as head coach of the Knicks because of an ultimatum from Carmelo Anthony. With Anthony now on the verge of signing in Houston, it's easy to see why the Rockets landed on this list. How D'Antoni and Anthony coexist in this second act -- with Anthony essentially replacing a strong defender in Trevor Ariza -- will be one of the more intriguing storylines in the Western Conference.
It's worth noting that Anthony bristled last season at the suggestion that he should come off the bench with the Thunder. Although it seems likely that Anthony will start with the Rockets, how will Melo respond to being Houston's third option behind close friend Chris Paul and James Harden? And how will that response impact the ecosystem of a team that won 65 games last season? -- Begley
Also receiving votes: LA Clippers (8 points), Portland Trail Blazers (8), Sacramento Kings (8), Toronto Raptors (7), Cleveland Cavaliers (6), San Antonio Spurs (4), Detroit Pistons (3), New York Knicks (3),Phoenix Suns (3), Chicago Bulls (1), Golden State Warriors (1), New Orleans Pelicans (1), Orlando Magic (1), Philadelphia 76ers (1).