It's time for our Seventh Annual League Pass Rankings.
This is a watchability ranking based on a complex algorithm Bill Simmons and I unearthed while rifling through Dr. James Naismith's archives. These are not power rankings. Louder: These are not power rankings.
Teams are awarded between one and 10 points in five categories:
Zeitgeist: Will normies care about this team? Will talking about them get you anywhere at parties?
Highlight probability: Does any player make you linger just in case he does something special?
Style: Are they fun to watch? Do they embrace any unconventional strategies?
League Pass minutia: When choosing between blah matchups on a Tuesday in February, when a third of the league has been effectively eliminated, pleasing uniforms and commentary can win the day.
Unintentional comedy: Blame Simmons.
30. SACRAMENTO KINGS (17.5)
For six years, DeMarcus Cousins and strong comedy scores lent the Kings standing they didn't deserve. Finally: The league's most wayward and depressing franchise lands in the basement.
Even so, there are reasons to tune in. We get to watch De'Aaron Fox zip around instead of George Hill passing up 3-pointers, pouting, and doing everything short of writing "TRADE ME" on his sneakers. The Kings ranked dead last in pace in 2017-18, dragged down by Hill's walk-it-up style and an endless reel of Zach Randolph jab steps. Let Fox fly!
Everyone is curious about Harry Giles' all-around game, and how he meshes with Marvin Bagley on a potential frontline of the future.
(How many "X's of the future" have passed through Sacto over the past 15 years? Who is the most depressing "X of the future"? Is it Ben McLemore, "shooting guard of the future"? I'm a little worried about McLemore returning to the site of one of the NBA's grisliest crimes: Kawhi Leonard stealing the ball from him on back-to-back possessions.
Leonard didn't just rip the ball away. He ripped away McLemore's soul. What will happen when McLemore dons a Kings jersey and crosses the same expanse of hardwood where Leonard ended him? Will a sinkhole open?)
But Giles and Bagley have to fight for minutes among a frontcourt so overcrowded, longtime Sixer Nemanja Bjelica may play more at small forward than he should. I remain intrigued with Willie Cauley-Stein, who made a leap as a passer last season. If he hits free agency -- seems likely -- he'll make an interesting flier for another team.
The uniforms and courts are nice. Long live this powder blue alternate!
Grant Napear is honest and funny on play-by-play, but Doug Christie has huge shoes to fill taking over for pun king Jerry Reynolds in the other chair.
29. CLEVELAND CAVALIERS (18)
This looks like a roster of creaky support players without a superstar to prop them up. Hey, wait ...
The perimeter play figures to alternate between languid and boneheaded, and the boneheaded isn't even that fun post-LeBron. We don't get to enjoy Jordan Clarkson looking off the world's best player to meander into a 13-foot floater! J.R. Smith's boners have no meaning without any stakes! Who is Kevin Love throwing full-court outlet passes to? Will he heave one to nobody, just out of sadness? Collin Sexton intrigues, but his highlights will come between piles of rookie point guard mistakes.
The leftover big men are either slow, or lob-dunk mooches in dire need of a superstar from whom they might mooch. Minnesota Love -- Cleveland's version of "Team USA Melo" -- should reemerge, but Love is older, and can do only so much stylish stuff with this surrounding crew.
Cleveland is a bottom-four art team -- bland court, hideous uniforms. Austin Carr's cackle and Smith's comedy score get them only so far.
28. ATLANTA HAWKS (18)
I've given up trying to get people to care about the Hawks. I couldn't do it when they won 60 games.
Hey, there's Jeremy Lin! And one of the Plumlees! And Alex Len! Wait, why are they here? No one knows!
Youth gets Atlanta the tiebreaker over Cleveland. I am more excited to watch whatever Trae Young does every night than anything in a Cavs game. Young will score 30 one game, go 2-of-30 with 12 turnovers the next, and throw a half-dozen dazzling passes during both.
John Collins jumps three times in the span it takes most bigs to go up and down once. He started hitting corner 3s and attacking off the bounce late last season, and if that keeps up, he becomes a really interesting modern big.
Taurean Prince caught fire in March and April. He'll either blossom into a bona fide second/third banana, or become the type of frisky-but-replaceable wing someone overpays in two years. Lloyd Pierce, fresh from Philly, is going to let these guys run and jack 3s.
These late-1960s powder blue throwbacks are a welcome sight: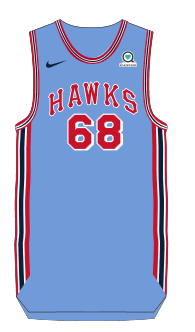 The red really pops, and I love the black in that tricolored striping.
Revised lottery odds might dissuade these guys from their tankiest impulses, but there are going to be some grotesque losses.
27. ORLANDO MAGIC (20)
Every summer in Dubrovnik, Croatia, local water polo clubs hold a tournament in the open sea. The referee stands on a boat. During last summer's quarterfinals, the referee wore a blue Magic tank top. I wanted to swim over and interrogate him. Where did he get this shirt? Why? Was he Mario Hezonja's father? Had he ever Googled Evan Fournier?
This is how I feel the one or two times a year I see a Magic fan outside of Magic games. No team could score lower in the Zeitgeist category than the post-Dwight/SVG Magic. They are a true NBA curio. I think Jacque Vaughn was involved at some point?
Fournier never made the jump. Almost nothing about Terrence Ross' game has changed in six seasons. Jonathon Simmons' head-down fearlessness is entertaining, but it doesn't lead anywhere interesting.
The juice is up front. Aaron Gordon is a highlight machine still searching for the right role -- or fighting attempts to coax him into it. Nikola Vucevic adds something every season. Jonathan Isaac has monster two-way potential. Mohamed Bamba is literally the longest player in NBA history.
That sounds exciting, but there is some chance Team Wingspan -- and any plan to play Isaac, Gordon, and a true center together -- flops on the floor. (I feel the tingling of Magic-related deja vu.)
It would help to have an above-average point guard to spoon-feed everyone. The Magic have D.J. Augustin and Jerian Grant. /Tugs collar
Steve Clifford is a smart coach, but his Charlotte teams were (effectively) boring: get back on defense, don't dare crash the offensive glass, play low-risk offense. I'm interested to see how he adapts to this strange personnel.
Random: I like watching Wesley Iwundu. He moves like an NBA player. David Steele and Jeff Turner are a top-five announcing duo. And these?
These rule, forever.
26. MEMPHIS GRIZZLIES (21)
This hurts. No big-small duo brings as much ground-bound trickster artistry as Marc Gasol and Mike Conley. Big Spain even whipped out a finger roll last season!
And this one-handed flick, where he holds the ball above his head like a taunting older sibling, is one of the league's meanest and most beautiful shots:
Dillon Brooks, Kyle Anderson, and Garrett Temple are natural dance partners for Gasol's brainy two-man work. Everyone is excited for Triple J.
But those three wings might be overstretched on offense. The algorithm factors in continued decline for Memphis' tentpole stars. Last season, the Grizz played at a crawl and fouled the bejesus out of everyone. The infusion of veterans should mitigate the hacking, but this team is a slog on bad nights.
A bright spot: The Grizzlies' artistic overhaul proves you can make a splash without veering into garishness.
Count me in on this court, which is radical in design without registering as such:
I love the multicolored wood running from sideline to sideline -- perpendicular to the flow of the game. The bold navy stripe creates an asymmetry that extends to the baseline wordmarks -- very unusual. That one-sided striping is repeated on two of the new uniforms, a representation of the Mississippi River flowing through one side of Memphis. The jerseys are filled with goodies. Two favorites: this stylized "MEM" mark that appears on all three belt buckles:
And the use of a curved wordmark on these fantastic Beale Street Blue duds -- as opposed to the straight-line wordmark on the other two:
25. LOS ANGELES CLIPPERS (21)
This feels low for a team 12-deep in legit rotation players, including a bunch of characters: Lou Williams, the walking fake; Bobi and Tobi; Milos Teodosic, slinging cigarettes and full-court underhanded passes; Patrick Beverley, always being mean; Montrezl Harrell and his pivoty post game; cranky Marcin Gortat; hoarse Doc Rivers.
Also: The great Ralph Lawler, on a farewell tour with a rotating cast of analysts after the Clippers canned Bruce Bowen for daring express an opinion counter to organizational interests. (Score another for fascist TV homerism.)
One of my favorite Lawlerisms: How he refers to viewers as "gang." As in, "Buckle up for the stretch run, gang!" It feels like Lawler is addressing us personally -- like we are all sharing this experience. Also, I think it's something old people say. My dad has always used "gang" like this. Hearing it makes me happy.
Without Blake Griffin -- and with Teodosic sure to miss a bunch of games -- these guys feel light on playmakers who get others involved. The absence of DeAndre Jordan hurts in this regard, too; his rim-runs draw tons of attention, unlocking passing lanes.
Lob City might become Layup City, and that's no fun; Jordan and Griffin accounted for almost half of LA's dunks last season. The knockoff art is Fudd Beer-level chintzy across the board. This may be the worst jersey front in the league:
24. DETROIT PISTONS (22.5)
Watching Griffin and Andre Drummond develop high-low chemistry will be fun; Griffin enjoyed rampaging coast-to-coast and finding Drummond for alley-oops. Detroit outscored opponents with Griffin and Drummond on the floor, but that number flips into the negative when you eliminate their first four games together -- all at home, against teams on the second end of back-to-backs. In fairness, the Griffin-Drummond duo logged only 44 minutes with Reggie Jackson.
But the Griffin who disintegrated fools is gone. He ranked 87th in dunks per 100 possessions last season, per Second Spectrum. Jackson is a boring, paint-by-numbers pick-and-roll conductor -- with a selfish streak.
Griffin's mastery facilitating from the elbow cannibalized Drummond's emerging passing game. Small-ball lineups with Griffin at center have entertainment potential, though I'd expect Dwane Casey to rely some on Zaza Pachulia's sharp elbows. (Pachulia is the league's loudest and most ridiculous groaner upon contact near rim microphones. Once you hear it, you can't unhear it.)
The battle for wing minutes will evolve night-to-night. Casey looks like an aerobics instructor jumping and clapping at opposing shooters, tie flapping in the wind. Art and commentary are all first class.
23. PHOENIX SUNS (22.5)
This feels low, but bad basketball grows tiresome. A late tankathon between last season's Suns and Grizzlies -- two of the league's half-dozen fouliest teams -- was the worst NBA game I've watched in at least five years.
But Devin Booker and Deandre Ayton running spread pick-and-roll in an Igor Kokoskov-designed system makes for at least 20 interesting possessions every night. Josh Jackson flings himself around with manic derring-do; he and Booker hit another gear when they see a chance to go one-on-three in transition.
You have to admire the year-by-year consistency of T.J. Warren's assists-per-36-minutes: 1.5, 1.5, 1.4, 1.3. It is hard to have the ball so much, and shoot so often, while recording so few assists.
Drinking game that may not actually work: Chug every time Dragan Bender shoots! Poor guy attempted just 8.4 shots and 0.9 free throws per 36 minutes -- a level of statuesque passivity usually reserved for plodding centers and defensive specialists. Bender is neither. He has good feel. Be brave, Dragan!
22. NEW YORK KNICKS (23.5)
The Mike Breen-Clyde Frazier boost is powerful. New York games just look and sound better than anything else on League Pass. That said, it's time to spice up the Knicks art. The logo is stale. The new alternate jerseys have been timid.
The on-court product will be very bad with a unicorn-shaped hole at power forward, but the backcourt situation is worth monitoring. The Knicks seemed to discover Frank Ntilikina works better as a hybrid guard instead of lead playmaker. He can hang on the wing while Trey Burke and a trimmed-down Emmanuel Mudiay run the show, and attack scrambling defenses off the catch. Whatever time Ntilikina spends at point guard -- and he'll get reps -- will only help him in those situations. He is already a ferocious, in-your-jersey defender across two and sometimes three positions.
Only the Wolves jacked fewer 3s than New York last season. Expect David Fizdale and his immaculate beard to have these guys running and launching. (Better NBA glasses: Fizdale or Sam Presti?) New York has something of a perimeter logjam, so let's get crazy and slide Mario Hezonja to power forward in small-ball lineups. Hezonja provides the very best kinds of bloopers. He flies too close to the sun:
I think Frank Vogel just felt a shiver run down his spine.
I haven't given up on Noah Vonleh. Unfortunately, we cannot factor Ron Baker's contract into the comedy category.
21. BROOKLYN NETS (24)
The Nets play a pleasing style -- turbo pace, tons of 3s -- but a bunch of superior teams do that, too. Who beyond the legend Ian Eagle and Sarah Kustok is making you stick around in case of a highlight? It might be Jarrett Allen, only because Allen has zero fear of getting dunked on. Giannis Antetokounmpo pulverized Allen with three of the best dunks of the entire 2017-18 season, and Allen just kept on coming. He eventually pinned Antetokounmpo at the summit. Allen dunks hard, too, and he's so tall he sometimes literally throws the ball down onto an opponent's head.
(By the way: Opponents shot just 54 percent at the rim with Allen around, one of the stingiest marks in the league.)
Caris LeVert has some nasty shimmy to his game. Rondae Hollis-Jefferson's herky-jerky dribbles and tilting floaters flummox even savvy defenders. D'Angelo Russell has been more style than substance, and empty style wears thin. This will be a huge season for Russell, and he knows it. Ditto for Spencer Dinwiddie, whose shooting cratered after everyone stopped paying attention. The Nets are one quality shot creator away from butting into the pathetic race for the No. 8 seed in the Eastern Conference.
Their minimalist black-and-white look works, but seven seasons into the Brooklyn era, we're still waiting for our first killer jersey.
20. CHARLOTTE HORNETS (25)
This is high for a team that wins about the same number of games every season playing the same style with the same people. Credit Kemba Walker, the league's most underrated showman. Walker's dribble is magic. He has every move, and he strings them together like a boxer pummeling some dazed, flat-footed opponent with four-punch flurries. The moves flow so smoothly, you barely register how many mean things Walker pulls in a two-second span.
He turns entire defenses inside out. I mean, look at this:
This team has always been sneaky fun -- and good -- with Cody Zeller at center. Dwight Howard's interminable, zombie-stiff post-ups are gone. It was painful watching Howard stumble; he led all rotation players in travels per game, according to NBA Miner.
James Borrego wants more pace and spacing. He started Jeremy Lamb in place of Michael Kidd-Gilchrist in the first preseason game, and he'll likely use MKG almost exclusively as an ultra-switchable small-ball power forward. Stick him in lineups with Frank Kaminsky as a stretchy center, and the Hornets can turn Kidd-Gilchrist into a new-wave screen-and-dive guy. Kaminsky as backup center also means less of Bismack Biyombo fumbling passes (but also, sadly, less of Willy Hernangomez's crafty game). Malik Monk is going to be fuuuuuunnnn.
Charlotte's already strong art portfolio gets a throwback boost from these gorgeous jerseys: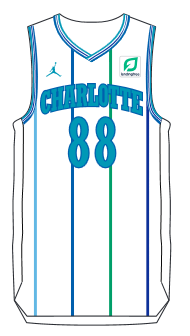 And this accompanying court:
For 30 years, the Hornets have somehow been able to clutter their art with ridiculous design elements and still have it look awesome. When other teams imitate them, it fails horribly. I don't get it. Is teal just unassailable?
The broadcast needs to dial back the Orwellian optimism. For the love of Muggsy Bogues, stop calling Kemba "the Captain"!
19. INDIANA PACERS (25)
Perhaps the algorithm can't quantify effort. This was the league's hardest-playing group, and they don't seem the type of surprise team that lets up in the year after The Year.
Victor Oladipo existed in a permanent state of hunched fury, accelerating toward help defenders with a violence that unnerved them.
That toughness is part of what made their retrograde shot selection work. They were among the cruelest teams at hunting mismatches, even if it took a few swing passes:
That predatory approach will come in handy when they play Domantas Sabonis and Myles Turner together. Defenders have never figured out Thaddeus Young's arrhythmic hooks and flippy shots. (Love is still recovering from the beating Young inflicted in that epic first-round series.) Indy signed more capable release valves should teams swarm Oladipo the way the Cavs did in the playoffs.
It will be fun watching Nate McMillan toggle through lineup options -- big, ultra-big, small and shooting-heavy, even groups with no nominal point guard. Kyle O'Quinn is always sprinkling in pieces of flair:
The Pacers deserved better. What can I say? The NBA is really watchable, and on bricky nights, Indy's effort comes across as more exhausting than invigorating. Indiana played in molasses after a super-fast start. There is nothing funny about them. They don't have highlight producers beyond Oladipo, and he averaged a hair below one dunk per game.
Quinn Buckner has to stop telestrating live action. By the time he circles a player, the guy is long gone.
18. SAN ANTONIO SPURS (26)
Manu Ginobili's retirement dropped them at least two spots. I'll miss Slow-Mo Anderson, loping with a slowness so extreme, it actually worked as a trick. Defenders would slide to the place they expected Anderson to be, only to discover he was still on his way. When Anderson arrived, those defenders were off-kilter. Anderson weaponized slowness.
Curiosity about this team -- how DeMar DeRozan and LaMarcus Aldridge share space, whether Gregg Popovich prefers big or small lineups -- will gave way to the realization that they play sludgy ball. Sophisticated, but sludgy. They posted up more than anyone last season, per Second Spectrum, and that only generates must-watch entertainment three or four nights per season when Aldridge cooks a long run of step-back jumpers.
DeRozan can do that, too, and he's good for a few hammer dunks. (Thank the basketball gods. San Antonio recorded fewer dunks than anyone last season.) Patty Mills is the league's most caffeinated player. Dejounte Murray has four arms. Pau Gasol has ably carried on Tim Duncan's tradition of making ridiculous shocked faces after every foul.
The broadcast is must-mute unless you want Spurs Pravda. I like the silver-and-black palette, but it's time to add a dash of spice. (It's not coming this season.) Let's push for a return of the fiesta colors in 2019-20.
17. DALLAS MAVERICKS (27.5)
I have to get this out: The rim microphones are too loud. I did not think this was possible. We all love to feel closer to the game. But I do not need to hear Salah Mejri moaning at this level of volume and clarity.
Even when they're bad and kinda losing on purpose, the Mavs put forth a professional effort dotted with quirky game-to-game adjustments non-warlock coaches couldn't conceive. Rick Carlisle tries every goofy zone. Toward the end of last season, he started posting up Dennis Smith Jr. (It sort of worked.)
The Mavs run a creative half-court offense, take care of the ball, and avoid fouling -- key for a pleasant viewing experience. And there is Dirk, always Dirk, lofting one-leggers so buttery, the ball seems to melt into the backboard and drip down. I don't care if he can barely move. I don't care if he goes entire weeks without hunkering down on the left block. I don't care if all he does is trail the offense, catch at the top of the arc, bend so deep his ass damn near touches the floor, and fling up the prettiest straight-on 3s in league history. I want to watch every Dirk shot.
And now: LUKAAAAAAAAAA!!!!!!!! Luka freaking Doncic -- MVP of the world's second-best league, perhaps the greatest international prospect in history -- is about to run spread pick-and-roll with DeAndre Jordan and three shooters surrounding them. Oh, baby. What if Smith becomes ornery off the ball, and starts breaking plays? If he does, it will be fun to watch. (A hybrid role is absolutely Smith's best shot at hitting his NBA ceiling.)
J.J. Barea is floptastic and fearless, and he and Nowitzki have maybe the most nuanced two-man chemistry in the league. They communicate in flinches and winks. They could get buckets into their 50s -- in the NBA.
It's long past time the Mavericks burn all their art. All of it. It is dull and bad.
16. MINNESOTA TIMBERWOLVES
Umm ... TBD?
This team's brutish offense was effective -- Minny ranked fourth in points per possession -- but it made for an unattractive watch.
One solution regardless of how the Jimmy Butler fiasco ends, and whether Tom Thibodeau survives: Let your best offensive player shoot more. Karl-Anthony Towns ranking fifth in usage rate on his own team was among the league's most preposterous stats last season. Dude is sniffing 55-40-90 territory and has to watch Andrew Wiggins brick 20-footers. Towns is an elite scorer from everywhere, in every capacity. It is not an exaggeration to say he could end his career as the most versatile scoring big in NBA history.
And just when you think he's kinda slow, or that he moves with a strange leadenness, Towns will jet from the top of the arc to the rim so fast, it almost appears he's gliding.
Hot take: The Christmas tree jerseys, returning this season, are bad.