The Boston Celtics' dreams of making the NBA Finals have been mired in an offensive nightmare. If head coach Brad Stevens and the Celtics don't slay this malaise soon, their season will end in disappointment.
So what's going on? This is arguably the most passive offense in the NBA.
---
The perils of avoiding the rim
The Celtics rank dead last in the NBA in points in the paint, mostly by hardly ever shooting close to the basket. Their bigs pop more than they roll, while the guards and wings are pulling up too much and attacking the rack too little.
It's a dreadful shot selection strategy that culminates in the kinds of troubling efficiency markers we normally associate with lottery teams, not contenders. Despite a roster bursting with offensive talent, the Celtics enter Friday night's big game against the Toronto Raptors with the 24th-ranked offense in basketball.
Boston's six-point loss at Portland on Sunday night displayed these issues perfectly. In crunch time against a good team, the Celtics collapsed into a toothless hero-ball attack that scored one point over its last five possessions. Every one of those key plays included Kyrie Irving or Jayson Tatum hoisting an errant, unassisted attempt -- none of them close to the rim.
Just look at this shot from Kyrie ...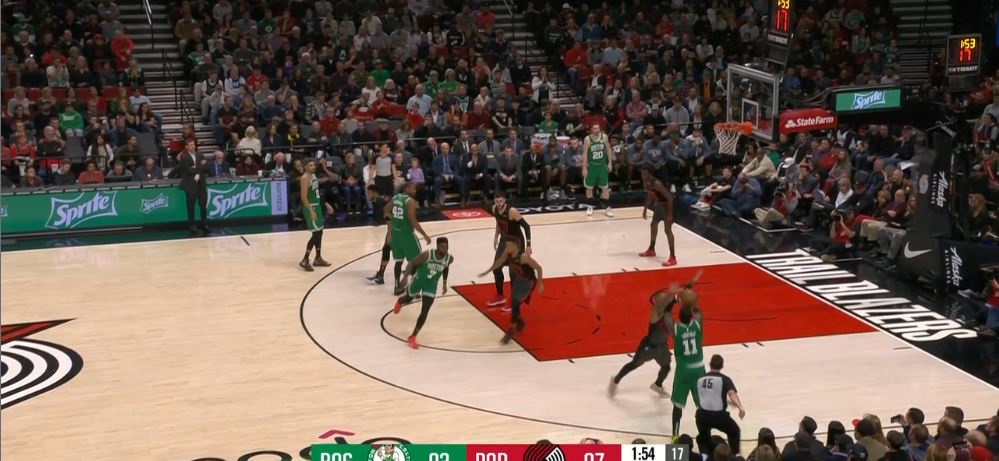 ... or this one from Tatum: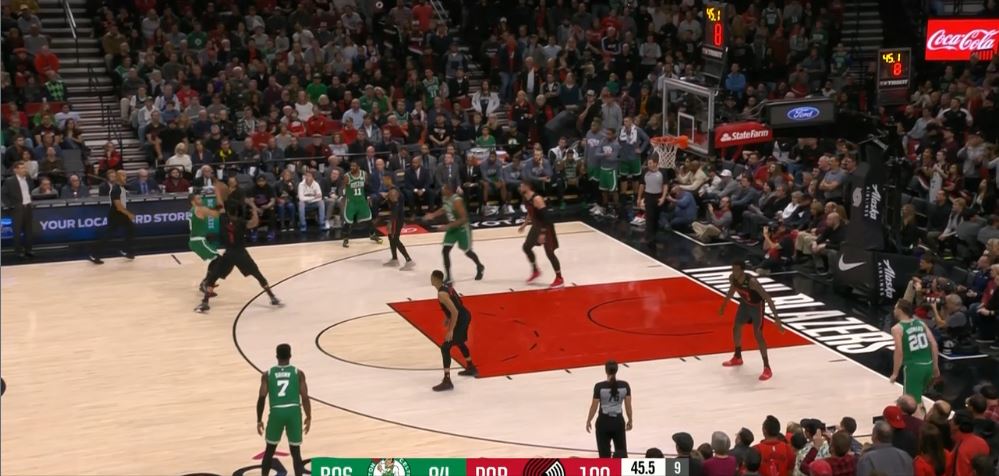 Despite the league's rising obsession with the 3, shots near the rim remain the best looks in the game. They're essential. Not only do close-range shots yield points at the highest rates, but players attacking the paint also elevate everything else. Things like shooting fouls and offensive rebounds tick up. Those 3-pointers see more daylight.
These three stats define the Celtics' offensive woes right now:
Boston's taking just 31.9 percent of its shots inside of eight feet. That's the lowest such figure in the NBA, and the only other team that's close is Golden State. The Warriors get away with relying on jumpers because their team includes three of the best five shooters on planet Earth. The Celtics have some good shooters, but they aren't the Splash Brothers.
Since beating the Milwaukee Bucks in an impressive home win on Nov. 1, Boston has lost four out of six. In the Portland loss, the Celtics scored only 94 points in part because of their anemic interior attack. The Blazers outscored Boston 42-26 in the paint. Last Friday in Utah, the Jazz won the paint battle 50-38.
Pull off the pull-ups
If this team has any hope of advancing in the playoffs, it has to get more aggressive.
It all starts with Irving, the team's offensive superstar and highest-usage player. He leads the Celtics by making 2.9 close-range shots per game ... but he ranks 78th in the NBA in this category. Al Horford, the team's most prolific big man, is averaging 2.5 close-range buckets per game, which ranks 102nd in the NBA. Jaylen Brown and Tatum are at 2.6 and 2.2, respectively. For comparison: Giannis Antetokounmpo leads the NBA in close-range scoring with 8.9 buckets per game -- more than those top three Celtics combined.
Irving is the team's best player, but his passive nature has set the tone for the team thus far. He's taking just 21.6 percent of his shots in the restricted area, which is a career low. Relatedly, his free throw rate is down to 16.2 percent, also a career low (by far). Meanwhile, he ranks 12th in the NBA in pull-ups per game, firing off 7.9 attempts.
But Irving is not alone. Gordon Hayward is logging the highest 3-point rate and lowest free throw rate of his career. And remember when Tatum posterized LeBron James in the Eastern Conference finals? That seems like a million years ago, and Tatum has succumbed to passive ball as well. Last season, 32 percent of his shots came within three feet of the bucket. This year that's down to 19 percent. (His free throw rate is down too.)
Irving, Tatum, Hayward and Horford have all been more likely to shoot 3s than get to the rim. Somebody in this foursome has to start attacking more and pulling up less, because the pull-ups aren't working.
It's incorrect to say the Celtics are living and dying by the pull-up jumper. They're just dying. Per NBA Advanced Stats, 31.5 percent of their shots are pull-ups, and their effective field goal percentage (eFG%) on those attempts is a stanky 37.4. Only four teams commit more of their shots to pull-ups, yet the Celtics rank way down at 29th in efficiency on such looks. The team is in love with a shot type that's ruining its offense. The NBA has an overall eFG% of 51.9 this season, but the Celtics rank 24th in that key metric mostly because of their unrequited devotion to errant pull-ups.
That's why these issues aren't just a matter of shooting luck or small samples. Boston's shot quality has rated slightly below league average so far this season, according to Second Spectrum data. The Celtics also are actually shooting 3 percent better than expected on all those pull-ups, considering the quality of the attempts.
The players need to be more aggressive, but the coaching staff also needs to put them in situations to do so. The Celtics' roster is bursting with offensive talent. Scoring is Irving's greatest skill, Horford is a model of efficiency and Tatum has shown his unconscious ability to rack up points. But what should be an embarrassment of riches on the offensive end has thus far simply been an embarrassment of execution. If it's true that Brad Stevens deserves credit for building the league's best defense -- and he certainly does -- then he has to also shoulder some blame for this lackluster showing on the other end.
Stevens is too smart to allow this roster to flail on offense for much longer. The top of the Eastern Conference suddenly includes teams getting it done on both ends. Despite playing a brutal early schedule, the Bucks lead the NBA in net rating by pairing the NBA's third-best offense with its third-best defense. Toronto ranks No. 2 in offense and No. 8 in defense. These teams have blasted off the starting blocks, while the star-studded Celtics are stuck in neutral.
Their path to the top of the East starts in the paint. Until then, to paraphrase another smart coach, they are what their offensive rating says they are.