It's Friday, here we go:
Moore might sport the league's silkiest floater, and Alvin Gentry makes it sing by pairing Moore and Davis in a two-man game with a very specific geographic alignment:
That is basically a high-speed wing pick-and-roll, with no other Pelican on the Moore-Davis side of the floor. Emptying that area creates a dilemma for defenses. Some help schemes would dictate a third defender slide in from that right wing to bump Davis. But no one is there.
Help duty should then fall to Serge Ibaka, guarding Julius Randle in the paint. But what if Nikola Mirotic is in for Randle, and spotting up 30 feet away?
Moore and Davis have counters for every counter. Have Moore's man skitter under that pick, so Davis's defender can stay home? Moore is ready.
A switch leaves two mismatches:
Overplay the lob, and Davis can fade to the corner. There are no good answers, and that is because the simplest answer -- let Moore shoot what is normally a low-value floater -- is a bad one, too. Moore has hit an insane 58 percent of "short midrange" shots -- i.e., floaters -- after canning 53 percent last season, among the very best marks in the league, per Cleaning The Glass.
The Moore-Davis dance has remarkably developed into a foundational block in New Orleans' half-court offense. They tortured Toronto with it until the Raptors assigned Kawhi Leonard to Moore so they could switch without slipping into fatal mismatches. If Leonard is on Moore, a lesser defender has to take Jrue Holiday. Another bad answer.
Moore has hit 49 percent from deep after finishing above 42 percent in two of the past three seasons. He can defend two and sometimes three positions. He is among many nondescript "pretty good" wings who get tagged as replaceable. You might be able to find something like 85 percent of Moore's production at a cheaper rate, though that is becoming less true as Moore improves and salaries rise.
Even so: That 15 percent is the difference between someone who can play in the playoffs, and someone who can't.
Rudy Gobert is cramming absolutely everything, and Utah's passers feel more emboldened chucking the ball in the vicinity of the rim. Joe Ingles is the NBA's ultimate risk-reward test. He has coughed it up on 17 percent of his pick-and-rolls, one of the five highest figures in the league, per Second Spectrum.
But Ingles' ambition -- basketball bravery, really -- turns teensy advantages into easy buckets.
That looks like a simple pass, but it isn't. Passing lanes are easier to see, and to navigate, across diagonals. The margin for error on that straight-on, arc-to-rim lob is close to zero.
Ingles coughs the ball up a fair bit, but his daring reveals easy looks that would not exist otherwise. The payoff is worth it.
Gobert is averaging about 4.2 dunks per game, up from 2.7 last season, per Second Spectrum. (Good thing, because Utah can't shoot from anywhere else right now.)
He remains a one-man defense. Only 28 percent of opponent shots have come in the restricted area with Gobert on the floor, compared to 37 percent when he sits -- one of the largest differentials in the league. He's looking spry; he had no problem running Al Horford -- a longtime thorn in Gobert's side -- off the 3-point arc last week.
Utah should stabilize after a strange, uneven start. Ricky Rubio and Donovan Mitchell will heat up. The Jazz allow the right sorts of shots on defense; they will not rank outside the top-10 on that end for long.
A trend to watch, as always: Utah's small-ball lineups with Gobert as the lone traditional big have again outperformed all other lineup types -- including those featuring the Gobert-Derrick Favors duo -- by a wide margin.
There is just something about Parker's stylistic game on offense that doesn't work. It goes beyond his tendency toward aimless one-on-one jitterbugging and midrange shots.
He's a decent shooter despite an icy start from deep. He's not a bad passer when he decides to pass. He is scoring about 1.10 points per isolation this season, a hair below what James Harden and Chris Paul put up in scorching the league a year ago, per Second Spectrum.
Parker moves with a jagged, arrhythmic quality that can be hard for teammates to read and clashes with the flow of the offense humming around him. It's as if someone sped up the beat of your favorite song, but kept the pace of the lyrics the same.
Parker slices into the paint just as Zach LaVine flies off a pindown on the same side of the floor -- a weirdly timed, weirdly aimed charge that leaves Parker without an available pass. (Parker's turnovers have spiked.)
Even his off-the-bounce game has a jolting choppiness. He'll move forward with two fast, pitter-pat dribbles, pull up suddenly, then pound another three rapid-fire bounces standing in place.
There is power in unpredictability. Defenses can't plan for you if they have no clue what you are going to do. But if your teammates don't either, it can throw the offense off-kilter.
Harris loves to go left, and has a knack for finishing with elastic lefty layups extended just over the fingertips of help defenders:
It is uncanny how often he ekes that tilting shot over behemoths. The genius is in the timing of his jump, the stretch, and the loft Harris generates with a flick of his wrist. The ball drifts down and nuzzles the rim with a feathery softness.
Harris is one of those DeMar DeRozan types whose improvement sneaks up on you because of how gradually it comes, year-by-year, small step by small step. He has already hit 9 of 19 pull-up 3s after attempting just 28 combined over 2015-16 and 2016-17, per NBA.com.
The threat of that shot has unlocked a more varied pick-and-roll game. Harris is using about 18 ball screens per 100 possessions, double last season's rate, per Second Spectrum. The Clippers have scored well on those plays.
He can pull up from anywhere. He doesn't turn the ball over. He's more decisive going downhill when he sees a crease. Executives have long questioned his passing -- does he makes teammates better? -- and Harris is averaging just two dimes per game. He's not a great passer. But he's not a bad one, either. He's not a ball-stopping hog.
He gets off the ball when he should -- when he spots a help defender inching off Danilo Gallinari on the strong side; Mike Scott popping open up top; or a window for a slick pocket pass. Harris doesn't throw next-level passes, but he moves the offense from station-to-station. He is a functional passer. There is value in that.
The Clippers don't have a single great passer in their rotation -- Shai Gilgeous-Alexander is coming with those Plastic Man hook passes -- but they've built a top-10 offense by capturing the value of attaching one simple play to the next.
5. The NBA's halfhearted clear-path adjustment
I'm not sure how the NBA spent a whole summer rethinking the clear path rule and failed to legislate out this trashola:
(Sorry, Joe. It's not your fault.)
This is not a basketball play. It is a hug. Sometimes it takes the form of a clothesline. It stops an exciting basketball thing and transforms into a boring non-basketball thing.
The solution is so easy: Expand clear-path criteria to include all these fouls, or levy the same penalties reserved for intentional away-from-the-play hacks. (The league refined the clear-path definition, but this foul doesn't fall under it for a few reasons -- including that it takes place below the top of the circle, with at least one Utah defender ahead of Ingles in defensive transition. Those criteria seem both arbitrary and unnecessary. The league would also argue Terry Rozier does not have full control the ball, but he might if he's not worried about Ingles unleashing the clothesline from hell.)
Monty McCutchen, the NBA's head of referee development and training, told me last year that penalizing these wrap-ups as intentional fouls would bring an unintended consequence: What do you do when trailing teams resort to similar huggy fouls in the last minute?
Meh. It seems easy enough to distinguish between fast-break stoppers in the second quarter and the desperation of a comeback. (Thankfully, the NBA is testing out a more stringent "transition foul" rule in the G-League.)
Young's bricky start should feel more distressing. He's shooting 25.6 percent on six 3-point attempts per game. Antoine Walker is a little ashamed. He is a nonentity on defense -- a piece of tissue paper floating around the action.
Young's passing is as advertised, but the drives setting up those passes represent the best reason to hold onto your Young optimism. Defenders press him almost to half court, and Young baits them into reaches -- and blows by them.
That is especially useful against switches, and Young figures to see more of those when his 3-pointer kicks in:
Young has recorded almost 23 drives per 100 possessions, ninth-most among rotation players, per Second Spectrum. Almost 40 percent of Young's shots have come within four feet of the rim, a hefty mark. He's finishing at about an average rate for point guards, and average is great on the rookie point guard curve. He coaxes in layups from awkward angles, way below the rim.
He's patient with a live dribble, always scanning for passes. The Hawks have scored about 1.15 points per possession when Young drives -- slightly above average, per Second Spectrum. Again: For a rookie amid this tanky, stanky roster, average is a huge win.
Even in nabbing a top-five-protected pick from Dallas, the Hawks gambled picking Young over Luka Doncic. It was a bet both on Young and against Doncic -- that Doncic wouldn't be so much more valuable than Young during their primes as to be worth more than the combination of Young and that pick.
We'll see. Atlanta obviously needs Young to develop into a mega-3-point shooter. But some college shooters build their NBA games from inside out. Maybe Young is one of them.
7. Watching Houston navigate a changing landscape
Last season, teams scrapped conventional defense against Houston's pick-and-roll attack and switched everything. Harden and Paul roasted big guys for eight straight months.
This season, opponents aren't switching quite as often, or as willingly. They are pressuring Harden and Paul with two defenders, and testing the new cast of shooters around them.
It has been fun watching Houston digest that, and adjust. Against the Nuggets on Tuesday, they provided Harden ready release valves:
That is called "shorting" the pick-and-roll, and Mike D'Antoni helped pioneer it in the NBA. Eric Gordon -- the release valve -- has an easier passing angle to Clint Capela. In other variations, Houston will stash one shooter on the right wing -- opposite Gordon. The guy defending that shooter would crash inside on Capela, leaving Gordon two passing options: the short dish to Capela, or a skip pass to that open shooter.
Feasting on switches last season worked, but it also lulled Houston into a monotony that sputtered against elite, switchable defenses. The best teams can snuff anything if they see it over and over. Houston needs to mix in complex set pieces that toggle through a bunch of actions in two or three seconds. The leaguewide reluctance to switch has forced them to do that:
The Rockets are starting to look more like themselves. Their defense has steadied with Carmelo Anthony in exile. (Catching the bickering Warriors without Stephen Curry didn't hurt, either.)
Their shooting is normalizing. Paul is hitting again after a long slump. Eric Gordon's jumper is showing signs of life. With Harden and James Ennis back, they are playing lineups that make sense -- the lineups they anticipated leaning upon, including groups featuring all three of Paul, Harden and Gordon. Gary Clark has been a godsend.
They are still searching for last season's power and swagger. They miss Trevor Ariza, on and off the court. They will be thin until Nene and Gerald Green contribute. The buyout market awaits.
But they look like a team with a coherent identity again. That's a start.
Towns showed out on both ends Wednesday against Anthony Davis. That's nice. Now Towns -- the undisputed franchise centerpiece again -- needs to bring that verve in every game. No more of this:
That is worse than a business decision. A player making a business decision isn't trying to hide anything. This sideways jump-and-reach is a con. It is an attempt to trick people into thinking you tried.
The Wolves rank 29th in points allowed per possession, ahead of only the pathetic Cavs. Opponents get to the rim way more often with Towns on the floor, and shoot more accurately.
Towns is one problem among many, but he is a problem. More consistent effort would help. But plays like this, when he tries and fails, almost worry you more than his acts of surrender:
Every team wants to contain the pick-and-roll two-on-two, so the other three defenders can stay home. Some bigs can patrol two guys at once. Some can't. Intractable traits -- height, reach, jumping ability -- sort some guys into the "can't" category. You accept their deficiencies, coach them up, tweak schemes, and hope.
Other guys suffer from bad technique and poor instincts. Towns stands tall and flat-footed. He starts his work late, and backpedals with a stiffness that belies his natural gifts. He seems confused about how to angle his body, where to look, when to jump.
Coaching and hard work can polish some of those rough edges. But what if Towns just has a bad feel for defense?
9. Another wackadoo Dallas bench
The suddenly hot Mavs have outscored opponents by almost 20 points per 100 possessions when Maxi Kleber and Dwight Powell share the floor. Every year, J.J. Barea and Rick Carlisle take some cast of wackadoo misfits and meld it into a productive bench.
Their main co-stars this season: Dorian Finney-Smith, shooting 46 percent from deep after a lost 2017-18 season; and Kleber, the other Maverick from Wurzburg, Germany, emerging out of nowhere as a fearsome rim protector.
Think you are cruising in for an easy layup, CJ Miles? Think again!
Steven Adams is made of titanium, but he is no match for Maxi Kleber:
Kleber leads the Mavericks in blocks, and he's on pace to double his total from last season. Finney-Smith's versatility on defense has allowed Carlisle to play Luka Doncic, Harrison Barnes and Finney-Smith together for heavy minutes.
It will be interesting to see how Carlisle juggles minutes when the Tall Baller from the G returns.
10. Oh, Cavs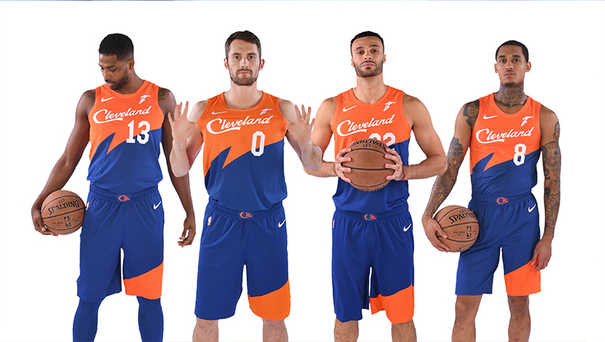 Oh no. Unveiling these uniforms after watching LeBron leave might be more embarrassing than Dan Gilbert's failure to construct anything even resembling a functional NBA franchise whenever LeBron leaves.
These look like rejected tights from American Gladiators. Nitro would refuse to wear them. These are what would happen if you gave the players on a high school freshman team carte blanche to design their own uniforms.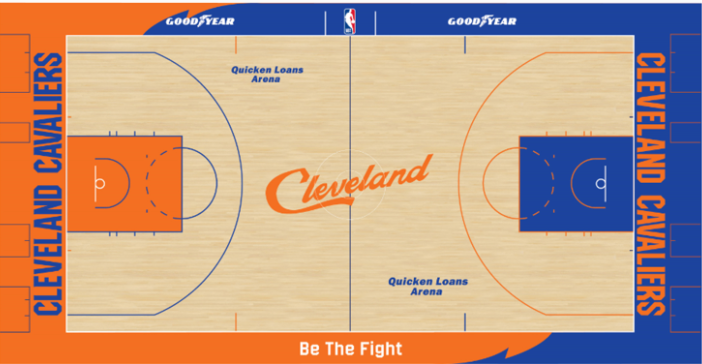 I like the half-blue, half-orange court. A couple of teams experimented with that kind of contrast in the NBA 2K League. More actual teams should try it.
BONUS: Terrence Ross, stopping on a dime
Ross was quietly having a nice season off the bench for Orlando before ruining Jimmy Butler's Philly debut with a dagger. Ross is a magician at catching the ball at a full sprint, and snapping into a perfectly balanced jump shot as if he had been standing still the whole time:
Klay Thompson and CJ McCollum are the gold standards at this. Ross is right there with them.