It's 10 things time:
Remember Towns slinking to the corners even with James Harden on him during last season's first round? Yeah, those days ended with the Jimmy Butler trade. Towns is absolutely beasting -- sealing defenders early in the shot clock, and hooking nifty passes all over the floor when opponents send help:
Since the Butler trade, Towns has posted up 19 times per 100 possessions -- the most in the league over that span, and a huge jump from his pre-trade number (12.5), per Second Spectrum tracking data. His efficiency on the block has skyrocketed; Minnesota is averaging almost 1.2 points per possession on any trip featuring a Towns post-up, typically a top-20-ish mark, per Second Spectrum.
There are still wrinkles to iron out. Towns settles for blah position outside the paint now and then. He commits a lot of turnovers, including push-offs and other bulldozing offensive fouls when he starts too far from the hoop.
But the raw material of an unstoppable inside-out force is here. Towns can face up bulkier defenders, blow by them, or loft jumpers from anywhere. He can bully smaller dudes. He's a skilled passer when he decides to be. He has one silky go-to move -- his jump hook -- and some counters.
He's trying on defense now too, and you might be shocked to hear this, but trying really helps! Opponents are shooting just 49.5 percent at the rim with Towns nearby since the trade, a Gobertian number. He's grabbing more boards and boxing out instead of chasing every potential blocked shot like a cat swatting at birds; Minnesota's once-pathetic defensive rebounding rate has crept close to league average since the deal -- including with Towns on the floor.
This version of Towns can anchor a franchise, and develop into a top-five overall player.
Thompson is out at least two weeks, so let's take a moment to appreciate the relentlessness of one of the only humans capable of making the 2018-19 Cavaliers resemble a competent NBA team. Thompson has inhaled almost 18 percent of Cleveland's misses, third in the league, and on pace to be one of the fattest offensive rebounding rates in recent history. He is a one-man offensive rebounding team. The Cavs don't need anyone else to crash the glass; teammates can scurry back on defense.
Can you imagine boxing this guy out? I'm exhausted (and kind of in pain) just thinking about it. Poor Kosta Koufos.
That's a crossover dribble, without a ball. That's a running back cutting around a linebacker, or maybe a speed-rusher dusting an offensive lineman. Some of Thompson's genius on the glass is simple brutality. He's physical, and mean, and he will inflict as much torture as referees allow. But he also has moves -- for rebounds!
Thompson has had to stretch his skill set with LeBron gone. He's dishing two dimes per game, more than double his career mark, and some of them look kind of snazzy!
He's launching more of his floaters -- the most demoralizing shot in basketball during the LeBron era. (When you force LeBron's offense into a Tristan freaking Thompson floater, and he makes it, it's time to pack it in.) He has already posted up 78 times, more than in the past two seasons combined, per Second Spectrum.
Those post-ups have, umm, not worked. Thompson doing so much is not a good sign. It is symptomatic of a team of role players left in the lurch.
But Thompson is prideful. He's fighting.
The feel-good, go-go Kings are getting walloped whenever they pair Bagley with one of their centers -- Willie Cauley-Stein, Harry Giles or Kosta Koufos. Bagley has played about 75 percent of his minutes with one of those three.
When one of Justin Jackson and Frank Mason is also on the floor, there just isn't enough space to get anywhere. (Sacramento has played a lot of minutes with Jackson, Mason, Bagley and one center. They have not been pretty.)
The return of Bogdan Bogdanovic, a canny reserve shooter and playmaker, loosened things. Dave Joerger has gone a step further in some recent games by mothballing Mason, and giving his minutes to Buddy Hield (in groups featuring no traditional point guard) and De'Aaron Fox.
All of that helps, even if it strains the rotation. Bagley has a slick all-court (and all-lefty) game. He's good at slicing into crevices for bang-bang floaters. The Bagley-Cauley-Stein and Bagley-Giles pairings bring enough high-IQ interior passing to maneuver the offense through narrow corridors:
As Bagley stretches into 3-point range, he will be more able to accommodate a rim-running center.
But Bagley should play some rim-runner, too. His shooting range is unproven. He loses his speed advantage against power forwards. The Kings are plus-10 in the 93 minutes Bagley has played center alongside former Sixer Nemanja Bjelica, per NBA.com.
This is a long-term question that might resolve itself organically; Koufos and Cauley-Stein hit free agency this summer. Giles and Bagley will round out their games.
In the here and now, a team with sudden playoff ambitions is losing big with double-big lineups.
I've hit Zach LaVine in this space for his middling assist-to-turnover ratio, so it seems fair to point out that Mitchell has 81 assists and 65 turnovers. He's averaging just 3.2 dimes per game -- fewer than last season, and a disappointment even if Mitchell plays a ton next to a pass-first point guard (Ricky Rubio) amid an equal-opportunity offense.
Mitchell sometimes careens into the lane with his mind made up -- he's going to shoot, dammit -- only to pick up his dribble, realize he hasn't beaten his guy, and heave some desperation pass into the hands of a waiting defender.
On some drives, he'll take one dribble too many into the trees instead of kicking out an easy, available pass.
On others, he passes too early when he should puncture the defense with that one extra dribble.
He's a touch overconfident in his handle, and in his ability to contort between thickets of reaching arms. He gets stripped a lot. He loves high-risk, crosscourt passes, but underestimates the speed of NBA defenders lunging to deflect them.
Utah is scoring just 0.91 points per possession anytime Mitchell shoots out of a pick-and-roll, or passes to a teammate who lets fly right away -- 93rd out of 165 players who have used at least 75 ball screens, per Second Spectrum. (Utah's putrid 3-point shooting is also deflating Mitchell's assist total.)
All of this is typical of young players. Think of how high these standards are: We nitpick LaVine, Mitchell, Caris LeVert, Jaylen Brown, Jamal Murray, Devin Booker and so many others for either taking too long to get rid of the ball or getting rid of it too soon.
Making those reads in real time is the NBA's highest art. It requires a second-by-second mapping of nine other humans in motion -- and the brainpower to think one step ahead of them.
It is hard to win 50-plus games while asking a second-year guy to do that as the undisputed alpha on offense, unless that guy is young LeBron or Chris Paul. Mitchell will be fine. He hasn't regressed. He has better vision and feel than most of those other guys. But his sophomore stagnation is a reminder: The NBA is a tough league.
5. An unexpected caretaker of Manu Ginobili's legacy
This was the unteachable pass:
Ginobili invented it. The Spurs called it "weak fly." Tony Parker tried to replicate it on the French national team, but no one could thread it. Mike Budenholzer taught his wings in Atlanta. They all failed.
"Manu is the only one with the balls to throw it," Budenholzer told me in 2016.
No longer!
Slow Mo, you scamp! There should be a center-court ceremony -- a basketball knighting -- in which Ginobili bestows this pass upon Anderson.
6. Malcolm Brogdon, getting where he wants to go
Giannis Antetokounmpo isn't the only one jetting through the extra space Mike Budenholzer opened by replacing Milwaukee's non-shooting centers with Brook Lopez -- a fringe signing that literally warped the entire landscape of the league.
President Malcolm Brogdon doesn't have a super-quick first step. He doesn't unleash thunder from above like Antetokounmpo. He's just really good at shouldering his way into inside position, and flipping in layups -- lefty or righty -- when there are no help defenders around to bother him.
Brogdon is a good enough shooter that defenders have to press him. Get too close, and he nudges right by you.
Half of Brogdon's shots have come within the restricted area, a giant leap from his 37 percent share last season. Milwaukee has scored 1.1 points per possession anytime Brogdon shoots out of a drive, or kicks to a teammate who hoists right away -- 24th among 159 guys who have recorded at least 75 drives, per Second Spectrum.
Brogdon is still firmly in 50-40-90 territory. (He has missed one free throw all season.) He can toggle between guard positions on both ends, and work either side of an unconventional pick-and-roll pairing with Antetokounmpo. His versatility has solidified Milwaukee's starting five, and helped keep the Bucks afloat when their MVP candidate rests; Milwaukee has outscored opponents by 4.6 points per 100 possessions when Brogdon plays without Antetokounmpo, per NBA.com.
Brogdon is eligible for a four-year, $47.5 million extension. Before the season, I predicted the Bucks would offer it, and that Brogdon would turn it down. I feel good about both calls.
In 2013, Gay morphed from solid NBA player into both punchline and cautionary tale. The best way to improve your team: trade Rudy Gay! Every young, athletic wing who could score but not much else -- pass, defend, shoot 3s -- became the next Rudy Gay, the guy who looked like he should be good but didn't help your team win: Andrew Wiggins, Jeff Green, and a few others. Then Gay tore his Achilles. That would probably be it.
Nope. Gay has been a sensational third wheel in San Antonio. He's shooting 48 percent from deep, and remains a slithery one-on-one mismatch: too big for wings, too crafty for traditional power forwards.
The Spurs have scored 1.32 points per possession on any trip featuring a Gay post-up, the 11th-highest figure among 117 guys who have recorded at least 15 such plays, per Second Spectrum.
He knows how to space the floor for DeMar DeRozan-LaMarcus Aldridge pick-and-rolls, and dart into a void for floaters and backdoor dunks when the defense isn't looking. When the Spurs want to mix things up, the Gay-Aldridge pick-and-roll has been among the most effective pairings in the league, per Second Spectrum. He can still cram on fools. Josh Jackson tried to cram on him along the baseline Tuesday; Gay leapt with Jackson, and simply took the ball out of his hands in midair. It was astonishing.
Gay has been a stout, switchable defender, rebounding at a career-best rate. He is not the reason San Antonio ranks a preposterous 25th in points allowed per possession. He can't lift them higher on his own -- how many tweener forwards could? -- but Gay is doing his job. The Spurs are somehow plus-22 in the 77 minutes Gay has logged without their two stars, per NBA.com.
Gay has revived his career -- a really happy story, just in time for free agency this summer.
8. Zaza Pachulia, keeping things interesting
Pachulia is a beloved teammate. All he wants to do is level dudes with picks, flick fancy passes, and play bumper cars under the glass. Not on the list: shooting. Players adore teammates who don't want to shoot, because that means everyone else gets to shoot more.
A great Pachulia moment that happens once every couple of weeks: when teammates implore him to shoot the damn ball because he is under the basket by himself and doesn't seem to realize it:
The entire Detroit bench is one half-second away from rushing the floor, grabbing Pachulia, and yanking him around the face the hoop. Come on, Zaza! Poor Blake Griffin can't do everything!
Pachulia spices up ho-hum Wednesday League Pass games with delightful pieces of flare:
Why settle for a boring handoff when you can bounce the ball between your own legs? Chris Webber would be proud.
You could smell the disgust radiating off Portland's bench when Nurkic settled for this shot against Harden in the post:
Yeah, Harden has been a bulwark on the block for the second straight season. (No one has been posted up more, per Second Spectrum.) But he does a good chunk of his (very good!) work against awkward galoots hunting mismatches they aren't equipped to exploit. Houston also sometimes ambushes Harden's guy with help from the baseline.
Nurkic is a giant, balletic post player. Why turn to face Harden? Just back your ass into him until he's under the rim, or the Rockets send an urgent double-team.
This has been a weird trend for Nurkic this season. He's averaging 0.46 points per possession on post-ups against guards, per Second Spectrum. He has coughed the ball up on 31 percent of those possessions, a number that would rank dead last among all players who post up with any regularity.
The reeling Blazers have to hope this is just a blip. The sample size is teensy -- 19 plays in total. Nurkic did fine bullying switches last season. You can also understand his caution. When large humans back down smaller humans, their elbows are often at the level of the defender's chin. Expert floppers leverage that basic biological reality, snap their heads back like Kramer recoiling from Roger McDowell's magic loogie, and bait referees into whistling offensive fouls.
But Nurkic has never been the powerful finisher his frame and mean streak suggest he should be. He's all finesse around the rim, and bonks way too many bunnies. He's shooting just 58 percent in the restricted area -- in the 19th percentile among centers. Get nasty, Nurk!
10. Boston's touch of gold
I have a hot uniform take. I do not utter this lightly. I am typically an art traditionalist with the NBA's iconic franchises. But I cannot deny my visceral impulse: Boston's new city edition jerseys, with gold trim around the green letters and numbers, are better than Boston's classic white home jerseys: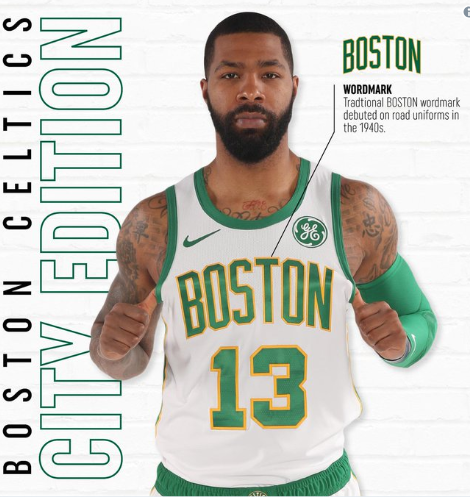 It feels good to say it. I am unburdened.
These do not outrank Boston's green road jerseys. Those may be the best uniforms in the history of sports. Their white ones are gorgeous, too. But white uniforms are plain by nature. It is the green that makes Boston's home unis sing. They sing more loudly with that golden trim. It gives them an extra bit of life without overwhelming either the white or the green -- without altering the overall look and feel.
The clincher: The golden trim is an homage to the warm-ups the Celtics have worn through much of their history, including the 1980s glory years. It did not spring from thin air, like the lifeless gray and black duds Boston farted out in recent years. It is true to the Celtics.
BONUS: Spencer Dinwiddie's three-year, $34 million extension
This feels like the right outcome for both sides. Dinwiddie is good -- better right now than D'Angelo Russell, but also three years older. The Nets at this embryonic stage should be in the business of paying good players fair, tradable salaries instead of getting too cute preserving cap space. Dinwiddie gets a raise to nearly 700 percent of his current salary and the chance to re-enter free agency at age 28 in July 2021, via a player option.