This year's NBA Christmas Day slate features 10 teams -- some are title contenders, some are playoff teams and some are the Knicks.
Let's explore each squad and try to identify a few things that help exemplify their seasons thus far.
---
The Bucks are the most improved team in the NBA, and they are a joy to watch. It's no secret why. Let's dive right in with the craziest stat of the year:
Giannis is a dunking machine. It's awesome to watch. It wouldn't be crazy to say Giannis is the most dominant interior scorer in the game right now; it would be an understatement.
But dunking it down the chimney is just the start. Here's another pair of stats to chew on:
Antetokounmpo leads the NBA in total scoring close to the basket. He has made 259 field goals inside 8 feet, more than anyone else in the NBA.

Here's where it gets wild: He also leads the NBA in efficiency in this zone. So far 39 players have attempted at least 200 shots inside 8 feet. Of that group, Giannis also stands at the top by converting an incredible 72 percent of his attempts in that area.
The last player to be both the most prolific and efficient interior scorer in the NBA was LeBron James. Before him, it was prime Shaquille O'Neal.
Basketball can be a pretty simple game. Anytime a single player leads the league in both close-range production and close-range efficiency, it's a safe bet that he's an MVP candidate.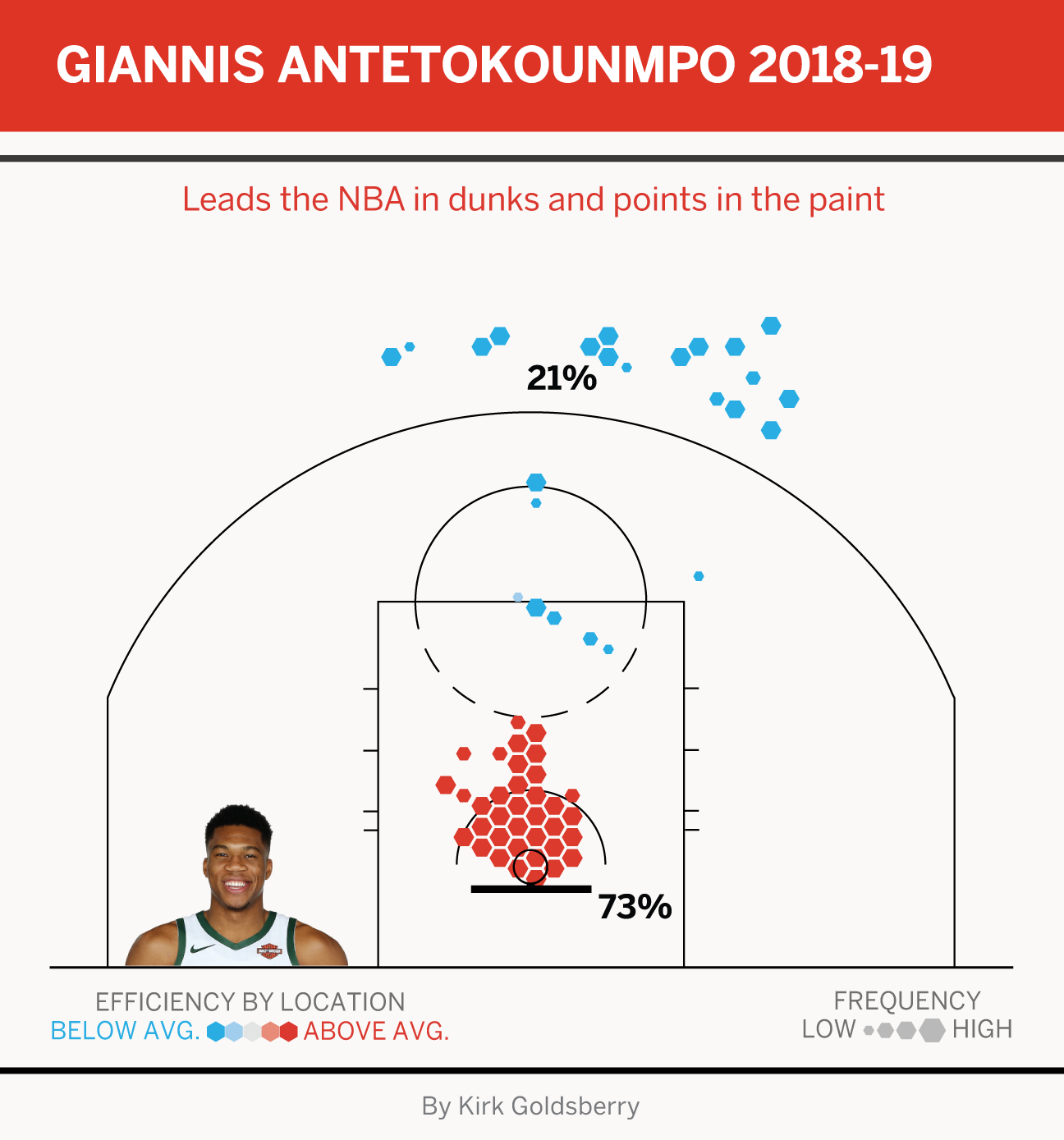 And Giannis' huge season is translating to team success. Milwaukee is all the way up to first in net rating after ranking 20th last season. Head coach Mike Budenholzer is a Coach of the Year candidate in part because of his fresh offensive tactics. Milwaukee suddenly has the best shot selection in the NBA.
---
All the Knicks want for Christmas is a lottery pick and a high-profile free agent. Thanks to their putrid play, they're well on their way to the lottery. However, this race to the bottom might hurt their case when it comes to luring someone as good as Kevin Durant, who seems to like championships and will want to surround himself with something resembling a functional basketball team.
Santalytics Claus has this Knicks squad on the naughty list. It ranks 26th in net rating while trotting out one of the worst defenses in the NBA. Donner and Blitzen would protect the rim better than these dudes.
On offense, it's no better. It wouldn't be in the Christmas spirit to say the Knicks can't shoot ... so let's just say they can't make any shots. They rank 29th in effective field goal percentage (eFG%) and feature a handful of the least efficient rotation players in the league, led by Tim Hardaway Jr.
There are 35 NBA players averaging at least 15 FGA per game, but of that group, nobody has a worse shooting percentage than THJ, who is converting just 39.6 percent of his shots and spreads his holiday smear all over the court.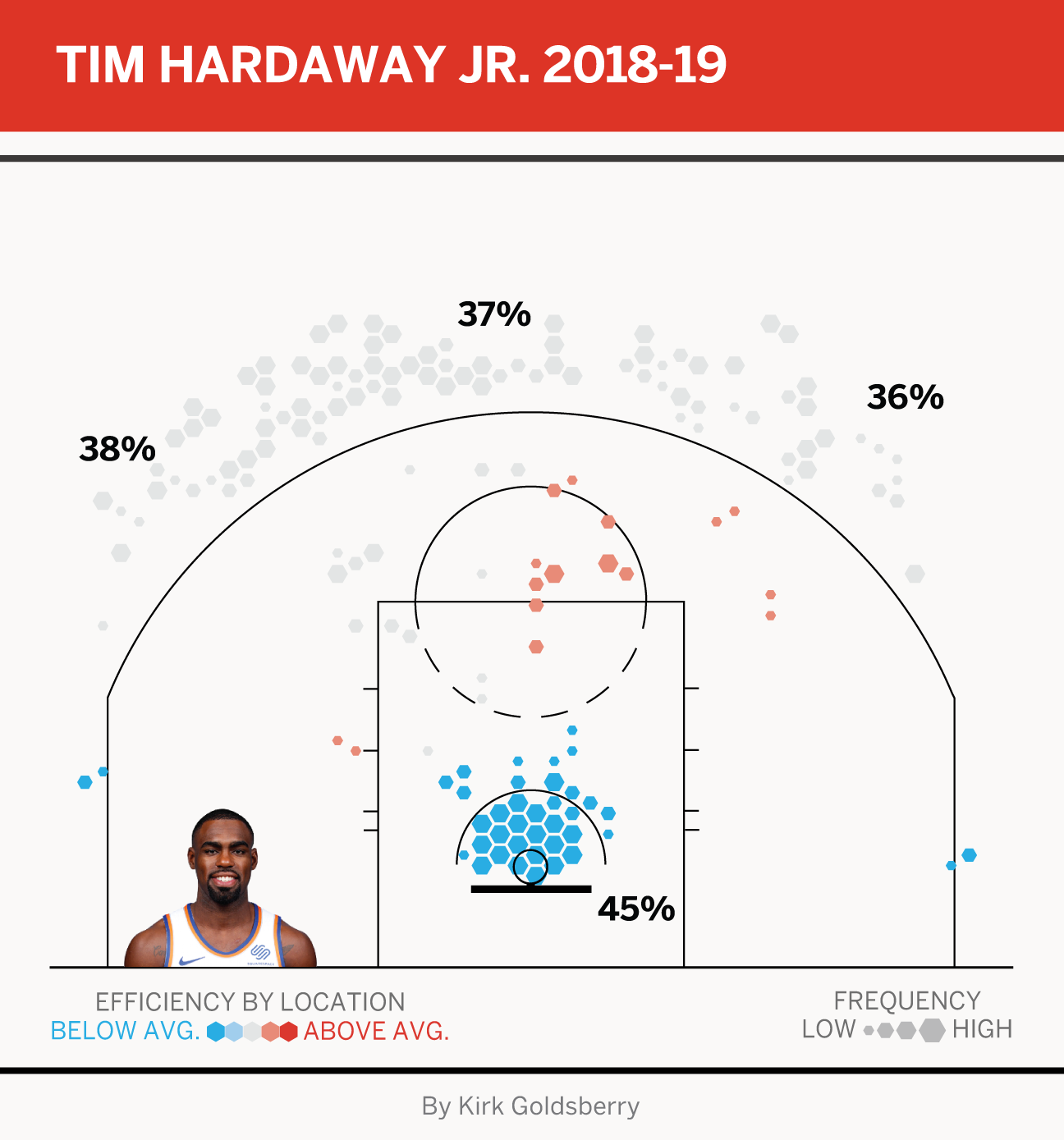 To be fair to Hardaway, he's being asked to do way too much, in part because his teammates don't have much to offer. His numbers would be better in a lower-usage role. His current stank level says more about his environment and outlandish offensive burden than it does about his own abilities.
New York owes Hardaway $18 million next season. If the Knicks are going to attract a big-time free agent and build a legitimate team for 2019-20, Hardaway and the rest of this roster will need to start looking like solid long-term options or plus trade pieces. Right now, the Knicks are just attracting pingpong balls.
---
The Thunder have re-established themselves as contenders. They're 21-11 and rank fourth in the NBA in net rating. How are they doing it? These dudes are the best defense in the NBA.
They're straight-up porch pirates on defense, stealing everything in sight. OKC is averaging over 10 steals per game, with Russell Westbrook and Paul George each grabbing two per game on their own. The Thunder force more turnovers than any team in the NBA and lead the NBA in points off turnovers.
Sometimes defense is the best offense. In OKC, that's certainly the case, because the offense kind of stinks right now, ranking 19th thanks to a general inability to shoot.
The Thunder rank 29th in 3-point efficiency. Here's why: Westbrook is the worst 3-point shooter in the league. So far this season, 133 players have tried at least 100 3s. Of that group, Westbrook ranks dead last by converting a ghastly 23.6 percent of his triples.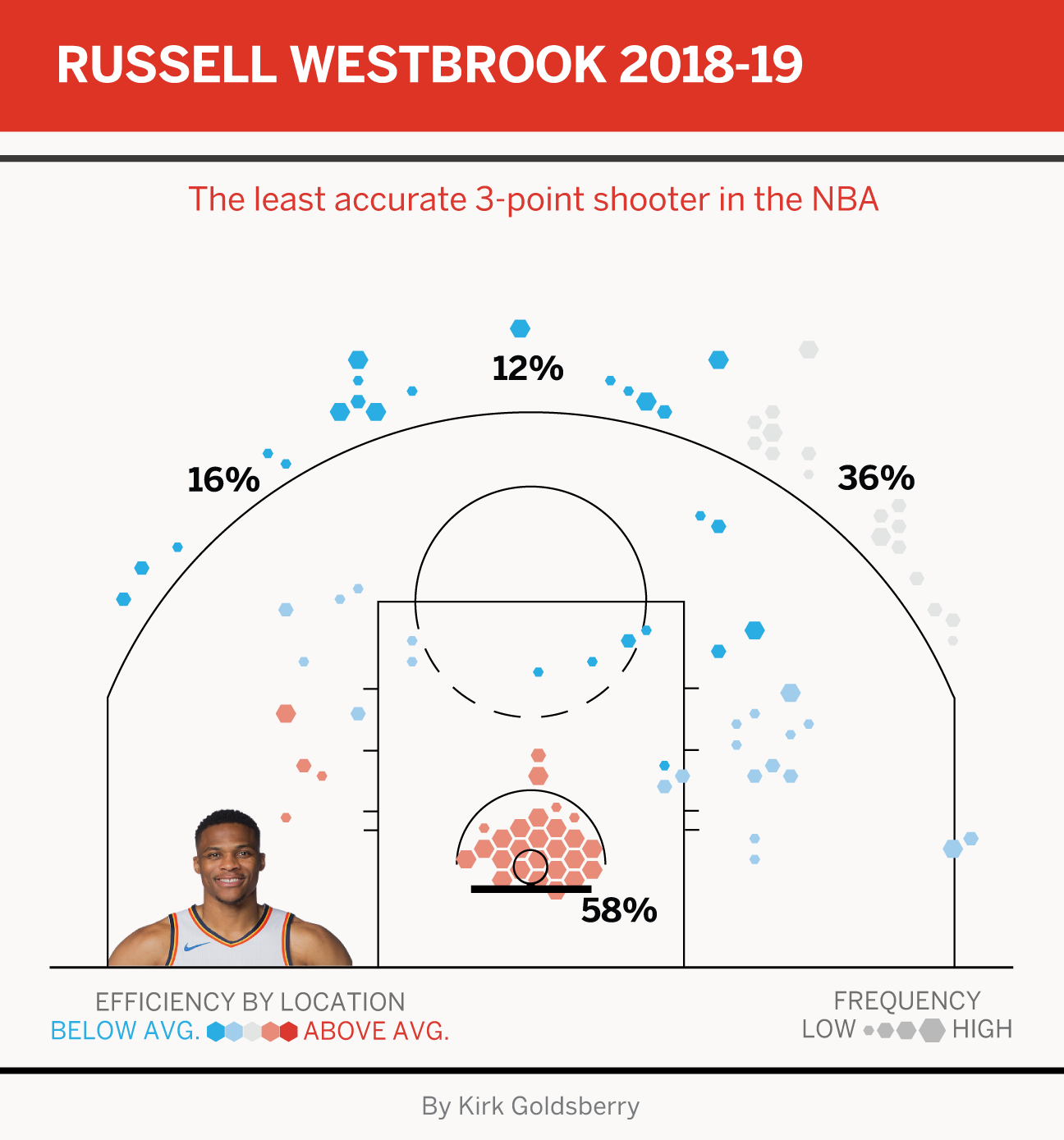 But, man, Paul George is freaking awesome right now. George has rocketed to the top of the nice list by boasting career highs in PPG, RPG, APG, SPG, PER and TS%. Check out his shot chart and you can tell he loves the right side of the floor, where he is much more active and efficient.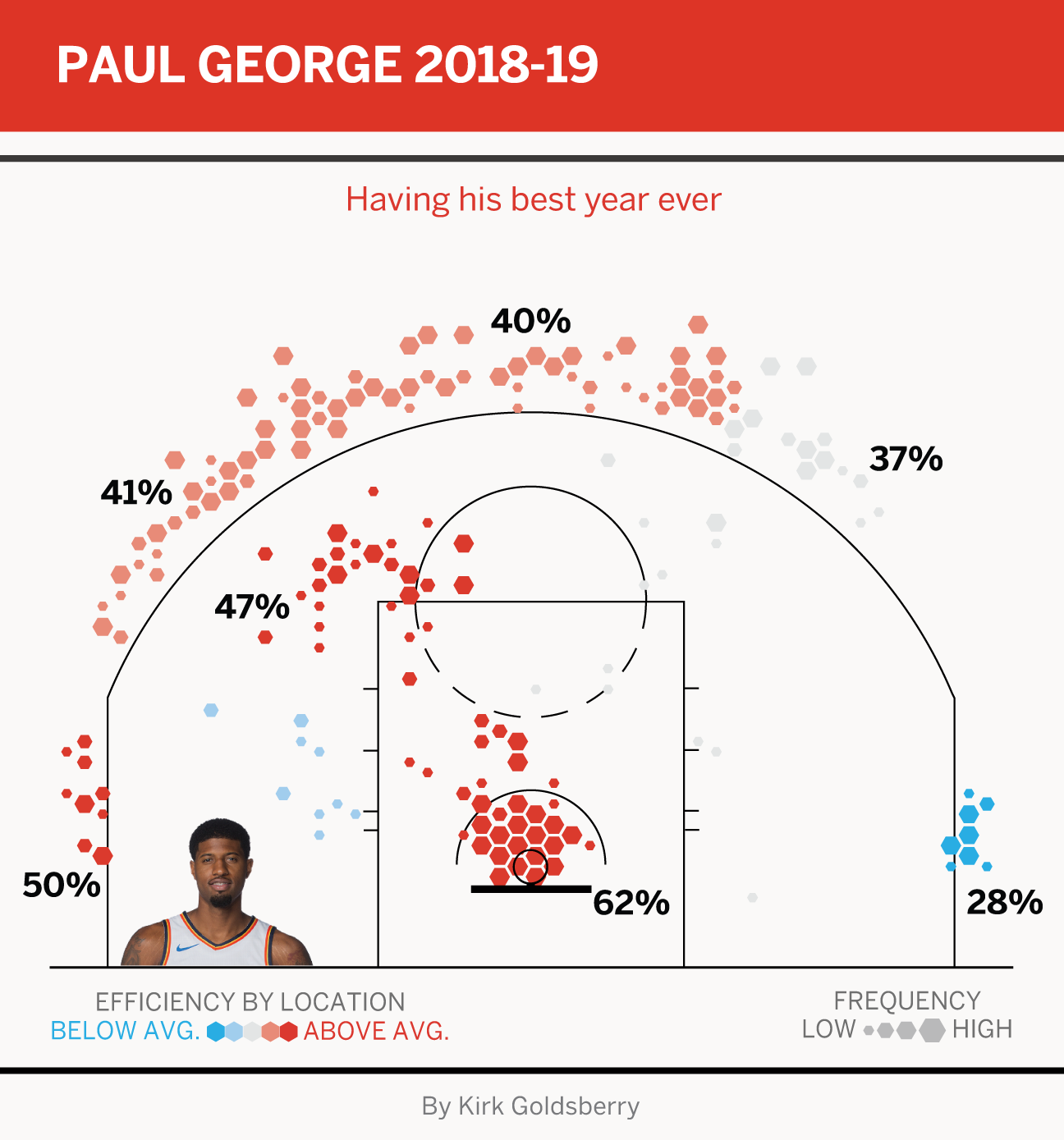 ---
Here's a crazy stat: The Brooklyn Nets rank second in the NBA with 94 unassisted 3s. James Harden has 110 by himself.
Here's another one: League-wide, over 80 percent of triples involve assists, but only 12 percent of Harden's do. Yes, Harden leads the NBA in made 3s and points per game, but it's how he does it that's so amazing. Luka Doncic (67) and LeBron James (54) are the only other players to attempt at least 50 step-back 3s so far this season, per Second Spectrum data. Harden already has 189.
He does things his own way. Aside from the free throw, his favorite shot on the floor is at the top of the arc, where he hits most of those step-backs.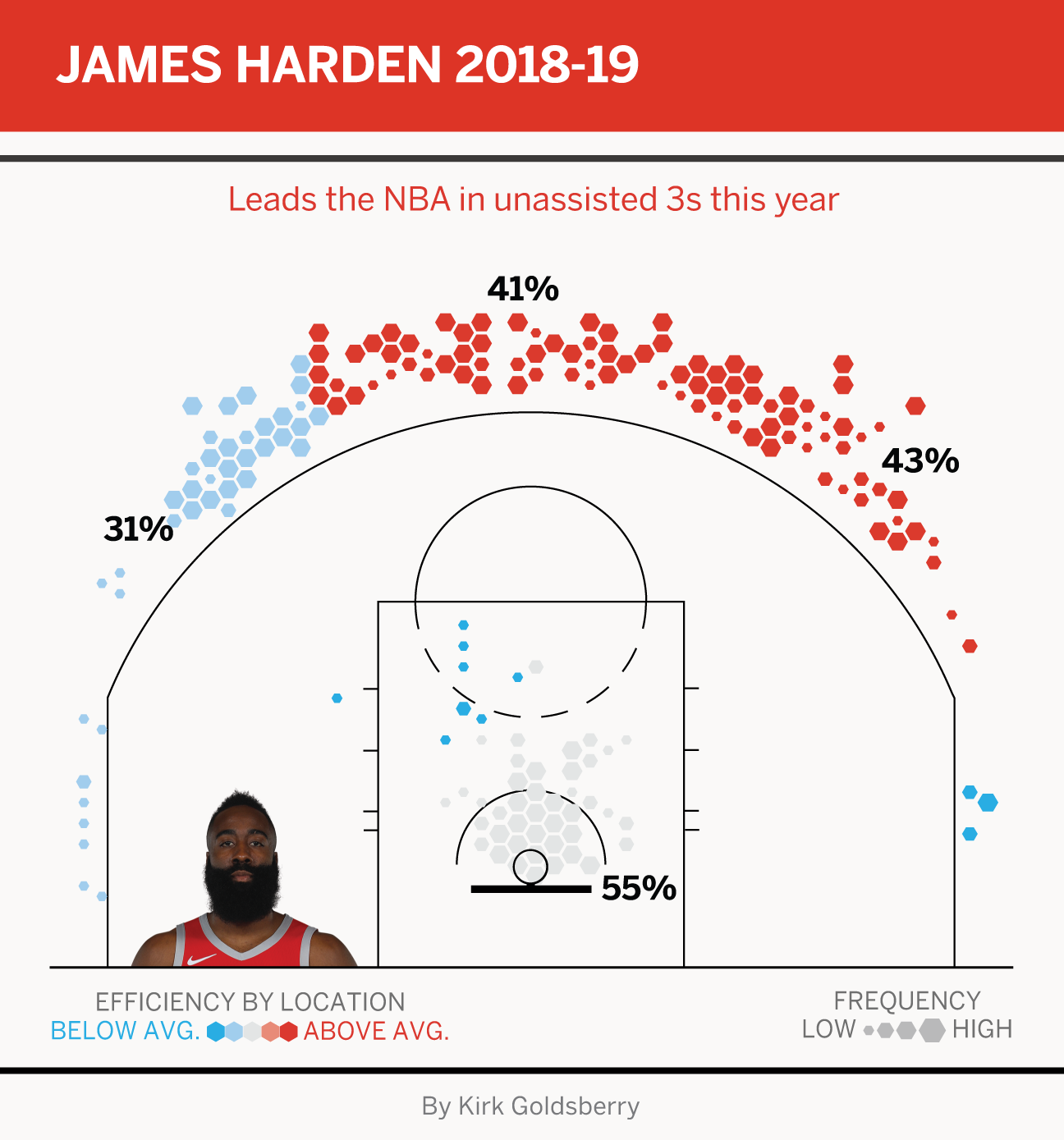 The Rockets are playing great on offense, but after dominating the regular season last season, they seem to be on an intergalactic mission to malaise. They have dropped from first in net rating in 2017-18 to 15th now.
Last season, Houston ranked seventh in defensive efficiency. The team is down to 26th now. The departures of Trevor Ariza and Luc Mbah a Moute damaged this fragile defensive success. Those guys provided Houston with smart and versatile veterans on the perimeter. In their absence, the Rockets are relying on a group of unproven wings, and it's showing up all over the stat sheet.
It's not hard to find bad indicators. Houston's opponents are shooting much better, getting to the line a lot more often and grabbing offensive rebounds at higher rates. This Rockets squad will go only as far as the defense, and with Chris Paul on the shelf with a hamstring injury, the question marks on that end of the court are only getting bigger.
Man, if only you could combine the Houston offense and OKC defense, you'd have a pretty good team. Just imagine Harden and Westbrook on the same squad.
---
Philadelphia 76ers
Ben Simmons is one of the quirkiest stars in the NBA. Not only is he a 6-foot-10, lefty point guard, but he's got a wild shot profile. Per Second Spectrum data, Simmons' average shot distance this season is 5 feet, which is the shortest among all guards in the NBA.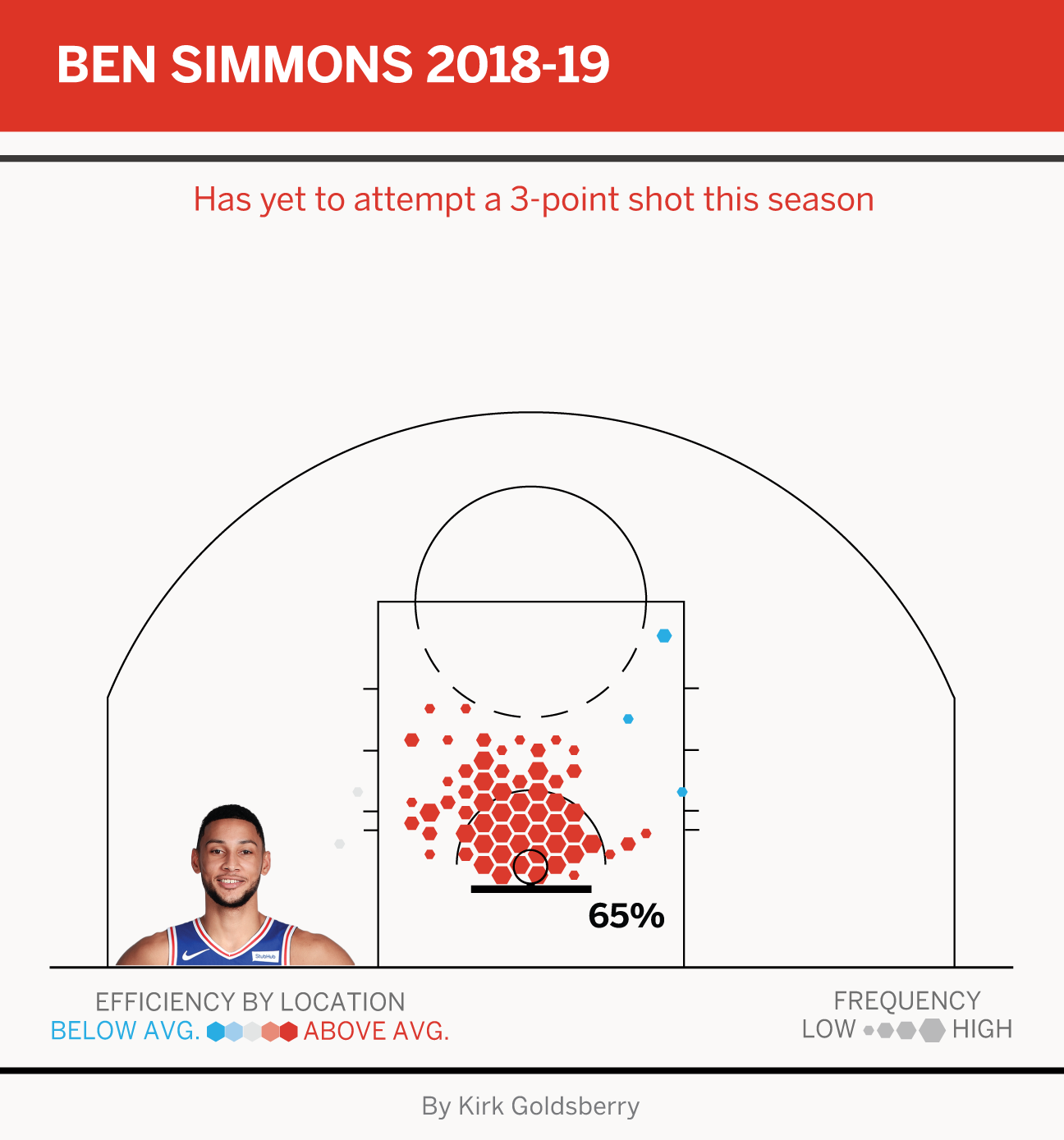 Simmons hasn't converted a field goal beyond 14 feet this season. In a league in which point guards now shoot about 40 percent of their attempts from 3-point range, one of the best young point guards in the NBA is currently 0-for-0 from downtown, and 79 percent of his field goals have come on dunks or layups.
Regardless, since acquiring Jimmy Butler in a November blockbuster, Simmons and the Sixers are on a roll. Before the deal, Philly ranked 19th in the NBA in net rating and 21st in offensive efficiency. Those are the statistical markers of a lottery team. But since the deal Philly is 13-6, ranking seventh in net rating and third in offense.
Those are contender numbers, and the 76ers are still just getting a feel for these new rotations. They can make another move to add depth. With an Eastern Conference that's up for grabs, a trip to the Finals is waiting for the team that puts it all together. Why not Philly?
---
Boston arguably has the most at stake on Christmas, coming in as seemingly the fifth-best team in the East. That makes the Celtics one of the most disappointing teams in the league thus far. They are loaded with depth and talent, yet they stand 4.5 games behind the conference-leading Toronto Raptors.
At their worst, the Celts look passive and disconnected. They don't coalesce into anything more than the sum of their parts. They settle for pull-ups and fadeaways too much while getting to the rim and to the line too rarely. They rank 28th in the NBA in both points in the paint and free throws attempted. They have to get more aggressive.
However, there's room for optimism. After all, it's only December, and since adjusting their starting lineup in mid-November, the Celtics look like a different animal (at least on the stat sheet).
Brad Stevens removed Gordon Hayward (9-10 as a starter) and Jaylen Brown (9-11) from the starting group and replaced them with Marcus Smart (8-3 as a starter) and Marcus Morris (10-2). Morris, in particular, has been awesome, making 43 percent of his 3s while setting career highs in a number of key metrics.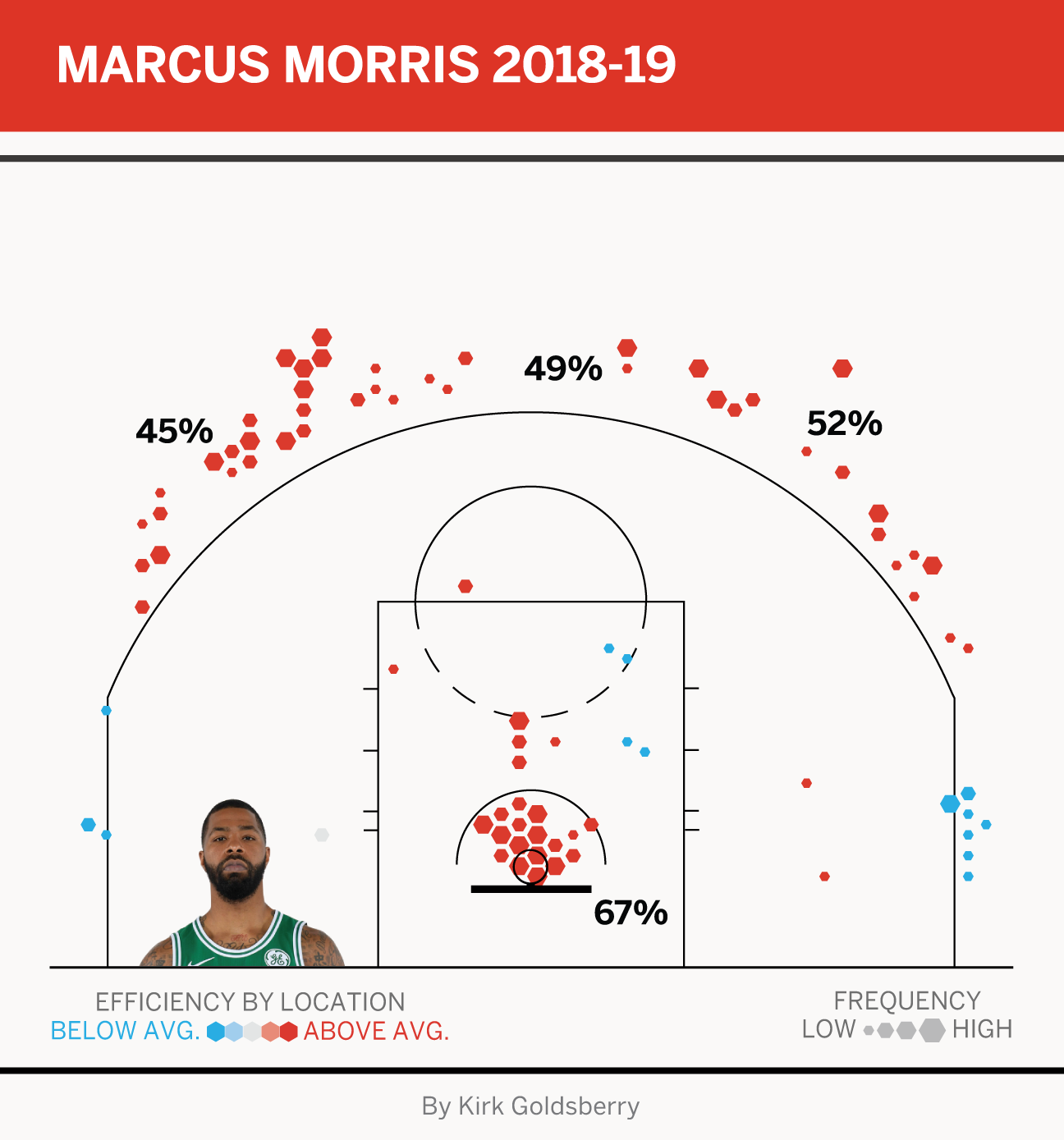 The move sparked Boston, especially on offense. Just look at these before and after numbers:
But these impressive statistical upticks aren't exactly translating to world domination on the court. The Celtics are just 10-6 in this stretch, and those recent indicators have a lot to do with a relatively easy schedule.
If they lose against their rivals from Philly, that will mean four losses in five games and an open door for the scrooges of Boston talk radio to start Grinching on Stevens, Kyrie Irving and the rest of this group that we all expected to be better.
---
Through 33 games, it's unclear just how good this Lakers team will become, but one thing is certain: They're super-fast. In fact, this is the quickest team LeBron James has ever played for.
James is adjusting to the life in the fast lane. As he resurrects Showtime and a proud franchise, he also leads the NBA in fast-break points. The Lakers rank second in the league in that category.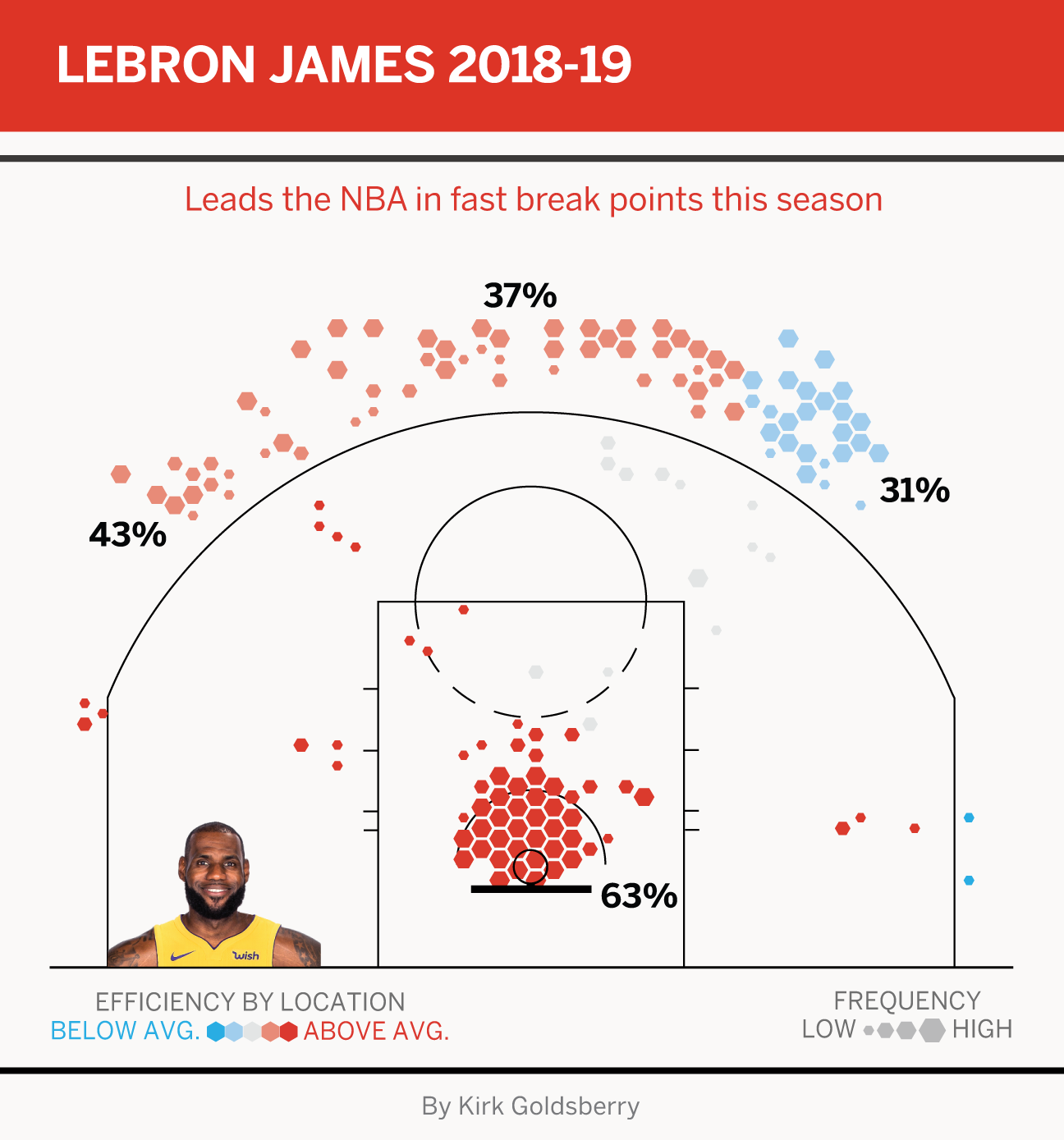 While LeBron has clearly changed L.A., so has center Tyson Chandler. The Lakers began the season 5-5, but they are 15-8 since landing Chandler in November.
Chandler has changed the culture around the team, particularly on defense. He's playing only 20 MPG, but when he's out there, the Lakers' defensive efficiency is an incredible 99.6 points allowed per 100 possessions. (No team as a whole has a defensive rating under 100.) That drops even further to 97.5 in the 331 minutes in which he and LeBron have played together.
When the Lakers assembled this roster over the summer, many of us wondered how in the world these dudes could all fit together. The answer appears to be taking shape, and L.A. suddenly looks like one of the solid playoff teams in a crowded West.
---
Maybe I should focus on how the Warriors are kind of meh right now and rank only seventh in the NBA in net rating ... but I don't want to do that. It's Christmas, and I want to talk about Steph Curry and how the greatest shooter this sport has ever seen is on pace to have one of the best shooting seasons of his career.
This dude is square in the middle of his prime, and it's a gift to watch. Just look at this nonsense: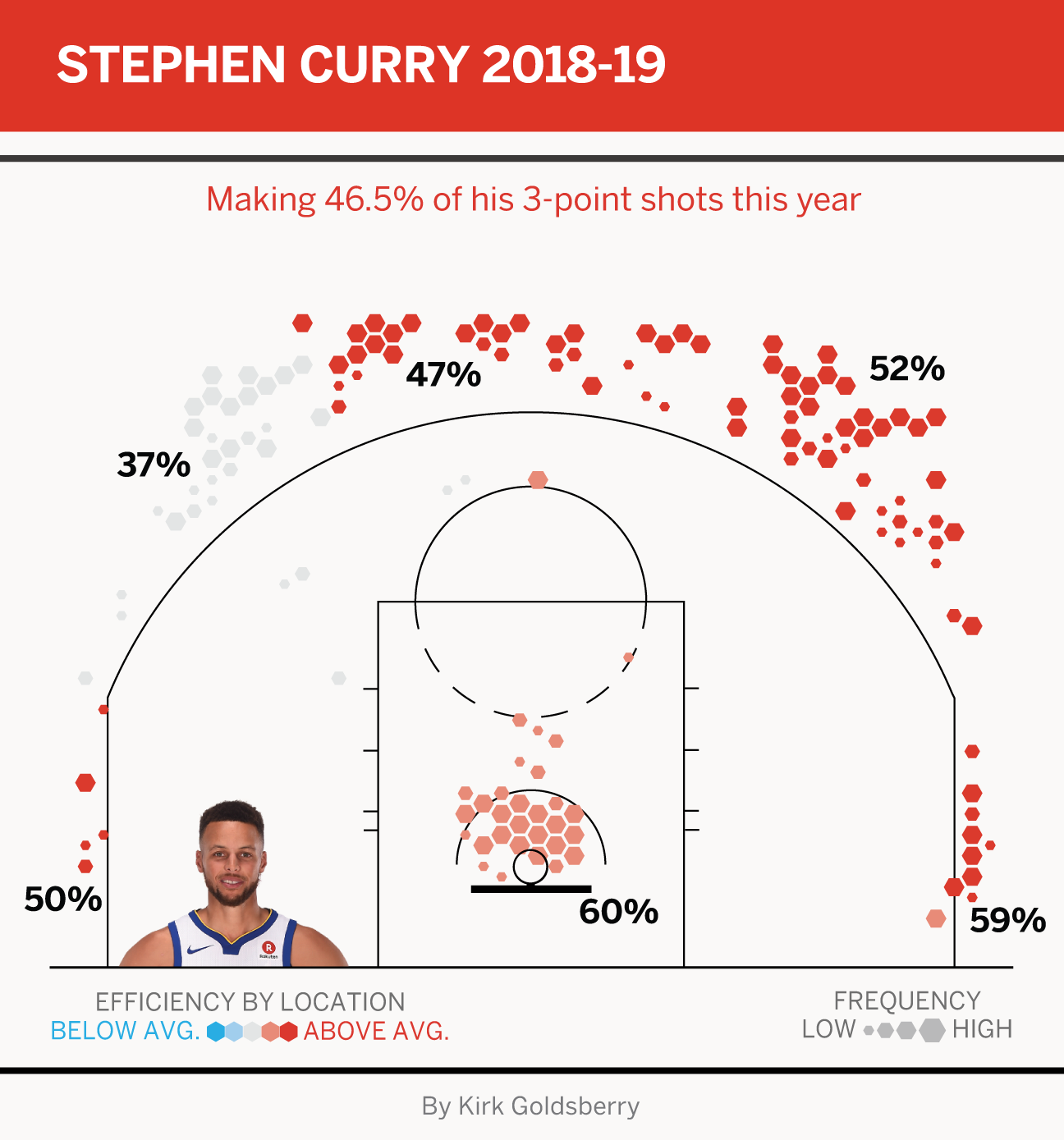 Straight fire.
Curry is in the middle of his 10th season, and he's on pace to set career marks in 3P%, FT% and eFG%. You don't need any fancy stats to tell you he might just win another MVP this season if he stays healthy. The Dubs are 18-5 when Curry plays and 5-6 when he sits. Unfortunately for LeBron and the Lakeshow, Curry is going to play in this matchup.
---
The Blazers have my vote as most enigmatic team in the NBA. It's hard to figure out just who they are and how good they might be. They had a great start to the season, ranking fourth in net rating in October, but they rank 22nd in that key metric since Nov. 1 thanks in large part to a struggling defense.
Portland's star, Damian Lillard, is having another great offensive season. He ranks fifth in the NBA in scoring by putting up 27.1 PPG while recording his best year ever from downtown. Dame is hitting nearly 40 percent of his 3s, all while launching almost eight per game.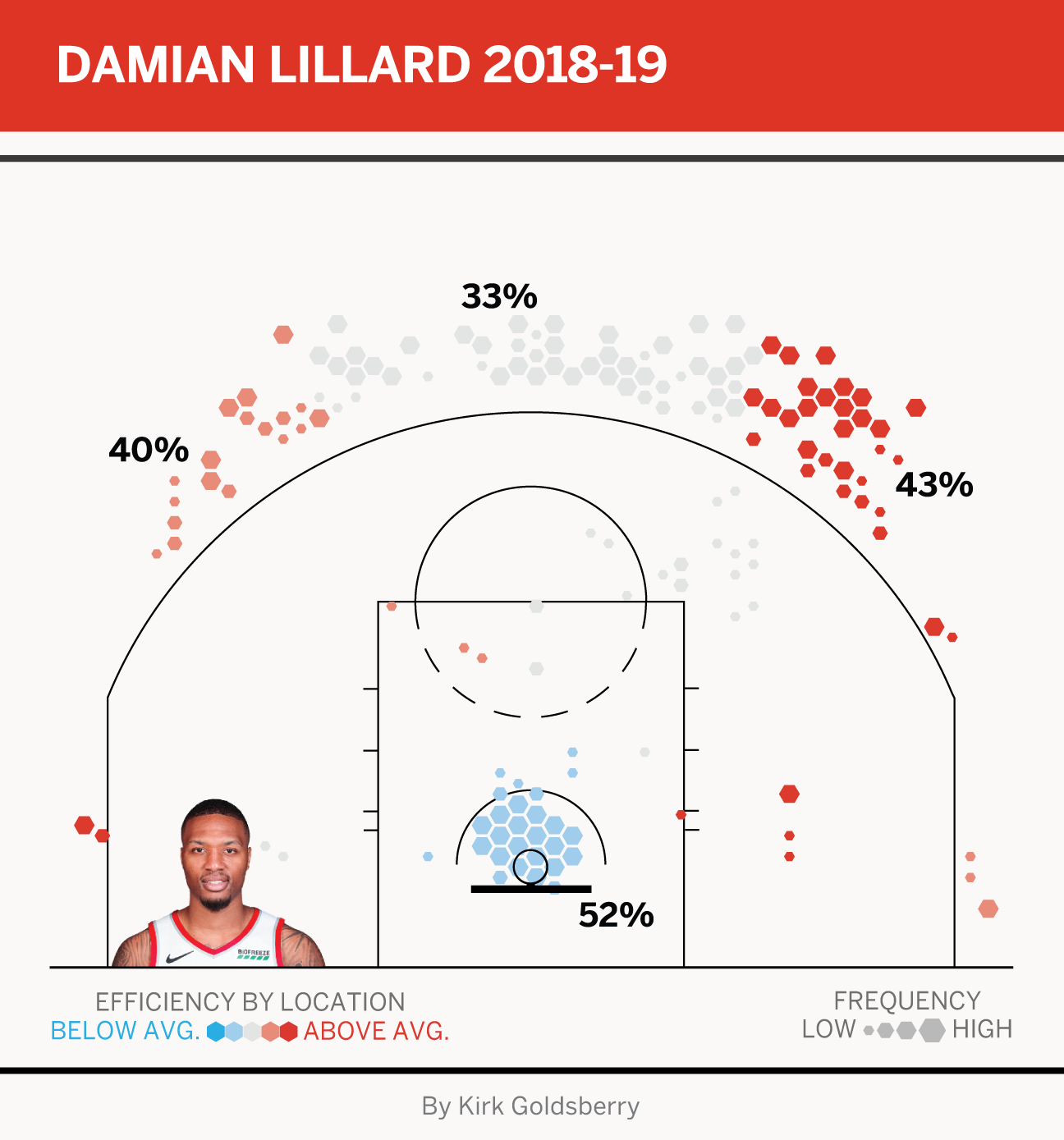 But as we saw in the 2018 playoffs, it's going to take more than Lillard to get this team out of the first round.
Portland's most likely identity is somewhere in between that hot start and this inconsistent turn: Just fine, after some defensive improvement. The problem? The Blazers have been merely fine for a while now. Even though they are tied for fourth in the West, it's hard to see this group emerging as a true contender without a big move.
---
Let's not mince words: The Donovan Mitchell regression is bad, and it's hurting the Jazz.
Simply put, after a phenomenal rookie campaign and a promising playoff debut, Mitchell is slumping. His current numbers suggest he's a high-usage, low-efficiency lead guard, and his shot chart shows a player struggling to score at average levels both at the rim and from downtown.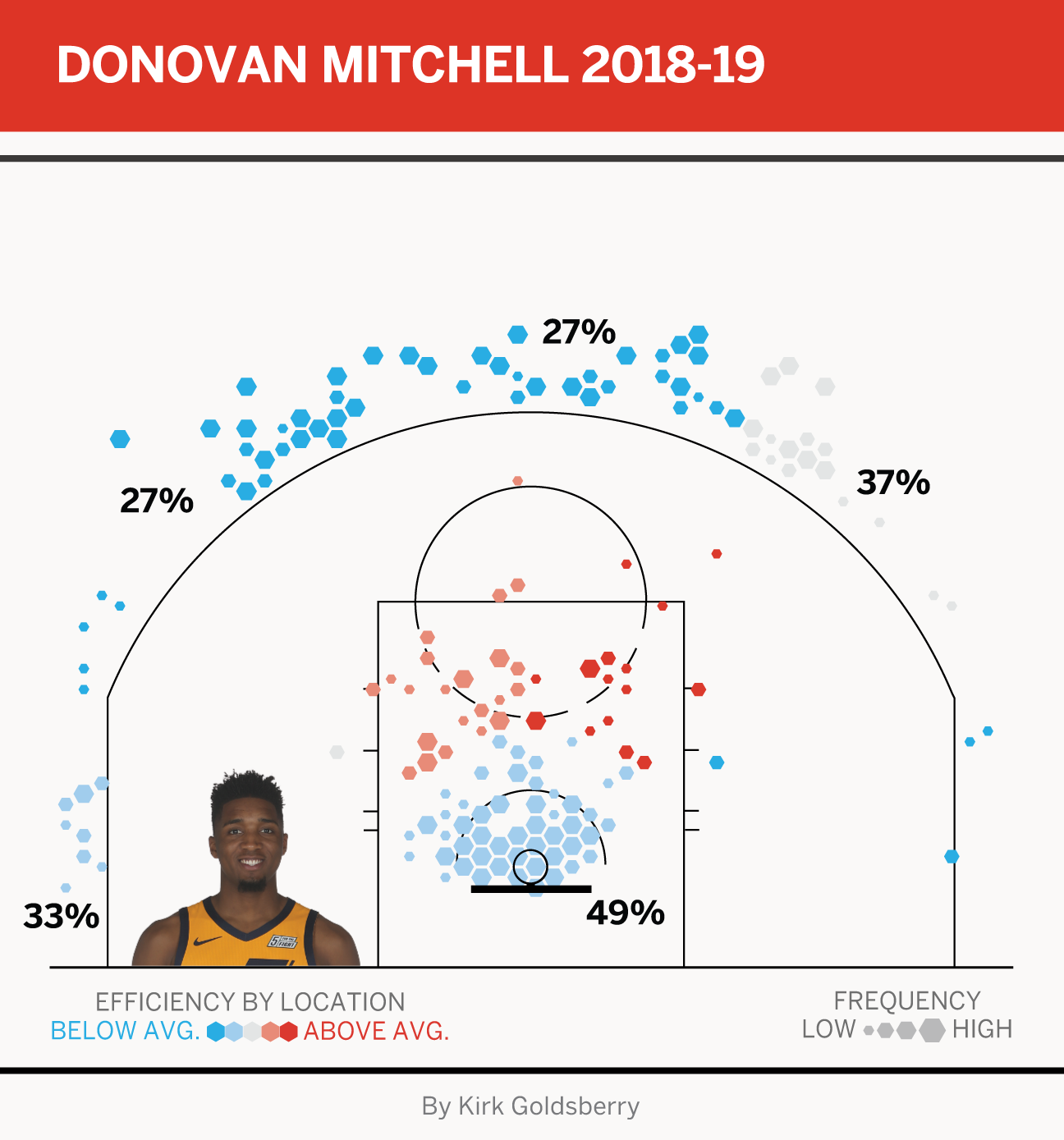 There are 44 NBA players with a usage above 25 percent. Of that group, Mitchell ranks 40th in true shooting percentage. This is a particularly troubling marker for a second-year player many of us pegged to make a leap. At the exact time when we expected upticks in efficiency, we are seeing the opposite.
While Mitchell's shooting numbers are down across the board, his dip to the 15th percentile for his position from 3 (per Cleaning The Glass data) is the real red flag. His shot quality on long balls hasn't changed much from last season, according to Second Spectrum data. These looks just aren't falling.
The Jazz remain a solid defensive team, but they'll need Mitchell to be better than this if they expect to get further in the playoffs than they did last season. The rest of the season should help us find out if Mitchell is actually a better shooter than what we've seen so far.