Down 2-0 in the NBA Western Conference finals, the Portland Trail Blazers find themselves in a must-win predicament on their home floor Saturday night (9 p.m. ET, ESPN).
One big reason the Golden State Warriors are in the driver's seat: their ability to shut down Damian Lillard, who must get going if Portland has a chance to turn this series around.
Here's how Golden State has contained Dame, and some things the Blazers can do to try to counter.
Lillard not getting his shots
Lillard is a terrific scorer who averaged nearly 26 points per game this season by blending 3-point scoring, midrange shooting and rim attacks.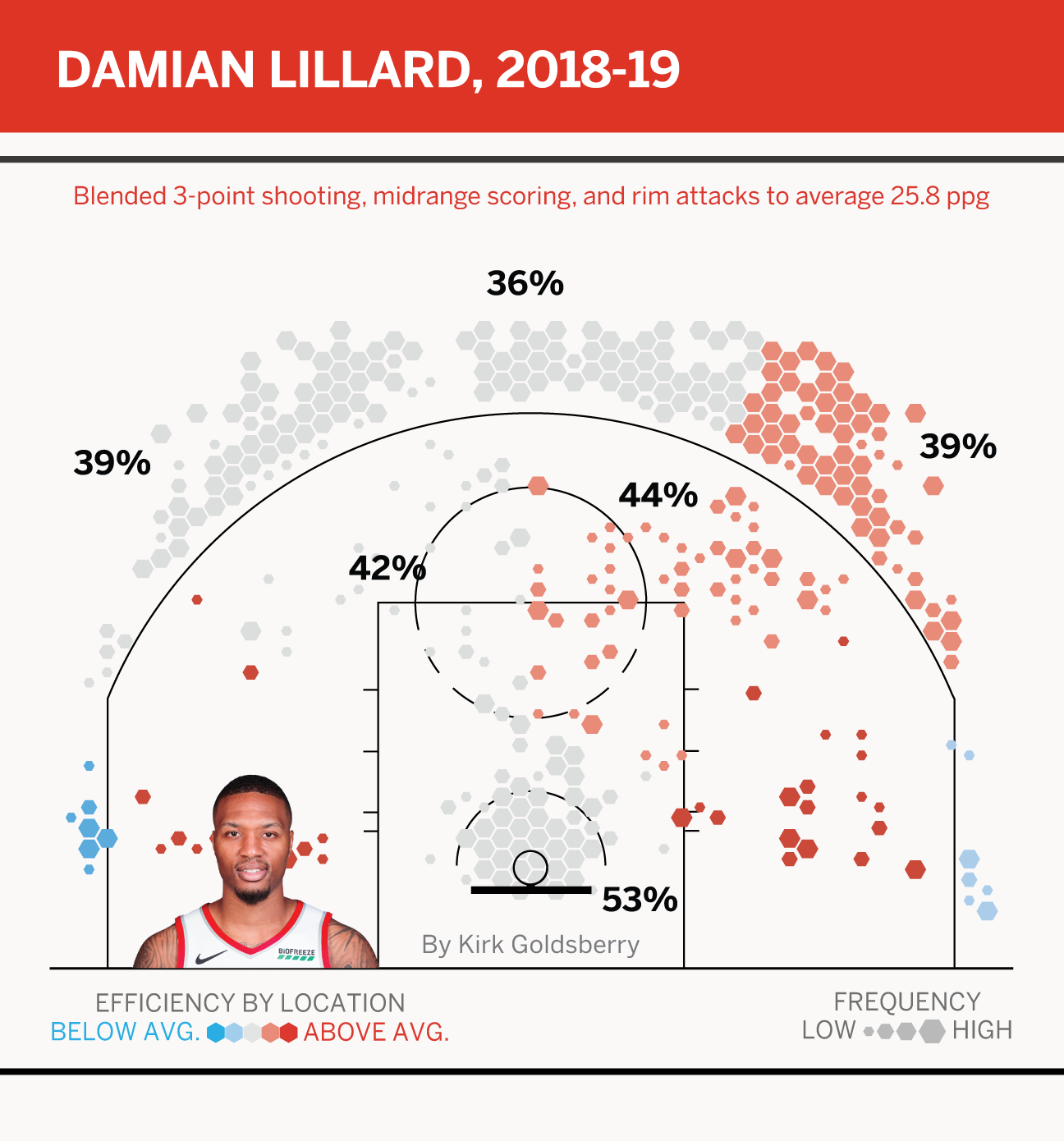 But in the first two games of this series, the Warriors have reduced Lillard to a medium-usage, low-efficiency perimeter scorer. They've prevented him from doing any damage inside the 3-point line.
Lillard's shot distribution in the first two games should worry the Blazers. He has only one made shot in the paint and three total buckets in the 2-point area. He has taken nine shots from beyond 30 feet, and has taken a total of four inside 10 feet.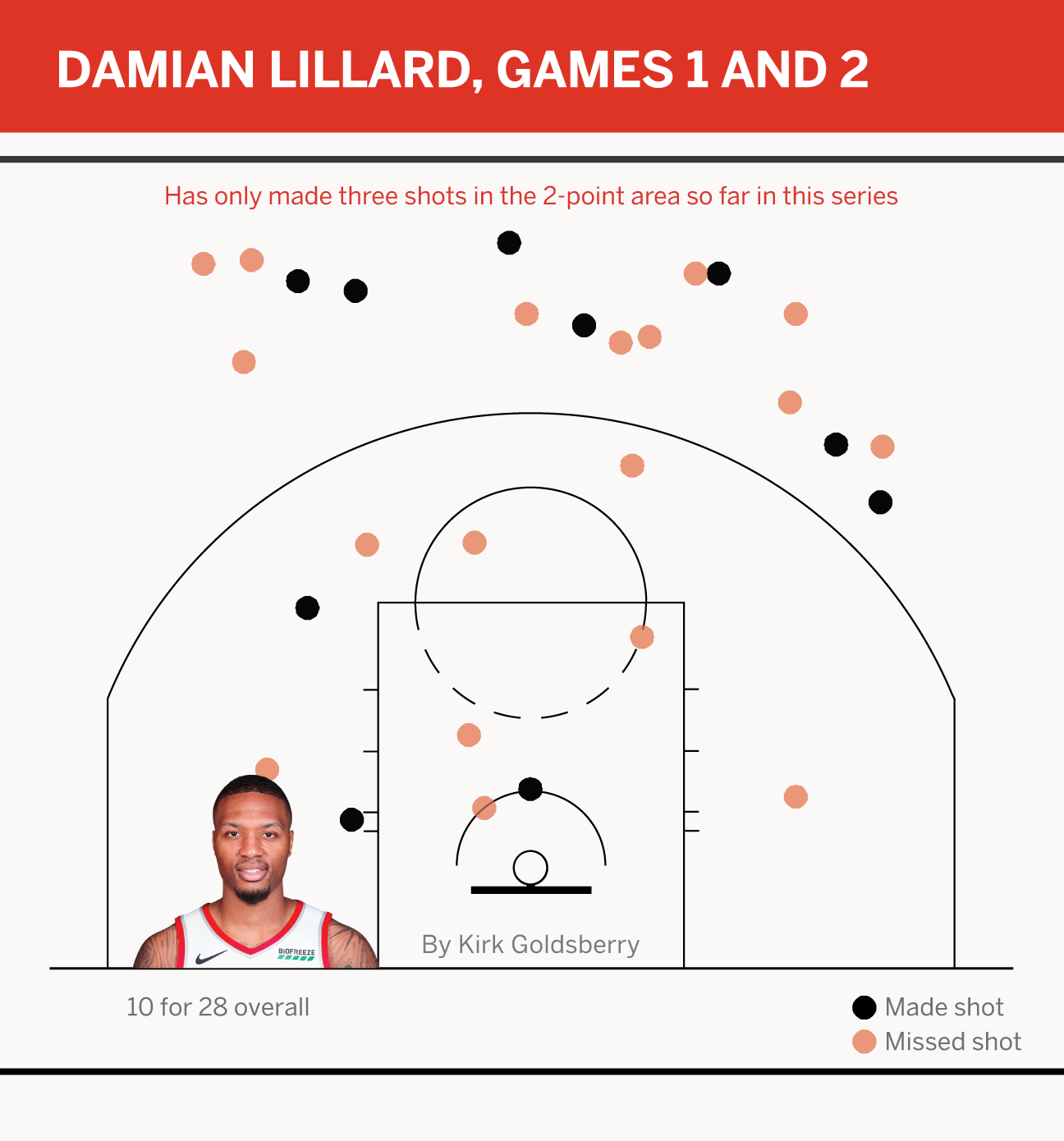 During the regular season, Lillard's average shot quality on 3-point attempts -- factoring in shot type, location and defender distance -- rated as a not-great 47.5 expected effective field goal percentage (eFG), according to Second Spectrum tracking. Because Lillard is money from long range, even when contested, he cashed in with an actual eFG of 55.6.
But the Warriors might be forcing Dame to a breaking point. His shot quality is down to a 42.5 expected eFG on 17 3s in this series, per Second Spectrum. The average shot distance on his 3s is 29.1 feet away from the rim. Somehow he's still shooting 41.2 percent overall on those looks, but that's not sustainable and it's affecting the rest of his game.
Lillard's inability to produce anything near the basket is particularly disappointing. Consider these two stats:
In the regular season, Lillard averaged over 11 points per game on 2-pointers. In the first two games of this series, he has scored just six total points on 2s.

Lillard averaged 6.5 shots per game within 8 feet of the basket in the regular season. In this series, he has tried just three total in that zone.
So how are the Warriors pulling this off?
The Warriors' plan to take out Dame
Give credit here to Golden State's defense, which remains the most unheralded part of this dynastic run. The Warriors have always combined smart tactics with fantastic individual defenders to generate great defensive results. This series is no exception. The Dubs have built a game plan designed to suppress Lillard's scoring activity and dare other Blazers to beat them.
Klay Thompson has done the lion's share of defensive work on Lillard, and Thompson has been superb. In the regular season, Lillard shot 27.9 times and scored 34.5 points per 100 possessions. But in the 66 matchups against Thompson this series, Lillard is shooting at a rate of 18.2 times per 100 and yielding just 12.1 points. In Game 1, Dame had the fewest shot attempts of his 49-game playoff career (12). His 16 attempts in Game 2 were still well below his career average of 19.9.
The Warriors are leaving Lillard with few good options, squashing the Blazers star at the point of attack. After blitzing pick-and-rolls just four times per game in the first two rounds of these playoffs, they're doing so 18 times per game in this series, per Second Spectrum. Rarely does Lillard call for a pick without two Golden State defenders absolutely swarming him.
In Game 2, Golden State blitzed Lillard 19 times. That isn't just the most blitzes Lillard has faced in a postseason game in his entire career -- it's the most any player has faced this postseason.
Sometimes Lillard has been able to split that blitz and get to the rim, but moves like this become challenging to execute on every possession when you've played 326 total minutes this month and nine playoff games in 18 days:
The Warriors' defense is famous for being able to switch anything, but Golden State can also adjust to the matchup.
What else can Lillard try?
Lillard is mostly making the right play on these blitzes. He's finding the big -- typically Enes Kanter -- on short rolls, but Kanter is no Magic Johnson. He's kind of a dead end on these plays.
With that in mind, Portland should try something else. Some potential alternatives:
Set screens with playmakers. In the second half of Game 2, Portland started using Evan Turner as a screener, making him the receiver of the passes out of the blitzes. Turner is much more adept at making plays than, say, Meyers Leonard, Zach Collins or Kanter. Portland used the Lillard-Turner pick-and-roll eight times in the second half of Game 2, while using it just five times total in all previous playoff games. Expect more of that in Game 3.

Get rid of the ball faster. The best way to punish teams for blitzing is to move the ball as soon as the defenders try to converge. Both Lillard and CJ McCollum need to initiate the punishment as fast as possible when Golden State blitzes.
Dethroning the champs is no easy task, and this Warriors team is tough to beat on both ends of the court.
Though the Warriors will rightly go down in history as an offensive juggernaut, more folks should celebrate this defense. Thompson still has yet to make an all-defense team, which is nothing short of a travesty. He is a world-class wing defender who has consistently shown up for big games. If the Blazers are going to win Game 3, they'll need to find someone to pick on other than Klay.