The Toronto Raptors saved their season in a grimy Game 3 win Sunday, but it is on the line again Tuesday in Game 4. The Milwaukee Bucks haven't lost three times in a row all season. They've lost twice in a row only once. The odds of Toronto falling behind 3-1 and then winning three straight, including twice in Milwaukee, are minuscule. Game 4 is essentially must-win.
It is tempting to scan over Sunday's double-overtime thriller with a day of distance and see hints that Milwaukee will have a foot-on-throat response Tuesday night. This is the sort of road Game 4 the favorite always seems to snatch.
The Bucks shot 14-of-44 from deep. Their three leading scorers -- Giannis Antetokounmpo, Khris Middleton, and Eric Bledsoe -- combined for 32 points on 11-of-48 shooting, and committed 16 of Milwaukee's 20 turnovers. Milwaukee missed 11 free throws, absorbed bounce-back games from Marc Gasol and Pascal Siakam -- plus a 19-point outburst from the fearless and frowny faced Norman Powell -- and still had chances to win.
OK, sure. Milwaukee has been the league's best team all season. I'm picking the Bucks to win Game 4, and I picked them to win the series in six games. Kawhi Leonard tweaked his left leg early in Game 3, and proceeded to play 52 minutes while defending Antetokounmpo and carrying Toronto's offense. That kind of two-way load is hard to (pause for effect) manage.
But some of that "make-or-miss league" analysis shortchanges Toronto. The Raptors shot just 40 percent on 2-pointers, their fifth-lowest figure in 97 games this season. Milwaukee got 52 combined points from George Hill, Malcolm Brogdon and Pat Connaughton on 18-of-29 shooting; can those three replicate that? Twenty Milwaukee turnovers in what amounted to a five-quarter game isn't a crazy outlier. The Raptors ranked ninth in opponent turnover rate this season; it was obvious Toronto would have to win the possession battle to win the series. Antetokounmpo has yet to solve the combination of Leonard and hard double-teams.
Most of all: Toronto's half-court defense has been impenetrable. The Bucks have scored just 80 points per 100 possessions on half-court trips in this series, per Cleaning The Glass -- 20 below their regular-season figure, and the worst mark among all four conference finalists.
The notion that Milwaukee is getting much better looks than Toronto does not quite hold up, either, per Second Spectrum data. Milwaukee's expected effective field goal percentage, based on the location of each shot and nearby defenders: 52.8 percent. Toronto's: 51 percent.
(My hunch is that understates the shot quality difference a bit. Toronto is getting zilch around the basket. Meanwhile, for all the bellyaching about Toronto missing open 3-pointers, the Raptors have actually outshot Milwaukee from deep -- 35 percent to 29.5 percent. Both teams are underperforming those expected field goal percentages, but Milwaukee is underperforming to a slightly larger degree. Also: Second Spectrum does not take into account which specific player attempts each shot.
(You could spin these numbers a few ways. To me, they reveal Milwaukee getting better looks on a level that matters, but not in total blowout fashion.)
Where Milwaukee has destroyed Toronto: in transition. It was the Bucks' only source of reliable offense for much of Game 3, and a lot of that damage from the Raptors' perspective was self-inflicted. Toronto too often failed to match up, letting good shooters -- Brogdon, Connaughton, Hill -- walk into trailing 3s. Powell and Serge Ibaka, standing next to each other, inexplicably decided Powell should take Antetokounmpo in semi-transition late in the first quarter; Antetokounmpo drove baseline, drew a triple-team, and kicked to Nikola Mirotic for an open 3-pointer. (Mirotic is 4-of-20 from deep in this series, and shooting just 31 percent on 3s in the playoffs.)
Some transition leakage against Milwaukee is inevitable. Antetokounmpo rampaging at you, shooters on all sides, is legitimately frightening, and frightened defenders are prone to make dumb mistakes. But the Raptors can clean this up. If they do, the Bucks have to prove they can score against Toronto's set defense.
But at least the Bucks have enjoyed some stretches when things looked easy -- moments when they could breathe. Toronto has scored just 99 points per possession in this series, five points worse than the league's brickiest offense this season (what up, Knicks!). Every basket has been exhausting.
Everywhere the Raptors turn, they see multiple enemy bodies and outstretched arms.
(Milwaukee's arms are an underrated part of its defense. Arms are the low-hanging fruit of good defense. Raise them up, stretch them out, wave them in the air -- even if you just don't care -- and you are automatically 10 percent improved. In the fourth quarter of Game 1, the Raptors ran a Kyle Lowry/Leonard pick-and-roll on the left side. Hill chased Lowry over the pick; Middleton dipped away from Leonard to clog up Lowry's drive. Leonard popped open behind the arc. Lowry picked up his dribble to pass to him. Hill leaped with his arms stretched over his head. Lowry had to lob the ball more than 10 feet in the air. That gave Middleton time to recover. The possession died.
(You want to know if a player cares about defense? Watch his arms. There is no 100 percent effective cure for slow feet or low IQ, but anyone can raise their arms.)
Middleton and Brogdon have blanketed Leonard. Their ball denial -- arms in passing lanes -- is textbook. A half-dozen times per game, Toronto aborts a Leonard dribble handoff because Middleton plants himself between Leonard and the ball. That should open up backdoor cuts, and perhaps Toronto needs to try more of those. But when Leonard (or anyone else) goes that route, helpers -- Brook Lopez on Gasol up high, Antetokounmpo lurking off of Siakam -- close passing lanes before they open.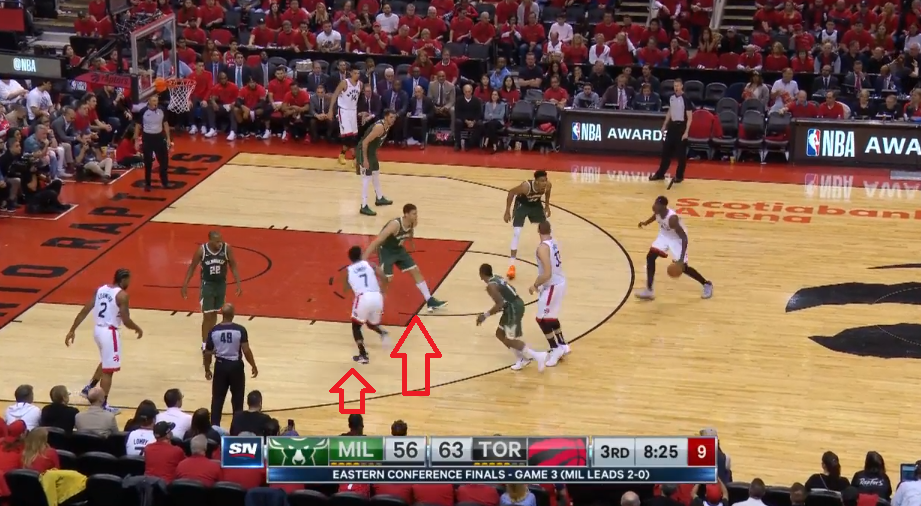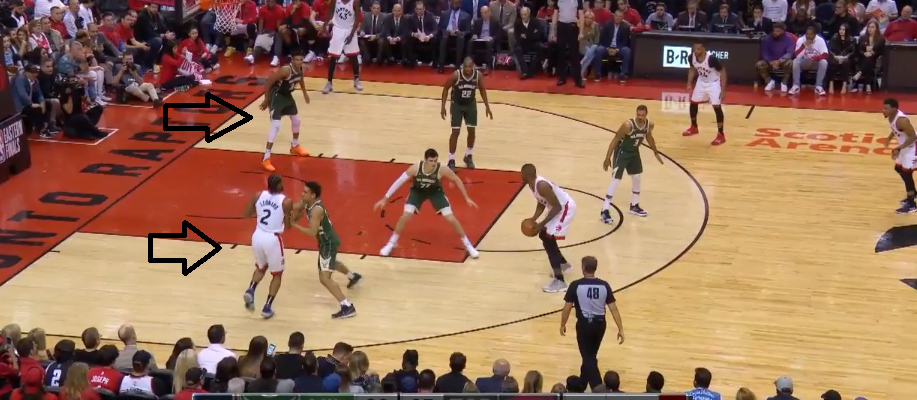 Middleton's relentless work may be taking a toll on his offense -- he's averaging 11 points per game on 33 percent shooting -- which only deepens your appreciation for the challenge Leonard has ahead of him.
The Raptors are trying to unlock some off-the-dribble 3s for Leonard and Lowry -- or at least extend the runway -- by having Gasol and Ibaka screen for them near half court: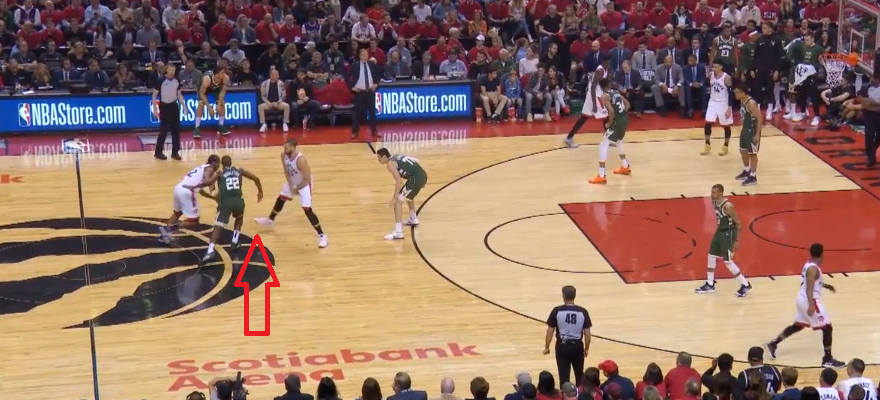 Milwaukee's perimeter defenders are slithering around those picks. Toronto's two best players have no room to pull up.
The Raptors have often defaulted into Leonard going one-on-everyone from the top of the arc. They are not going to win that way. Milwaukee's defense is too good. The Bucks help at just the right moment -- at the last minute, so that Leonard is already in shooting mode, but never too late. When they telegraph their help, Leonard either sees available passes too late or ignores them. He is not a think-two-steps-ahead playmaker who manipulates defenses into yielding the passes they are geared to prevent. He rarely throws the pass they don't expect.
Leonard passes as a last resort, and it is hard to make productive passes that way against a defense this locked in. Leonard has 52 assists against 47 turnovers in the playoffs -- and nine dimes to 10 turnovers against Milwaukee. This isn't really a knock. It's hard to be all-world at everything.
Toronto has scored just 0.79 points per Leonard isolation, per Second Spectrum. Most end in leaning midrange jumpers. The Raptors cannot even see the rim. Only 19 percent of their attempts in the half court have come within the restricted area, a mark that would have ranked dead last for the season by a mile.
It is tempting to suggest the Raptors should get the ball to Leonard more in the post. They've tried! Middleton and Brogdon have done a great job "three-quartering" Leonard -- riding his left shoulder, and denying the entry pass without full-on fronting:
Leonard has had to surrender, scramble outside, and accept the ball 25 feet from the basket. Tough sledding.
Toronto has to make Leonard's life easier. Springing him for quick-hitting post-ups can be part of that. Run him off some picks -- cross-screens under the rim -- and hope he can seal his defender. That will work now and then, but the Bucks are ready for it.
Toronto flashed some healthy methods of attack in Game 3. One favorite -- and keep your eye on Gasol along the left wing:
If Leonard is going to attack one-on-one, it makes sense to start him from the right wing. The Bucks are forcing him left; if Leonard attacks from the right, he can go left and have more of the court in front of him.
Gasol screening for Lowry at the top of the arc is a gorgeous bit of fluff meant to distract Lopez. Lopez has been on point balancing help duty with man-to-man defense, and he takes only a brief peek at Gasol before realizing it's a ruse. Antetokounmpo pounces anyway, abandoning Fred VanVleet in the corner -- and exposing a wide passing lane.
Here's what the same action looks like with no fluff:
Ibaka is doing nothing, so Lopez ignores him to overload against Leonard. The Bucks are really good at tilting the floor without revealing any profitable pass: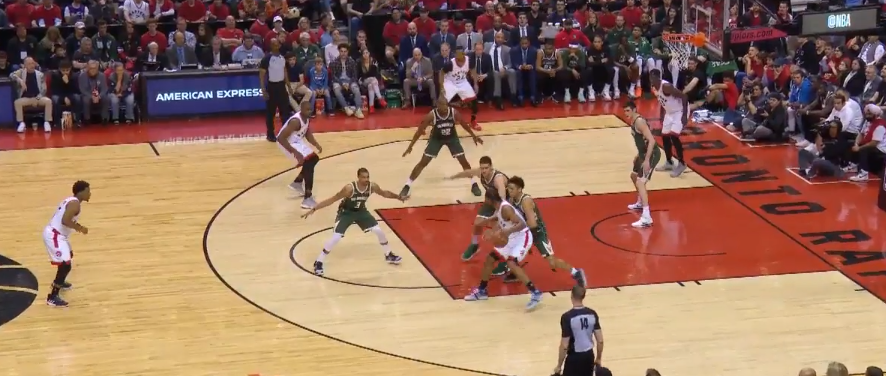 There is no secret strategic sauce in that. It requires five committed, hyper-alert defenders with natural timing and anticipation. Golden State might be the only team better than Milwaukee at this zone-style, help-and-recover positioning.
Corner action involving Toronto's point guards screening for Leonard has also worked:
VanVleet's screen forces an uncomfortable choice: switch your smallest defender onto Leonard, or trigger crisis rotations. Both teams should probably hunt mismatches with their stars a bit more. (For a Bucks-centric perspective, Howard Beck and I discussed how Milwaukee might deal with Leonard guarding Antetokounmpo on Monday's Lowe Post podcast.) The Lowry/Leonard pick-and-roll hasn't been as effective as the Raptors hoped, but they should try more.
This is some advanced improv work from VanVleet and Leonard. VanVleet creeps toward Leonard as if he's going to set a pindown, only to flip his pick at the last second so that Leonard can cut backdoor with more of a surprise element:
Hill has to help, but doesn't want to switch. VanVleet pops open and actually makes a shot.
Leonard can screen for VanVleet (or Lowry) out of the same setup, and rocket up toward Gasol for a handoff:
An aggressive, involved Gasol is a must. The best way for the other Raptors to help Leonard is to, like, help Leonard. Lowry needs to be meaner exploiting Lopez on Lowry/Gasol pick-and-rolls. Lopez wants to corral Lowry, and rush back to Gasol along the arc. He's antsy. Hit him with a hesitation dribble -- make him think his job is done -- and burn his ass. If Lowry generates a switch, he has to punish it with hard drives and step-back 3s.
Danny Green needs to keep running when Mirotic is on him. The Raptors are getting open looks almost every time they slingshot Green -- or Powell -- off a baseline screen while the Bucks are focused on a high pick-and-roll.
Monitor the Raptors' assist rate in Game 4. They assisted on 28 of 40 buckets in Game 3 -- a Warriors-esque 70 percent. In 14 prior playoff games, Toronto had assisted on just 53 percent of baskets with Leonard and Gasol on the floor -- a mark that would have ranked 29th, way below the 67 percent rate the Raptors posted with Gasol on the court during the regular season.
An uptick in assists is a symptom of producing better overall looks. That might amount to only five or six shots per game, but when you're fighting for your playoff life against an elite team, every bit matters.